Your celebratory setting of choice will set the tone for the night. Luckily, there are plenty of options to choose from!
Looking to jet off somewhere exciting to ring in the new year? We're right there with you! But where to? There are so many places to go for New Year's Eve in the United States that it can be hard to choose.
Use our handy guide to help you narrow it down. From bustling New York City to bayside San Francisco and everywhere in between, we've scoped out the best New Year's Eve celebration locations just for you.
Whether you prefer to spend New Year's Eve on the East Coast, on the West Coast, in the Midwest, or in the South, there's a dreamy holiday destination perfect for you. If you're asking where to spend New Year's 2022 in USA, we have the answer.
Here's the best of New Year's Eve fireworks, parties, and countdowns across the country! Follow along as we fill you in on the best places to go for New Year's Eve.
New York City
This globally recognized New Year's Eve destination is hard to beat. The Times Square Ball Drop is a bucket list event, but the city is filled with even more ways to celebrate!
Fireworks at Central Park, stunning cityscape views across the Brooklyn Bridge, and parties galore are all offered by New York City.
If you opt to spend your evening at the Ball Drop, we recommend arriving as early as possible at Times Square unless you're staying in one of the city's hotels with a good view.
Pro Tip: The ball is raised to the top at 6 p.m. Eastern Standard Time, but most guests arrive at the free event at least by late afternoon. 
Many attractions are open on New Year's Eve to fill the daytime hours, such as the Metropolitan Museum of Art, Madame Tussauds, and One World Observatory.
Fireworks viewing spots include:
San Diego
With countless events to attend and attractions to see, the Birthplace of California presents an excellent option for New Year's Eve revelers. From theme parks to dancing in the Gaslamp Quarter to elegant events at local hotels, San Diego has it all. 
Visitors can head to LEGOLAND California or SeaWorld for thrills on beloved rides, as well as fantastic fireworks displays. Plan a trip to the San Diego Zoo for even more family-friendly fun. 
Prefer more adult-friendly parties? San Diego offers some over-the-top bashes so that you can ring in 2023 with flair. NYE 2023: Ball on Broadway is a top pick!
Hotels host some of the snazziest parties around, like these:
New Year's Eve Masquerade Gala at the Hotel del Coronado 

San Diego New Year's Eve 2022 Movie on the Beach at the Hotel del Coronado

Big Night San Diego New Year's Eve Party
Pro Tip: Bundle your hotel stay with attractions to spend the holiday in San Diego for a steal!
Take the party to the waves on the San Diego Harbor Cruise by Flagship or Spirit of San Diego Yacht Party. A nautical New Year's Eve will be a night to remember! Before you go, check out our Insider's Guide to Flagship Harbor Cruises to feel like an expert as you step aboard.
Photo Alert: Snap a picture on the ship deck with spectacular fireworks in the background to rack up all the likes!
San Francisco
The city of San Francisco takes the holidays seriously, making the City by the Bay one of the best U.S. cities to spend New Year's Eve. A plethora of party cruises, downtown events, and live entertainment creates plenty of opportunities to get the party started with friends and family.  
Wave hello to the new year on a cruise! Check out the 2022 New Year's Eve Fireworks Dinner Cruise or Speakeasy San Francisco New Year's Eve 2023 Cruise. Is there a better setting to celebrate than a boat with a bayside backdrop?
If you prefer to keep your feet on dry ground, head to one of the parties at a local hotel or venue: 
Dancing Queen: ABBA Glitter Disco NYE Extravaganza
Gatsby's House 2023 San Francisco
M.O.A.N.Y. San Francisco 2022
For the best fireworks display in the city, you'll want to claim a spot overlooking the Bay. The dazzling 15-20 minute fireworks display never fails to attract large crowds, so plan to arrive early with food and games to pass the time.
Pro Tip:
Note that the display is best seen along the south end of the
Ferry Building
, including
Rincon Park
.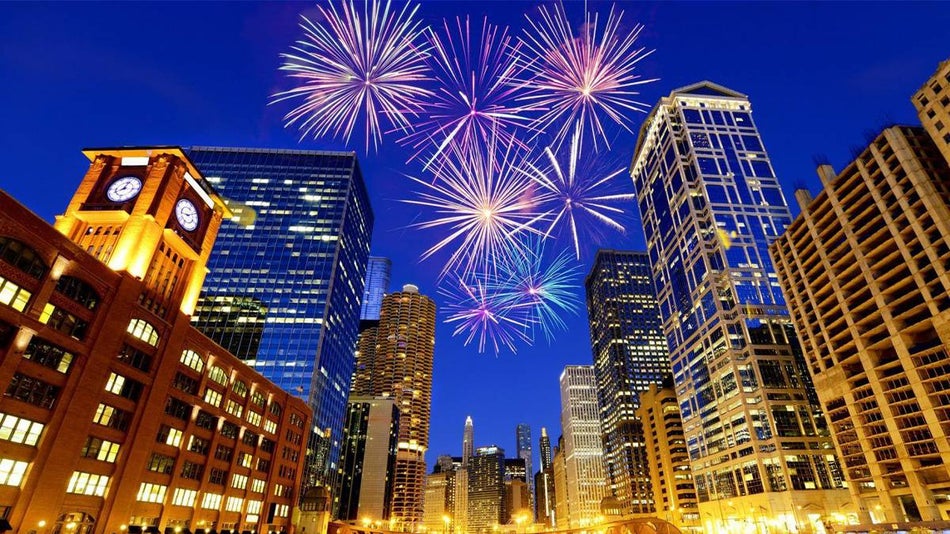 Chicago 
New Year's Eve celebrations warm up the chilly Windy City from lakeside Navy Pier to the heart of downtown. Grab a slice of deep-dish pizza and settle in for a celebration in classic Chicago style. 
Heading to the iconic Navy Pier in the Streeterville neighborhood? Take in amazing views of the city skyline and Lake Michigan as you watch fireworks going off around the city. Better yet, attend a party on the pier, like New Year on the Pier, for unbeatable views!
Searching for some unique options in one of the best cities for New Year's Eve? We recommend heading to the zoo! Adults will want to make their way to the 21 and older party at Lincoln Park Zoo.
The New Year's Eve event at Brookfield Zoo is perfect for the kiddos. Up for a show instead? The Blue Man Group has several showtimes on New Year's Eve!
If you'd rather let the waves take you where they will on a cruise, here are three great Chicago cruises on New Year's Eve:
Las Vegas
Choreographed fireworks, world-class food, critically acclaimed shows, all-inclusive gambling hotels, and much more await guests traveling to Las Vegas for New Year's Eve.
Notorious for its party culture, the desert city will be packed with residents (and the occasional celebrity!) dressed to the nines to celebrate New Year's Eve. Ample opportunities for festivities give this city a spot on our list of best cities for NYE in US.
To start the year on a high, head to the SkyPod (formerly the Stratosphere Tower) at the top of the STRAT Hotel. Take in awe-inspiring 360-degree views of the city skyline while watching the spectacular Grucci fireworks display.
There's more to do during the day, too! Here are some Las Vegas attractions to check out:
On the hunt for the best parties? Check out The Hard Rock Cafe New Year's Eve Party, The New Year's Eve Bridge Bash, or The Fremont Street Experience.
Los Angeles
Beautiful Los Angeles boasts many options for those celebrating New Year's Eve in the SoCal city. While New York City on the East Coast may be the stereotypical best city for New Year's Eve, the West Coast certainly gives it a run for its money.
Theme parks, aquariums, and parties, oh my! There's no shortage of things to do in Los Angeles.
Family-friendly picks, complete with roller coaster thrills and theme park noms:
Adult-friendly parties, complete with live bands and open bars:
Gatsby's Penthouse LA New Year's Eve Party 2023

Moonlight New Year's Eve Party Cruise 2023

20th Annual New Year's Eve Yacht Party
Washington D.C.
The Mid-Atlantic region celebrates New Year's Eve on a grand scale from Alexandria, Virginia, to Baltimore, Maryland. However, you don't have to travel outside Washington D.C. to see grand fireworks! It's surprisingly one of the best places for New Year's Eve in USA.
In fact, you can see a marvelous fireworks display over the Potomac River from the Gaylord National Hotel & Resort during the Big Night D.C. party. This six-hour party with seven dance floors features DJ and band lineups that other parties will be hard-pressed to match. 
Another fantastic option to see fireworks and the impeccable city skyline is to take a dinner cruise along the Potomac. You and yours can sail down the river, awe-struck by holiday sights and sounds!
Pro Tip: Don't want to take a cruise but still want to see fireworks reflected on the river? The Georgetown Waterfront Park presents an array of fantastic eateries that line the river, offering live music and entertainment to help you ring in the new year. 
To fill your daytime itinerary on New Year's Eve, there are plenty of things to do in Washington D.C. History and art buffs will be right at home one these tours:
New Orleans
The city of New Orleans flaunts plenty of fun things to do for visitors on the hunt for the best place to celebrate New Year's Eve. The Big Easy even has its own version of the Times Square Ball Drop!
Shaped like a fleur-de-lis, the drop occurs in iconic Jackson Square each year during Dick Clark's New Year's Rockin' Eve production. Admission to the square is free, but you'll want to show up early to land good spots.
To add to the fun, the event features live broadcasting, entertainment, and fireworks over the Mississippi River.
During the day, revelers in New Orleans can watch the Allstate Sugar Bowl and fellow New Year's Eve Parade. Featuring massive floats and marching bands, the parade begins at the intersection of Elysian Fields Avenue and Decatur Street in the French Quarter.
The parade then proceeds into the Quarter and traverses past the neighborhood's famed historical landmarks. At around 3 p.m., the parade passes the WDSU stage at the Allstate Fan Fest and ends at Canal Street.
While you're there, fill the daytime hours with a historical Southern adventure:
Orlando
What's better than confetti and toasts to usher in the new year? Adrenaline rushes! Amusement park excitement means Orlando is easily one of the best cities to spend New Year's in the US.
The city of Orlando's first-rate theme parks offer plenty of opportunities for heart-racing fun on New Year's Eve. Dreamy fireworks displays add to the thrills that make the Sunshine State a great destination to spend the holiday.
There are so many parks to choose from:
...but wait! You don't have to choose. Bundle tickets to multiple theme parks to save big!
Searching for more adult-friendly activities? One of the perks of celebrating New Year's Eve in Orlando is that the city caters to visitors of all ages.
For the adults, we suggest heading downtown or to International Drive to see the city's best hotspots while ringing in the new year. Both upscale and casual restaurants and clubs line these areas.
Seattle 
More than just coffee and rain, Seattle offers New Year's Eve fun for the entire family. There won't be any risk of gloomy skies with fireworks shows lighting up the night! This is one of the best US cities for NYE.
For the best fireworks show, we recommend going to Seattle Center. Furthermore, Seattle Center hosts numerous parties for guests of all ages.
Festivities include a classic fireworks show, a performance by Groove Nation, and a showcase of live electronic music combined with a video production at the International Fountain. The Fountain of Light show begins at 10 p.m.
If you're needing ways to fill the daytime hours before you make your way to your New Year's Eve celebration of choice, we have you covered:
Photo alert: Fireworks at the Space Needle, which is part of Seattle Center, are a must for your Instagram feed!
Myrtle Beach
This dreamy seaside destination offers plenty of beachy charm to ring in the new year! If you're looking to stay on the East Coast but want to spend the holiday somewhere a little warmer than New York City, Myrtle Beach is the East Coast New Year's Eve destination for you. 
You'll be left in wonder when you stroll through the well-lit paths of Brookgreen Gardens at the Night of a Thousand Candles. Alternatively, Jimmy Buffett's Margaritaville offers dinner and a party atmosphere that will stir up plenty of excitement for the new year. 
There are lots of great ways to spend your day in Myrtle Beach, too! It happens to be the Mini-Golf Capital of the World, so don't leave the city without making some strokes at one of these great courses:
Branson
Charming Branson boasts multiple ways to party into the new year surrounded by the natural beauty of the Ozarks.
Several luxurious resorts and hotels offer flamboyant New Year's Eve bashes to get the party started, including the Chateau on the Lake, Big Cedar Lodge, and the Hilton Branson Convention Center.
Did you know Branson is known for its award-winning shows? The plethora of stunning options makes this one of the best US cities to visit for New Year's Eve. Catch one of these performances on New Year's Eve:
Another one of the best places to spend New Year's in USA is aboard the Showboat Branson Belle New Year's Eve Cruise on Table Rock Lake. Additionally, the Wonderland New Year's Eve Party at Big Cedar Lodge is a top choice for the kiddos.
Gatlinburg
The city of Gatlinburg is a cozy ski town situated in the Great Smoky Mountains that presents the opportunity for a New Year's Eve retreat to leave you feeling fully ready to begin a shiny new year! This makes it one of the best US cities to celebrate New Year's Eve.
The city's 34th Annual New Year's Eve Ball Drop & Fireworks show takes the cake as the biggest celebration around. Snag a spot to take in the show at the base of the Space Needle. The event is free!
Pro Tip: Another great viewing location is Park River Road, but you'll need to arrive early to get a good spot!
While you're in this beautiful city, don't miss out on the abundance of tourist fun it has to offer. Book your tickets with Tripster for a great deal! Here are just a few of the attractions to enjoy:
Williamsburg
Quaint Williamsburg is one of the best cities for New Year's Eve USA for history buffs and those who want a New Year's Eve atmosphere a little more relaxing than a jam-packed party. This historical city offers ways to spend the evening that will go down in history!
One of our favorite options is Christmas Town at Busch Gardens. It's a magical experience that will get you in the holiday spirit.
Alternatively, Bobby Blackhat will have you tapping your toes and humming all night long with his New Year's Eve Spectacular, perfect for blues fans.
Spend the daytime hours brushing up on your history at one of these exciting attractions that bring the past to life:
Now It's Your Turn to Choose One of These Best Places to Go for New Year's 2022!
No matter which of the best places in US for New Year's Eve appeals to you most, it's clear you won't have any trouble finding an unforgettable New Year's Eve celebration!
Which Cities Do You Think Are the Best New Year's Eve Destinations?
Tell us your opinion on the best US cities for New Year's Eve in the comments below!