It won't be long before we say goodbye to 2019 and say hello to 2020. In Gatlinburg, they greet the New Year in grand fashion with the annual New Year's Eve Ball Drop & Fireworks Show. To be a part of Gatlinburg's New Year's Eve celebration, plan to be at the base of the Space Needle on December 31st in Downtown Gatlinburg.
Get to Gatlinburg's New Year's Eve festivities early as live entertainment will be on hand creating a lively party atmosphere starting at 10 pm. Plus, party favors will be available so you can look the part with a festive horn and hat.
Highlighting the event is the ball drop from the Gatlinburg Space Needle marking the beginning of a brand new year. Afterwards, there's a spectacular fireworks display set to music. It all happens at the stroke of midnight when the red glow of the space needle is highlighted by an illuminating, musical fireworks show.
What to Expect during Gatlinburg's New Year's Eve
The entire city of Gatlinburg gets in on the New Year's Eve fun, with restaurants and attractions staying open late and offering special celebrations.
Before the night starts, have dinner at downtown Gatlinburg restaurants. Both Blaine's Bar & Grill and the Melting Pot are excellent places to enjoy end-of-the-year drinks and a good-time atmosphere. You could also stop in some of the distilleries along the Parkway. For example, Sugarlands Distilling Company and Ole Smoky Moonshine let you sip samples for a small fee. Plus, the charge is good towards any purchase so you can get some 'shine to go!
Gatlinburg hotels also offer great views of the fireworks from their respective balconies. Just be sure you're able to see the top of the Space Needle from your room. If you can, you'll be guaranteed a great view of the celebration. Make your reservations early, though, as hotels book up quickly on this holiday.
Visitors can also get a good vantage point from Park River Road, if the party atmosphere isn't for you. No matter what you do, be sure to have a plan as prime real estate along this road is occupied as early as possible in the day.
Make Sure You're in Gatlinburg on New Year's Eve
Make Gatlinburg a part of your New Year's Eve plans to see why this event is constantly voted one of the "Best New Year's Eve Shows in the South!"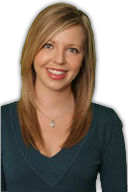 Ashley is Tripster's travel expert, visiting Gatlinburg to find the best travel tips, money-saving deals and insider information. With over 10 years of experience in first-hand-travel adventures, she shares her stories, advice, and current events to help you stay in the know.