Lifelong commitments deserve the party of a lifetime. Don't leave your soon-to-be hitched pal in the lurch with a less-than-stellar bachelor party.
From sizzling pool parties to the best strip clubs in Vegas, we've got our pulse on the best bachelor party places. Keep reading to discover the 14 best bachelor party destinations.
A fette designed to celebrate the soon-to-be betrothed last night of freedom, today's bachelor parties are a far cry from their ancient Spartan roots. From fine dining experiences to craft breweries to zip lining above the Costa Rican jungle, today's bachelor party plans run the gamut.
Whether you are looking to knock back hurricanes and listen to live jazz in NOLA or hit the dancefloor in South beach's hottest clubs, a destination bachelor party always equals a good time.
Bachelor Party Destinations
Ready to hear about the top-tier bachelor party hot spots? Before we spill the tea on where you'll be gambling, drinking, and merry-making before the big 'I Do' it's essential to plan ahead. Bachelor party planning is serious business. We highly suggest you begin your search for flights, hotels, and entertainment 3-6 months ahead of time.
East Coast Bachelor Party Destinations
New Orleans
The Big Easy may seem like an odd pic when it comes to bachelor festivities, but this Bayou paradise is just bursting with live music, mouth-watering cuisines, and strongly mixed cocktails. From the seedy appeal of Bourbon Street to the irresistible allure of po'boys and beignets, the Voodoo City will charm just about everyone:
Eat 
New Orleans is a city all about food, so get ready to chow down. For iconic French Cajun eats, you can do no better than NOLA's oldest restaurant, Antoine's. Nosh away on steaming seafood gumbo and charbroiled oysters, and finish with a classic Baked Alaska.
Craving a hulking pile of fried chicken? Head to Willie Mae's for an out-of-body poultry experience. Going truly native? Sample a catfish platter with potato salad at Barrow's, or sneak by Parkway Bakery for a fried oyster or shrimp po'boy. Round out your day of decadence with a refuel at the legendary Cafe du Monde for sugar-dusted beignets and coffee au lait.
Drink
Sazeracs and hurricanes, oh my! The Crescent City is a drinking town, and from chic piano wine bars to the rabble-rousing of Bourbon Street, there are plenty of places to wet your whistle. Start your day off with a boozy jazz brunch at Commander's Palace, and complete with one of their infamous martinis.
True cocktail snobs will be in heaven over the libations at Jewel of the South, which rotate seasonally. However, be sure to sample their riff on the classic Sazerac or splurge on a 'diamond in the rough.' Ready for a spin? Check out the city's only revolving bar at the classic Hotel Monteleone. The Carousel Bar whips up classic cocktails, and features live music several days a week.
Play + See
Jazz is the lifeblood of N'awlins, so pay some respect and hit up an institution such as Preservation Hall, the Spotted Cat, or Snug Harbor. Take a break from boozing to enjoy NOLA's greener pursuits with an exhilarating Airboat Adventure or
Jean Lafitte Swamp Tour. Otherwise, take in your sights with a side of Voodoo and moonlight when you book a Night Ghost or Lewd Spirits Haunted Tour.
Looking to round out your weekend of crawfish, voodoo, and jazz? Enhance your Big Easy itinerary with our top-tier Things to Do in New Orleans.
Miami
Who doesn't want to get wild like Will Smith in the 305? Come to the city where the heat is on, and prime yourself for plenty of bare skin and beach days. Set your sights on South Beach, and you'll be spoiled with a fiery nightlife scene, fine dining, and pick-up volleyball games:
Eat
After a few hours of sunbathing and poolside cocktails, take in some solid calories with a stop at Rosie's: The Backyard. Indulge in their all-day brunch menu, which boasts-inspired offerings such as a cacio e pepe omelet and pastrami hash.
Come lunchtime bro out at the Time Out Market, where you can quickly size up their many food hall offerings. Lastly, for a truly luxurious send-off for the groom, feast on oysters, steak, and tableside prepared Ceasar Salad at the  Surf Club's Restaurant.
Drink
If you're not getting your fill of bubbly while on board your own chartered yacht, why not try knocking back mojitos at Sweet Liberty Drinks & Supply Company or Swizzle Rum Bar and Drinkery? Want a side of splash with your tequila and soda? Head to flashy Broken Shaker for lush poolside seating and possibly even celebrity sightings.
Play + See
Slather on that SPF because Miami is about to get toasty! Spend your days exploring the Everglade's stunning natural biodiversity, or hit the Bay for a 60-minute Jet Ski ride. Savor the sights from new heights with a VIP-worthy helicopter tour, but rest up for plenty of after-hours shenanigans at LIV, Hyde Beach, and Treehouse.
Polish those salsa moves, cruise through Biscayne Bay. Or hit the beach in Key West when you make the most of your time in America's spiciest city. From go-karts to gardens, take advantage of every last Miami Thing to Do.
Nashville
Southern charm, a whole lot of country tunes, and a cornucopia of craft breweries come together to make Music City a welcome locale for any Stag Night festivities. An ideal getaway for any music-obsessed groom. Nashville's blooming food scene and historical landmarks make for a honky tonking great time.
Eat 
Apologize to your arteries later and set your taste buds aflame with some hot chicken. For a fire emoji-worthy nosh, hightail it to 400 degrees, or for a classic James Beard award-winning chicken experience, wait in line for Prince's Hot Chicken Shack South.
Get messy with some succulent pulled pork and BBQ Machos at Peg Leg Porker. Or, trade out that stained bib for a collared shirt when you score a reservation and plenty of pizza at City House.
Drink 
What plays better with BBQ than an ice-cold brew? Beer snobs rejoice as Nashville's sprawling southern metropolis is home to some superior suds. Sip on a double IPA at Southern Grist, or settle in at the speakeasy-style bar at Bearded Iris Brewing. Catch some rays and sample a Thunder Ann Pale Ale on the sun-soaked patio of Jackalope Brewing Company before heading out on the town.
Play + See
Skip the segway and see Music City in style when you book your patty on the rollicking Nashville Tractor Party Tour. Next, dive into the roots of all things country, bluegrass, and banjo with the Country Music Hall of Fame and Museum. Big fan of the Man in Black? Don't skip the once-in-a-lifetime opportunity to privately tour the Johnny Cash Museum.
West Coast Bachelor Party Destinations
Los Angeles
Hundreds of hot spots, boujie boutique hotels, and an arrestingly international food scene will entice even the most cosmopolitan groomsmen to give LA a second look. Thanks to an influx of culinary creativity, art, culture, and of course, enviable weather, Los Angeles is a go-to for any west coast bachelor weekend.
Eat 
You could spend weeks eating your way through the multicultural rainbow of LA cuisine, but for some quick heavy hitters, grab a cocktail and some tacos at LA Cha Cha Cha, feast on pizza at Mother Wolf, or sacrifice your firstborn for a reservation at Horses.
Craving a classic steakhouse experience with the boys? Try the Dresden for Prime Rib and signature cocktails such as the 'Fernetting Sarah Marshall.'
Drink
LA may be the land of green juice and yoga, but this city of the silver screen knows how to drink. Savor tropical-themed cocktails at Broken Shaker and Upstairs at the ACE hotel. Or, cruise by Hollywood for some seedier dive bar fun and perhaps even a strip club or two.
Play + See
Feel like a kid again when you drag your rag-tag group to  Disneyland or Universal Studios. Scream yourself silly on roller coasters, munch away on churros, or indulge in movie magic. Come nightfall, clean up for a night on the town at Avalon or Exchange LA.
How about some A-list level accommodations to accompany your rousing boy's adventure? Stay close to Disneyland and get a jump on Rise of the Resistance lines, or sleep just seconds from the Hollywood sign with our wide selection of Los Angeles Hotels.
Las Vegas
Thanks to movies like the Hangover, there is no place more synonymous with bachelor party bacchanalia than Las Vegas. Prime your very own wolf pack for the adventure of a lifetime when you pool party and strip club your way through Sin City.
Eat
Counterbalance all those lap dances and buffet breakfasts with some seriously sophisticated eats. Tell your friends to don a collared shirt and maybe even shave when you sample the amazing umami flavors of Mizumi's Japanese cuisine. For a truly unforgettable epicurean thrill, book the private room at Partage, or moan over perfectly cooked steak and cocktails at Bazaar Meat by Jose Andres.
Party
World-class gentlemen's clubs and pool parties, yes, please! Dive straight into debauchery when you head to a bikini-clad fette at Encore or Marquee. Hit the dancefloor at TAO, or leave the sultry moves to the professionals when you watch the ladies work at Scores, Sapphires, or Crazy Horse 3.
Play + See
Magic, immersion, and spellbinding heights. Conquer the Neon Capital's other attractions when you book a wildly entertaining Vegas Show or escape the confines of the Strip with a Grand Canyon Tour. Next, revel in the sights from thousands of feet above with an exhilarating Las Vegas Helicopter Tour. 
Seeking a reprieve from black jack, roulette, and craps? Put your casino dreams to the side and indulge in more wholesome Vegas pursuits with our wide array of Las Vegas Things to Do. 
Oahu, Hawaii
Surf, sun, and sand. Oahu truly may be paradise on Earth. Spoil your soon-to-be-wed friend with an epic bachelor party on this unique Hawaii island. From luaus to snorkeling and sailing adventures, a Gathering Place vacation is just what the doctor ordered!
Eat
Hanging ten? Fuel up for a session of barrels when you swoon over the local offerings of Oahu. Fill up on uber-fresh poke at Hibachi, or taste the flavors of Hawaiian home cooking at Helena's.
For a sweet treat, linger over bites of heavenly fluffy malasadas or Hawaiian donuts at Leonard's. Need an excuse to scrub up? Enjoy incredible oceanfront views and seafood at 53 By the Sea.
Drink
Every hour is happy hour when served next to the cerulean blue waters of the Pacific. Toast to your friend's last days of single life with an iconic Mai Tai at the Royal Hawaiian, or sip your cocktail with a side of jazz at the Blue Note. Feeling suave? Delight in an upscale creation such as the James Bond Martini at Lewers Lounge.
Play + See
Wild out with a Luau and fresh Kalua Pig, or spot sea turtles, tropical fish, and more with an underwater snorkeling adventure. Step in as the first mate on a sunset sail, or tear up some waves on a state-of-the-art jet ski.
Aloha! Promise your party the tropical vacay of their dreams when you bundle your Oahu lodgings and activities with a thrifty Hawaii Vacation Package.
Best Golf Bachelor Party Destinations
Hole in one! Surprise your pack of links-loving bros with a bachelor party all about that putting green. From the deserts of California to balmy Florida, chances are you won't have to go far to play 18 holes at the golf course of your dreams:
Palm Springs
Warm desert weather, cloudless blue skies, and over 100 courses make Palm Springs a perennially perfect destination for golf enthusiasts. Check out the Desert Willow Golf Course, the Escena Golf Club, or the Westin Mission Hills Golf Resort & Spa to start.
Scottsdale Arizona
Work on that par at a luxury club or public course in sunny Scottsdale. Admire the cacti as you make your way through the Estancia Club, the Desert Mountain Club, or the Troon North Golf Club.
Tampa FL
Hightail it to Tampa Bay for a lovely mix of both public and private courses. Channel your inner Tiger Woods at the PGA's famed Innisbrook Resort and Golf Club. Or try your hand at the Eagles Golf Club.
San Diego
Pacific views and laid-back Cali cool make San Diego a superior spot for the golfer looking to relax. Nevertheless, don't forget to bring your A-game to famed courses like Torrey Pines, which require a competitive edge.
Already sold on America's Finest City? Step off the green and take in cuddly pandas and craft beer cruises when you partake in any of our other stellar San Diego attractions.
International Bachelor Party Destinations
Passport in working order? Then pack those bags and take your stag night international. Intrepid groomsmen will love the excitement of outdoor adventure in Costa Rica, where they can zipline, surf, and hike volcanoes. While tried and true, partiers will feel right at home knocking back shots or hitting the beach in Cabo or Cancun.
For our cold-weather friends, why not head North and make merry in the European charm and Canadian culture of Montreal?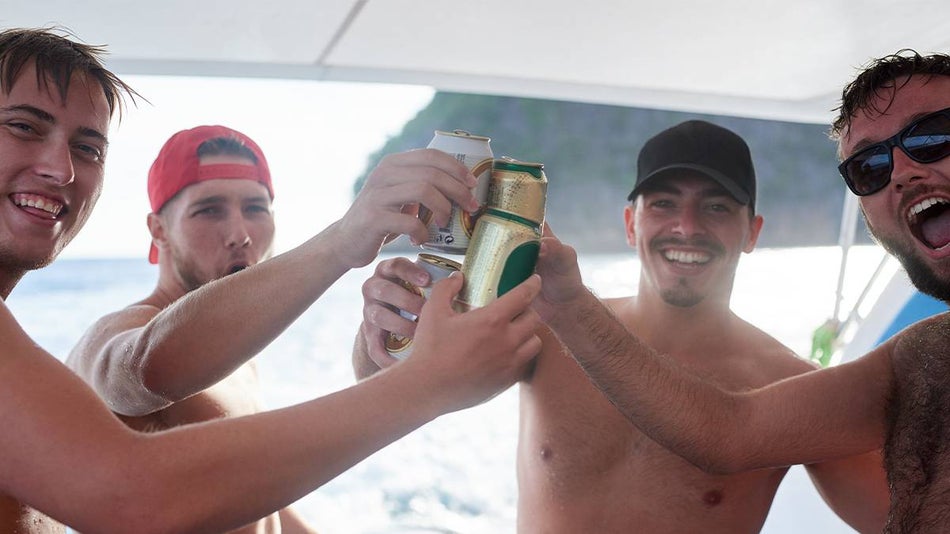 Stag weekend, Buck's night, or bachelor party. Whatever you call it, this centuries-old tradition isn't going anywhere.
Thankfully, today's options for bachelor party destinations are a bit more exotic than they were in Ancient Greece.
Get groovy with country music and hot chicken in Nashville, or attempt to catch a wave in Oahu.
Placate your inner gourmand with an awe-inspiring meal in Los Angeles. Or suspend your disbelief as Criss Angel blow's your mind with illusions, magic, and pyrotechnics.
From Sin City's best strip clubs to days spent working on your handicap in Palm Springs, there's no wrong way to spend a bachelor weekend.
Live up Your Last Days of Singledom at Any of the Top Bachelor Party Destinations!
Did we miss any of your go-to bachelor party hot spots?
Tell us, where was your bachelor party?