Set 3,000 feet high in the Smoky Mountains, Ober Gatlinburg offers fun activities year-round.
Ober Gatlinburg makes sure that everyone has a great time, whether it is a snow-covered winter or a sweltering summer day. Follow along with our handy guide to score the best Ober Gatlinburg coupons and discounts!
Choose from Skiing, Snowboarding, Snowtubing, Wildlife Encounters, Alpine slides, Scenic Chairlift, Bumper Cars, and so much more! Every season offers such a fantastic array of options that the mind reels.
Add to that the incredible scenery, shopping, and dining, how can you hold back any longer?
Ober Gatlinburg Discount Tickets
Offering unique attractions each season, Ober Gatlinburg is a paradise. Occasionally hidden within the blue mist of the Smokies, Ober Gatlinburg is the focal point of life in Gatlinburg. Grab your Ober Gatlinburg discount tickets today. Or, check below for other Ober Gatlinburg ticket deals available.
Ober Gatlinburg Coupons
Tirelessly searching for "ober gatlinburg coupon code"? Save yourself some time. We have the best deal with Tripster's Ober Gatlinburg aerial tramway coupon.
With the Ober Gatlinburg skylift coupon, you are all set to board one of America's largest aerial tramways with some of the best views of the Smokies.
Ober Gatlinburg Packages  
Gatlinburg Sightseeing Adventure Package maximizes your savings by combining the Aerial Tramway and Pink Jeep Tours. Use your tram pass to head up to skiing, rides, dining, and shopping at Ober Gatlinburg. 
Your Pink Jeep Tour will see you following an intriguing itinerary of geological, historical, and wildlife tours of the Smokies. And for a wet and wild family adventure, we have discounted Rafting with Big Creek Expeditions tickets for the thrill seekers in your group.
Fun Fact: The Smoky Mountains are amongst the oldest mountain ranges in the world! 
Anakeesta or Ober Gatlinburg? How About Both?
Can't decide between Anakeesta vs Ober Gatlinburg? You don't have to decide.
Enjoy the fun-filled offerings of two amusement parks with the Anakeesta & Ober Gatlinburg Aerial Tramway Ticket Combo. Combine your tram trip to Ober with the spectacular Anakeesta theme park. Indulge in some ziplining, brave the treetop canopy walk, or even go gem mining!
You probably know that there is more that meets the eye with Anakeesta, which is why we have the Insider's Guide to Anakeesta, and even more incredible saving tips with our Ultimate Guide to Anakeesta: Coupons, Discounts and Deals.
The possibilities are endless!!
Hotels Near Ober Gatlinburg
Whether looking for a cozy mountain lodge or rustic-chic downtown loft, book with confidence, knowing you're getting our best deal online. 
For those who love the buzz of the town, we recommend Gatlinburg Town Square or the Glenstone Lodge.
Gatlinburg Townsquare and Glenstone Lodge are within walking distance of the best downtown Gatlinburg attractions. Book yourself a room or an apartment at incredible savings at both these dwellings when you book with Tripster!
Related Post: Current Festivals and Events in Gatlinburg
Looking to nestle into the Smoky Mountains? For those that want their entire trip to be in the Mountains, we have the perfect option.
Sunrise Ridge Resort is nestled into the foothills of the Smokies and is the perfect place to put your feet up. Enjoy three on-site swimming pools, fitness facilities, and jaw-dropping mountain views.
Be sure to relieve your fatigue in the resort's Sauna after a day of exhilarating rides and adventures with your Ober tickets.
Sunrise Ridge Resort is conveniently close to all Gatlinburg attractions and the Great Smoky Mountains National Park. 
Pigeon Forge Hotels
Located a short 20-minute drive from Ober Gatlinburg, Pigeon Forge offers an opportunity to widen your Smoky Mountain experience.
Tripster recommends The Ramsey Hotel and Convention Centre and Ramada Pigeon Forge North by Wyndham for luxury lovers.
Satisfy your bargain-hunting heart by grabbing a spectacular deal at the Norma Dan Motel and River Place Inn.
Is There An Ober Gatlinburg Military Discount Available?
Ober Gatlinburg appreciates our U.S. Military and is grateful for their service. Therefore, U.S. Military members (active or retired) get 15% discount off the price of Ski Area Tickets & Ski or Snowboard Equipment Rentals*.
Even better? The same discount is given to their spouse and dependent children (with valid military I.D.)
Skiing, Snowboarding, and Snow tubing Ticket Deals
Skiing, Snowboarding, and Snowtubing tickets at Ober Gatlinburg are so popular that they are a world of their own. With over 50 inches of snow every year, this is a Skiing paradise.
While Snowtubing tickets can be purchased in advance, Skiing and Snowboarding tickets are only available to buy on the day you wish to go.
Pro Tip: Book your Snowtubing session at least a season in advance as they run out fast! And, get the best bang for your buck by purchasing 2-3 consecutive days to enjoy $10 Ober Gatlinburg discounts per day!
Skiing and Snowboarding weekday ticket options range from $30 to $40 depending on your choice of full-day or night-time.
Weekends and Holidays follow their own pricing schedule. Skiing and Snowboarding prices range from $40 - $70 for adults and $40- $60 for Juniors and Seniors.
Snowtubing is an absolute bargain at $30 on weekdays and $35 on weekends. With 90 minutes of snow fun and the "Magic carpet" outdoor escalator, this ride is the experience of a lifetime!
Season Pass Savings
Ober Gatlinburg has a fantastic array of season passes for individuals and families alike. Pick from passes designed for adults, families of 3, 4, or 5, and children under 5. 
Pro Tip: Season passes come at preferred rates for various entitlements. Students, Locals, Military Personnel, Seniors can expect a significant discount for Skiing and Snowboarding.
Make sure to plan time for equipment and outfit fittings as those are not included in your season passes.
For little ones needing to get their wiggles out, we have discounted tickets to the TopJump Trampoline & Extreme Area and the outdoor mini-golf extravaganza, Crave Golf Club.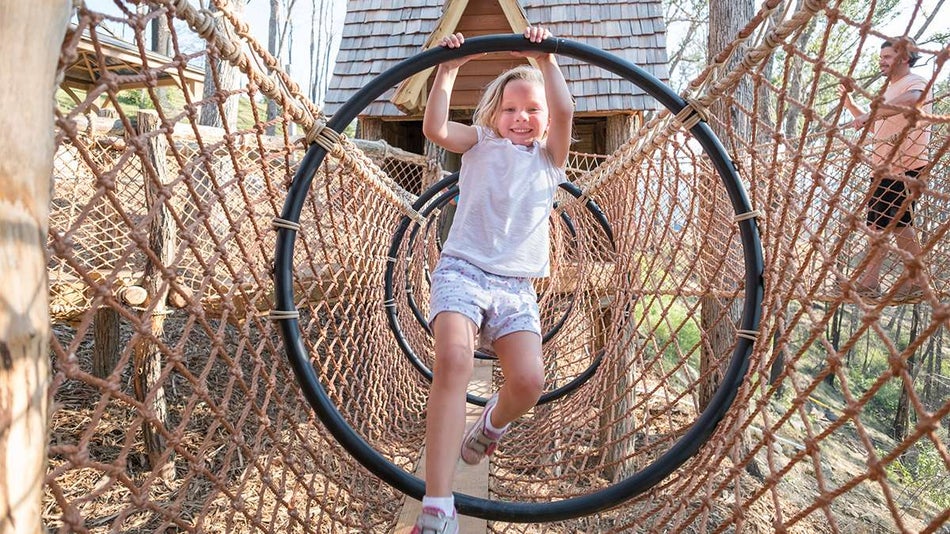 Wristband Wonder Deals
Wristbands are an excellent way to bundle your savings. 
The Basic Wristband will give you bundled savings on eleven Ober Gatlinburg experiences! Enjoy attractions such as:
Scenic Chairlift

Alpine Slide

All water raft rides

Rock wall

Amaze'N Maze

Mini Golf

Chair Swing

Carousel
An itinerary on its own, the Premium Wristband will give you access to fourteen unique Ober Gatlinburg undertakings. This includes everything within the Premium Wristband plus 3 hours on the Ice-Skating Rink, Wildlife Encounter, and 1 Ski Mountain Coaster Ride.
Getting to Ober Gatlinburg
The benefit of being so close to downtown Gatlinburg is that one has numerous options for getting to the amusement park.
Here is what you need to know about getting to Ober:
Ober Gatlinburg Aerial Tramway Adventures Coupons
The Aerial Tramway is possibly as popular as the entire park itself, a star attraction at Ober Gatlinburg. So leave your car at the affordable downtown parking at Parkway and Le Conte street and head to the tram stop.
Running every twenty minutes from downtown Gatlinburg, the Aerial Tram is a fantastic way to soak up the natural beauty of the Smoky Mountains. Available between 7:40 AM to 9 PM every day, these trams are the most convenient way to get to Ober Gatlinburg and the ski areas. 
Sit back and relax during this ten-minute ride over two mountainous miles. Take in the spectacular landscape and get in the mood by thinking about all the pleasures that lie ahead!
Grab amazing round-trip Ober Gatlinburg prices at Tripster in advance, and save yourself some cash!
Pro Tip: Children under four years ride free in the Aerial Tram.
Driving to Ober Gatlinburg
If you'd rather drive up, Ober has parking open from 9:45 AM to 7 PM.
It is always wise to consult the current parking hours before setting off.
Things to Do at Ober Gatlinburg
There is no shortage of things to indulge your senses in at Ober Gatlinburg. 
Spring, Summer, Winter, Fall, Christmas, and Thanksgiving, Ober is always open no matter the season or occasion. So, check the operating hours for the days you plan and visit and begin your journey!
Fun in the Snow: Skiing, Snowboarding, and Snowtubing
Open from mid-December to mid-March; the Ober Gatlinburg ski season comes with ten trails and one terrain park. Extremely popular with residents and visitors alike, the slopes are open from 12 PM to 9:00 PM.
Ober Gatlinburg also enhances your experience by smoothening the surfaces with snow-grooming equipment. What could be better!
Ski tickets give you access to all the ski slopes and lifts, but equipment and outfits must be rented separately.
Pro Tip: Although the ski slopes open at midday, plan to be at the equipment and attire fitting by 10 AM. The lines can be long, and you don't want to waste the ski time you've purchased.
Indoor Fun and Thrills
The winning argument for Premium Wristband comes from the 3 hours of unmitigated fun on OG's Olympic size indoor Ice Skating Rink!
Whether you are a beginner or a professional-level skater, you have a place in the rink. Open throughout the year, the skating rink is the perfect place to beat the summer heat.
Would you rather bump some cars instead? Sure, go right ahead right here on the skating rink!
Ice Bumper Cars occupy one-third of the rink and are a great way to let your hair down. Follow a perfectly circular pattern or drive around haphazardly, bumping your friends. There is no right or wrong way to enjoy bumper cars!
Additonal Rides Included with Your Wristband
Nothing better than splashing around on a thrilling ride in the summer! Beat the heat by tearing through the wind and relishing the water on your face! 
Elate in the pool of The Blue Cyclone, shoot through Shoot the Chute and fly through The Lightnin' Water Ride

Control your speed as you cruise through 2750 ft of turns and dips down the mountain

Summer tube

: 

One of the best Ober Gatlinburg summer activities is to slide down the ski slopes in warmer months like the Europeans against a backdrop of jaw-dropping views.
Wristbands are purchased by adults, but that doesn't mean the kids miss out on the fun. Head to the Chair Swings and the Kiddie Umbrella Rides to let the little ones form their own spectacular memories!
Trails at Ober Gatlinburg
Starting this summer, Ober Gatlinburg is offering guided hikes through the beautiful trails around the property. Surround yourself with flora and fauna that borders the Great Smoky Mountains National Park and form a bond with nature like never before.
Gatlinburg and Pigeon Forge Attractions
A trip to Gatlinburg would never be complete unless you checked out other local attractions too.
Don't worry about having to research them. Here's a list of the best ones:
After spending a few days in this cozy mountain town, you may want to move there. Southern hospitality and warmth abound at Gatlinburg, Pigeon Forge, and nearby towns. 
Unable to resist their charm, you may find yourself booking your next trip even before you've gone home.
The secret of the magnetic pull of places like Ober Gatlinburg is that they've built themselves around the natural splendor. They take their cue from the natural beauty they inhabit. That is why you feel like you are in the lap of nature even while you're on a roller coaster. 
Pack your most comfortable theme park shoes, put your hair up and brace yourself for all the fun coming your way! 
Did We Miss Any of Your Go-To Discounts or Deals for Ober Gatlinburg?
Let us know in the comments below!