Whether you're interested in breathtaking outdoor views along the Blue Ridge Parkway or excited to ride the coasters at Dollywood, we've gathered the six best Gatlinburg day trips to consider.
Cherokee, NC
Distance from Gatlinburg: 1 hour and 7 minutes, 35.7 miles
Only over an hour away, Cherokee offers rich historical roots where visitors can learn about the Cherokee Nation's presence in West North Carolina. Visit the Oconaluftee Indian Village, a replica of the 18th century eastern Cherokee village that once existed here. Further, this "living museum" is managed by the Cherokee Historical Association. Another prominent museum is The Museum of the Cherokee Indian, which hosts permanent and traveling exhibits on Cherokee history and culture. 
Looking for outdoor adventures? Exploring the beautiful surrounding area by traveling to Cherokee River Rapids to go tubing or rafting. Moreover, Mingo Falls provides lovely views 40 minutes away with a stunning 120-foot waterfall on the Cherokee Indian Reservation. 

Hartford, TN
Distance from Gatlinburg: 42 minutes, 25.7 miles
Known for whitewater rafting adventures, Hartford presents the perfect opportunity to get out of the city and spend the day out on the water. Residing along the Pigeon River, there are multiple agencies that offer rafting excursions. Additionally, guests can explore the canopies above the river through Pigeon River Canopy Tours. Zipline from tree to tree to catch amazing sights from above. 
In addition, Hartford boasts a popular traditional moonshine distillery, Bootleggers. As allegedly the nation's smallest batch distillery, Bootleggers brews in 25 gallon pot stills for better quality batches. Try their apple pie moonshine as well as quirkier flavors like jalapeño. End one of the best Gatlinburg day trips by taking a couple of bottles home.
Asheville, NC
Distance from Gatlinburg: 1 hr and 39 minutes, 81.5 miles
Asheville showcases a lively downtown with independent breweries like Wicked Weed Brewing Company, art galleries, theaters, and more. If you're a huge concert goer, see live music at renowned venues such as The Orange Peel and the Grey Eagle. Also, this charming mountain town on the outskirts of the Blue Ridge Mountains presents farmer's markets, independent bookstores such as Malaprop's, and upscale dining. Further, history buffs can tour the Biltmore Estate, George W. Vanderbilt's winter mansion residence, as well as explore the surrounding Biltmore Village to shop and dine.  
There is truly something for everyone within city limits with numerous types of tours offered for your convenience. 
For those looking to head outside, visitors can take the Blue Ridge Parkway into the mountains for a scenic drive and day of hiking or biking trails. Ranging from easy to difficult, visitors of any fitness level can find trails that fit their trip needs. Note that wildlife such as bears do forage in these areas, so pay attention to cautionary signs and advice while looking for gorgeous nearby waterfalls. Additionally, guests interested in water sports like fishing, rafting, or kayaking have plenty of choices at their disposal.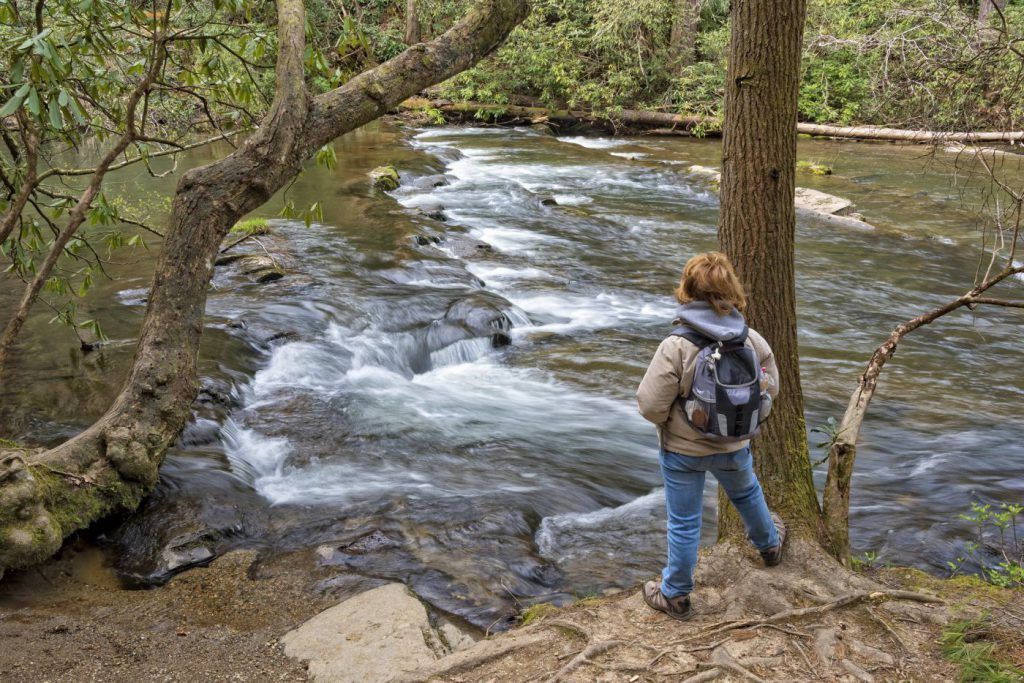 Pigeon Forge, TN
Distance from Gatlinburg: 16 minutes, 7.5 miles
Chock full of family entertainment, Pigeon Forge is home to grand institutions like Dolly Parton's Stampede, Dollywood, and Ripley's Aquarium of the Smokies. Also, Pigeon Forge sits only five miles north of Great Smoky Mountains National Park, so guests possess 850 miles of stunning trails in their backyard. Take the kids to famed Dolly Parton's theme park, Dollywood, for thrill rides galore and then head to the acclaimed Hatfield & McCoy Dinner Show for premium entrées and theatrics. In addition, Pigeon Forge hosts many free activities as well.
If you care to take in spectacular sights outdoors, head to the Great Smoky Mountains National Park to hike hundreds of trails as well as tour Cades Cove's historic 19th-century buildings within the park. Also, guests can climb up to Clingmans Dome to see 100 miles of land across seven states, catch some sun whitewater rafting, or fish in Little Pigeon River. 
Knoxville, TN
Distance from Gatlinburg: 1 hour and 2 minutes, 35 miles
Brimming with history and culture, Knoxville merges the mountains with art, history, and music. Stroll downtown to witness vibrant murals by local artists and try locally-sourced cuisine at award-winning restaurants like
Calhoun's On the River
. Further, there are multiple museums and historic sites for visitors to check out. For instance, the downtown area features 18th and 19th-century architecture in the Market Square district. Further, guests can interact with exhibits at the Museum of East Tennessee History as well as view Civil War artifacts.
In addition, Knoxville's parks and greenways give some respite from the urban jungle. Take in views from the observation deck of Sunsphere Tower in World's Fair Park. Or stroll through Ijams Nature Center's woods, rivers, and trails. Of course, visitors can also drive to the Great Smoke Mountains National Park as well as the Appalachian National Scenic Trail nearby.
Nantahala National Forest, TN
Distance from Gatlinburg: 1 hour and 19 minutes, 43 miles
Lying in the North Carolina mountains and valleys, the Nantahala National Forest contains 531,148 acres of beautiful landscape and wildlife. The most expansive of the state's four national forests, the park's name means "land of the noonday sun" in Cherokee because the sun only reaches the valley floor at midday. Visitors to the forest can hike its trails, mountain bike, horseback ride, and use off-highway vehicles for all-day amusement. With over 600 miles of trails, visitors to the park possess innumerable ways to enjoy a day trip. Please note that your safety is your responsibility, as wildlife is present throughout the forest.
Add These Day Trips from Gatlinburg to Your Travel Plans
If you need new sights and sounds, these day trips from Gatlinburg are sure to keep the fun going and create lasting memories with your loved ones.