Lush forests, scenic mountain views, and the most visited National Park in the U.S make Gatlinburg the up-and-coming destination on everyone's lips.
Whether you seek seafood delights, warm ambient lighting, or searing Smoky Mountain views, read on. We have a bevy of romantic restaurants in Gatlinburg that are sure to fit the bill for any amorous interlude.
Adventurous couples who relish the great outdoors will be drawn to the wild, untamed wilderness of the Great Smoky Mountains. Spend your days hiking, biking, and fishing among the babbling brooks and streams, hiding trout, coyotes, and black bears in their midst.
Once you've had your fill of the 'place of the blue smoke,' settle in for some good eats as you sample, sip, and taste your way through Gatliburg's burgeoning food scene.
Gatlinburg Hotels
Elevate your romantic Gatlinburg restaurant plans by adding an overnight getaway into the mix. Soak up even more Smoky Mountain scenery and perhaps even sneak in a visit to Dollywood or Anakeesta when you spend a night or three in this rugged Appalachian paradise.
From luxurious amenity-filled resorts to serene mountain cabins in the woods, there are many options to choose from when selecting your Gatlinburg Hotels and Lodging. 
Relax and unwind without hesitation, knowing you are always guaranteed our lowest rates online. 
Romantic Gatlinburg Restaurants
The Peddler
For over 40 years, The Peddler has been enchanting lovestruck couples in Gatlinburg. Who could resist? Their swoon-worthy Little Pigeon River views, mouth-watering steaks, and intimate ambiance.
Feel like you're dining within the forest as you slide into your cozy wood lacquered table and let your eyes adjust to the mood lighting.
Start your savory supper with an order of fried mushrooms and cauliflower served with a tangy honey mustard sauce. Then, move on to your main course.
Custom cut steaks are the specialty here, and you can't go wrong with the NY Strip or Prime rib. They're cooked over real Tennessee hickory charcoal. As a bonus, all entrees include piping hot homemade bread, the Peddler's Salad Bar (which includes over 40 toppings), and a side dish.
Be sure to save some room for their sensational desserts, such as our personal favorite, the Peanut Butter Mud Pie. Accompanied by both chocolate and peanut butter ice cream, homemade whipped cream, and chocolate sauce.
The Greenbrier Restaurant
Embrace your settler's spirit! Enjoy a warm, upscale environment in the heart of Gatlinburg when you dine at the romantic Greenbrier Restaurant.
A renowned local eatery dedicated to preserving the region's unique food history and heritage. Greenbrier boasts a creative chef-driven menu specializing in hand-cut prime steaks, fresh produce, and craft cocktails. 
Everything from their stone facade to their crackling fire pit just screams mountain cabin chic. Plan your visit here well ahead of time. A table at Greenbrier is in high demand.
With a house mixologist on staff, the bar program here is unrivaled. You must sample one of their famed craft cocktails, such as the Lydia, a mesmerizing mix of Wheatley Vodka with freshly squeezed lemon juice and house-made lavender simple syrup. Or the Dylan, their signature take on an Old Fashioned created with Bob Dylan's Heaven's Door Bourbon, Madagascar vanilla bean simple syrup, and bitters. 
To start, nosh on some stuffed Gulf Shrimp before debating which prime, dry-aged steak to order. While we may be partial to the NY Strip, others will enjoy their citrus brined chicken, served with cornbread dressing and strawberry balsamic glaze.
Chesapeake's
A dozen aphrodisiacs on the half shell. Yes, please! Indulge in the freshest oysters, shrimp, and fish at Gatlinburg's most romantic seafood restaurant.
Chesapeake prides itself on its rigorous commitment to quality, and all of the seafood is flown in daily. So treat your honey to the coastal cuisine of their dreams as you eat the night away.
Meanwhile, enveloped in a gentle seaside ambiance, surrounded by nautical antiques and artifacts. Dine underneath the warmth of the heated patio and soak in the rushing river views. Or cozy up inside and share a bottle in their private wine cellar.
Kick things off with a chilled bottle of their best Sauvignon blanc before tackling their hefty seafood tower, stacked high with lobster tails, cocktail shrimp, mussels, crab, and oysters.
Share a broiled or fried seafood platter as your main, and ask your server for a slice of creamy Key Lime pie to go.
The Alamo
Need a surefire way to impress your sweetheart with a steak dinner? Book one of the Alamo's semi-private tables, aka 'love nests' and just wait for the adulation to pour in.
The Alamo is Gatlinburg's hidden romantic jewel and is the ideal locale for any special occasion, dinner, engagement, or anniversary.
This highly acclaimed eatery prides itself on its commitment to two things: service and aged steak.
The beef here is treated tenderly and with the utmost care. After being aged in-house, it is hand-cut, seasoned, and then slowly grilled over an oak fire to retain its mouth-watering juices and natural flavors.
Whet that carnivorous appetite with an appetizer such as their signature bacon-wrapped shrimp or luscious hot crab dip served with homemade crispy pita chips.
Then order your choice of top-notch beef entree (the Rio Grande Rib Eye or El Presidente Porterhouse are popular selections). 
Chocoholics beware, as the Alamo desserts are legendary and even include a chocolate burrito, consisting of a flour tortilla wrapped around a Hershey bar, deep-fried, rolled in cinnamon sugar, and topped with vanilla ice cream and chocolate syrup.
Clifftop at Anakeesta
Spellbinding views of Mt. LeConte and the smokies, rustic decor, and inventive American cuisine make Clifftop at Anakeesta a surefire hit.
Grab your favorite food-inclined Hunny and get ready to chow down on gourmet burgers, sensational salads, crave-worthy appetizers, and more at this spacious mountaintop reprieve.
An ideal stop after a day of Anakeesta park fun and adventure, Clifftop also serves a wide variety of ice-cold craft beers as well as homemade desserts.
For an extra special dash of romance, coordinate your dinner time with sunset and prepare to witness the natural majesty of the Smoky Mountains. 
Pay some homage to the south with an order of their signature fried green tomatoes accompanied by bourbon bacon, jalapeno jam, and sriracha remoulade.
Keep the flavors and tastes of Tennessee coming, with an entree of creamy shrimp and grits, or go for broke with one of their decadent burgers like 'the Smoky,' served with pepper jack cheese, applewood smoked bacon, and jalapeno jam.
Cherokee Grill
Pull on that special shirt, as supper at Cherokee Grill demands your date night finest. A beacon of upscale mountain lodge comfort and exemplary cuisine. The Cherokee Grill's stone and brick exterior rival the sugary sweet service inside.
Located deep in the heart of the Smokies, right in Calhoun's Village, this fine establishment has been feeding hungry couples for years.
Cheers with one of their ice-cold local microbrews, such as the medium-bodied Cherokee red ale, or split a bottle of fruit-forward Pinot Noir.
Opt for some locally influenced appetizers, like the smoked trout, or keep things classic with a cheesy spinach artichoke dip for two.
Try the Southern Fried Catfish or the fresh herb-crusted trout for a thoroughly hearty and Tennessee-themed main.
The Buckhorn Inn
Yearning for some searing Mountain views and solitude? Dine-in serene bliss as you gaze out upon the flowing flower meadows and thick forests of pine and hemlock surrounding the quaint Buckhorn Inn.
A blissfully charming bed and breakfast that has been housing and feeding Gatlinburg lovers since 1938, the Inn provides a first-rate foray into the region's cooking and cuisine.
A meal at Buckhorn is a meal to remember (and never to be repeated) since the menu here changes weekly to utilize the produce and seasonal fare available best.
With a hefty emphasis on Southern cooking and techniques, you can expect elegantly elevated comfort food such as sautéed Jumbo Lump Crab Cake and Gulf Shrimp with Garlic Aioli, Autumn Harvest Blend Rice and Asparagus, potato leek and saffron soup, and homemade coconut cream pie.
Wine snobs will be delighted to find each three-course dinner is accompanied by a pitch-perfect wine pairing.
The Park Grill
While the Park Grill may not be the fanciest place to feast in town, it earns a spot on our exclusive list due to its A+ location and Appalachian-inspired style and decor.
It is situated right next to the entrance of the famed National Park. The Grill is the consummate place to refuel and relax after a day of hiking, fishing, and exploring.
Step on into the comforting digs of a rough and ready Mountain lodge and taste the authentic flavors of the Smokies. A truly one-of-a-kind culinary experience. Everything at this down-home haunt was inspired by the beauty of the Great Smoky Mountains.
Settle in for a laidback evening of homestyle eats. Enjoy hillbilly peanut hummus, deep-fried chicken skins, or a moonshine marinated chicken sandwich.
End your night on a deliciously sweet note with the hot blackberry cobbler served with vanilla ice cream.
Crystelle Creek Restaurant
Overflowing flower beds, a flowing creek, and an illuminated 150 ft tree make dining at Crystelle Creek Restaurant a real treat.
Revel in the quiet tranquility of the koi pond and the well-landscaped grounds just a trolly ride away from downtown Gatlinburg.
Surprise your significant other with a dinner of romance, signature pasta dishes, and finger-licking good BBQ at this fine dining establishment. 
First, pique your hunger with some fried to perfection catfish bites. Then, continue with Nashville Prime Rib or Appalachian Smoked Chicken. 
Carb lovers needn't worry as the pasta here is served with full-on Italian American cheesy goodness. Go for the Meatball & Mozzarella Pan Bake served in a sizzling cast iron pan and thank us later.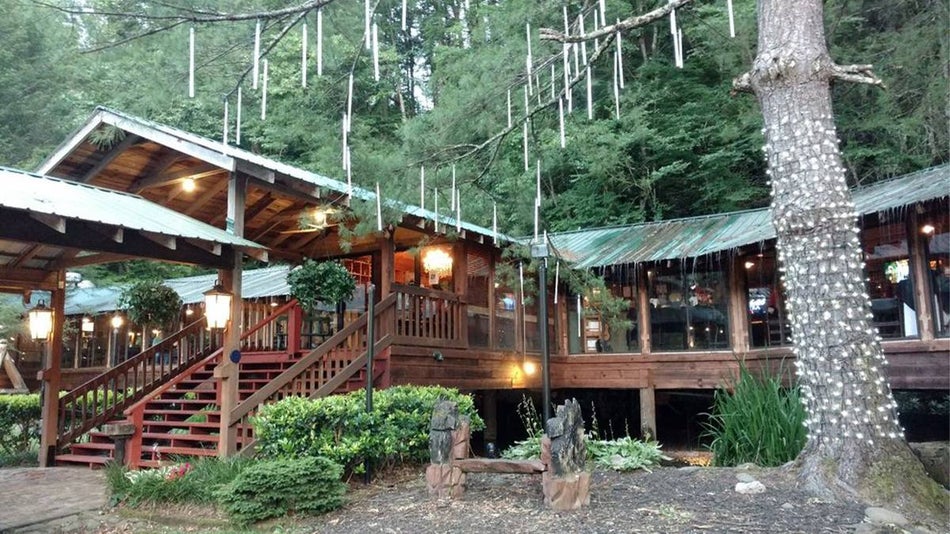 Red Oak Bistro
Want to shake up your typical steak house dinner date night? Then hightail it to the Arts and Crafts Community of Gatlinburg for a drool-worthy evening of Mediterranean, and Eastern European-inspired eats.
Red Oak Bistro is all about the tapas-style, so save up that appetite and get ready to order with abandon!
Every ingredient at Red Oak is chosen with care. Meanwhile, the entire culinary team takes painstaking effort to source only the freshest ingredients from local farmers.
Dine al fresco on the patio, gently warmed by the fire pit. Or gaze into your lover's eyes under the golden glass lamps of the restaurant's interior.
Sip on a delicate Syrah as you order dozens of small plates to share. Try the smoked salmon bruschetta, foie gras, baked brie, and the cheeseboard garnished with crushed walnuts and raw honey.
Local Goat 
On the lookout for an affordable date night option after your Titanic Museum excursion? Are you and your honey bee are as hungry as farm animals? If so, head down to the conveniently located Local Goat for some seriously tasty fare.
Local Goat combines flavorful New American cuisine with a made from scratch approach to deliver dinner and steakhouse favorites done right.
First, take a meander around their brick and wood-laden dining room adorned with artwork produced by local artists. Then, snag a seat at the bar or a cozy leather booth.
With 24 craft beers on tap, Local Goat is a great place to sample as many local IPAs, lagers, and ales as you can handle.
To start, order cheese fondue served with Soft pretzels, French bread, and Granny Smith apples. The salads here are delightfully fresh if you are finally ready to sneak some veggies in. They showcase seasonal ingredients like roasted butternut squash and sugared pecans.
Opt for the autumn harvest for all the fall feels, or for a more substantially southern meal, order the fork-tender Bhaahhby Back Ribs.
Adventurous eaters should test their mettle with one of their inventive burger varieties. We suggest the Elvis, served with the king's favorite peanut butter, smoked bacon, and fried bananas.
A romantic getaway in Gatlinburg might mean more time spent in hiking boots than high heels. But that doesn't mean you can't splurge on a splendid dinner for two.
From awe-inspiring views of the Great Smoky Mountains to the soft-lit glow of twinkling white lights. There are bountiful ways to add some sensual sizzle to your evening plans.
Slurp down fresh East Coast oysters, trade bites of juicy steak, and save some room Chocolate mud pie. The choices are endless when you dine at any of the most romantic restaurants in Gatlinburg.
Which is Your Favorite Romantic Restaurant in Gatlinburg?
Let us know in the comments below!