Choose your type of vacation from the list above to get started.
Gatlinburg is known worldwide as a destination for all types of travelers. Visitors come from far and wide to hike the Smoky Mountains, sample the endless cuisine, experience Dollywood, and see what makes Gatlinburg great. While planning your trip to the Smokies, you might ask, how much does a trip to Gatlinburg cost?
The answer: it depends on the type of vacation you prefer!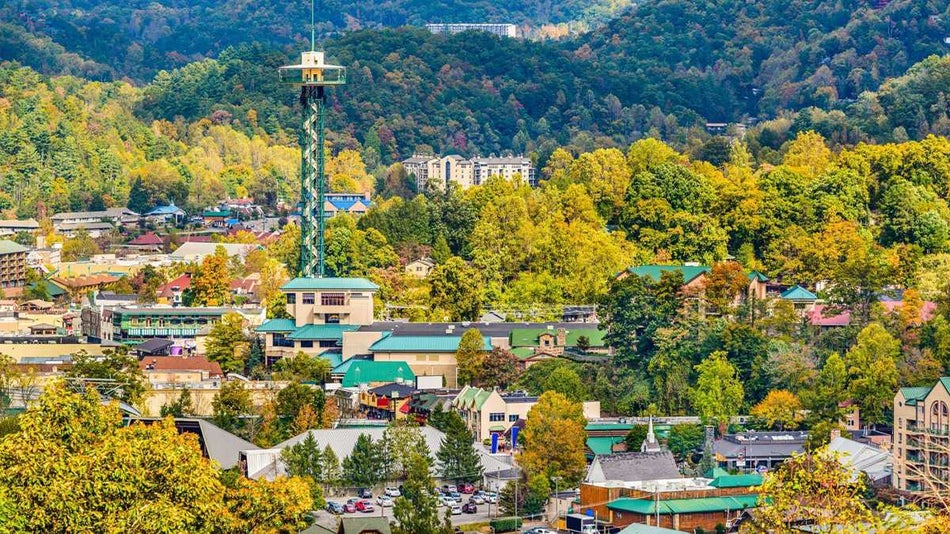 Do you want to save money and still have fun? Would you like to spend a little bit for some extra memories? Or, are you prepared to go all out for a luxury Smoky Mountain vacation? Determining how much your Gatlinburg trip will cost depends on your choice of vacation style:
Budget-Friendly Gatlinburg Vacation
When I travel, I prefer not to drain my savings account to do so. Plus, traveling on a budget is entirely possible when you visit Gatlinburg. Instead of frantically worrying about the cost of your trip, you can relax knowing you'll save money and see the stunning Smoky Mountains at the same time.
Travel
To truly save money, your best option is to drive to Gatlinburg, TN. Of course, if you live far away, this isn't a possibility. Although, keep in mind flying into the Knoxville airport can be a bit pricey. One way to get around the high airline prices is to fly into Nashville or Atlanta airport and drive to Gatlinburg from there. These larger airports not only have cheaper tickets, they also offer more flight options per day. However, if driving to Gatlinburg is within reason, I highly recommend doing so to save time and money.
Also, try to travel in the off-season in the spring, early fall, and winter. Visiting during the peak season can escalate flight prices and traffic jams.
Lodging
Gatlinburg is also known for the various types of lodging available to guests. Fortunately, many of these options are also affordable.
Camping
If you're like me, you want your budget-friendly Gatlinburg vacation to be adventurous as well. Those who love the great outdoors should look into camping in the Smoky Mountains! The national park offers a wide variety of inexpensive camping options. When you're looking to save money and have fun, head to the mountains!
Hotels
I know, not all travelers are into nature, bugs, and hiking. Not to worry! Gatlinburg is home to a multitude of affordable hotels such as:
Do note that visiting during peak season (June through August and October) will result in a higher nightly rate.
Cabins
While the cabins in Gatlinburg are often promoted as luxury cabins, they are still affordable. These spacious accommodations can fit multiple people, meaning your price per person (when shared among friends/family) can be quite low! For instance, if you rent a $200 per night, 2 bedroom cabin for 4 people, that's only $50 per night per person.
Food
Part of pondering how much does a trip to Gatlinburg cost includes budgeting for food. Gatlinburg offers several low-cost restaurants, but the best way to save money is by going to the grocery store. Whether you're camping, staying in a cabin, or at a hotel, buying food and preparing your meals is the cost-effective way to visit Gatlinburg.
Activities
It doesn't get much better than free, does it? When in Gatlinburg, save money and maximize your fun by enjoying these 14 free activities. Plus, the area also boasts inexpensive attractions such as mini-golf courses, go-karts, and more for the whole family.
Souvenirs/Shopping
While Gatlinburg does offer fantastic shopping, plan to skip the stores on a budget-friendly vacation. Instead of spending money on souvenirs, use your funds for memorable experiences like Dollywood tickets or hiking the Smoky Mountains.

Average Gatlinburg Vacation
When I was little, my family had a "vacation fund" jar in our kitchen. We were all instructed to put our loose change in the jar, thus making us accountable for our vacation. Looking back, this may have jump-started my love of travel. But more importantly, it taught me how to save for travel. While we never saved enough for a lavish getaway, we always saved enough for a flexible family vacation.
Whether you've saved up for months or have money set aside, planning a family vacation to Gatlinburg with an average budget is the way to go!
Travel
If home is too far away from Gatlinburg, flying is always an option. Remember to check the price and flight times at larger airports such as Nashville and Atlanta. It'll require a short drive after, but well worth the savings.
However, I'll still recommend that you drive to Gatlinburg. You'll reap the rewards, but you'll also drive through jaw-dropping landscapes.
Lodging
Those planning a middle-of-the-road budget Gatlinburg vacation have an abundance of lodging options. Camping is available for the outdoorsy families and multiple hotels and cabins are all within your budget. When looking for Gatlinburg lodging, consider these affordable hotels and cabins:
Remember that when you visit will have a direct effect on hotel and cabin rates.
Food
When asking yourself how much does a trip to Gatlinburg cost, always consider the cost of food. When I travel, I tend to spend the most on food since I want to try it all! In Gatlinburg, you have a whole world of cuisine at your fingertips. Some of the best Gatlinburg restaurants include Cherokee Grill, Wild Plum Tea Room, and of course, Pancake Pantry.
To save money, choose a few meals to prepare ahead of time. For instance, you could pack sandwiches and have a picnic in the Smoky Mountains. Just remember to carry your trash out!
Activities
The first item on any Gatlinburg itinerary should be a day (or two) at Dollywood. Remember that if you visit after 3:00 pm on the first day, you can visit again the next day for free!
Since your vacation budget is a bit flexible, be sure to get your tickets to these attention-worthy attractions and shows as well:
You're bound to find the perfect activity (within your family vacation budget) for your Gatlinburg vacation.
Souvenirs
Since your vacation budget has a bit of wiggle room, you could purchase souvenirs for friends and family (and of course, yourself.) From outlets to small souvenir stores, you'll find exactly what you're looking for in Gatlinburg.
Luxury Gatlinburg Vacation
Perhaps you're looking to go all out on your Gatlinburg vacation. In fact, you're not asking "How much does a trip to Gatlinburg cost?" You're saying "Let's go now!"
Travel
Since budget isn't an issue, flying into the Knoxville airport will be no problem at all. Although, if you want to take your time and enjoy the scenery, a road trip to Gatlinburg is always an option.
Lodging
If you want to experience the peak of luxury in Gatlinburg, reserve a cabin for your group. These cabins are cozy, feature unparalleled amenities, and often offer gorgeous views of the Smoky Mountains. Check out the available cabins from these rental companies:
Nightly rates depend on the cabin company, the number of nights reserved, and the size of the cabin.
Food
With a flexible budget, there are no limits when it comes to dining on vacation. For the finest cuisine in Gatlinburg, make reservations at these top restaurants:
Activities
Since you have a larger budget to work with, your Gatlinburg vacation can include a multitude of activities! Whether you want extreme thrills or elegant tours, there's an activity for every traveler. Consider adding these activities to your luxurious Gatlinburg vacation for the ultimate vacation:
Don't forget to get your tickets for Dollywood and Dollywood's Splash Country, too!
Souvenirs
With a flexible budget, feel free to shop until your heart's content!
So, How Much Does a Trip to Gatlinburg Cost?
Whether you're ready to splurge on an elegant vacation or would rather save your money and explore the mountains, there's a Gatlinburg trip for everyone. Choose the budget that suits your vacation style and start planning your Gatlinburg vacation today.