For those who aren't outdoorsy or need a break from Mother Nature, there are tons of indoor activities in Gatlinburg to enjoy.
When you think about Gatlinburg, Tennessee, what comes to mind? The Smoky Mountains, right? Perhaps the handful of outdoor attractions and activities, too? Most travelers associate Gatlinburg with outdoor adventures, which, while true, isn't the only thing to do in the area.
Choose from side-splitting comedy shows or mind-boggling museums to make your day indoors one to remember. Our favorite indoor activities in Gatlinburg include:
1. Titanic Museum Attraction
Just down the Parkway from Gatlinburg, you'll find a massive replica of the Titanic. Seriously, you can't miss it.
Inside is an interactive museum dedicated to telling the stories of passengers onboard that fateful night in April 1912. At the beginning of your tour, you'll receive a boarding pass with the information of a real Titanic passenger. As you roam the museum halls, you'll learn more about your assigned passenger, as well as their fate.
This indoor museum is ideal for kids and adults alike. Kids love feeling a genuine iceberg and talking to the ship's crew!
2. Ober Gatlinburg
While Ober Gatlinburg does offer a variety of outdoor attractions, you can easily spend the days inside, too. Your day begins as the enclosed Ober Gatlinburg Aerial Tramway brings you up the mountains to Ober Gatlinburg Ski Area and Amusement Park. Inside, you'll find several indoor activities including:
Ice Skating
Shopping
Arcade Games
Indoor Carousel
And More
A day at Ober Gatlinburg is ideal for families who want a combination of indoor and outdoor fun all in one place.
3. Ripley's Aquarium of the Smokies
Arguably one of the most popular indoor activities in Gatlinburg, a trip to Ripley's Aquarium of the Smokies is not to be missed. Throughout the aquarium, guests have the opportunity to interact with hundreds of exhibits and come face-to-face with marine life. From penguins to sharks and everything in between, who knew an entire ocean oasis was waiting for you in the Smoky Mountains?
The aquarium's top attraction is the 340-foot moving glide path that guides visitors under a sea of sharks. This aquatic tunnel will mesmerize you as sharks and tropical fish swim overhead! Don't miss your chance to touch a stingray or paint with penguins, too.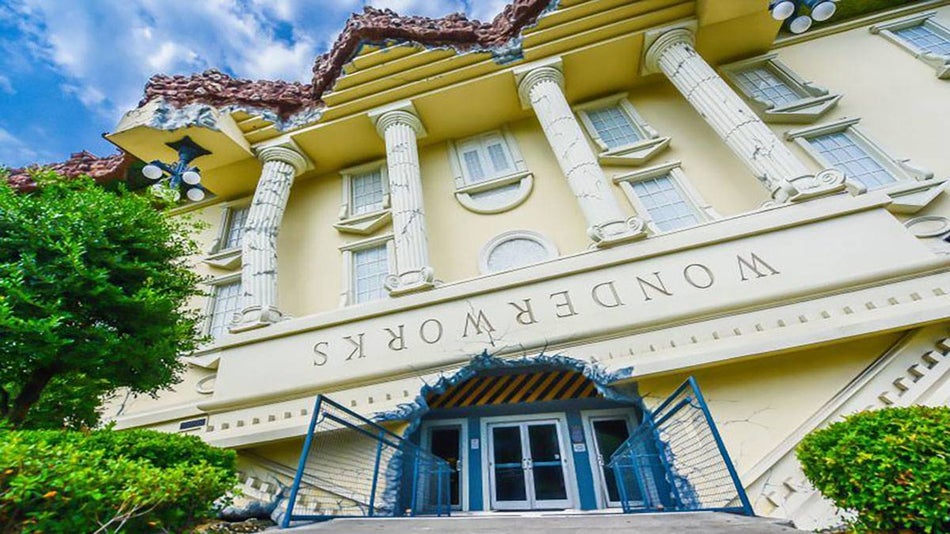 4. WonderWorks
If you're looking for indoor activities in Gatlinburg to entertain the kids, look no further than WonderWorks. This upside-down building captivates kids' attention from the moment they see the building. The funky looking building houses 35,000 square feet of educational, hands-on exhibits including a laser tag arena.
Each of the exhibits at WonderWorks is designed to educate and inspire kids to use logic, creativity, and their imaginations daily. Don't miss the 4D XD Motion Theater too for added fun! From discovering outer space to jamming out on a drum set, your kids will have a blast while learning all day long.
5. Ripley's Believe It or Not Odditorium
Interested in seeing something a little odd? At the recently remodeled, Ripley's Believe It or Not! Odditorium, you'll encounter everything from shrunken heads to the world's tallest man! This family-friendly Gatlinburg attraction includes exhibits from all over the world, guaranteed to fascinate everyone in your group.
Plus, several of the exhibits are interactive, meaning you'll have the opportunity to see these oddities come to life before your eyes. Everything inside this strange museum is sure to spark your curiosity.
6. Ripley's Haunted Adventure
Take a break from the hot Smoky Mountains sun by heading straight into the darkness at Ripley's Haunted Adventure. This terrifying indoor attraction is a world-class haunted house featuring a multi-million dollar set design, special effects, and costumes. If you're not frightened by Gatlinburg's #1 haunted house, you're the bravest person alive. Did we mention the live actors and monsters inside all dying to get you? Good luck!
Due to the scary nature of the attraction, guests under the age of 6 are not permitted inside. Additionally, guests under the age of 12 must be accompanied by an adult. The attraction also uses strobe lights and other potentially disorienting special effects.
7. Guinness World Records Adventure
We've all combed through a copy of the Guinness Book of World Records. Now, these unbelievable awards and achievements come to life in the Smokies. When searching for indoor activities in Gatlinburg, visit the Guinness World Records Adventure!
Visitors can attempt to break a world record, engage with hands-on exhibits, and browse through authentic memorabilia from iconic stars and figures such as Elvis. Plus, with games, trivia, and videos throughout the museum, it's the perfect way to spend the day inside.
8. Shows at Sweet Fanny Adams Theatre
Ready to laugh until you cry? Sweet Fanny Adams Theatre in Gatlinburg hosts several shows designed to make audiences of all ages crack up in hysterics. The historic theater opened in 1977 and continues to be Gatlinburg's premier destination for family-friendly comedy.
Get your tickets to a show at Sweet Fanny Adams Theatre, such as:
Lady Fanny's Nitwit Revue
Ollie's Festive Follies
Among the more hilarious indoor activities in Gatlinburg, the shows at Sweet Fanny Adams Theatre will have you giggling for hours after the show!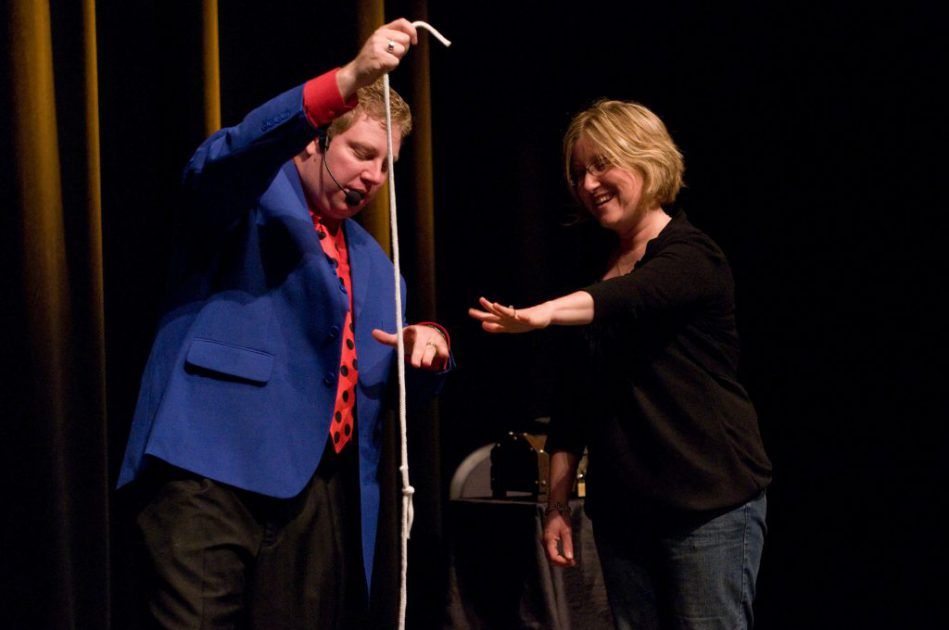 9. Impossibilities - Magic, Mindreading and Mayhem!
Ready to have your mind blown? The Impossibilities - Magic, Mindreading and Mayhem! show is full of jaw-dropping magic, reality-shattering mindreading, and comedic mayhem. Ideal for audience members of all ages, you won't believe the magic happening right in front of your eyes.
These master magicians perform everything from sleight-of-hand card tricks to over-the-top stunts. You never know what's coming next!
10. Hollywood Star Cars Museum
Traveling to Gatlinburg with a car enthusiast? If so, bring them to the Hollywood Star Cars Museum. Featuring over 40 of the greatest Hollywood movie and TV cars in recreated settings, it's easy to see why this is among the best indoor activities in Gatlinburg.
You'll see cars from notable films and TV shows such as:
The Ghostbusters' Ecto-1
The Munsters' Drag-u-la
General Lee from The Dukes of Hazzard
The Beverly Hillbillies' Jalopy
Two Batmobiles - from the Batman TV Show and Batman Returns
Tips for Enjoying the Indoor Activities in Gatlinburg
No matter if you're attempting to escape the rain or need a break from the outdoors, these tips will ensure you have a great day indoors.
Be Prepared
Everyone knows packing for a day out on the town means bringing everything from your phone to snacks for the kids. While it's crucial to pack everything you need for a fun day, certain Gatlinburg attractions do not allow specific items inside.
Before packing your backpack or day bag, double check the rules and restrictions of your intended Gatlinburg activity or attraction. For instance, many museums do not allow selfie sticks or outside food and beverages to enter the building.
Buy Tickets Ahead of Time
While you may be searching for indoor activities in Gatlinburg to avoid the weather, I doubt you'd rather wait in line. To skip the never-ending ticket lines, buy your admission in advance online. On top of zooming by the lines, you'll also take advantage of exclusive activity discounts.
Avoid the Crowds
Chances are, other families are also trying to get a break from the outdoors. Steer clear of the crowds by visiting indoor attractions on off-peak times. Going first thing in the morning or around meal times often lead to fewer people inside the attraction of your choice.
Bundle Your Vacation
To save even more money on your Gatlinburg getaway, bundle your indoor attraction tickets with the hotel of your choice for deep discounts from Reserve Gatlinburg. You'll have the flexibility to create your perfect vacation package while taking advantage of huge deals.
Which indoor activities in Gatlinburg do you plan to visit during your trip? Tell us!