Are you planning a vacation in Pigeon Forge in 2020?
If so, perhaps you're wondering what's new for the Smoky Mountain vacation destination. Luckily, there are several new attractions in Pigeon Forge that will add to your Smoky Mountain experience.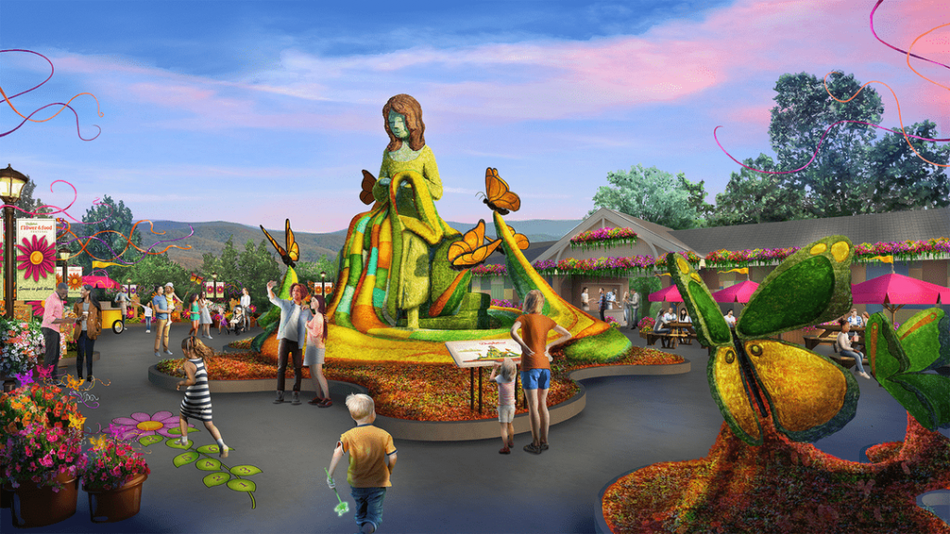 New Attractions in Pigeon Forge in 2020
Dollywood Flower and Food Festival
May 2020
Dollywood excels and keeping things fresh and fun for its visitors. The park is always adding something new and 2020 is no exception. From May 8 through June 14, visitors can expect to see nearly half a million flowers and plants throughout the park.
The Flower & Food Festival is debuting during Dollywood's 35th anniversary season. As such, several of the flower and plant displays will pay tribute to that anniversary. In addition, there will be tributes to classic Dolly Parton songs like "Coat of Many Colors" as well as an interactive display known as "Umbrella Sky" on Showstreet.
Flying Theater Experience
Spring 2020
Head to The Island in early 2020 to experience an incredible state-of-the-art attraction. The Flying Theater Experience takes guests on an incredible journey, via film, through some of the country's most beautiful landscapes and landmarks. By integrating movements, sounds, scents, and mists this aerial adventure becomes more than interactive...it almost feels real. (For anyone that's been to Disney World before, this ride will be similar to Soarin' at Epcot.)
Double Decker Bus Tours
Spring 2020
In 2020, visitors can sightsee in the Smoky Mountains in an all-new way! The Smokies Double Decker Bus Tours feature 10 stops in Pigeon Forge and four in Gatlinburg. These big red double decker buses, which can be seen in major cities around the world, are more than just a method of transportation though.
They include informative tour guides who provide all sorts of behind-the-scenes insight into the area. Visitors will be able to hop on and off with an all day pass. Or, they can opt for a single one-way ride for just $5.
Pigeon Forge Chairlift
Opening Date TBD
Gatlinburg has a chairlift attraction, the Gatlinburg SkyLift. But, Pigeon Forge has never had a similar attraction. That all changes in 2020. Not many details have been released regarding this new addition. But, we do know it'll highlight the rugged beauty of The Great Smoky Mountains.
August Moon Indoor Drive-in Theater
Opening Date TBD
Imagine the magic of a drive-in theater—indoors. That's what August Moon will be when it opens in 2020. This incredible unique attraction recreates the atmosphere of an outdoor movie theater experience indoors. As such, the entire attraction, which is housed inside a large structure, will have the appearance of a perfect summer night. Attraction-goers will sit inside one of 40 classic cars parked in front of a giant movie screen. In addition, there will be swings, seating, tables and grassy areas ideal for laying out "under the stars." Food and drinks will be served, too, creating a dinner and show experience unlike any other.
Anakeesta Expansion
Summer 2020
The newest addition at Gatlinburg's Anakeesta is a 360-degree tower. At the summit of Vista Gardens, a wood and steel observation tower is being built. It will extend 655-feet above downtown Gatlinburg, providing spectacular views of the city and the Smoky Mountains. In fact, on a clear day, visitors will be able to see as far as Kentucky.
Anakeesta is also opening a new eatery—Smokehouse BBQ & Brewhouse. Moreover, there will be a new outdoor play area for families to enjoy this summer featuring wading streams, a cascading waterfall, and a treehouse with an adventure course.
Soaky Mountain Waterpark
Summer 2020
Families will love this new addition to the Smoky Mountains! Soaky Mountain Waterpark, which is being built by Wilderness Resorts and Waterparks, will cover 50-acres in Sevierville. Features of the waterpark include a 35,000 square foot wave pool, a themed kids' play area, a wave river as well as a FlowRider surfing attraction, kids activity pool, poolside cabanas and so much more!
Tower Shops at The Mountain Mile
Spring 2020
The Mountain Mile expansion continues in 2020. Come spring, the center will open a new REI location. In addition, the Mountain Rifle Coffee Company and Currahee Vineyards will open in 2020.
New Restaurants & More in Pigeon Forge for 2020
Buzzed Bull Creamery
Early 2020
This ice cream shop offers unique concoctions made to order. See your treat start as a liquid, then transform into frozen matter. Plus, Buzzed Bull Creamery puts the emphasis on "buzzed"as guests over 21 can choose from alcohol-infused ice cream, milkshakes, and coffee. Don't worry, though, there are plenty of family-friendly options to order, too.
Ruby Sunshine
Early 2020
Visitors to Gatlinburg can look forward to dining on breakfast all day at Ruby Sunshine. This restaurant serves up New Orleans-style twists on Southern brunch classics. Options include eggs benedict, shrimp and grits, french toast, and more. Of course, as this is a New Orleans-style breakfast spot the diner will also feature a variety of cocktails including award-winning Bloody Marys.
Chicken Guy
Opening Date TBA
Celebrity chef Guy Fieri is bringing his famous chicken restaurant to Gatlinburg! This eatery will offer a little bit of something for everyone but the star of the menu is, obviously, the chicken. Dine on all-natural chicken tenders and chicken sandwiches, both of which can be paired with more than 20 different sauces. The desserts here, known as "Flavortown Frozen Treats," are out-of-this-world, too.
New Attractions in Pigeon Forge for 2019
In case you missed them, here's a quick recap of some of the best new attractions in Pigeon Forge for 2019.
Dollywood
In 2019, Dollywood opened the biggest new addition to the park yet—Wildwood Grove. Inspired by Dolly Parton's imaginative childhood, the area features 11 new experiences including rides, play areas, and places to eat. Highlights include a small village, creek and massive Wildwood Tree that "comes to life" each night.
Pirates Voyage
After successfully showing in Myrtle Beach for almost a decade, Dolly Parton brought Pirates Voyage to Pigeon Forge! The show performs in a 21,000 square foot arena adjacent to The Island. Families watch the Crimson and Sapphire pirate crew battle on deck, in the water and in the sky above full-sized pirate ships in a 15-foot-deep indoor lagoon. The show features acrobatic competitions, live animals and an original music score by Parton and Mark Brymer. Of course, tickets also include a delicious four-course pirate feast!
Rowdy Bear Mountain Adventure Park
In March 2019, Gatlinburg's Rowdy Bear Mountain Adventure Park expanded to include a location in Pigeon Forge. The new location is next to the popular eatery, The Local Goat. The $11 million project focuses on similar attractions as the Gatlinburg location such as a mountain coaster and mountain glider. Highlights include a laser gun coaster and a tubing hill.
SkyBridge at Gatlinburg SkyLift
The SkyBridge, which is the longest pedestrian suspension bridge in North America, measuring nearly 700 feet in length, spans the valley between ridges on Crockett Mountain. As you traverse this bridge, you'll reach thrilling heights of up to 150 feet.
Dave and Buster's
Everyone loves to visit Dave and Buster's, an entertainment complex that combines interactive games, incredible sports-viewing, delicious food and tasty drinks in an exciting atmosphere. This new location is in Sevierville, behind the Olive Garden.
Ole Red Gatlinburg
Since opening spring 2019, Ole Red Gatlinburg will be a $9 million, multi-level 16,000 square foot entertainment complex featuring a two-story bar and restaurant.
Helmed by Blake Shelton, Ole Red Gatlinburg is a $9 million, multi-level 16,000 square foot entertainment complex featuring a two-story bar and restaurant. Ole Red also includes a performance space and dance floor.
Mountain Monster
Mountain Monster, a 200-foot tower attraction, is a first-of-its-kind thrill ride open at the all-new Mountain Mile complex. The ride swings riders between towers, dropping them 65 feet and sending them arcing over the parking lot.
The Mountain Mile
The Mountain Mile, the location of Mountain Monster, opened its first phase in May 2019. With over 1 mile of road frontage and 174+ acres in total, this is a project of national significance. The Mountain Mile complex will be home to a bowling alley, sports bar, arcade, various shops, and restaurants, including a high-quality gastropub. Plus, its location at Teaster Lane and Jake Thomas Blvd puts it in the heart of Pigeon Forge. Likewise, the recently opened Cal Ripken Experience baseball park, LeConte Convention Center, and The Island surround the development, which will only add to the traffic the center will receive. To top it all off, Dollywood is just minutes away too!
Beyond the Lens Family Fun
Conveniently located across from the Titanic Museum and Hatfield & McCoy Dinner Show on the Pigeon Forge Parkway, the Beyond the Lens Family Fun Museum showcases the best of pop culture! Explore hands-on exhibits like Dance With Your Favorite Celebrity, participate in Celebrity Gossip Game, watch Breaking News, and immerse yourself in social media.
Experience All Pigeon Forge has to Offer in 2020
These are the latest and greatest new attractions in Pigeon Forge. Which one are you most excited to try in 2020? Let us know in the comments!
Before you go, be sure to book your trip with Tripster for the best deals and discounts on shows, attractions, and hotels.