The competition is on! It's tough to say which of these fan-favorite Gatlinburg attractions will rise to the top.
When traveling to the Great Smoky Mountains, the gem of Gatlinburg, Tennessee, is a must-see. Not only does it lay claim to the gorgeous Great Smoky Mountains, but it's home to two five-star attractions. Unsure about which one you should visit? We're here to answer the question: which is better? Anakeesta vs Ober Gatlinburg is sure to be a heated competition.
At Anakeesta, you can zip and slide through the trees! This amusement park took its inspiration from the great outdoors, resulting in a destination jam-packed with both the beauty of nature and the thrill of theme park rides and activities. Furthermore, the ski resort feel of Ober Gatlinburg is a quintessential mountain town experience. It doubles as a ski resort and amusement park with plenty of activities themed around wintry fun.
If you can make it to both, we recommend you stop here and book discounted tickets today! However, if your schedule or budget can only afford one, we're here to help you narrow it down. Keep reading to find out which is better: Anakeesta vs Ober Gatlinburg!
What They Have in Common
Right off the bat, both Anakeesta and Ober Gatlinburg impress visitors with a fun way to enter the park. At Anakeesta, you'll take a Chondola through the air (or a Ridge Rambler vehicle if you prefer to stay on the ground!) to arrive in style.
Visits to Ober Gatlinburg kick off with a ride on the Aerial Tramway. The tramway will take you 2,813 feet above sea level! The rides at both attractions boast fantastic views of the Great Smoky Mountains.
Speaking of the Great Smoky Mountains, both attractions will give you an immersive taste of the Smokies. With activities themed around the beautiful, sweeping mountain slopes, you'll be sure to fully experience the captivating natural landscape of Tennessee.
In addition, both Anakeesta and Ober Gatlinburg present opportunities to reach new heights and stare in amazement at awe-inspiring views of the surrounding mountains. Of course, if you or members of your party are scared of heights, there are plenty of activities that will keep you ground-bound. 
If you're hoping to get an adrenaline rush, both Anakeesta or Ober Gatlinburg will deliver! You'll find heart-racing rides, like mountain coasters, at each.
Finally, fantastic shopping and dining are in store no matter which attraction you go with. Begin or end the day with a delectable meal, and take the chance to shop 'til you drop!
Now that you know what both Anakeesta and Ober Gatlinburg have to offer, it's time to dive into some of the characteristics that make each unique.
Keep reading for a rundown of the differences between them to help you decide which one is right for you!
Anakeesta Highlights
Anakeesta features a cohesive theme park ambiance with rides and activities that are anything but run-of-the-mill. For example, you can stroll across North America's longest Treetop Skywalk for the feeling of walking on top of a forest! On the canopy walk, traverse 880 feet of hanging bridges that hover 50 to 60 feet in the air.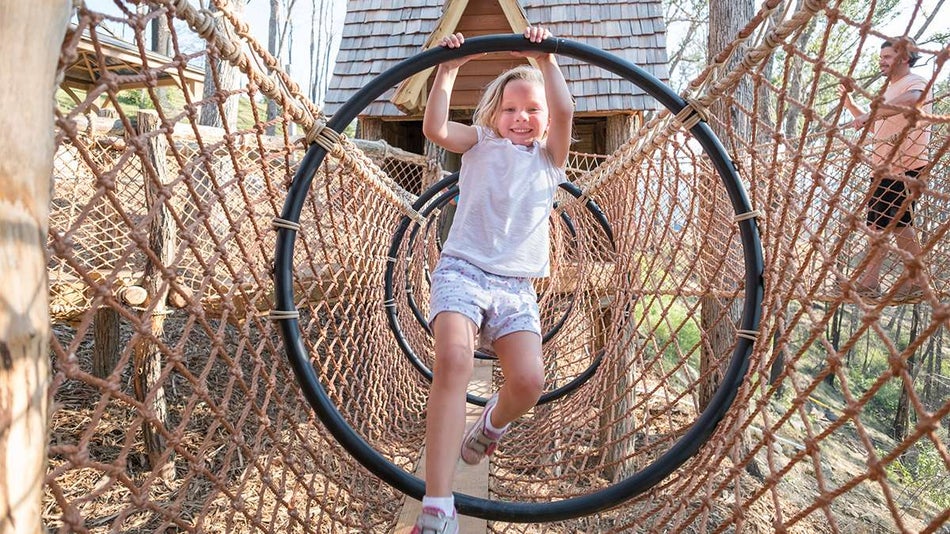 This park is an excellent place for kids to roam and play! The littles can navigate multiple challenge courses or use their imagination at the Treehouse Village Playground. Moreover, kids can mine for gemstones or fossils at the Gem Mine! 
Pro Tip: Visiting Anakeesta in the summer? The Splash Pad is ideal for kids (and kids at heart!) to splash around and cool off!
Zip through the trees with your family and friends on the Dueling Ziplines! These ziplines allow you to go down the mountain side-by-side for a truly unique experience.
Lastly, guests of all ages will enjoy the view at the top of AnaVista Tower -- the highest point in downtown Gatlinburg! The large deck with rails at the top means you can take in the views safely and soundly. Afterward, ramble through the sensory Vista Gardens for a breathtaking nature respite. 
Photo Alert: AnaVista Tower is the perfect place to capture a stunning family photo! Or, strike a pose solo to rack up all the likes. This background beats a photography studio any day.
Ober Gatlinburg Highlights
The ski resort ambiance of Ober Gatlinburg makes it the perfect place to chill out. It's open year-round, but it takes ultra-cold temperatures to produce snow for certain activities. So, plan to visit in the winter if you hope to ski or snowboard! Oh, and did we mention Ober Gatlinburg is the only place you can do so in Tennessee?
If you're crazy about the cold but visiting in the warmer months, there are still plenty of frosty activities! Indoor ice skating is available year-round. Additionally, snow tubing is typically open earlier and later in the season than skiing and snowboarding. So, you may be able to snow tube even if it's not super cold.
Photo Alert: Wintry photos with gorgeous blankets of pure white snow in the background will look great on the 'gram! Bundle up in your most colorful winter coat to add some style. 
Not a fan of colder temps? No worries! There is so much more in store. For instance, the Scenic Chairlift is an exciting yet smooth ride that will take you to the top of the mountain. The peak of Mount Harrison rises 3,455 feet above sea level! This attraction is open year-round.
In addition, the Alpine Slide is a fun way to glide down the Smokies! Use a lever to control your speed on this popular attraction. There's also a section of Ober Gatlinburg dedicated to the kiddos with rides just for them!
Finally, another big draw of Ober Gatlinburg is the Wildlife Encounter! Mingle with beloved creatures, such as river otters, black bears, and flying squirrels.
The results are in! Which is better? Anakeesta vs Ober is a fierce competition.
So, which one is better? It's really up to you! Now that we've explained the similarities and differences between Anakeesta and Ober Gatlinburg, it's time for you to decide which one will be best for you and whoever you are visiting with.
Once you make your final decision, what about the rest of your trip to Gatlinburg? If you need more advice and discounted hotels and attractions, Tripster is here to help! Don't go about making travel plans alone. With our handy resources, you'll be able to plan your best vacation yet!
Anakeesta vs Ober Gatlinburg: Do You Have a Favorite Park in Gatlinburg?
Leave us a comment below!