Following the Chicago Cubs recent World Series win, everyone wants to travel to Chicago (myself included).
While Chicago boasts a ton of free attractions such as Millennium Park, many travelers worry about the cost of lodging. Reserving a hotel room in a city can quickly eat through a travel budget if you don't plan accordingly. Instead of worrying about where to stay in Chicago on a budget, make a reservation at one of these affordable hotels.
Inn of Chicago Magnificent Mile
Located just half a block from the renowned Magnificent Mile, the Inn of Chicago Magnificent Mile offers a convenient location at an affordable price. The hotel boasts quite the history, as well. Opening in 1928 as the Hotel St. Clair, the hotel hosted numerous celebrities over the years due to the close proximity to entertainment venues.
From Bob Hope to Judy Garland, Dean Martin to Jerry Lewis, the hotel was a popular choice for the stars. Years later in 2009, the hotel (now the Inn of Chicago) underwent a fantastic renovation to provide guests with up-to-date accommodations, amenities, and modern decor.
Aside from the location and affordable price tag, guests enjoy the following amenities at the Inn of Chicago:
The InnBar Cocktail Lounge
Valet Parking (fee)
Complimentary WiFi
Skyline Terrace
Fitness Center
Those looking for where to stay in Chicago on a budget should seriously consider the Inn of Chicago Magnificent Mile.
Millennium Knickerbocker Hotel
If you're looking for a hotel near Millennium Park that won't break your budget, try the Millennium Knickerbocker Hotel. Just steps from the popular North Michigan shops and Hancock Tower, this affordable lodging option is a 4-star hotel with a deep history. Who would have thought that a hotel with amenities such as Frette Italian sheets and in-room minibars could be so affordable?
Offering a wide assortment of room types, the Millennium Knickerbocker Hotel provides guests with a fitness center, WiFi, concierge services, and more.
Holiday Inn Chicago Mart Plaza River North
From Navy Pier to the Magnificent Mile, the Holiday Inn Chicago Mart Plaza River North hotel puts you in the center of all Chicago has to offer. When researching where to stay in Chicago on a budget, make sure this hotel is on your list. This downtown Chicago hotel overlooks the river and provides guests with unparalleled skyline views. Between the views and the incredibly convenient location, this hotel is the perfect option for a Chicago vacation.
When staying at this budget approved Chicago hotel, you'll take advantage of amenities including:
Several Room Types
Indoor Pool
Fitness Center
Dry Sauna
Cityscape Bar
Merchants Cafe & Market
Don't bypass this convenient, comfortable, and seriously affordable Chicago hotel when planning your trip!
Chicago's Essex Inn
If you prefer affordable convenience, but also love using top hotel amenities, check out Chicago's Essex Inn. This charming and historic hotel makes deciding where to stay in Chicago on a budget easy. The hotel is situated right in Grant Park and near Buckingham Fountain, which makes for easy access to attractions such as Navy Pier, the Magnificent Mile, and Shedd Aquarium to name a few.
Premier amenities at Chicago's Essex Inn include:
Rooftop Garden with Spectacular City Views
Free WiFi
Fitness Center
High-end Bath Products
Business Center
Comfort Suites Chicago
When traveling to the Windy City with family or a large group, discovering where to stay in Chicago on a budget can be difficult. To accommodate your budget and the size of your group, consider the Comfort Suites Chicago hotel. Conveniently located downtown, this hotel offers spacious suites of varying sizes for travelers. Guests will be pleasantly surprised by the vast variety of in-room and hotel amenities such as:
Full Kitchens in Suite
Washer and Dryer in Suite
Complimentary WiFi
Fitness Center
Complimentary Breakfast
Being just steps away from the Chicago Loop, you'll also be close to popular restaurants, attractions, and landmarks.
La Quinta Chicago Downtown
If you prefer to stay in the Financial District of downtown Chicago, book your stay at the La Quinta Chicago Downtown. Located just two blocks from the legendary Willis Tower, you'll be situated near top restaurants, landmarks, and more. Figuring out where to stay in Chicago on a budget isn't difficult thanks to this hotel!
Amenities at the La Quinta Chicago Downtown include:
Free WiFi
Fitness Center
Complimentary Breakfast
Flat-Panel TVs
This hotel is ideal for business travelers looking for a cozy room with easy access to Chicago's renowned Financial District.
Travel Under Budget in Chicago with These Tips:
Determining where to stay in Chicago on a budget requires a great deal of research. Keep in mind that the room rates aren't the only fees you might incur during your trip. Use these tips to save money and enjoy your Chicago vacation:
Parking is NOT Cheap
If you plan to use a car while in Chicago, make sure you know the parking situation at your downtown hotel. The majority of hotels in Chicago only offer valet parking. Multiply the number of days you plan to stay at the hotel by the daily valet parking fee and try not to gasp at the final price.
To avoid these lofty fees, use a taxi, Uber or Lyft, or Chicago's public transportation to travel around the city.
Does Location Matter?
For many travelers, lodging in downtown Chicago is worth the potentially high room rate. With the hotels listed above, you are within walking distance to all major city attractions, restaurants, museums, and more. This helps you avoid transportation and fees and stay within budget. If you want to lower the cost of lodging as much as possible, look for hotels outside of city limits.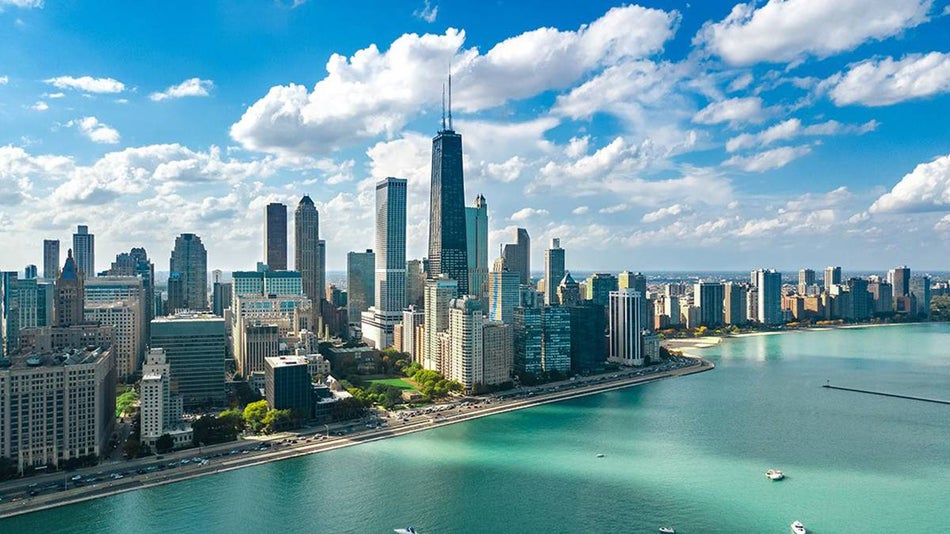 Do Your Research
Unless you are traveling to Chicago for a specific event, try to have flexible travel dates. Hotel room rates are based on seasonality, market fluctuations, and other factors. Do your research, find out when room rates are at their lowest, and book your Chicago vacation. Also, keep an eye out for discounts and promotions from the downtown Chicago hotels!
Eat the Free Breakfast
Many downtown Chicago hotels provide guests with a complimentary breakfast. If you want to save as much money as possible during your trip, why not take advantage of the free breakfast? Keep money in your travel budget by eating for free!
We Know Where to Stay in Chicago on a Budget
One of the many ways to keep your Chicago vacation under budget is to do your research. Be sure to check the Tripster Travel Guide for more inside information, tips, and news!