Use our guide to help you pack everything you need for a trip to Chicago.
Disclaimer: As an Amazon associate we earn from qualifying purchases.

There's a reason Chicago is known as the Windy City. The weather forecasts can be chilly and blustery one minute and sunny the next. With this in mind, trying to determine what to bring to Chicago can be a daunting task. Ultimately, what you pack depends on the season, the weather forecast, and what you plan to do during your stay.
Packing for Chicago: The Essentials
When deciding what to bring to Chicago, your packing list must begin with the basics. Start by packing your clothes and personal toiletries.
Clothing
Before you stuff a heap of clothing into your suitcase, you should consider the season. Chicago's seasons typically follow this pattern:
Spring: mid-March to May, an average of 45-60℉
Summer: June through August, an average of 75-85℉
Fall: September through November, an average of 55-65℉
Winter: late November to early March, an average of 40℉
While factoring in the season, also check the weather forecast for your intended vacation dates. You never know when extreme weather or above/below normal temperatures may hit!
With the weather information in mind, pack these clothing items:
Undergarments
Layered Outfits
Comfortable Walking Shoes
Boots (If traveling in the winter)
Socks
Pants
Shorts
Swimsuit
T-Shirts/Blouses
Long-Sleeved Shirts
Sweater or Sweatshirts
Jacket (Appropriate for the season)
Pajamas
Hat
Sunglasses
Gloves
Scarf
As you're deciding what to bring to Chicago, prepare a few layered outfits. Having outfit choices will be beneficial in the case of a sporadic rainstorm!
I'm the type that's always cold. It could be a nice sunny day, but I'm still wearing a jacket. For sporadic climates such as Chicago's, bringing a versatile jacket is key. I prefer to wear the Patagonia's Micro Puff Hoody since it's lightweight and also super warm when those snowstorms hit! And, it's really easy to pack for the trip there and back.
Toiletries
These personal toiletries are essential for any vacation:
Toothbrush and Toothpaste
Eyewear Necessities
Deodorant
Shampoo
Hair Conditioner
Face Wash
Soap
Razors
Shaving Cream
Tweezers
Q-Tips
Makeup
Hairbrush/Comb
Hairdryer
Hair Products
Personal Medicines
Lip Balm
Moisturizer
When packing, review what in-room and on-site amenities your Chicago hotel offers. You may be able to skip packing items such as a hairdryer and shampoo if your hotel room provides it. Plus, if you happen to forget an important item, the front desk attendant should have complimentary toiletries on hand. Or, they'll be able to direct you to the nearest convenience store or pharmacy.
With Chicago's harsh winds (remember the city's nickname?), you'll want to pack a moisturizer to eliminate dry skin and wind burn. My personal favorite is the Goat Milk Moisturizer from Little Seed Farm. Not only is it an organic moisturizer, which is great for sensitive skin, but it also comes in a TSA-friendly size bottle for easy traveling!
Miscellaneous Travel Items
Every packing list has a few random items thrown in. Depending on the type of traveler you are, these personal belongings may come in handy when exploring Chicago:
Camera
Camera Batteries and/or Charger
Cell Phone Charger
Laptop and Charger
Umbrella
Backpack
Hand Sanitizer
Pens
Book/Magazines
Neck Pillow
Snacks
Refillable Water Bottle
Printed Hotel Reservations
Printed Tour/Activity/Attraction Tickets
Travel Itinerary and Map
I never leave home without my external battery. Even if I'm going for a quick hike or stroll around the city, I've got my external battery in my bag. The Anker Power Core external battery is a popular choice among travelers due to its sheer power. However, if you're looking for portability rather than charging strength, I'd go with the Anker PowerCore+ "Lipstick" Mini. It'll fit right into your pocket.
What to Bring to Chicago: Packing Per Activity
The beauty of cities like Chicago is the myriad of activities for all types of travelers and interests. Whether you enjoy gawking at historic architecture or finding your next outdoor excursion, you'll find something for you in Chicago.
Choose from the activities below to discover what to bring to Chicago: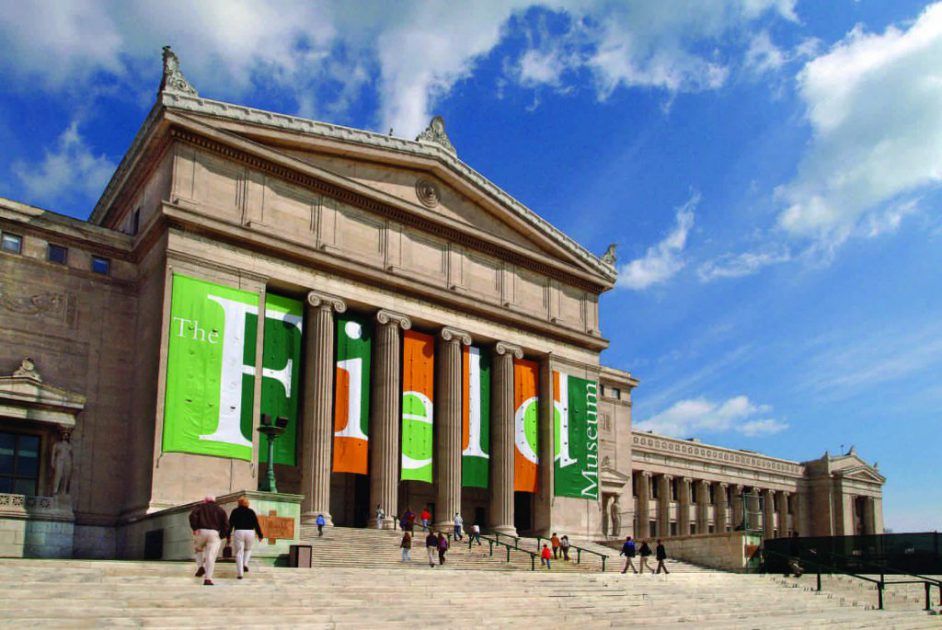 Museums and Attractions
Bursting at the seams with history and knowledge, Chicago is home to numerous museums and iconic attractions. From meeting Sue, the T. rex at the Field Museum to seeing Chicago's skyline from 1,000 feet in the air at 360 Chicago, there is so much to do and see in the city.
If you plan to visit any of Chicago's notable attractions, museums, and institutions, you'll want to pack the following:
Weather Appropriate Attire
Light Jacket
Comfortable Walking Shoes
Valid ID/Driver's License
Printed Museum/Attraction Tickets
Purse/Wallet
Extra Cash
Camera
Camera Batteries or Charger
Cell Phone and Charger
Remember to get your museum and attraction tickets in advance and skip the ticket line! During peak seasons such as summer and school vacations, ticket lines are out the door. You'll save time and money by buying your tickets beforehand.

Shows and Entertainment
Chicago hosts exciting events from touring Broadway shows to epic concerts throughout the year. If you've got tickets to see a show, you'll want to pack these belongings for your trip:
Appropriate Attire
Printed Tickets
Purse/Wallet
Valid ID/Driver's License
Extra Cash
It is important to review what the theater or venue allows inside. Certain items such as selfie sticks, luggage, and even cameras may be prohibited depending on the show.

Touring Chicago
One of the best ways to experience a new city is by walking around. To maximize your time spent in Chicago, sign up for one of the many tours. Choose from walking tours that highlight the city's architecture and rich history, bus tours that bring you to legendary landmarks, and even helicopter tours for jaw-dropping views of the skyline.
If you plan to tour the city, here's what to bring to Chicago:
Comfortable Shoes
Weather Appropriate, Layered Attire
Light Jacket
Purse/Backpack
Camera
Extra Batteries/Charger
Refillable Water Bottle
Extra Cash
Valid ID/Driver's License
Map or GPS App
When you're spending the whole day exploring Chicago, your phone battery will slowly but surely die. Remember to keep that external battery charged and on hand! You never know when you'll need it.

Outdoor Adventures
Although Chicago is a concrete metropolis, there are plenty of outdoor adventures to be had! You can bike through the city's neighborhoods, go on a harbor cruise, browse Millennial Park, and more. Plus, Chicago is home to several beaches for you to explore during the warmer months.
Should you choose to embark on an outdoor adventure in Chicago, bring along these items:
Comfortable and Activity Appropriate Attire
Sneakers or Comfortable Shoes
Swimsuit
Towel
Sunscreen
Picnic Blanket
Refillable Water Bottle
Snacks
Hat
Sunglasses

Sports Games
It's no secret that Chicago is home to numerous pro sports teams. From the recent World Series winner, the Chicago Cubs, to the iconic Chicago Bulls and everything in between, sports fans from all over the world flock to the city for a game.
If you've got tickets to see your favorite Chicago sports team compete, you'll want to pack these belongings:
Weather Appropriate Attire
Comfortable Walking Shoes
Tickets
Extra Cash
Valid ID/Driver's License
Purse/Wallet
Camera
Phone
Extra Batteries/Charger
Remember to pack your jersey or team attire! You don't want to show up to a Chicago sports teams' game wearing the wrong jersey.
Before you go to the game, be sure to check the arena or venue's rules about prohibited items. Certain venues do not allow outside food or drink, selfie sticks, or large bags inside the stadium.
Plan Your Chicago Vacation
Now that you know what to bring to Chicago, it's time to plan your trip. Remember to bundle your attractions and activity tickets with a hotel room for extra savings!
Reserve Direct is a participant in the Amazon Services LLC Associates Program, an affiliate advertising program designed to provide a means for sites to earn advertising fees by advertising and linking to Amazon.com.