Chicago is home to more than 100 museums (and counting.) From renowned works of art to the historic artifacts and the sciences, the city has a museum for almost every topic and interest.
The chances are you don't have time to visit every single museum in the city during your visit. To help you out, I've narrowed it down to the 8 best Chicago museums you simply can't miss. Add these museums to your itinerary for endless educational entertainment.
1. Adler Planetarium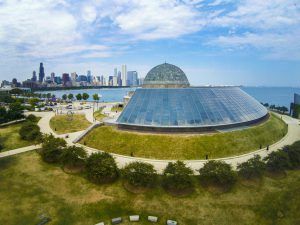 Did you know Adler Planetarium was the first planetarium in the United States of America? This historic planetarium welcomes guests daily and invites them to learn more about our solar system through interactive exhibits, captivating shows, and mind-blowing experiences.
The museum caters to tourists of all ages with exhibits featuring information about the cosmos, planets, galaxies, and so much more. Be sure to take a break at Café Galileo's by Food For Thought while you're there, too.
Travel Tip: Try visiting on a weekday for smaller crowd sizes and more time at each exhibit or show.
2. Museum of Science and Industry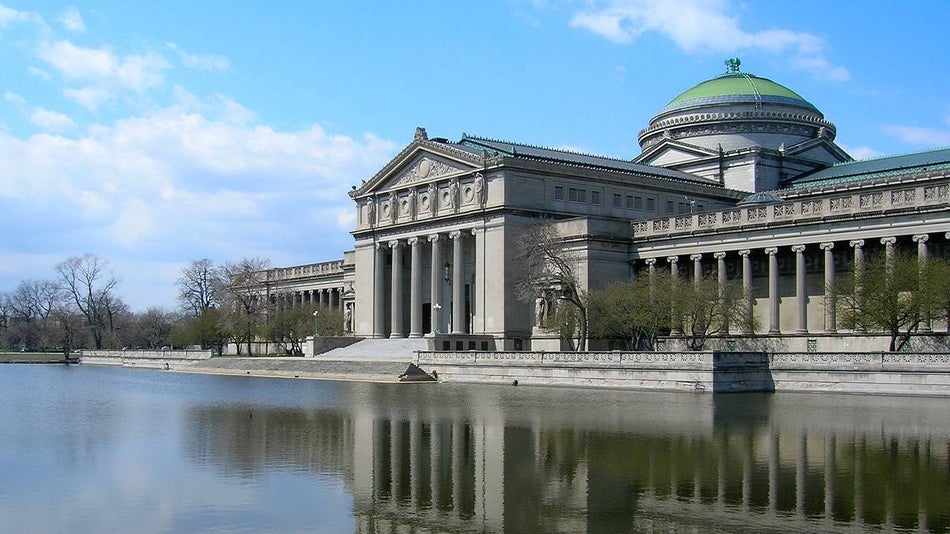 At the Museum of Science and Industry, you'll discover 400,000+ square feet of educational and hands-on exhibits. You'll learn about everything from the science behind tornadoes to what makes a Boeing 747 fly. In addition to interactive exhibits, the museum houses experiences such as a Virtual Reality Spacewalk and Flight Simulators. With so much to see and explore, it's easy to see why the Museum of Science and Industry is considered one of the best Chicago museums.
The museum also houses a number of traveling exhibits designed to pique your curiosity. Past exhibits have included the science behind Pixar movies and a deep dive into underwater worlds.
Travel Tip: Plan to spend several hours exploring all there is to see and do at the museum. The museum has a food court and a cafe for you to refuel.
3. Chicago History Museum
The Chicago History Museum allows tourists to learn more about the Windy City's vast history. You'll ride a high-wheel bicycle, learn about the devastating Great Chicago Fire, and get a glimpse at residents past. Plus, you'll have the opportunity to browse more than 22 million historic artifacts from around the city of Chicago.
When you purchase tickets to the Chicago History Museum, you'll also receive an audio tour free of charge. Take your time and let the history of the Windy City soak in.
Travel Tip: While the Chicago History Museum is among the best Chicago museums, it's also one of the most affordable. Kids under the age of 12 receive free admission!
4. Chicago Children's Museum
Visiting Chicago with kids? Not a problem! There's a museum just for them. The Chicago Children's Museum is located near Navy Pier and offers a world of imagination and education for little ones. While at the museum, kids can learn about waterways, the arts, dinosaurs, and so much more.
Each exhibit allows kids to use their creativity and imagination to discover more about the world around them. Plus, areas such as the Kovler Family Climbing Schooner let young children get their energy out!
Travel Tip: Visit on Thursday evenings for Free Family Nights. What's even better than watching your child have fun and expand their education? Free admission.
5. Art Institute of Chicago
It's no secret that some of the world's most innovative and creative artists called Chicago home. The Art Institute of Chicago boasts a world-class collection of artistic works ranging from contemporary pieces by local artists to historic fine art such as Pablo Picasso's, "The Old Guitarist."
Stroll through the museum's many corridors of artwork and find yourself immersed in a world of color, emotion, and meaning.
Travel Tip: When you purchase your Art Institute of Chicago tickets from Reserve Chicago, you'll receive expedited entry into the museum. Skip the ticket line and head straight for the artwork!
6. Museum of Contemporary Art
If contemporary art is more of your vibe, there's a museum for that, too! The Museum of Contemporary Art is considered among the best Chicago museums due to its selection of intriguing exhibits and featured artists.
In addition to permanent exhibits, the museum also hosts multiple events and programs each month with the intention of celebrating and exploring various art forms and mediums. These events range from musical performance to artist talks and beyond.
Travel Tip: Visitors ages 18 and under receive free admission!
7. Field Museum
Once you come face-to-face with Sue, the world's most well-preserved and largest T-Rex skeleton ever discovered, you won't wonder why the Field Museum is one of the best Chicago museums. Inside the museum, you'll find more than 25 million artifacts from all over the world. Get ready to discover everything from ancient hieroglyphics to meteorites!
The Field Museum caters to tourists of all ages, so you won't have to worry about your children losing interest. They'll be intrigued by exhibits exploring the animal kingdom, filmmaking, human DNA, and much more.
Travel Tip: With so many exhibits to explore, you'll need a few hours to see everything inside the museum. Make sure you schedule enough time in your itinerary.
8. Chicago Sports Museum
Even if you're not a fan of Chicago's sports teams, you can still appreciate the rich athletic history this city boasts. The Chicago Sports Museum pays homage to the city's top teams, athletes, and iconic wins such as the Chicago Cubs 2016 World Series win.
Visitors can learn about Chicago's sports superstitions, see the hoop from Michael Jordan's buzzer-beating NBA finals shot, and also put their skills to the test on a Chicago Speedway racing simulator.
Travel Tip: The museum may close for private events or sports ceremonies. Double check the hours of operation before visiting.
Which of the Best Chicago Museums Will You Visit?
What Chicago museums are on your bucket list or travel itinerary? Let us know!
And remember, buying your museum tickets in advance allows you to skip the long ticket lines. No one wants to wait in line on vacation!