With two equally amazing choices, it begs the question, "Which Chicago observation deck should you visit?"
Arguably the two biggest attractions in Chicago are 360 Chicago and Skydeck Chicago. From more than 1,000 feet in the sky, these observation decks offer tourists a jaw-dropping view of the Chicago skyline and city.
Let's explore the differences between 360 Chicago vs Skydeck: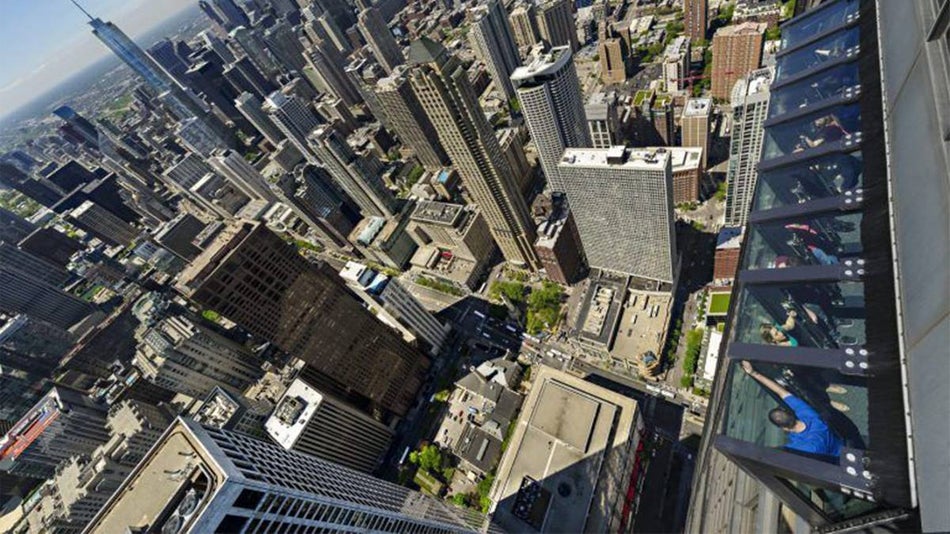 About 360 Chicago Observation Deck
The 360 Chicago Observation Deck is located on the 94th floor of the John Hancock Center. Formerly known as the John Hancock Observatory, 360 Chicago offers views of Lake Michigan and Chicago's bustling cityscape.
In addition to the views, those who dare can test their courage on TILT—Chicago's highest moving experience. TILT allows guests to grab onto the handlebars, lean forward, and hold their breath as the attraction tilts them out 30° over Michigan Avenue. But don't worry, you're protected by solid glass!
About Skydeck Chicago
Skydeck Chicago is situated on the 103rd floor of the Willis Tower. As the tallest building in Chicago, you can have confidence knowing you'll experience unbelievable views at the top of Willis Tower. In fact, from Skydeck Chicago, you can see 4 states, up to 50 miles away, and a 360° view of Chicago all from 1,353 feet in the air.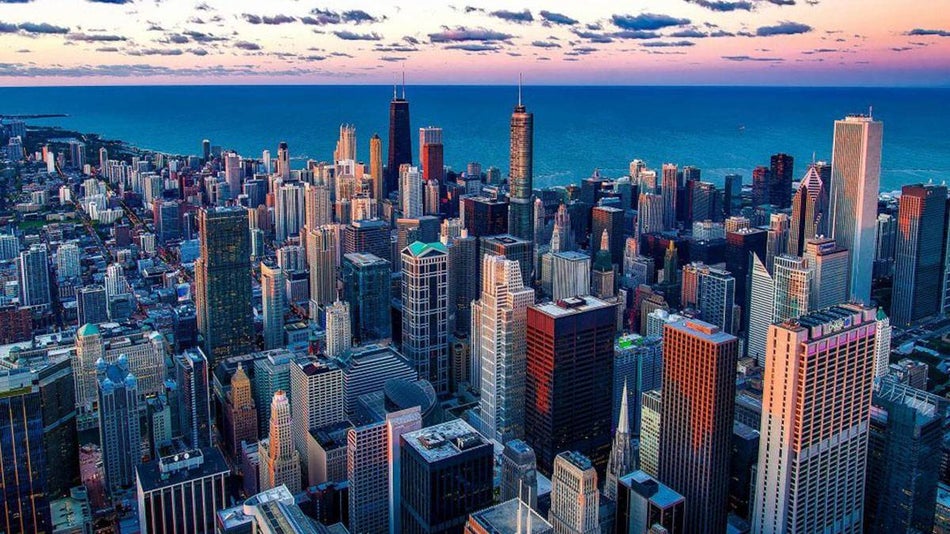 To add to the thrill, Skydeck Chicago offers The Ledge. The Ledge is a glass box extending 4.3 feet away from Willis Tower. That's right—you can step into the glass box, look down, and experience how far up 1,353 feet really is!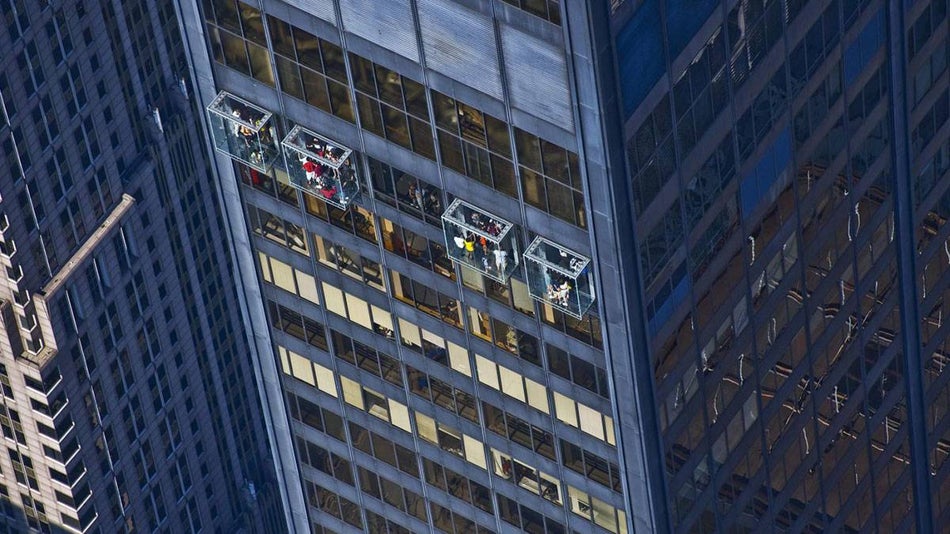 So, Which is Better? 360 Chicago vs Skydeck Chicago.
Personally, I like both observation decks! They both offer an incredible Windy City experience and picture-perfect views. Choosing which observation deck to visit will come down to a few factors, including your vacation itinerary.
Let's compare:
Price
If your decision will be made based on price, your best option is 360 Chicago. General admission on Tripster is currently $16.34 per person with a savings of $3.46. In addition, 360 Chicago offers a multitude of ticket options including:
Sun and Stars: Valid for 2 visits within 48 hours
Sparkling Chicago: Enjoy some Italian Prosecco and admission for two
General Admission + TILT: Add the thrill of TILT to your experience.
Admission to Skydeck Chicago is currently $17.89 per person from Reserve Chicago with a savings of $3.34. In addition, you can access both Chicago observation decks (along with other top attractions) with the purchase of a Chicago CityPASS.
Location
Depending on your Chicago itinerary and hotel choice, you may be closer to one observation deck than another. 360 Chicago is located on Michigan Avenue while Skydeck Chicago can be found on Wacker Avenue (entrance on Jackson Boulevard.)
Since both destinations are within the heart of Chicago, you'll have an easy time accessing each attraction via public transportation or walking.
Hours of Operation
Your decision between 360 Chicago vs Skydeck may also come down to the hours of operation.
360 Chicago is open daily from 9:00 am to 11:00 pm, with last entry at 10:30 pm. Skydeck is open daily from 9:00 am to 10:00 pm. However, from October to February, Skydeck's hours of operation change to 10:00 am to 8:00 pm.
Extra Features
For some travelers, the extra amenities and features at each observation deck will be the deciding factor.
In addition to the views and TILT, 360 Chicago offers guests a souvenir shop, cafe and bars, and tables and chairs. Plus, for young kids, families can access online activities before, during, and after their visit.
While at Skydeck, guests can interact with multimedia exhibits, watch a theater presentation, and browse the souvenir shop after they've experienced The Ledge.
Wait Times
On the other hand, those traveling with impatient kids (or adults) may decide which observation deck to visit based on wait times.
Fair warning: Both observation decks will have substantial wait times. We're talking hours, people.
The wait times for each destination are dependent upon:
The day and time
The season
The weather
Events or festivals in the area
Other outside factors
That being said, Skydeck Chicago tends to have longer wait times due to its downtown location and notoriety. For slightly shorter wait times, visit 360 Chicago.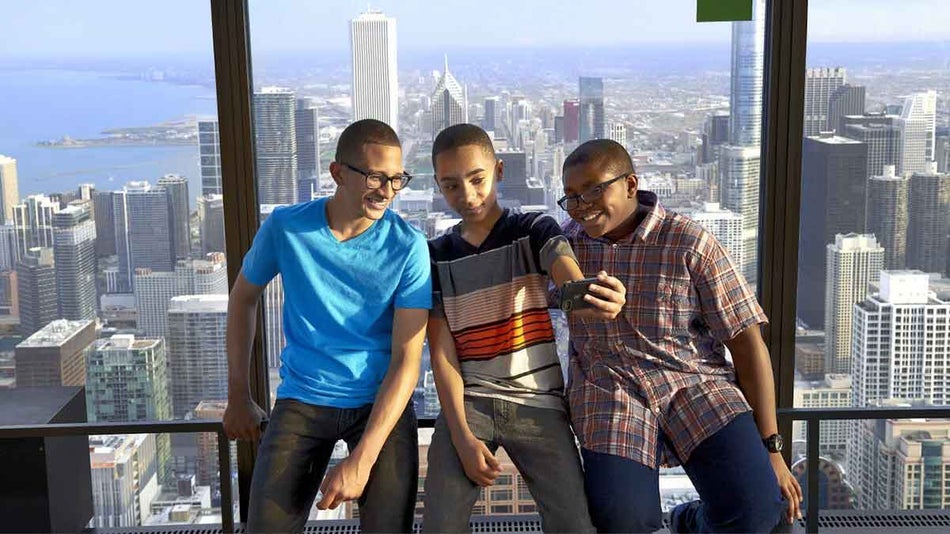 Tips for Visiting 360 Chicago and Skydeck
With all of these factors in mind, we recommend visiting both observation decks! Each observation deck boasts exceptional views, activities, and exhilarating thrills. To make the most of your time, use these tips for visiting:
Purchase Tickets in Advance
No one wants to wait in line for tickets, only to wait in another line for admission. Skip the ticket line by purchasing your 360 Chicago and Skydeck tickets from Tripster. You'll walk right by the line and cut your wait time in half.
Arrive Early or Late
To minimize your possible wait times, I recommend getting to the observation decks either super early in the morning or late at night. If visiting early in the morning, try to arrive at least 15 minutes prior to the observation deck opening to the public. This will allow you to get in line and up to the top as soon as possible.
Also, visiting on a weekday during the school year can increase your chances of fewer crowds.
Take a Look at the Weather Forecast
Rain, snow, and clouds do not mix well with observation decks. You don't want to get all the way to the top only to see clouds and grey skies. Try visiting on a clear, sunny day.
On the other hand, gloomy weather means fewer crowds at 360 Chicago and Skydeck. If you're okay with not-so-great views and want to escape the crowds, visiting on a rainy day may be more up your alley.
Bring a Camera
No matter if you visit Skydeck or 360 Chicago, you need to bring a camera. Make sure you fully charge your phone and camera the night before. The last thing you want is a dead battery at the top of the building! While the observation decks do have outlets, who wants to be that person?
Get your picture taken inside The Ledge or while on TILT and capture the Chicago skyline from way up high. Plus, if you forget your camera or want a professional picture, each observation deck has a photographer onsite (additional fees apply.)
Be Prepared to Wait
Regardless of when you visit, you will wait in line. With this in mind, come prepared! Parents, this means having snacks and toys available for children (or cranky significant others.) Depending on when you visit, you may also want to eat a meal before you go.
Take Advantage of the Extra Experiences
Although there may be another line for TILT and The Ledge, you have to experience them! Nothing comes close to the thrill of stepping outside of a building more than 1,300 feet up in the air or being angled out of a building only separated by a sheet of glass.
Are You Afraid of Heights?
If so, your choice of 360 Chicago vs Skydeck is an easy one: neither. Both observation decks are not recommended for visitors with an extreme fear of heights.
Get Your 360 Chicago and Skydeck Tickets Today
Still wondering if you should visit 360 Chicago vs Skydeck? Why not visit them both? Remember to purchase your observation deck tickets from Tripster and skip the ticket lines.