At first glance, Chicago may not seem like an exciting place to bring toddlers on vacation. However, this couldn't be further from the truth. There is a ton of entertaining things to do in Chicago with toddlers.
From interactive museums to kid-friendly tourist attractions, Chicago is a family travel hotspot.
When visiting the Windy City with your little ones, visit these top destinations and activities.
1. Navy Pier
As one of the most visited tourist spots in Chicago, Navy Pier offers a variety of activities and attractions designed just for kids, including:
With so many things to do in one spot, plan to spend at least half a day at Navy Pier to get the full experience and give your toddler a chance to explore. Navy Pier also hosts an assortment of events and festivals year-round. Check their events schedule to see if a toddler-friendly event is happening during your trip.
2. Museum of Science and Industry
Traveling to Chicago with a curious tike? If so, a trip to the Museum of Science and Industry should be on your itinerary. This engaging museum inspires kids to ask questions, embrace their curiosity and imagination, and explore the world around us. Exhibits at this inquisitive institution include:
Brick by Brick
Robot Revolution
Future Energy Chicago
Baby Chick Hatchery
Numbers in Nature: A Mirror Maze
From robotics to biology, this museum explores a wide range of topics sure to capture the interest of your little scientist.
3. Millennium Park
No trip to Chicago is complete without a stop at Millennium Park. Home to the famous art installation, Cloud Gate, also known as "The Bean", Millennium Park offers several things to do in Chicago with toddlers such as:
Lurie Garden
McCormick Tribune Ice Rink
Free Events and Festivals
Crown Fountain
Kids love roaming (read: sprinting) through Lurie Garden at Millennium Park. The 3.5-acre botanical garden is home to hundreds of flowers, plants, and flora, all creating a natural adventure for visitors. Best of all, admission to Lurie Garden is completely free.
If visiting Chicago during the winter, rent some ice skates for the family and glide along the McCormick Tribune Ice Rink. This Chicago tradition is a hit among kids, especially those just learning to skate!
4. 360 Chicago and Skydeck Chicago
Want to impress your toddler? Take them to either 360 Chicago Observation Deck or Skydeck Chicago for jaw-dropping views of the city.
At 360 Chicago Observation Deck, see views of Lake Michigan and the city skyline from the 94th floor of the John Hancock Center. In addition, if you and your toddler are daredevils, try TILT—the highest moving experience in Chicago. 360 Chicago Observation Deck also provides:
Online Activities for Kids
Interactive Displays
Audio Tours
Skydeck Chicago is found on the 103rd floor of the Willis Tower, the tallest building in
Chicago. In addition to awe-inspiring views, Skydeck Chicago also offers The Ledge, a glass box that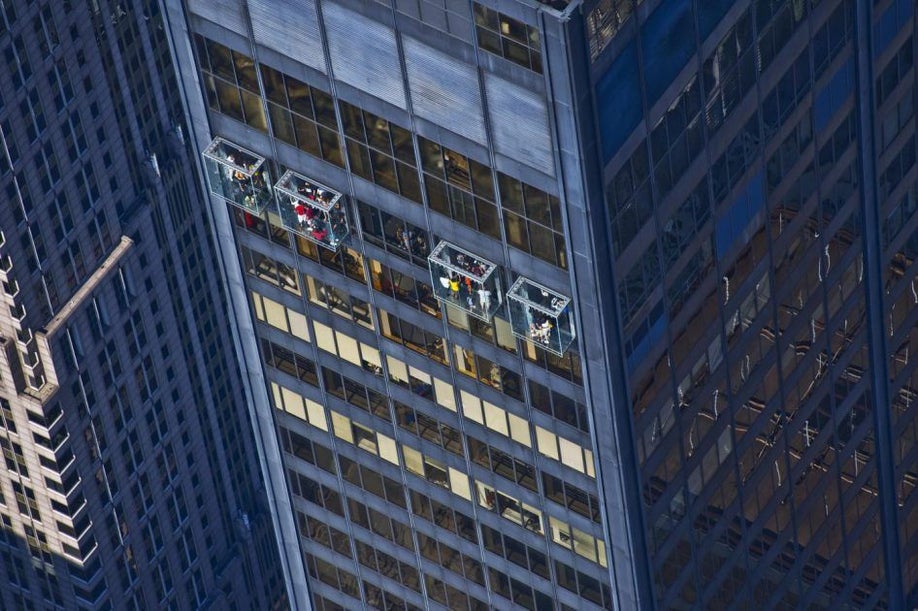 puts you 4.3 feet outside of the building and 1,353 feet high off the ground! During your visit, be sure to check out the additional attraction features including:
Interactive Exhibits
A Theater Presentation
Food and Beverage Stations
Which observation deck is better for your trip? They're both great choices! Keep in mind these attractions can be crowded, so keep a hold of your child's hand at all times.
5. LEGOLAND Discovery Center Chicago
What toddler doesn't love LEGOs? At LEGOLAND Discovery Center Chicago, your toddler will be immersed in the LEGO universe with activities and attractions including:
MINILAND Chicago
Jungle Expedition
LEGO Factory Tour
LEGO 4D Cinema
Kingdom Quest Laser Ride
LEGO Master Builder Academy
LEGO Racers: Build & Test
Merlin's Apprentice Ride
Pirate Adventure Island
DUPLO Village
From building to their heart's desire to watching a 4D movie, the LEGO fun is never-ending! To make the most out of your visit, plan to spend a minimum of 2 hours at the attraction.
6. Shedd Aquarium
A visit to Shedd Aquarium is also one of the best things to do in Chicago with toddlers. As one of the world's largest indoor aquariums, Shedd Aquarium is home to everything from penguins to stingrays! And, the engaging and immersive layout of the aquarium captivates visitors of all ages.
Be sure to take advantage of the additional experiences available throughout the aquarium, such as:
Animal Encounters
Educational Shows
4D Experiences
Dive Chats
Aquatic Presentations
Since Shedd Aquarium is a popular destination among families visiting Chicago, it is in your best interest to arrive as early as possible.
7. Kohl Children's Museum
If you're looking to get outside of Chicago for a bit, head to Kohl Children's Museum with your family. The museum is home to 17 exhibits designed to let kids think creatively, release their imagination, and have fun while learning. Exhibits include:
Adventures in Art
Habitat Park
Hands-on House
Pet Vet
Powered by Nature
SpotHero Car Garage
And More
The museum also welcomes traveling and temporary exhibits throughout the year for even more kid-focused fun.
8. Peggy Notebaert Nature Museum
The Peggy Notebaert Nature Museum has been a Chicago staple for more than 160 years! Located in Lincoln Park, the museum is dedicated to educating visitors about our natural world, conservation, preservation, and restoration through hands-on fun. Toddlers love exhibits and museum areas such as:
Butterfly Haven
The Bird House
Extreme Green House
Mysteries of the Marsh
Nature's LunchBox
Hands-on Habitat
The museum is open from 9:00 am to 5:00 pm during the week, and 10:00 am to 5:00 pm on the weekends.
9. Lincoln Park Zoo
While in Lincoln Park for the Peggy Notebaert Nature Museum, don't forget to visit the zoo!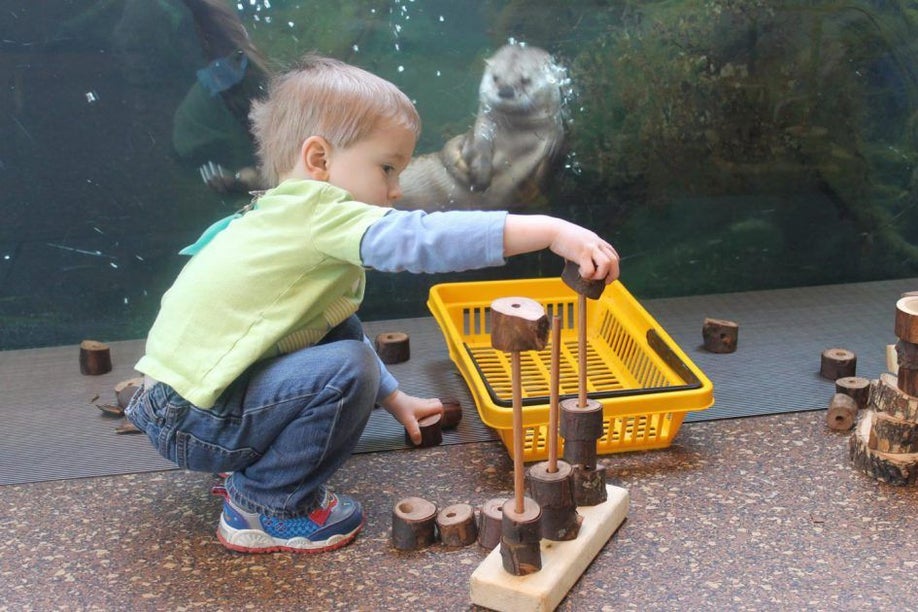 The Lincoln Park Zoo is completely free (yes, you read that right) and is one of the top things to do in Chicago with toddlers. In addition to the wide range of animal exhibits, the zoo also offers:
Animal Feedings
Animal Encounters
Zookeeper Talks
Shows
From owls to zebras, your toddlers will love discovering the magnificent animals at the Lincoln Park Zoo in Chicago.
10. Maggie Daley Park
Maggie Daley Park is the ultimate park for toddlers and older kids alike. This park has everything! Seriously, everything. Check out what this public park offers:
Mini Golf
Climbing Wall
Play Garden
Tennis Courts
Ice Skating
And, that's only a handful of the activities available!
Maggie Daley Park was also recently revamped to focus on providing kids with a safe and entertaining place to play in Chicago. Don't miss the chance to experience this magnificent park with your toddler(s).
11. Adler Planetarium
Last, but certainly not least, Adler Planetarium offers edutainment for visitors of all ages, including toddlers. In fact, Adler Planetarium was the first planetarium in the United States! The planetarium boasts a wide variety of exhibits, shows, and activities focusing on space exploration and our galaxy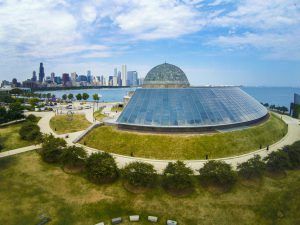 such as:
Telescopes: Through the Looking Glass
Cosmic Wonder
Destination Solar System
Mission Moon
Our Solar System
Plus, don't miss the Planet Explorers exhibit built specifically for toddlers!
If your family is planning to visit Adler Planetarium, either visit at a non-peak time or arrive as early as possible to beat the crowds.
Plan Your Family's Trip to Chicago Today
With so many things to do in Chicago with toddlers, vacation expenses can pile up fast. Start your trip off on the right foot by bundling your Chicago attractions and activities tickets with a hotel room for extra savings!