From historic buildings to classic museums filled with wonder, Chicago is home to a world of landmarks.
In fact, there are 10 must-see landmarks in Chicago you cannot miss during your vacation to the Windy City.

1. Millennium Park
Known for the iconic "Cloud Gate" (also known as "The Bean") art installation, Millennium Park is a top destination for tourists. The park boasts multiple exhibits, outdoor works of art, tours, concerts, and so much more. With so much to offer, the park is the "go-to" spot for a variety of free events, activities, and festivals.
If you're hungry, visit the food trucks lined around the park and check out the Goose Island beer garden, too. Once you've fueled up, burn some calories by walking through the 3.5-acre Lurie Garden. The garden is free to tour and offers spectacular sights, including a 15-foot tall hedge.
Of the landmarks in Chicago, you can't miss visiting Millennium Park. After all, you can't visit Chicago without getting a picture with "The Bean".
2. Willis Tower
Previously known as Sears Tower, Willis Tower stands tall in the heart of Chicago. At one point, this towering icon was the tallest building in the world. Today, it is the second tallest building in America and a popular attraction for visitors.
In addition to being mesmerized by the sheer height of this building, visitors are invited up to the observation deck for stunning views of the Chicago skyline. Skydeck Chicago is located on the 103rd floor of the Willis Tower and features "The Ledge". If you're daring, step out onto the Ledge—a glass box extended 4.3 feet out from the tower.
That's right. You'll stand in a glass box outside of Willis Tower, over the street below. Talk about a rush!

3. Navy Pier
Navy Pier is Chicago's lakefront treasure located between Illinois Avenue and Grand Avenue. Featuring endless fun, entertainment, and events, there's something for everyone at the pier. As one of the most frequented landmarks in Chicago, Navy Pier offers entertainment including:
Centennial Wheel
The Chicago Children's Museum
Sightseeing and Dinner Cruises
Fireworks Displays
Chicago Shakespeare Theater
Crystal Gardens
Retail Stores
And that's only a handful of the fun! Remember to carve out a few hours to experience all that Navy Pier has to offer.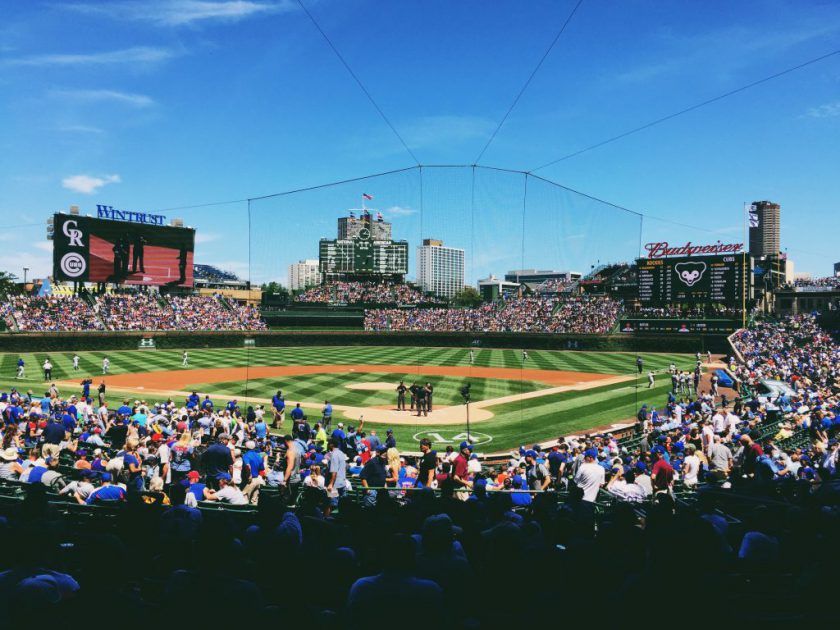 4. Wrigley Field
If you're a sports fan visiting Chicago, your first stop must be to Wrigley Field. No matter your feelings about the Chicago Cubs, seeing this historic baseball field in person is a sight to behold. Did you know Wrigley Field opened in 1914 and is currently the second oldest MLB stadium in the league (after Fenway Park)?
When you visit one of the most iconic landmarks in Chicago, be sure to notice the ivy-covered outfield walls. Aside from the recent Chicago Cubs World Series win, the stadium is known for these interesting walls.
5. Lincoln Park Zoo
Have you noticed that the landmarks in Chicago all seem to have a rich history? The Lincoln Park Zoo is no exception. This wild landmark was founded in 1868, deeming it one of the oldest zoos in the country
The best part about this popular attraction is that it is 100% free. Yes, you read that right. Visiting the Lincoln Park Zoo won't cost you a dime. From armadillos to polar bears, you'll encounter a great deal of the animal kingdom without spending a fortune on tickets.
6. Shedd Aquarium
Another animal-focused landmark in Chicago is Shedd Aquarium. Dive into a world of underwater adventure, sea creatures, and ocean conservation efforts as you tour this exciting Chicago landmark.
If you're planning on visiting Shedd Aquarium, I highly recommend purchasing the Chicago CityPASS. This one-time purchase pass grants you access to multiple landmarks in Chicago, including a few on this list!
7. Chicago Riverwalk
Walk along the Chicago River from Lake Shore Drive to Franklin Street for epic views, delicious restaurants, tempting shops, and so much more. Known to native Chicagoans as the "Second Lakefront", the Chicago Riverwalk is trafficked by residents and tourists alike. You can't beat the beautiful river views, greenery, and a multitude of activities including boat rentals. The Chicago Riverwalk is also home to several events throughout the year, from free concerts to cultural festivals.
When visiting the Windy City, make sure the Chicago Riverwalk is on your list of landmarks to see!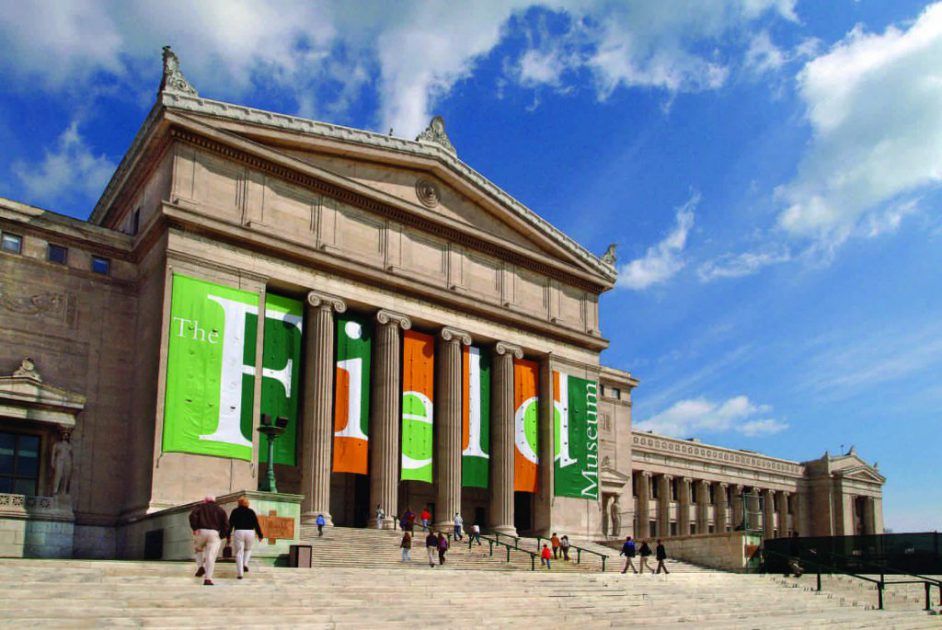 8. The Field Museum
At the Field Museum, you'll encounter more than 25 million historical artifacts on everything from the dinosaurs to ancient civilizations. Noted among the most educational landmarks in Chicago, The Field Museum is home to Sue, the largest and most complete Tyrannosaurus Rex ever found. You'll never forget the first time you came face-to-face with a T.rex!
If you plan to visit the Field Museum, make sure you have plenty of time in your schedule. With so much to see and experience at the museum, you do not want to rush through the exhibits.
9. Buckingham Fountain in Grant Park
Located in Grant Park, the Clarence F. Buckingham Memorial Fountain (also known as simply, Buckingham Fountain) was built in the mid-1920s after being funded by Kate Buckingham in Clarence's memory. Kate and Clarence Buckingham were prominent art collectors and philanthropists in Chicago in the early 1900s.
The gigantic fountain performs a thrilling water display every 20 minutes, with water shooting as high as 150-feet in the air. If you visit this triumphant water display at night, you'll also encounter a light show synchronized with the water!
10. Garfield Park Conservatory
Rounding out our list of can't-miss landmarks in Chicago is Garfield Park Conservatory. Offering 2 acres of greenery and floral displays inside, the conservatory features exciting displays, demonstrations, and activities for guests. In addition, if you visit Chicago during the summer, Garfield Park Conservatory also has 12 acres of outdoor arrangements to explore. Visitors often say this is one of the most beautiful places in Chicago!
Visit the Top 10 Landmarks in Chicago
When traveling to Chicago, you don't want to bypass seeing these iconic landmarks. From a legendary baseball field to towering skyline views, visiting these destinations are absolutely worth your time.