Imagine mountains and valleys painted with stunning Pigeon Forge fall colors that light up the Smokies.
Curious about when you should visit Pigeon Forge in the fall to see the magnificent shifting shades? Use our Pigeon Forge fall foliage peak color guide for helpful tips on when to go and what to do in this vibrant heartland.
We have the scoop on the best mountain views, hiking trails, cascading waterfalls, and, most importantly, "when do leaves change color in Tennessee."
With over 100 varieties of native trees in the Great Smoky Mountain National Park, you'll find a kaleidoscope of fall colors beaming from every direction. As you plan your fall vacation, you may wonder when the leaves change in Pigeon Forge, TN.
The answer is as early as mid-September. You'll be able to see crimson, rust, and bright golden hues pop throughout the trees at the higher elevations above 4,000 feet. Similarly, the peak colors present striking views at middle and lower elevations between mid-October and early November.
We can confirm that Pigeon Forge in the fall will take your breath away. Read on as we uncover the best time of year to take a scenic drive through this epic Appalachian Mountain town.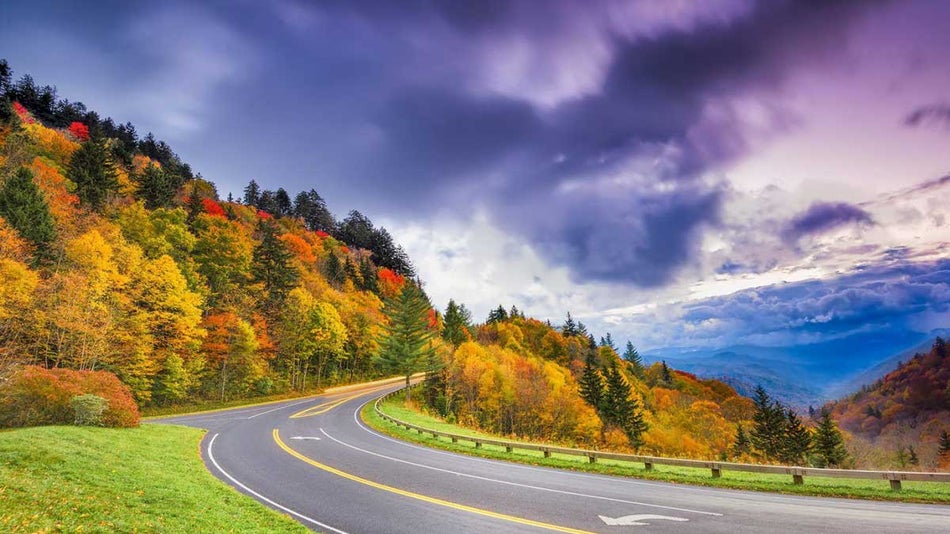 September in The Smokies
The Smokies fall season begins in September, with the lively emerging changes occurring above 4,000 feet. Burgundy, ginger, and creamy bronzes shine through on sourwood, dogwood, maple, sassafras, and birch trees. Check out Andrews Bald, Mt. LeConte, or Albright Grove to see the Smoky Mountains foliage in September. Grab a Parsons Branch Road map and follow these recommended hikes for the best September viewing.
Pro Tip: Take a jacket when heading to the mountain regions as temperatures dip from 10 to 20 degrees in higher elevations. Weather can change quickly, even during the summer months.
Want to stay in the car? You'll be able to get just as good of an experience by cruising along Parson Branch Road, Clingmans Dome Road, or Newfound Gap Road!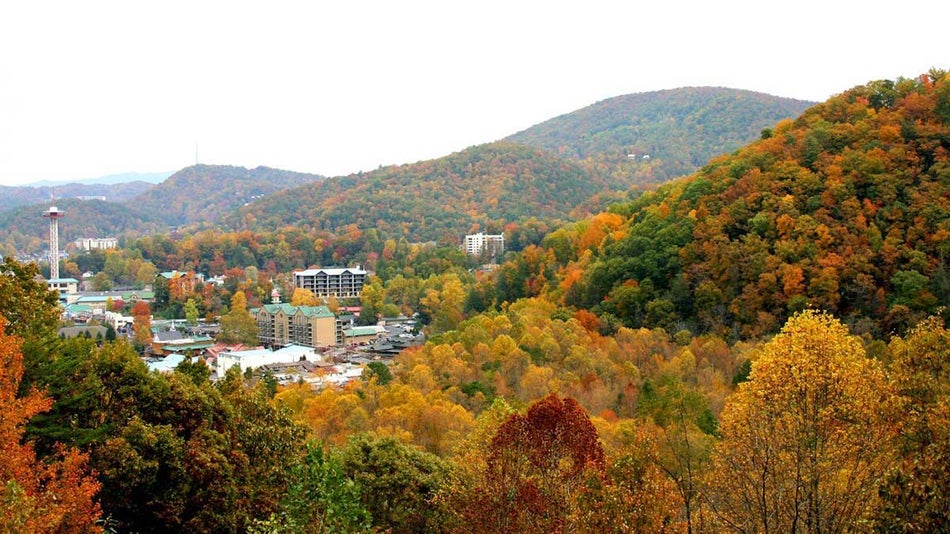 October in the Smokies
Early October
Nature lovers unite! Pigeon Forge October, when Smokies are awash in rich colors and brilliant sunlight, is the best locale to enjoy wonderful scenery and even more family-friendly activities throughout the national and state parks.
See the bold auburn of the American beech and yellow birch to the rich ruby on mountain ash, pin cherry, and mountain maple trees. We have even more iconic roads and majestic overlooks, including Heintooga Ridge Road, Foothills Parkway, and Rich Mountain Road in Cades Cove.
Burn some calories when you get your climb on when making the trek along these Smoky Mountains foliage trails near Pigeon Forge in October:
Clingmans Dome
Newfound Gap Trail
Once you're ready to give your feet a rest and soak in the serene fall scenery from the car, head down the open road along Newfound Gap Road, Heintooga Ridge Road, Foothills Parkway West and East, and Rich Mountain Road.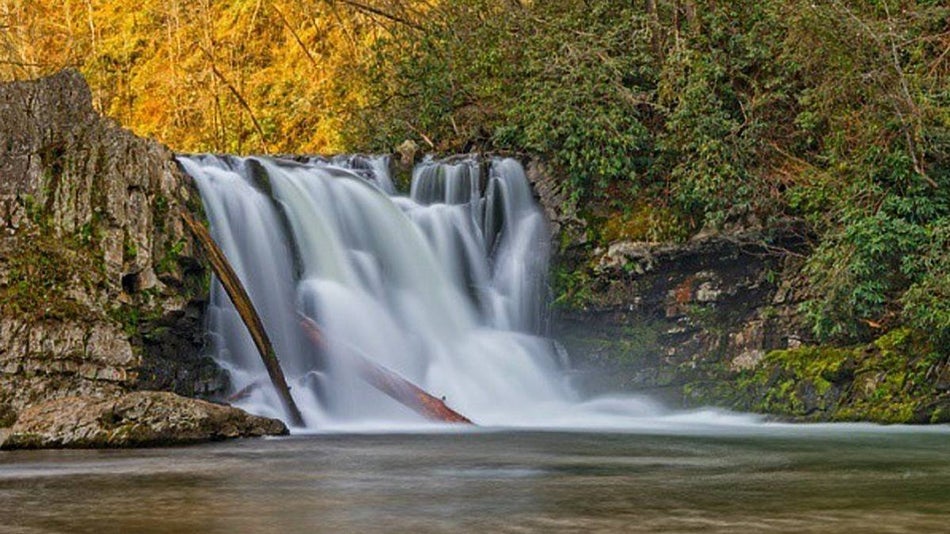 Mid-October
In mid-October, the Great Smoky Mountains are about a week away from the peak color of the lower Pigeon Forge elevations. However, the valleys and higher ridges create a meandering beauty all their own, splattered with bold reds from dogwoods, sumac, sourwood trees, golden tulip trees, black walnut, and hickories.
Recommended scenic drives include Cove Creek Road, Balsam Mountain Road, Roaring Fork Motor Nature Trail, Foothills Parkway, and Newfound Gap Road.
Late October & November - Peak Pigeon Forge Fall Colors
The true scoop here is that the dynamic brightly-colored foliage is most impressive in late October. From every elevation, high to low, the marvelous fall tapestry is visible from all angles of the Great Smoky Mountains National Park.
There isn't a hike in this gorgeous park that won't dazzle you as you gaze at the vibrancy that blankets the mountains. The choice is yours!
In addition, it's not unusual to see brilliant, rich autumn colors last through mid-November. Our most popular suggested drives are Blue Ridge Parkway, Foothills Parkway, and Heintooga Ridge Road to Balsam Mountain.
Other Smoky Mountains Top Destinations
Equally famous for its peak fall foliage, Gatlinburg, Tennessee 2022, is another great mountain town to discover. The jewel of the Smokies, just 23 minutes south of Pigeon Forge, is packed with shopping, dinner shows, fright nights, and Southern gospel music.
From Pigeon Forge to Gatlinburg—there's no shortage of family attractions nestled in the heart of east Tennessee's Great Smoky Mountains.
Here are a few additional top-rated activities to add to your itinerary:
Ripley's Aquarium of the Smokies
For an underwater experience unlike no other, Ripley's marine museum contains massive exhibits and interactive displays to enhance learning opportunities.
Anakeesta
This award-winning theme park has an 880-foot sky bridge and treetop skywalk. It hovers 50 feet above a 70-acre rainforest.
Pro Tip: Grab a partner and battle it out on the dueling Anakeesta zip lines.
Great Pumpkin LumiNights at the annual Dollywood Harvest Festival
Dollywood's famous nighttime experience with thousands of jack-o-lanterns creates a larger-than-life pumpkin display.
Ober Gatlinburg
The Ober Gatlinburg Ski Area and Amusement Park offer escalating mountaintop fun for visitors of all ages. Outdoor activities include ice skating, skiing, snowboarding, tubing, indoor shopping and fine dining.
Rocky Top Mountain Coaster
Known as the longest rollercoaster in East Tennessee, this megawatt nine-minute ride includes four themed tunnels of hair curling, heart throbbing fun.
Plan a Pigeon Forge Fall Foliage Vacation
We hope to have helped you navigate the countless opportunities to plan a Pigeon Forge autumn vacation. With the fire of fall right around the corner, you'll want to reserve your Smoky Mountain trip today. Now that you know the best time for fall colors in Gatlinburg, TN, and the plethora of iconic drives, fabulous hikes, and dazzling scenery, you can experience the beauty of Pigeon Forge fall foliage for yourself.
Lastly, Tripster has attraction tickets and your pick of accommodations. We also have a wide range of Pigeon Forge vacation packages available, or you can create your own package from one of the options above. Either choice allows you to see the splendor of the Smokies in all their opulence.
What is Your Favorite Month to See Pigeon Forge Fall Colors?
Leave us a comment below!