Wondering what things to do in the Smoky Mountains that should be on your itinerary? Read on.
Whether you have a few days or a full week, Gatlinburg, Tennessee is a beautiful vacation spot.  The natural, refreshing outdoor activities combined with the great restaurants and shops create an exciting yet relaxing trip for those of all ages.
The Great Smoky Mountains National Park is a marvelous outdoor mecca. As a result, there are plenty of activities for visitors looking to venture beyond the typical attractions and see what Mother Nature has to offer.
1) The Sinks
On my recent trip to the Smokies, I ventured to The Sinks, a waterfall that can be spotted from Little River Road. This waterfall is easily accessible for viewing and allows for visitors to explore the waterworks up close and personally. The road The Sinks is located on is also a great connector road, leading to U.S. 441, which goes directly through the Great Smoky Mountain National Park as well as to Cades Cove, a nature loop that's very popular.
2) Meigs Falls
Meigs Falls is located very close to The Sinks and is also easily accessible. This waterfall is created by Meigs Creek joining the Little River. The dramatic combination creates a plunging water source perfect for those who enjoy waterfalls but are unable to hike for long amounts of time.
3) Auto-Touring
US Highway 441 is a beautiful road to travel, as it goes directly through the Smoky Mountains. This is a perfect time to slow down, relax and enjoy the picturesque setting that surrounds you. There are plenty of scenic overlooks, nature trails and quiet walkways to explore. This highway also offers occasional wildlife discovery. On my trip through, I spotted a black bear roaming through the connecting forest. Many cars were able to pull over and capture this unusual moment.
4) Newfound Gap Overlook
Newfound Gap Overlook is also located on this stretch of highway. It offers the roads highest viewing point, with an elevation of 5,048 feet. A stop here allows visitors to peer into Tennessee as well as North Carolina's Oconaluftee Valley.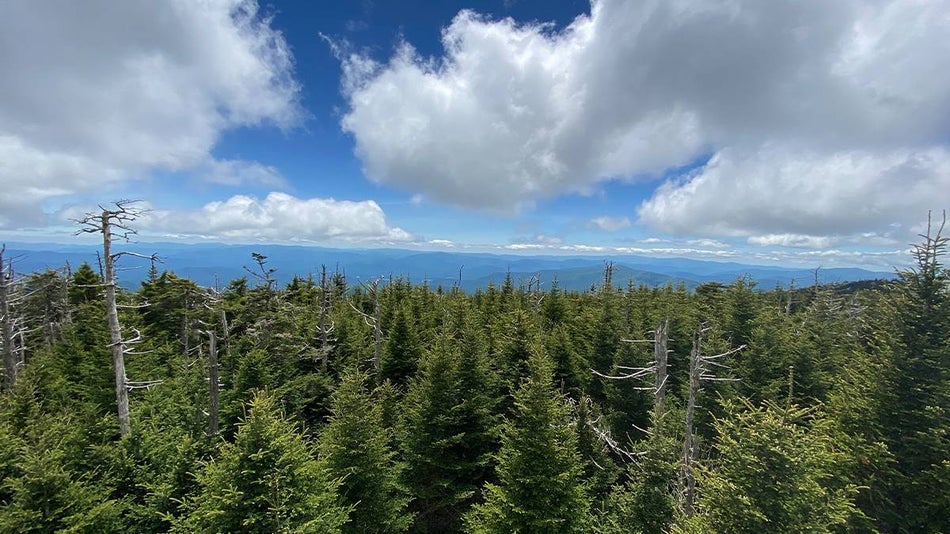 5) Clingman's Dome
Clingman's Dome is the parks highest point, with an elevation of 6,643 feet. The 7 mile stretch of road leading to the hike entrance gradually climbs the dome, with the resulting hike being a very steep but short half mile. The uphill hike offers amazing views along the way, as well as a spectacular 360-degree panoramic view of the Smoky Mountains. Whether in a hazy mist or on a clear day, the sights are beautiful and well worth the hike.
6) Mingus Mill
Traveling on US Highway 441 will lead visitors to the town of Cherokee, North Carolina. Approximately 2 miles outside of this Indian town, is Mingus Mill. It was originally built in 1886 and the turbine mill ground corn into meal and wheat into flour for over fifty years for the mountain community near Mingus Creek. The historical structure was restored when the National Park was created and is an interesting look back in time.
7) Cherokee, NC
Once you arrive in Cherokee, NC there are several areas to explore. There is an 18th Century replica of an Indian Village as well as unique shops. This area also has several outdoor activities to take advantage of, such as tubing, horseback riding, and fishing.
8) Mingo Falls
Located near the Cherokee area is Mingo Falls. This waterfall is approximately 120 feet high, making it one of the tallest and most spectacular in the southern Appalachians. The hike to the waterfall is only a half-mile but is considered moderate in difficulty due to the steep set of stairs required and the earthy terrain that leads directly to the falls overlook. This breathtaking waterfall is a great picture opportunity and is also well worth the climb.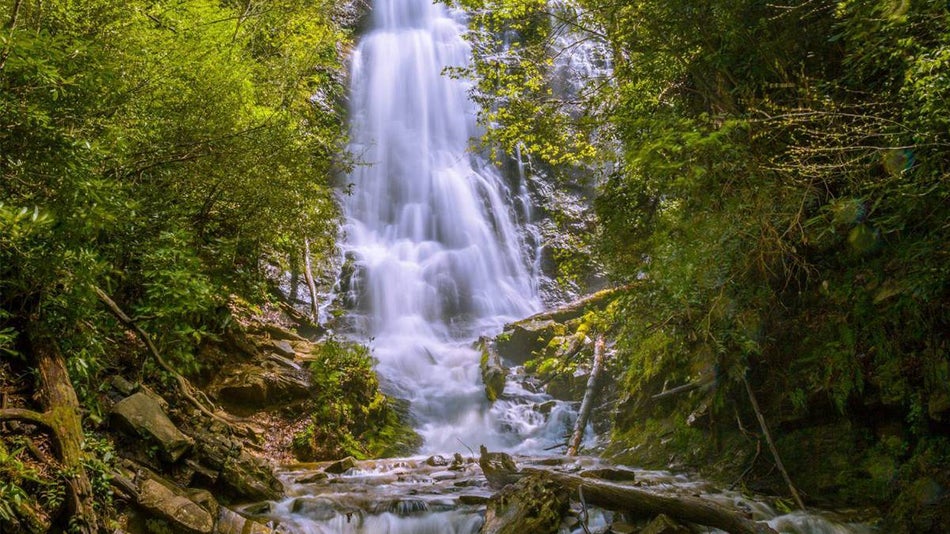 9) Three Falls Loop
From Cherokee, you can easily access the Three Falls loop. Comprised of Tom Branch Falls, Juneywhank Falls, and Indian Creek Falls, this area provides three fabulous waterfalls. The hikes to Tom Branch and Indian Creek Falls are combined and easy in difficulty. Juneywhank Falls is moderate in difficulty, but at a height of 90 feet, is about 60 feet taller than either of its nearby counterparts.
10) Look Rock Tower

There are plenty of scenic opportunities in and around the dam. The Foothills Parkway leads to Thunderhead Mountain, the highest point in this section of the park, and provides beautiful vistas. Look Rock Tower does as well, and it is a perfect place to view sunsets as well as panoramic views of the Smokies.
11) Cades Cove
Cades Cove, a popular nature touring area, is located near the Townsend area and is a great place to unwind and wrap-up your Smoky Mountain Experience. Cades Cove offers the widest variety of historic buildings of any area in the national park. Scattered along the loop road are three churches, a working grist mill, barns, log houses, and many other faithfully restored eighteenth and nineteenth century structures. Cades Cove also offers some of the best wildlife viewings in the park. White-tailed deer and turkey are often seen, with the occasional black bear sighting also possible.
12) Chimney Tops Trail
As one of the most popular trails in the Great Smoky Mountains National Park, Chimney Tops is frequently busy. And for good reason! The trail, which switchbacks along the slopes of the mountain, is dotted with rocky outcroppings and meandering streams. Once you reach the top, excellent views are your reward. The 4-mile roundtrip hike is strenuous, though, as the elevation gain is almost 1,500 feet.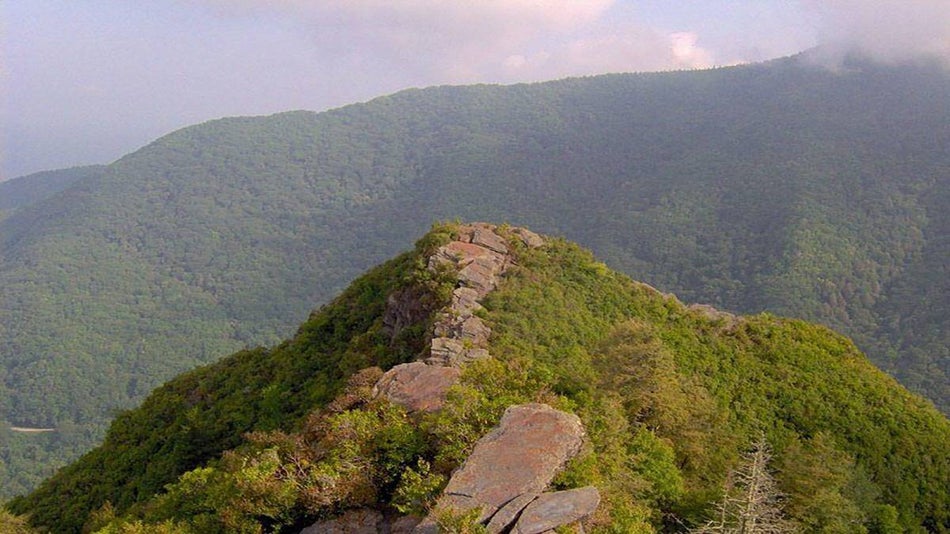 13) Fontana Lake
Fontana Lake was a wonderful discovery that provided beautiful mountain scenery while also being home to the clearest emerald green waters I've frequented in recent years. This mountain lake was a water haven, especially with the easily rentable boats offered at Fontana Marina. The opportunity to cruise this lake as well as swim its fresh waters was a welcomed one!
The Fontana Lake area also offers several spectacular scenic spots. The dam itself offers great picture taking opportunities and is the tallest concrete dam east of the Rocky Mountains. The road leading west from the dam takes visitors through Deals Gap. The stretch, which is largely in Tennessee, is roughly 11 miles in length and contains 318 curves, making it one of the curviest roads in the nation. Located on the southwestern corner of the Park, the area is largely forested with several scenic overlooks and pull-off points.
14) Roaring Fork Motor Nature Trail
You don't have to venture far from Downtown Gatlinburg to visit Roaring Fork Motor Nature Trail. In fact, this pristine 5.5 mile-loop is right off the main Parkway. Auto-touring Roaring Fork is one of the more popular things to do in the Smoky Mountains, especially for visitors who aren't up for some of the more difficult hikes the area has to offer but still want to witness some of the spectacular beauty. Highlights include mountain streams, an old-growth forest, historic log cabins and more.
15) Elkmont Ghost Town
In the early 1900s, this abandoned town was a lively village. Once the Great Smoky Mountains National Park development began, though, citizens of the town sold their property to the government for a lifetime lease. Once those leases expired 20-30 years ago, the structures of the town were largely abandoned. Visitors now can explore how residents lived more than a century ago as well as explore several hiking trails and a relic cemetery.
Your Outdoor Adventure Awaits!
There are so many things to do in the Smoky Mountains, it is impossible to cover all of the waterfalls, hikes, scenic drives and outdoor activities in one trip. The Smoky Mountain experience, however, can be accomplished in a matter of days. I was only able to explore for three days and still experienced all that is listed above. A trip to the Smoky Mountains, near Pigeon Forge and Gatlinburg, is a must for all outdoor enthusiasts as well as those who have an explorer's spirit. The breathtaking views, the enthralling scenery, the flowing waters…it's all at your doorstep when you enter the Great Smoky Mountains National Park.