Do you love to shop? Who doesn't? When on a vacation, it's always fun to browse through the local shops to find unique souvenirs, one-of-a-kind crafts, and even scoop up great deals on clothing!
From outlet malls to antique stores, shopping in Pigeon Forge has a lot to offer. Since there are so many places to browse, here's a quick guide to shopping in Pigeon Forge TN.
Ready to score the best finds? Let's get started.
Outlet Malls
When shopping in Pigeon Forge, there's nothing better than scoring a good deal. This makes outlet malls ideal for budget travelers looking to save some extra change. You'll get to enjoy huge discounts on your favorite brands while still acquiring high-quality products.
Tanger Outlet Center is one of the best Pigeon Forge outlets and should be at the top of your shopping to-do list. It's home to more than 100 of the country's top premium designers and brands. In short, Tanger is a shopping haven filled with fabulous savings that lie around every corner.
Related Post: 8 Exciting Things to Do with Toddlers in Pigeon Forge
With popular brand names and premium designer labels like Coach, Banana Republic, Michael Kors, and Lucky Brand among the stores, many shopaholics always walk away with a bag full of goodies—all at discounts of up to 70%.
Burkes
One of the other Pigeon Forge outlet malls worth mentioning is the home goods store Burke's.
Need some camping gear and outfits for your next adventure? Shopping for cold weather accessories? Want to find handbags that look cute and can store all your belongings? Or how about new curtains and towels? No matter what you are looking for, you will find everything at Burkes.
It offers plenty of great deals, making it one of the most-visited outlet malls. Plus, it's located in Teaster Lane, giving you easy access to the best attractions in Pigeon Forge TN.
The Boot Factory Outlet
Why shop for only one when you can get three pairs of boots for a steal? The Boot Factory Outlet is where you can buy one pair of boots and get two for free. With over 20,000 boots, it's hard not to find something you'll love here.
They feature work, western, hiking, motorcycle, and fashion boots. Browse premium brands such as Justin, Rocky, Wolverine, Sterling River, J.B. Dillon, or Masterson. There's a big selection of men, women, and children's boots. No matter your style, you'll surely appreciate the designs and discounts offered here.
Pigeon Forge Factory Outlet Mall
No shopping experience in the Smokies is complete without visiting the Pigeon Forge Factory Outlet Mall or also known as the "Red Roof Mall." With 196,900 square feet, this red-roofed center is your haven for terrific bargains and discounts on accessories, clothing, jewelry, tools, home furnishings, and much more.
The Old Mill
To get to the heart of Appalachian culture, head to The Old Mill. Located just off The Parkway, there is an authentic, fully-functioning mill on-site, as well as plenty of charming stores offering everything from housewares to homemade goodies and old-fashioned toys.
Stop by to pick up sweet treats like taffy and fudge, handcrafted pottery, or even a bag of cornmeal to take home and cook with. The newly opened Old Forge Distillery offers locally made moonshine and spirits, too.
Each shop here has specialty items hard to find elsewhere, so you should definitely take time to browse through this bustling shopping center while Pigeon Forge shopping.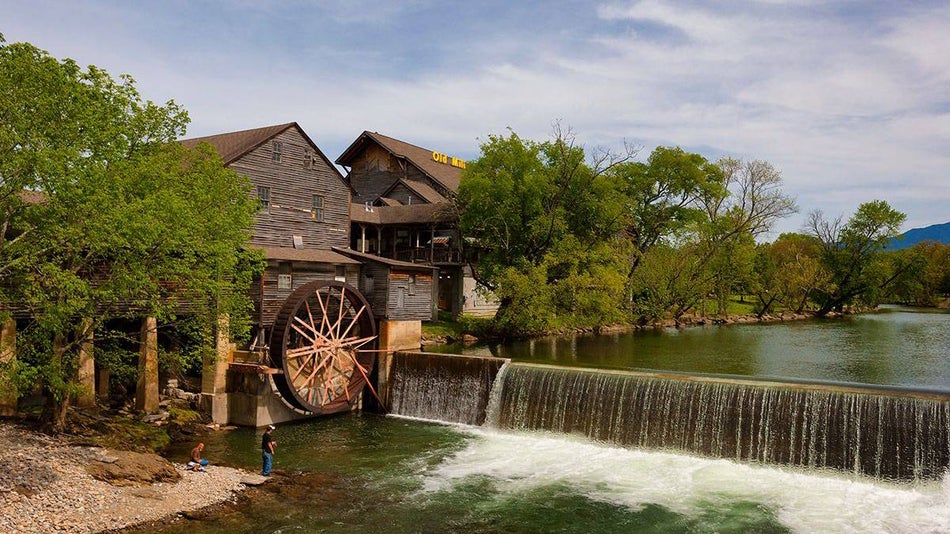 Incredible Christmas Place
Located at the foothills of the Great Smoky Mountain, The Incredible Christmas Place is the go-to shopping destination for all kinds of Christmas collectibles, ornaments, and gifts. Whether you are looking for outdoor lights, personalized decorations, unique cards, or Christmas trees, this store has it all.
Plus, this Christmas shop Pigeon Forge carries many big holiday brands like Lemax, Department 56, Christopher Radko, and Fontanini Nativities. You'll be spoiled with choices, allowing you to find the perfect garlands or presents for your home and loved ones.
Be sure to check the store's calendar to be updated on their exciting events and activities like Santa Meet and Greet.
Antique Shops
Currently, it's all the rage to reuse and upcycle old goods and wares. If you've jumped on the bandwagon, a trip to Flat Creek Village is in order. Located on six acres, there are over 25 specialty shops with different themes and styles. Many come here for the local honey, homemade jams, cozy quilts, quote-worthy signage, and unique shopping experience.
There's something for everyone, though, including holiday décor and farm equipment. Two other notable Pigeon Forge shops include Yesterday's Antiques and Antique Mall Pigeon Forge.
Specialty Shops
Pigeon Forge has a lot of specialty shops, each with a unique spin. Those knife enthusiasts in your life should not miss the Smoky Mountain Knife Works. Featuring thousands of knife designs and variations, this place has become a hotspot for all collectors. There are even handcrafted knives available, so you can walk away with a true Smoky Mountain original.
Related Post: How to Plan a Vacation to Pigeon Forge on a Budget
Coming with your princess? You will want to visit Lid'l Dolly's, a large-scale shop with endless racks of southern belle-style dresses for little girls. Be amazed by the intricate designs and quality materials of the clothes.
On the other hand, Aunt Debby's Country Store is one of the excellent specialty shops Pigeon Forge. Most items here are homemade, including lamps, Barnwood items, birdhouses, home décor, and more. With an emphasis on local artisans, it's easy to find a memento to take home in this general store.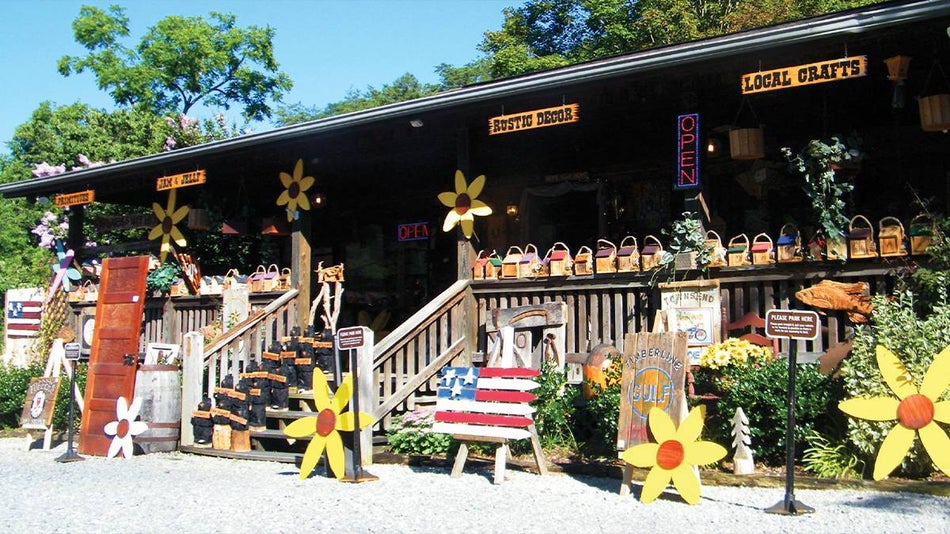 The list could go on and on about shopping Pigeon Forge, but the point is you'll never really run out of places to go. Happy shopping!
Where is Your Favorite Place to Shop in Pigeon Forge? 
Leave us a comment below!