I might be a bit biased as a Tennessee resident, but I believe there's no wrong time to visit Pigeon Forge. From the quiet and calm winters to the bustling, energetic summers, each season offers endless fun.
When trying to decide the best time to visit Pigeon Forge, you have to consider what you want from your vacation. Do you want to get away and relax or take the mountains by storm? No matter when you travel to Pigeon Forge, you're in for a memorable vacation.
Let's explore the pros and cons of each season:

Winter in Pigeon Forge
Late November through mid-March
Personally, I love visiting Pigeon Forge in the winter. There's something so serene about hiking in the Smoky Mountains just after a snowfall. Of course, a snow-filled vacation isn't for everyone!
Let's explore the pros and cons of visiting Pigeon Forge in the winter.
Pros:
Few Crowds
Most people escape to tropical and warm destinations during the winter, not mildly cold places. Meaning, you'll enjoy little to no crowds or traffic at all. I once visited in January and barely saw another car on the road!
Christmas Shows and Celebrations
If you visit at the beginning of the winter season in late November, you'll be treated to a winter wonderland. Between Dollywood's Smoky Mountain Christmas and the Winterfest celebration throughout Pigeon Forge, you'll feel as if you're in the middle of a snowglobe.
Hit the Slopes at Ober Gatlinburg
Did you know you can go skiing in Tennessee? Ober Gatlinburg is the South's premier skiing destination and is the perfect addition to any winter vacation. Plus, you can also go snowboarding and snow tubing, among other activities while there.
Low Lodging Rates
Due to the lack of tourists coming to the area in the winter, hotel and cabin rental rates tend to be at their lowest. If you're focused on frugal travel, the winter is the best time for you to visit Pigeon Forge.
Cons:
The Weather
Although a snowy hike through the Smoky Mountains is a surreal experience, it's not for everyone. Sorry, but if you don't like the cold, a winter trip to the Smokies is not for you. Plus, the winter weather can sometimes force closures of certain roads, National Park trails, activities, and attractions around Pigeon Forge.
Also, don't make the mistake of thinking winters in the South aren't cold. They are!
Low Key Vibe
During the winter, Pigeon Forge doesn't have the same hustle and bustle as it does during the summer months. If you thrive off of traveling to upbeat destinations, you should visit Pigeon Forge during the summer instead!
Few Events and Festivals
Although Pigeon Forge is known for entertaining festivals throughout the year, the winter season hosts only a select few events. The other three seasons are full of exciting events!
Dollywood May Not Be Open
Depending on when you visit during the winter, getting a Dollywood ticket (among other select attractions) may not be possible. The family-friendly theme park opens in mid-March each year and ends the season in early January. From January to March, the park is closed for maintenance and updates.
Overall, if you want low lodging rates, smaller crowds, and a picturesque winter wonderland, visit Pigeon Forge in the winter!

Spring in Pigeon Forge
Mid-March through the end of May
Spring in the Smoky Mountains is stunning. The mountain towns begin to "awaken" from the long spring and tourists flock back to the attractions once again.
Wondering if you should visit Pigeon Forge in the spring? Weigh the pros and cons to find out.
Pros:
Blooming Smoky Mountains
The Smoky Mountains are known for their abundance of wildflowers, wildlife, and natural beauty. During the spring season, the wildflowers begin to bloom and repopulate the mountains after a long winter. With the new pops of color and warmer weather, hikers and outdoorsy travelers love visiting Pigeon Forge in the spring.
Be sure to bring a camera! The wildflowers and blooming landscape make for epic pictures.
Attractions Open for the Year
Dollywood and other seasonal attractions open their doors once again in the spring. From helicopter tours to whitewater rafting, you can experience it all in the spring. With the ample sunshine and warmer temperatures, you'll have a variety of activities and attractions to check out in Pigeon Forge.
Potential for Smaller Crowds
April showers bring May flowers, right? Spring equals rain and there's nothing we can do about it. Fortunately, that means fewer crowds at top attractions and activities in Pigeon Forge. All you have to do is pop on a poncho and have fun!
Affordable Hotel Rates
Since Pigeon Forge hasn't hit peak tourist season quite yet, the hotel rates are still affordable! If you choose to visit Pigeon Forge in the spring, you'll be able to take advantage of these low prices.
Cons:
Rain
The main drawback to a spring trip to the Smokies is the rain. Some people simply can't tolerate a rainy vacation and that's okay! There are plenty of other times throughout the year for you to visit the Smoky Mountains.
Plus, certain attractions and activities such as helicopter tours or ziplines will not operate in the rain or other severe weather conditions. This can put a real damper on your trip if you don't plan accordingly.
If you can handle some rain and cannot wait to ride the roller coasters at Dollywood, visit Pigeon Forge in the spring.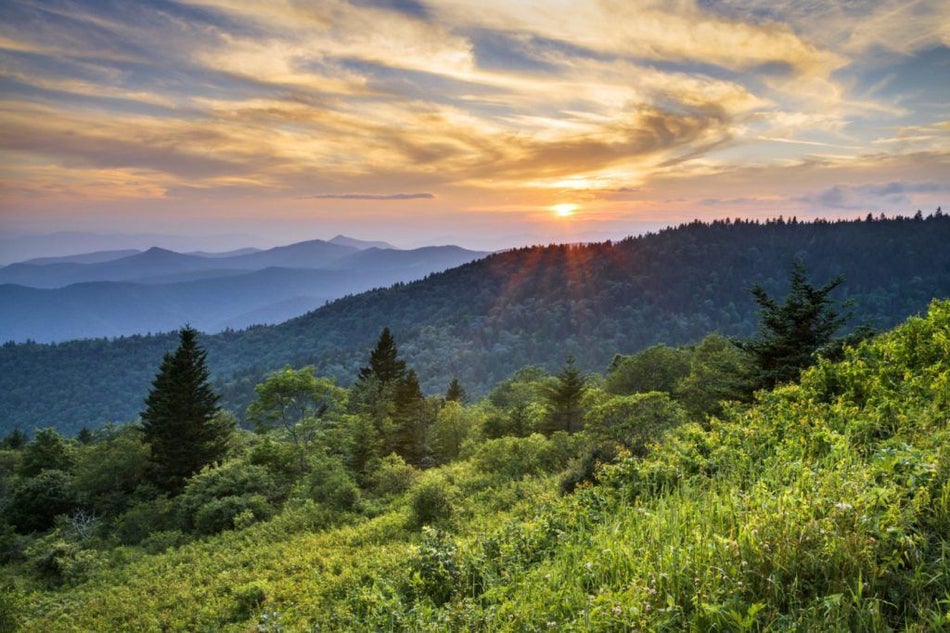 Summer in Pigeon Forge
June through early September
Summer in Pigeon Forge is quite a sight. With a rapid influx of visitors, the town becomes alive! Of course, with larger crowds and hotter weather come a wide assortment of vacation pros and cons.
Pros:
So Much to Do!
Since it's the busy season in Pigeon Forge, there is so much to do and see. You can get tickets to a Broadway-quality show, go zorbing down a lush hill, explore the Smoky Mountains National Park, and sample the never-ending list of top restaurants—all in one day!
Since summer is such a popular time to visit Pigeon Forge, a good tip is to organize and purchase admission to your activities ahead of time for guaranteed entry.
Perfect Weather
While the occasional thunderstorm may happen, summer in Pigeon Forge is beautiful. It's the ideal weather for hiking, kayaking, and any outdoor activity you can possibly think of. Be sure to bring sunglasses and sunscreen to protect your body from the sun!
Endless Festivals and Events
Summertime in the Smokies is full of fun festivals, events, and gatherings. These festivals tend to draw in thousands of tourists each year! Some of the most popular events include:
Synchronous Fireflies in the Smoky Mountains
Pigeon Forge Patriot Festival
The Smoky Mountains Songwriters Festival
Cons:
Highest Hotel Prices
When the demand for hotel rooms increases, so does the price. Unfortunately, if you choose to visit Pigeon Forge in the summer, you are subjected to some of the highest hotel rates all year.
But not to worry! If you combine your hotel room with your Pigeon Forge attraction and show tickets, you can receive huge savings from Tripster.
Traffic
More tourists = more cars = crazy traffic.
If planning to visit Pigeon Forge, prepare ahead for traffic. Always leave yourself a bit of buffer room when traveling from place to place throughout the town.
Crowds
Quite possibly the biggest disadvantage to summertime in Pigeon Forge is the crowds. They're inevitable and everywhere. If you're not comfortable dealing with crowds, I would not recommend visiting during the summer season.
It is Hot!
The summer season in the South is hot and muggy. Some people cannot tolerate such high temperatures and increased exposure to the sun. If you are one of those people, you will fare better by visiting during another season.
Although summer in Pigeon Forge is a popular choice among visitors, review the pros and cons to determine if it's the best time for you!

Fall in Pigeon Forge
Mid-September through the end of November
Rounding out the year in Pigeon Forge is autumn. Fall is my favorite season and also a great time to visit Pigeon Forge! The crisp weather, abundance of activities, and breathtaking foliage simply can't be beat.
Naturally, this season also has its share of advantages and disadvantages.
Pros:
Cooler Weather
In Tennessee, the cool fall temperatures are a little delayed. They don't appear until late October, but when they arrive it is glorious! With slightly lower temperatures, you can experience all of the Pigeon Forge treasures such as the Great Smoky Mountains National Park and Dollywood without worrying about heat exhaustion!
Incredible Fall Foliage
If you haven't seen the Smoky Mountains covered in red, orange, yellow, and tan leaves, you need to visit Pigeon Forge in the fall. It is stunning. You'll definitely want to bring your camera for this scenery!
Fall Car Shows and Halloween
In the fall, car enthusiasts from across the world come to Pigeon Forge for the car shows. From classic cars to futuristic models, there's something for every automobile fanatic at these events.
Plus, Pigeon Forge goes all out for Halloween. Choose from Dollywood's Harvest Festival, trick or treating at the Island, and other spooky events.
Cons:
There's Still Crowds
October is a super busy month for the Smoky Mountain towns. Between the car shows, school breaks, and autumn events, the crowds are insane during select times in the fall. To avoid these crowds, try visiting Pigeon Forge in mid-November or before/after school fall breaks.
When Will You Visit Pigeon Forge?
So, is there truly a right time to visit Pigeon Forge? The answer is up to you! Find the season you love the most and go to the Smokies!
When's your favorite time to travel to Pigeon Forge? Share your thoughts by commenting below.