Set off on an adventure in Great Smoky Mountains National Park! Go in with a game plan when you use our handy guide.
Follow along as we spill the sweet tea on how to create a Smoky Mountains Trip Plan like a pro! Wander the paths of Great Smoky Mountains National Park for outdoor exploring like no other. Spectacular views and ample fresh air make this park the perfect nature escape! 
Soak in the rugged smell of dry leaves and fresh dirt to reset your senses. Spacious skies that take on shades of crisp blue in the summer then fade into moody gray in the fall are like a deep breath for the soul. A stunning landscape of forests, streams, and fields offers earthy respite for weary travelers.
Are you ready to take a hike? Pack your backpack and hit the trails! You'll need our Smoky Mountains travel guide before setting off. The Great Smoky Mountains National Park is ready and waiting for adventurers!
Prepare for No Cell Service
To truly get away from it all, you have to go where the reception bars are low (or non-existent!). This is often the case on the Great Smoky Mountains National Park trails. This can take some adjustment for those who are attached at the hip to their phones.
It also means one thing: you're going to need a map. Not to mention, you'll have to wait to make those Instagram posts until you're back on the grid!
Be sure you know exactly where your trailhead is before you enter the park. Take screenshots of a map ahead of time to store on your phone, or pick up a physical version at a visitor center. You can also purchase other Smoky Mountains guides at visitor centers if you're curious to learn more Great Smoky Mountains National Park facts.
With this in mind, it's good to keep your phone charged for pictures and rare moments of cell service. Since you probably won't be able to communicate via phone with your group, make a plan in case your group gets split up during the day. Whether you bring walkie-talkies to communicate or have a place and time to meet, don't start your hike without a plan!
Check Out a Visitor Center First
Before heading out on your Great Smoky Mountains adventure, it's a good idea to stop at one of the four Smoky Mountain National Park visitor centers. The visitor centers are located at Cades Cove, Oconaluftee, Sugarlands, and Clingmans Dome. Follow the road signs throughout the park to find each center.
Inside the Great Smoky Mountains visitor centers, you'll find maps available for purchase. Maps are useful for many things, from navigating trails to finding trailheads to discovering new trails.
Each visitor center also offers intriguing exhibits about wildlife, specific areas of the park, notable figures, and more. Spend some time looking at the exhibits to learn something new about the Smoky Mountains!
Park rangers and volunteers are stationed at each visitor center and can answer all of your questions about the park, trails, and wildlife.
Pro Tip: While there is no Great Smoky Mountain National Park entrance fee, there is a Great Smoky Mountains parking fee for any stay longer than 15 minutes. Opt for the daily option if you plan to visit once, or spring for the weekly option if you are going to visit multiple times. There also is an annual parking pass if you plan on frequenting throughout the year.
Wear Appropriate Attire
Proper clothing can make the difference between an enjoyable hike and an extremely uncomfortable one. Needless to say, this is not the time for your Sunday best or flimsy footwear. 
Choosing the right attire creates a pleasant and safe outdoor experience for all. Instead of putting on your finest clothes for an Instagram picture at a waterfall, choose a more practical getup:
Sturdy hiking boots or shoes

Comfortable socks

Shorts or hiking pants

Long-sleeved shirt (or short-sleeved, but bring layers)

Light jacket or flannel

Hat

Sunglasses
Photo Alert: Don't worry. You'll still look fantastic in that Instagram photo! Hiking attire fits the Smoky Mountains aesthetic. Snap away on the trails, then upload your favorite shot to social media once you return to civilization!
Moreover, we recommend bringing an extra layer, especially if you plan to explore trails with a significant elevation change. The higher you get into the mountains, the chillier it gets!
Pro Tip: Check out our packing list for the Great Smoky Mountains before you go. You can't set off for an adventure without a little preparation!
Pack Only What You Need
Knowing what to bring and what not to bring is a vital part of planning your visit to Great Smoky Mountains National Park.
If you're planning to go on any extensive hikes, it's essential to bring a proper backpack. Bring the wrong backpack, and you're in for some sore shoulders!
In said backpack, bring the following:
Ample water in refillable bottles

Snacks such as trail mix and granola bars

A camera, if desired

Personal items such as a wallet and ID

Sunscreen

Bug spray
Try to pack only the basics and leave out any unnecessary items. You'll appreciate the lighter weight once you've been on the trails for awhile. Be sure to pack your bag before the trip and try it on to make sure it's not too heavy!
Nature views are best experienced without extra weight dragging you down. 
Leave anything you absolutely do not need back at the hotel room or cabin. This includes:
Electronics

Extra clothing

Excess food

Additional bags, such as purses

Children's toys
Understand the Trails
As one of the country's most visited national parks, it should be no surprise that there are approximately 150 official park trails to choose from. Deciding which hiking trail to traverse is no small task! The following lists contain some of the best day hikes in Smoky Mountain National Park.
Pro Tip: Be sure to choose at least one trail with a waterfall! You can't afford to miss the Great Smoky Mountain National Park waterfalls.
The first place to begin is by looking at the trail's difficulty level. Certain trails may be popular but too advanced for those looking for a casual hike. If you're a beginner or are visiting with children, start with these easy trails:
Elkmont Nature Trail

The Gatlinburg Trail
If you're a bit more experienced and are up for the challenge, try these moderately challenging trails:
Clingmans Dome

Indian Flats Falls
For seasoned hikers looking for a thrill, these difficult trails are right up your alley:
Always keep your endurance and level of hiking experience in mind when choosing a trail. If you plan to push your limits and try the next level of difficulty, bring a friend along for safety!
Remember to follow proper hiking etiquette by moving to the right to let people pass, allowing those climbing to pass if you meet on a narrow trail, and never blocking the trail.
Also, due to the November 2016 wildfires, it's in your best interest to check the Smokies National Park website for trail conditions prior to departure. You can inquire about trail conditions at the various visitor centers as well.
Pro Tip: The Appalachian Trail crosses over Newfound Gap Road and has portions in both Tennessee and North Carolina. Most of the trail runs along the border between North Carolina and Tennessee. Learn more about southern Appalachian mountain culture before you go!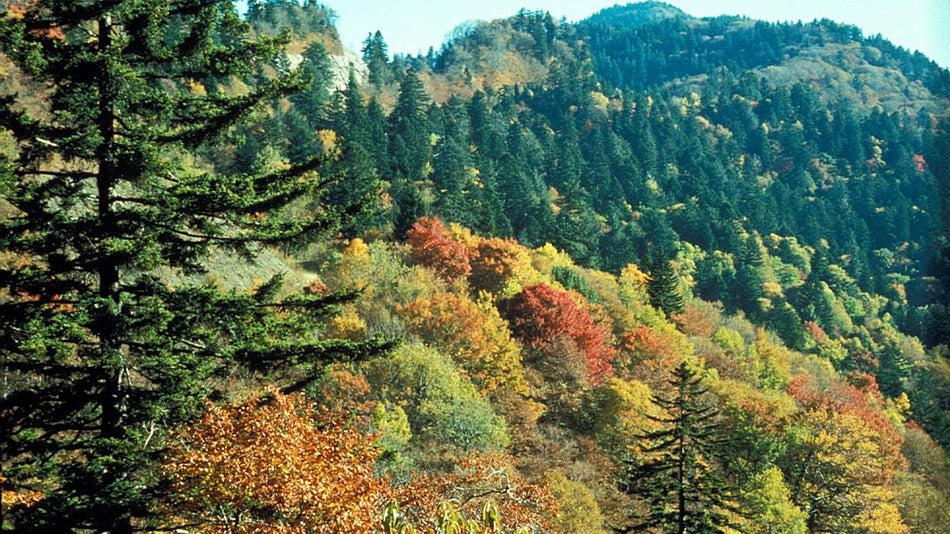 Look Out for Bears
Bucks and birds and bears, oh my! Wildlife is abundant in the park.
Knowing what to do if you encounter a black bear is arguably the most important part of our Great Smoky Mountains National Park guide. Black bears roam wild throughout the park (it is their home, after all), so knowing the proper tactics to deal with possible encounters is imperative.
If you see a bear, the National Park Service advises you to do the following:
Remain alert.

Do not approach the bear or allow the bear to approach you.

Back away slowly. Do not run!
Hikers are allowed to carry bear spray throughout the park and should not use it on humans, tents, or other objects in the area. Read up on how to handle a black bear on the National Park Service website prior to your trip so you'll know how to stay safe.
Pro Tip: The main rule of thumb is to leave bears alone. Do not approach wild black bears (especially cubs) in any situation. These magnificent creatures are best admired from afar! 
Make Smoky Mountain National Park Camping Reservations in Advance
Camping in Great Smoky Mountains National Park is an unforgettable experience. Imagine drifting off to sleep in the misty night beneath the stars! The hum of the crickets is the perfect lullaby to help you fall asleep. The park offers:
Backcountry camping

Frontcountry camping

Group campgrounds

Horse camps
Reservations are required for all types of camping, and permits must be obtained for backcountry camping. Reserve your spot well in advance of your trip. As you can imagine, this is a popular camping destination!
Fun Fact: Great Smoky Mountains National Park is the most visited national park in the United States! World-renowned views draw visitors in from all over.
Additionally, you can reserve a stay at the LeConte Lodge. Unfortunately, this lodge is only accessible by foot on difficult trails and also fills up fast! However, the sunsets from high in the mountains are well worth the miles of hiking.
To be a good camping guest, never leave items behind. Additionally, follow all instructions from park rangers regarding firewood, bear safety, and general campground rules.
Of course, if camping isn't your thing, there are plenty of hotels near Great Smoky Mountains National Park in Pigeon Forge and Gatlinburg.
Pro Tip: Not a huge fan of camping, but still want a taste of the experience? Search for a guide to glamping Great Smoky Mountains! This is one way to camp without sacrificing luxury.
Plan Your Great Smoky Mountains Activities
Great Smoky Mountains National Park is a nature paradise that has something for every kind of explorer to do, from adventurous hikes to captivating scenic drives.
A few of the best things to do in Great Smoky Mountains National Park are:
Hiking

Biking

Fishing

Camping

Horseback riding
Check out all that the park has to offer at a Great Smoky Mountains National Park visitor center and make a plan for your day! The best things to do at Smoky Mountain National Park allow you to get out and see plant and animal life, the beauty of its ancient mountains, and ridge upon ridge of towering trees.
Additionally, there's even more to do when you're ready to make the journey back to town! The charming cities of Gatlinburg and Pigeon Forge are tourist hotspots brimming with activities.
In Gatlinburg, some of the popular attractions include:
In Pigeon Forge, visitors rave about these attractions:
Check the Forecast
A little rain never hurt anyone, right? Check the day's forecast before heading out on your adventure.
The Great Smoky Mountains National Park only shuts down in the case of severe weather. For fewer crowds, go in the off-season or during a rain shower. However, be sure to bring a rain jacket and be a bit more cautious when traversing rain-soaked trails in Smoky Mountains National Park!
Explore Everything That Great Smoky Mountains National Park has to Offer!
Visit Great Smoky Mountains National Park in the spirit of adventure! Sweeping nature views, exciting wildlife encounters, and riveting activities combine in this natural wonderland. Get off the beaten path and into the wild when you create the perfect Smoky Mountains trip plan!
What Did We Miss?
Have any tips or insider advice to add to Smoky Mountains trip plan guide? Leave us a comment below!