Autumn is one of the best times to hike in the Smoky Mountains.
 Laurel Falls, which is an easy 30-minute drive from Pigeon Forge, Tennessee, is a popular trail and attraction.  The distance of the hike is fairly short at 2.6 miles round trip, rated low on the degree of difficulty scale and can be completed in about 90 minutes.  Plus, during your hiking excursion, you'll see the 80-foot high Laurel Falls – magnificent sight to see, especially following a recent rain. 
Trailhead Access for Laurel Falls
Head east into Gatlinburg towards the Sugarlands Visitor Center.  Turn right onto Little River Road and continue for 3.5 miles.  Parking for the trailhead is on the right. 
The Hike: What to Expect
Since Laurel Falls is one of the most frequented sights in the Smokies, the National Park Service has paved the trail.  As such, the path is frequented by families with small children and strollers.  If you arrive early you'll miss the crowds but you can easily navigate the trail despite the stroller traffic.
When you began the hike, the trail follows Little River Road.  Rising slowly until it begins to double back along the mountain ridge giving hikers impressive mountain views.  The final portion of the trail ascends to the falls and has some steep drop-offs.  If you do bring your kids, keep an eye on them and always follow safe hiking practices.  Throughout the hike, you'll pass by pine oaks, maples, tulip trees, and dogwoods, as well as the namesake of the waterfall – the mountain laurel bush.  Soon enough, though, Laurel Falls appears in all its glory.
Laurel Falls consists of an upper and a lower section, divided by a walkway known as Laurel Branch which crosses the stream at the base of the upper falls.  After you soak up the views of the cascading 80-foot falls you can choose to continue on another 2.7 miles to the old fire tower atop Cove Mountain.  Plan on spending five hours hiking, total, if you add this extra loop to your adventure.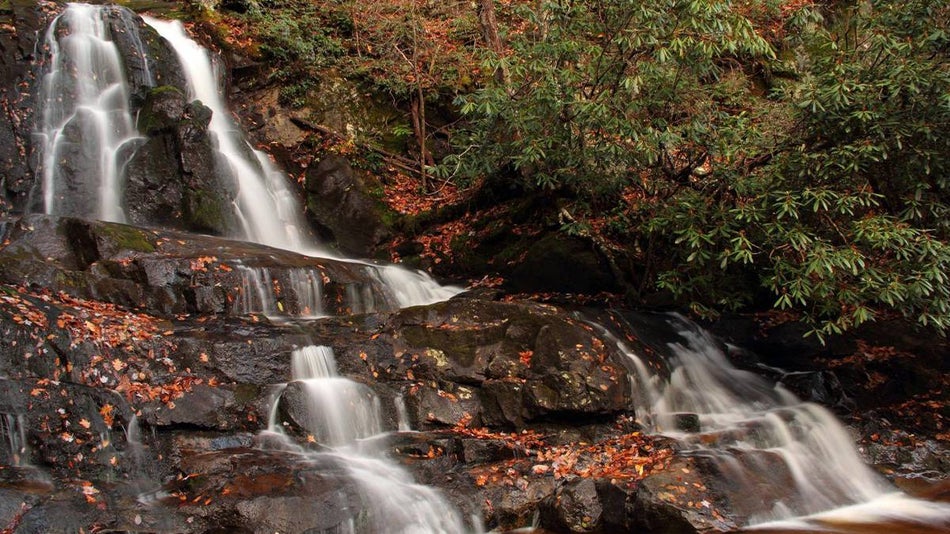 Laurel Falls Hiking Tips
A few things to keep in mind during your Laurel Falls hike.  The parking area does fill up quickly, especially during summer, so arrive early to beat the crowds.  For photographs of the falls, avoid the lower portion of the trail on weekends.  Generally, this area is too crowded to get the shot you want.  Hike a bit above the falls for other photographing opportunities.  Plan your hike for early in the morning or late in the day, too, for the best photo-shooting conditions. The shade of the day will produce much better pictures than ones captured at high noon.