To stay within your budget and book the hotel room you need, follow these easy tips:
Traveling to the Smoky Mountains can be expensive. Between transportation, attraction and activity tickets, lodging, and food, you can run through a vacation budget in no time. With this in mind, it's no wonder you're searching for ways to score the best Pigeon Forge hotel deals.
Book in the Off-Season
Statistically, reserving a hotel room in the off-season leads to lower nightly rates. With a large supply of rooms and little demand, the prices drop. It's basic economics! If you're looking to snag the greatest Pigeon Forge hotel deals, you should consider scheduling your vacation for the slower seasons.
In the greater Pigeon Forge area, the peak seasons are summer (June through August) and the entire month of October. For the greatest deals, book your trip for the winter months, spring, or early fall. Plus, with fewer crowds during the off-season, you will likely find additional discounts at top attractions. It's a win-win!
Find a Hotel off the Parkway
While staying at a hotel right off the Pigeon Forge Parkway is certainly convenient, it can also increase the price per night. Instead, explore your hotel options around Pigeon Forge. Although it'll take a bit more time to reach attractions, restaurants, and shops on the Parkway, you'll save more money in the long run.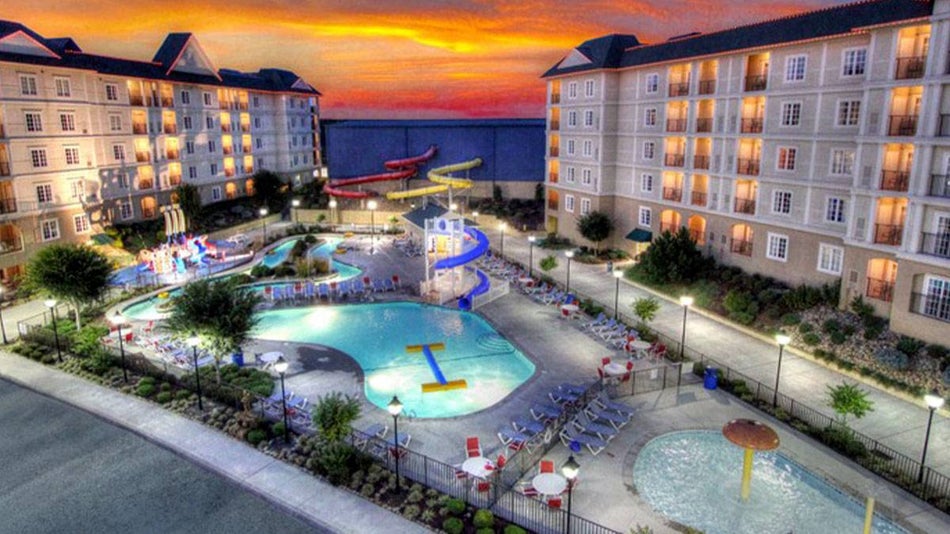 Consider Renting a Cabin
Depending on the size of your family or group, booking a cabin in the Smoky Mountains could be the best deal for your trip. Cabins in the Smoky Mountains offer luxury decor and amenities including hot tubs, fully-equipped kitchens, flat-screen TVs, WiFi, and more. Also, many cabins offer the same prices, if not lower, than most Pigeon Forge hotels.
Plus, if you're traveling with more than one family, a multi-bedroom cabin is cheaper in the long run with everyone splitting the total cost! You can save more money by cooking in the cabin rather than eating at a restaurant for every meal.
If you're on the hunt for extreme savings and Pigeon Forge hotel deals, a cabin vacation might be right up your alley.
Book with Tripster
By booking your hotel room through Tripster Pigeon Forge, you can have confidence knowing you're receiving the lowest nightly rate. With a wide range of hotels available, you can compare hotels and find the lodging for your Pigeon Forge vacation.
You also have the option of searching for Pigeon Forge hotels by amenities, location, and other factors such as ratings and reviews. This allows you to narrow down your search and identify the perfect hotel for your Pigeon Forge vacation.
Bundle Your Tickets and Hotel Room
Reserve Pigeon Forge also offers another perk—Bundle it! When you combine your attraction and activities tickets with a hotel reservation, you'll earn additional savings. This special opportunity allows you to build the vacation you want while receiving incredible hotel discounts at the same time. Sounds like a great deal to me!
10 Pigeon Forge Hotel Deals You Can't Pass Up
Ready to book your Pigeon Forge vacation right now? Choose from these 10 hotels offering exceptional value and accommodations in Pigeon Forge.
1. Creekstone Inn
Located just off the Parkway, Creekstone Inn offers a variety of amenities including a free continental breakfast and complimentary parking. Guest accommodations feature private balconies, a split room design, and free WiFi access. With a convenient location, guests are just 0.5 miles away from top attractions such as Dixie Stampede.
2. The Resort at Governor's Crossing
Boasting an epic, climate-controlled indoor/outdoor water park, The Resort at Governor's Crossing is a hit with families visiting Pigeon Forge. Between the affordable nightly rates and world-class amenities, guests have everything they need for an extraordinary stay. All accommodations are non-smoking and include flat-screen TVs, free WiFi, and washer/dryer units.
3. Country Cascades Waterpark Resort
Speaking of waterparks, Country Cascades Waterpark Resort provides guests exclusive access to their onsite waterpark. Guest accommodations include free WiFi, fridges, and coffeemakers among other amenities. Fuel up with a continental breakfast served fresh each morning. Plus, cookies and coffee are always available in the lobby! This hotel is 100% smoke-free.
4. Hotel Pigeon Forge
For a hotel conveniently located near Pigeon Forge's top theaters, book your stay at Hotel Pigeon Forge. Guest amenities include a free breakfast, an outdoor pool, laundry services, and direct access to the Pigeon Forge trolley. You can reserve your choice of a smoking or non-smoking at this hotel just 6 miles away from Dollywood.
5. Vacation Lodge
Situated right on the Pigeon Forge Parkway, Vacation Lodge is a classic Smoky Mountains hotel. Featuring comfortable amenities such as a complimentary continental breakfast, a heated outdoor pool, and a sun deck, guests have everything they need for a wonderful stay. The hotel also provides quick access to the Pigeon Forge trolley for easy transportation.
6. Quality Inn & Suites at Dollywood Lane
Families looking to spend time at Dollywood should book their stay at Quality Inn & Suites at Dollywood Lane. Only a mile away from the iconic theme park, hotel guests enjoy a plethora of amenities. From free WiFi access to complimentary breakfast each morning, you'll have everything you need for the perfect vacation. Rooms include coffeemakers, mini-fridges, in-room safes, and TVs.
7. Comfort Inn & Suites at Dollywood Lane
Just down the road from Dollywood and right across the street from Dolly Parton's Stampede, Comfort Inn & Suites at Dollywood Lane features comfortable accommodations with private balconies, mini-fridges, coffeemakers, and more. While at the hotel, stay connected with free WiFi, relax by the indoor or outdoor pool, or start your day with a complimentary continental breakfast.
8. Eden Crest Vacation Rentals
Looking for an affordable cabin vacation in the Smoky Mountains? Look no further than Eden Crest Vacation Rentals. Offering cabins with 1 to 5 bedrooms, Eden Crest cabins include free WiFi, home theaters, flat-screen TVs, fully-equipped kitchens, and more. Plus, with unparalleled views of the Smoky Mountains, this will be a vacation you'll never forget. Do note that amenities range by cabin.
9. Spirit of the Smokies Condo Lodge
For an inexpensive lodging option in Pigeon Forge, reserve your room at Spirit of the Smokies Condo Lodge. Guests have the ability to choose from several room types, each featuring a variety of convenient amenities including flat-screen TVs, microwaves, mini-fridges, and fireplaces. Hotel services include a seasonal outdoor pool, complimentary WiFi access, and a large arcade room for the kids.
10. Ramada Parkway North
Right near the popular Titanic Museum Attraction, Ramada Parkway North offers multiple amenities guaranteed to make your stay a comfortable one. Rooms feature two queen beds, a mini-fridge, coffeemaker, and free WiFi access. While at the hotel, take advantage of the free daily breakfast, fitness center, gift shop, and onsite sauna.
There are Multiple Ways to Score Pigeon Forge Hotel Deals
From booking in the off-season to finding the perfect hotel with Tripster Pigeon Forge, there are many ways to find the best Pigeon Forge hotel deals. Start planning your Smoky Mountains vacation today!