Refer to this guide for in-depth information on Abrams Falls in Pigeon Forge, TN.
When you vacation in Pigeon Forge, taking a hike in the Great Smoky Mountains National Park is an absolute must. On one of my recent visits, I grabbed my camera and hiking boots and headed for Abrams Falls, a popular waterfall hike in Cades Cove, which is a 6,800-acre valley home to wildlife, 19th century historic buildings and an 11-mile scenic auto tour loop. Before you set out for the trailhead, I recommend you stop by the Cades Cove Visitor Center to pick up an auto tour map of the Cades Cove Loop. You'll definitely want to explore all that Cades Cove has to offer before and after your hike.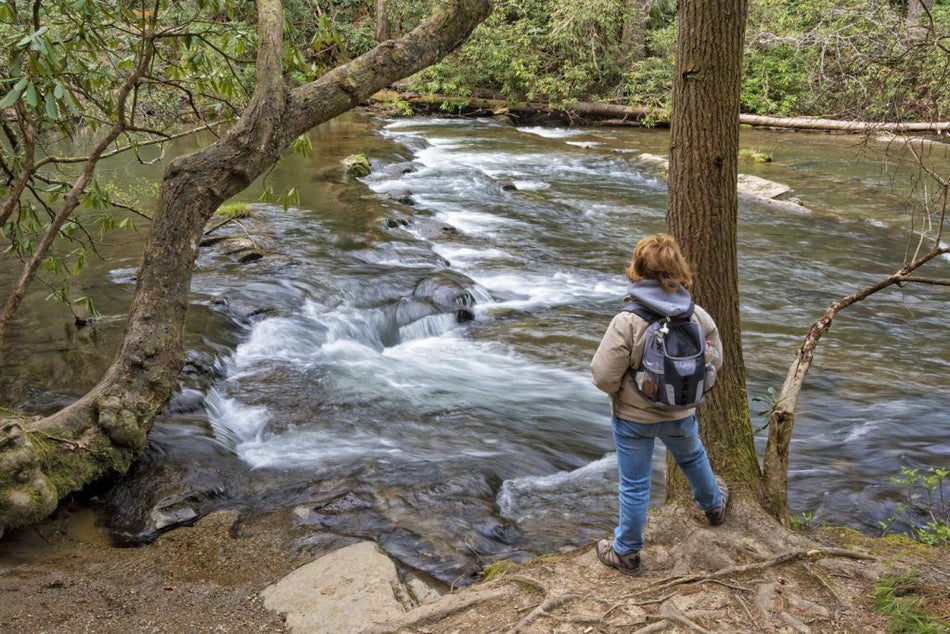 Everything You Need to Know
Trailhead
Located past stop #10 on Cades Cove Loop Road, you will need to drive 5 miles on the Cades Cove Loop to reach the trailhead. Once you're past stop #10, turn right on the gravel road. Park at the back of the field, marked with trailhead signs. You will see a wooden bridge that marks the beginning of the trail.
Distance
5 miles round trip
Waterfall
Located mid-point (2.5 miles in)
Trail Condition
Well maintained
Difficulty
Easy to moderate
Elevation Gain
You will climb to approximately 1,800 feet at one point, but when you arrive at the falls you are actually 300 feet lower than when you started.
Hike Time
3.5 hours
Overview
After crossing the first wooden bridge over Abrams Creek, which follows along the trail for most of its distance, you begin your journey to Abrams Falls. The trail climbs over Arbutus Ridge, starting at .8 miles. From here, the trail follows a languid pace along the creek. However, more arduous strides required during the uphill ridge climbs. One of my favorite things about hiking Abrams Falls is the sound of the creek. No matter what part of the trail you're on, you're never too far to hear it.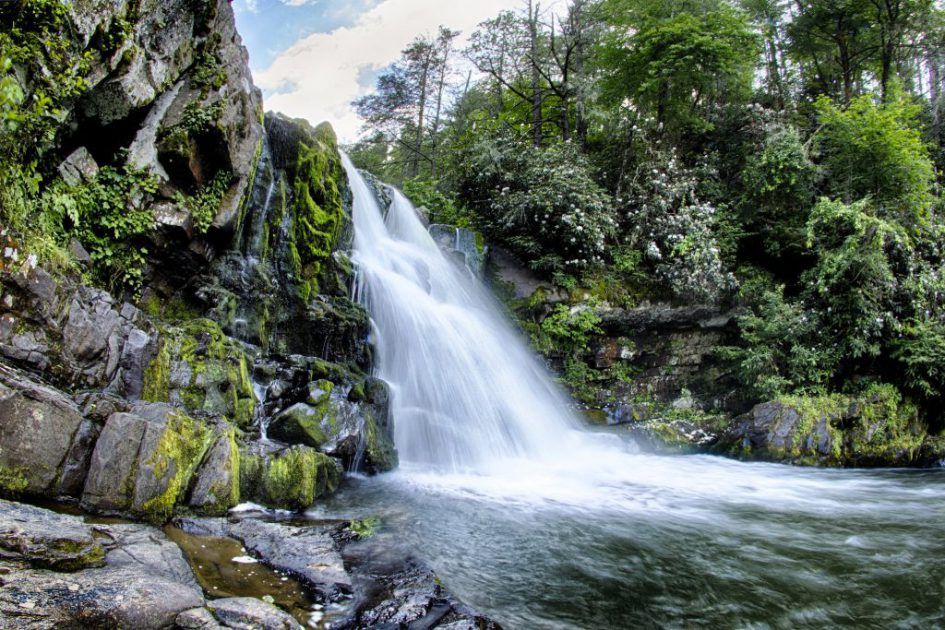 Throughout the next 1.7 miles, you'll go up and down, back and forth along the ridges surrounding Cades Cove. Along the way, you're surrounded by a pine-oak laden forest, with hemlock and rhododendron forests closer to the creek. At 2.5 miles, you'll cross another wooden bridge over a waterway – Wilson Creek – and one more footbridge will be to your left. Then, you will have arrived at Abrams Falls.
You'll hear the roar of the falls before you see it, but once you do, you'll know the reward of the hike was worth it! The waterfall is only 20 feet high but the volume of water rushing over the falls makes up for its lack of height. Accordingly, this, along with its deep pool base, makes Abrams Falls very picturesque. Take time to enjoy yourself at the falls, but do not swim at its base. It can be very dangerous and is strictly prohibited.
Please Note: The trek back follows the same trail. It is mostly uphill for the first half and more strenuous than the hike in. Also, be sure to bring water and perhaps a light snack to eat at the falls.