Are you the outdoorsy type? I most certainly am. When I visit a destination like Gatlinburg, the first thing I pack are my hiking shoes. With over 800 miles of hiking trails available, the best way to see the Great Smoky Mountains is hitting the trails and experiencing their beauty yourself. The area offers a variety of trail types to, from easy to strenuous, so you're sure to find one that will fit your activity level. 
I recommend stopping by the Sugarlands Visitor Center before your hike to pick up a hiking map. It'll give you an overview of the different trails available, as well as a quick overview of the trail type, distance and what to expect on your hike. Plus, the maps are only $1 which is incredibly cheap for all of the information they provide.
After a quick visit there, I decided Rainbow Falls was the perfect addition to my September vacation in Gatlinburg. Here's what you need to know about hiking at Rainbow Falls:
Distance: 5.6 miles roundtrip
Type of Hike: Moderate
Elevation Gain: 3,820 feet
Trailhead: From the parkway in Gatlinburg, turn at traffic light #8 and follow Historic Nature Trail/Airport Road. Follow this road .7 miles until you reach Cherokee Orchard Road. You'll travel about 2.2 miles on Cherokee Orchard Road, going past the Noah "Bud" Ogle homesite to the Rainbow Falls parking area, with the trailhead at the edge of the main parking area. If the main parking area is full, there is a second parking area .1 miles down the road.
Overview: The first part of the hike will surround you with lush foliage and the shady canopy of the forests. The boulder-strewn pathway makes the uphill hike strenuous at times, but the sights and sound of trickling LeConte Creek, which cascades down the mountain ridge, makes the effort more than worth it. Crisscrossing up the mountain, you'll traverse the creek several times by way of log foot bridges, which are great photo opportunities. These log foot bridges are located at mile 1.7 and mile 2.4. The Rainbow Falls hike follows a series of switchbacks that are highlighted by wildflowers, endlessly tall trees and views of the Great Smoky Mountains. At times, you feel like you aren't covering much ground but as you cross LeConte Creek for the third time Rainbow Falls comes into complete view. I had to get an up-close look at the waterfall, which receives its name from the rainbows produced from its mist on sunny afternoons, so I navigated the rocks for a closer vantage point. There were also some great photo opportunities with a closer perspective. Rainbow Falls is the highest single-drop waterfall in the Smokies and well worth the hike.
Time: The journey down the mountain was much easier and went by much quicker than the journey to Rainbow Falls. All in all, though, allows yourself around three hours for the hike.
Note: The temperatures do get cooler as you reach higher elevation. During my September visit, it was also very humid which created a damp environment. Be sure to check the weather the day of your hike and layer your clothes appropriately. Bring water with you as well. You will NEED it.
If you're ready for more once you reach Rainbow Falls, you can continue your hike onward to Mt. LeConte. It is an additional 3.8 miles (one way) so only add this to your hike if you have planned your outing in advance. There is a lodge at Mt. LeConte, but it requires reservations, and can be sold out several months in advance.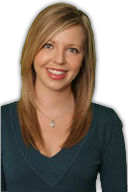 Ashley is Reserve Direct's travel expert, visiting Gatlinburg to find the best travel tips, money-saving deals and insider information. With over 10 years of experience in first-hand-travel adventures, she shares her stories, advice, and current events to help you stay in the know.