Towering cliffs, emerald beaches, and cascading waterfalls – it's no wonder people flock to Kauai of all the Hawaiian Islands. This rustic garden of Eden is one of the most beautiful places on earth.
So, if tropical paradises are your thing and you're a savvy bargain hunter who doesn't like to blow unnecessary cash in the wind—you've come to the right place. We have the best free Kauai activities and some of the leading attractions in Kauai. From state parks and botanical gardens to glorious beaches and stunning hiking trails—you can do them all with our saving tips.
Get the full scoop on how to do Hawaii on a budget with our list of free things to do in Kauai.
Why Kauai?
Kauai is the ideal spot for travelers seeking a less populated, less touristy locale. In addition, it's a perfect place for nature lovers who enjoy unadulterated adventure and breath-taking scenery. With lush gardens and dramatic landscapes, Kauai has a variety of free outdoor activities for a more unplugged experience.
Kauai is the ultimate escape destination if you're seeking a quieter, family-friendly haven. And there are plenty of things to do in Kauai, so you'll never be bored. Follow our Kauai to-do list on the best things to do in Kauai for free.
Pro Tip: Experts say early spring is the best time to visit this 'Aloha Isle,' with fabulous weather and prime island rates. If fact, if you can consider April or May, before the great visitor flux, you won't be disappointed.
Here are 9 of the Best Fun Things to Do in Kauai for Free
So, if you're searching for what to do in Kauai for free, here are numerous natural attractions that offer endless days of pleasure and are things to do in Kauai today that won't leave you sulking with an empty wallet when you return home from your trip!
If you're planning a vacation on Kauai, these are nine great places you shouldn't miss.
Waimea Canyon
Start your Kauai bucket list by checking off Waimea Canyon. Known as the "Grand Canyon of the Pacific." Stretching 10 miles and over a mile wide, this 3,600 feet deep canyon offers incredible views at several lookout points, picnic areas, and countless hiking trails to magnificent waterfalls and other scenic locales.
Similar to the Grand Canyon, sunrise and sunset are spectacularly stunning as the sunlight hits the crimson rocks with vibrant, shifting hues. Most importantly, it won't cost you a dime. Entrance into the Waimea Canyon State Park is free. It's our number one pick of all Kauai-free things to do.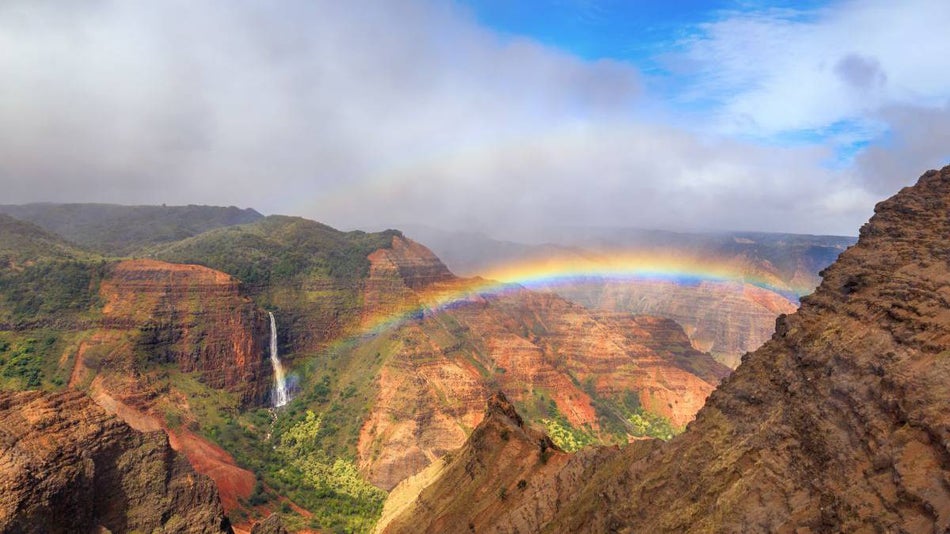 Kauai Hiking Trails
There are endless epic hiking trails in Kauai. What's more, they are free to access, too, so you can spend a day basking in the island sun, exploring some of the top natural wonders at no charge. The Kalalau Trail is one of the most exquisite, with views of the extraordinary Na Pali Coast. In addition, Canyon Trail at Koke'e State Park offers panoramic views of Waimea Canyon, making it a phenomenal free Kauai activity.
Fun Fact: The famous backdrop for the Jurassic Park movie is a rugged 25-mile stretch of Kauai's coastline.
Another impressive yet slightly challenging trek to explore is the Sleeping Giant Trail. This 3.4-mile out and back trek takes just under two hours to complete. If you head east at Sleeping Giant, the East Trail at the end of Haleilio Road is a popular, more moderate hike that leads to a grassy plateau and picnic area. Picnicking and hiking are two more free things to do on Kauai!
Consequently, the self-guided 10-mile Koloa Heritage Trail includes a series of 14 monuments and a visitor center featuring the state's rich history, culture, and heritage.
Kilauea Lighthouse
This pristine white vision against the deep blue ocean draws visitors for its postcard-perfect views. After snapping about 100 photos of this magical spot, take the guided tour of the Kilauea Lighthouse to gain insight into the historical landmark.
Located at Kauai's northernmost point, the Lighthouse is a National Wildlife Refuge that boasts panoramic, awe-inspiring vistas of the Northshore. It's an excellent spot for humpback whales, dolphins, and bird watching. In addition, the bird nesting sanctuary is home to the largest colonies of native Hawaiian seabirds.
Though it's not free, the entry fee for adults is $5, and it's one of many cheap things to do in Kauai!
Pro Tip: Instead of pricy 5-star dining, stay outdoors and uncover the many wonders of Kauai's culinary delights with the many food trucks that offer searing shrimp tacos and fresh luscious smoothies. You can still experience delicious dining on a budget!

Botanical Gardens
Spanning 240 acres, Na'Aina Kai is a living mosaic of tropical plants, birds, and wildlife. With the many bounteous gardens, the hardwood plantation of Na'Aina Kai Botanical Gardens showcases a moss and fern-draped canyon set amidst an aqua-marine beach and wildflower meadow. It's truly a touch of heaven on earth.
Equally fabulous is the Allerton Botanical Garden. Acclaimed for its intrinsic beauty, this garden is considered a tropical paradise partly due to the hidden valley location with an opening that faces the sea. Visitors can take a self-guided tour as they admire the various fruit trees, bamboo bushes, and diverse exotic plants.

Spouting Horn
This mighty, celebrated wonder is a natural blowhole that shoots water up to 50 feet in the air. Waves entering a tunnel on the rocky coast create an intense upward current that lasts about 10 seconds. Spouting Horn is directly across from the Allerton Garden and easily accessed on the Poipu Coastline.
Hawaiian legend says that a huge lizard guarded the coast and ate fishermen and anybody that got too close. Hence the hissing and roaring that comes from the spout. The impressive swell and craggy mountain backdrop are not to be missed! And this popular spot is one of the most photographed highlights on the island.
Kauai's prime whale watching season is from December to May. The Spouting Horn parking lot has ample spots and an excellent lookout point for humpback whales. Just another of the many amazing things to do in Kauai for free.
Kauai State Parks
Wailua River State Park
is home to Fern Grotto, a fern-covered cave in a tropical garden. Located on the Wailua River, the grotto requires kayaking to reach this strange, beautiful place.
Pro Tip: Though the fern is lovely, wear mosquito repellent. There is also an observation deck if you choose to view the charming grotto from afar.
The state park also features the Wailua Complex of Heiau, a national historic landmark, and Wailua Falls. Though the trail is short, only a third of a mile long, it can be very steep and slippery. It takes experienced hikers about 15 to 20 minutes each way.
Hike the infamous Kalalau Trail or trek the vibrant canyon rim of Koke'e's State Park. Taking in the thrilling scenery, surreal waterfalls, grand Hawaiian legend, luaus, and lore should be your top priority. The whale watching alone along the Na Pali Coast is worth the trip!
Fun Fact: The original Fantasy Island television show fans might remember the marvelous Wailua Falls featured in the opening credits.
Koke'e State Park
Just bursting with Kauai free activities, hiking trails, the Koke'e Natural History Museum, and the Koke'e Lighthouse. Koke'e State Park is not to be missed! There are bountiful lookout points with sweeping views of countless striking waterfalls.
Entrance to Koke'e State Park and Museum is free though a small donation is encouraged for the building's upkeep. The Lighthouse cost is a low price of $5 per visitor.
Beaches in Kauai
We would be amiss not to mention the fabled radiance of Kauai's many beautiful beaches. There are incredible spots for whale watching along Poipu Beach Park on the South Shore, especially scenic destinations like Hanalei Bay and Tunnels Beach, an ultimate surfing and snorkeling spot.
Few beaches are as wildly gorgeous as Shipwreck, with its rugged shoreline and jagged cliffs. It's a favorite spot for visitors who love hiking and thrill-seeking adventurers daring enough to attempt the 40-foot cliff jumps. Other Kauai sun-soaked beaches include Poipu Beach and Shipwreck Beach.
Looking to catch some waves? Check out our guide to the best beaches in Kauai for beginner surfers!
Pro Tip: Though this is another free thing to do in Hawaii, proceed cautiously. Even if you survive the jump, you may be pulled out to sea by powerful waves. Viewing professional jumpers can be just as fun! Unfortunately, Kauai has more drownings than any of the Hawaiian Islands, and Hawaii has the most drowning incidences in the U.S.
Kauai Coffee Company
Tour the Kauai Coffee Company on the south side of Kauai. It's the United States' largest coffee farm, offering a free self-guided walking tour of the farm and free coffee tasting.
Enjoy Free Entertainment at Poipu Shopping Village
To capture the true Hawaiian essence, you need to soak in the local culture. The Poipu Shopping Village provides countless Kauai things to do for free. It's located in an enchanting garden setting in the heart of Poipu.
It offers eclectic shops, unique art, boho boutiques, and a free, authentic Hula show with live Hawaiian music every Monday and Thursday afternoon. In addition, the village boasts gift shops, local eateries, a great atmosphere, and local Tahitian music. Entertainment is always free in the central courtyard at 5:00 p.m.
Pro Tip: You can opt to use public transportation like shuttles, tour buses, or taxis, but to make the most of your Kauai experience, rental cars might be the way to go, with worry-free travel.
Plus, you'll save money in other ways, like picnicking and hiking, not splurging on expensive museums and restaurants. Check out ten more free things to enjoy in Poipu!
Which Free Kauai Activities Will You Experience?
These are just a few of the free things to do in Kauai. Remember, Tripster has excellent deals on event tickets, hotel accommodations, and vacation packages. So plan your Hawaii vacation today to discover all Hawaii has to offer.
Kauai is truly an island gem that showcases the most scenic glorious wonders of our earth. Its pristine beaches, rainforests, and sea cliffs are jammed with outdoor activities. We've covered the basic Kauai Hawaii things to do for free. Now, what are you waiting for?
We hope we provided you with free things to do on Kauai, but if you're looking to splurge on one or two ocean pursuits, we have cruises, whale-watching expeditions, guided tours, and helicopter tours.
As you see, there are many things to do in Hawaii for free and over 100 things to do in Kauai if you look hard enough. Discover the natural beauty, the sugarcane fields, and white sandy beachside cliffs.
Have You Been to "The Garden Isle?"
What was your favorite inexpensive activity? Did we miss anything?
Leave us a comment below!