Kauai is known as the island of discovery and for good reason. The natural beauty of the island provides endless ways to play. From rugged mountains to bountiful rainforests and palm tree-lined beaches, the outdoor exploration available is exceptional.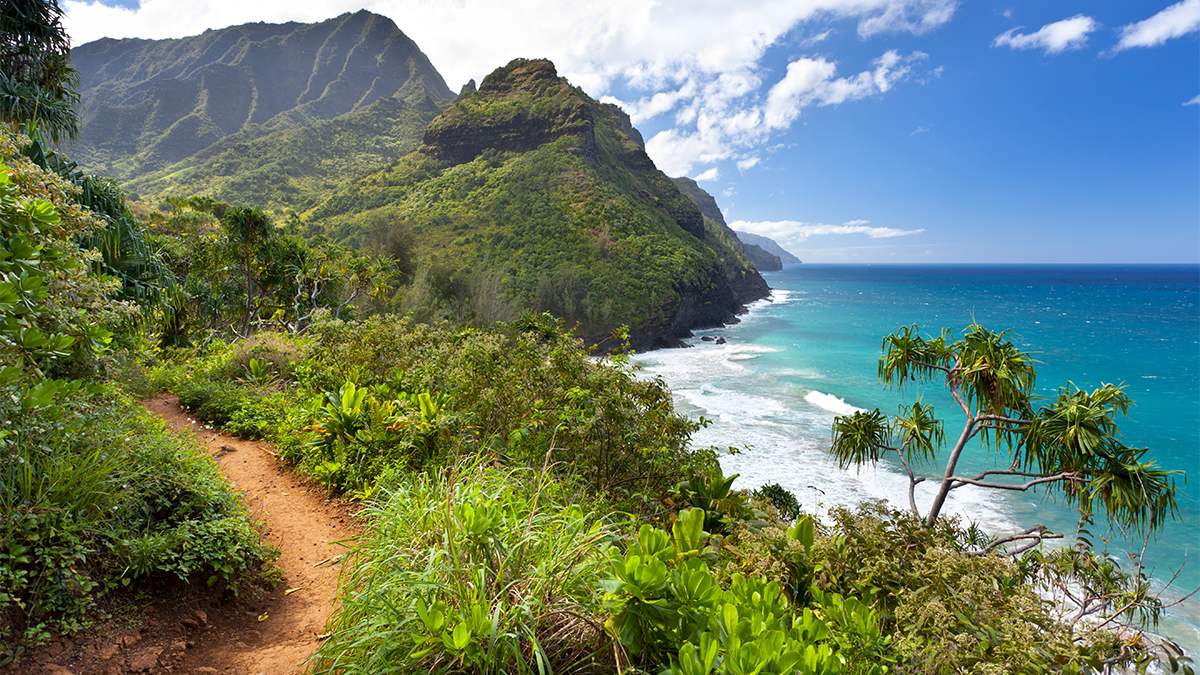 1) Moloaa Bay Coastal Trail
An easy 1.5 miles round trip, the Moloaa Bay hike is perfect for visitors who simply want to explore Kauai's scenery. Starting an ending on Moloaa Bay, located on northeastern Kauai, the trail begins at the north end and traverses along the coast toward nearby Larson's Beach. Along the way, you'll enjoy beautiful ocean views and in the winter months humpback whales can be seen. A fun fact about this bay is Gilligan's Island filmed some of its episodes here. Fantastic swimming and snorkeling at Moloaa complement the hike.
2) Waipoo Falls Trail
This western Kauai hike is one of the island's best.  The 3.6 mile round trip hike leads you to the two-tiered, 800-foot waterfall known as Waipoo Falls.  Plus, the trail ends at the top of the waterfall along a stream that you can splash and swim in to cool off from your hike.  To find this trail, follow Hwy 550 and along Halemanu Road for .75 miles until you see a trailhead.  Spectacular views of Waipoo Falls are available at the beginning of the hike, where you can get some great photos.  This hike is considered moderate due to the terrain. 
3) Kalalau Trail
Perhaps Kauai's most famous hike, this northern trail follows the rugged Na Pali Coast and there are several options available.  You can make this hike a 4-, 8- or 22-mile trip.  If you're interested in a challenging day hike, follow the trail for two miles until you are at Hanakapiai Beach. This beach isn't great for swimming due to the strong currents but if you continue on an additional two miles you'll find the 300-foot Hanakapiai Falls.  It drops into a deep, large pool where you can swim.  To complete the full 22 mile round-trip hike you will need to stay overnight in Kalalau Valley.  Although strenuous, the full hike is also very rewarding thanks to its lush hanging valley, iron red and emerald green sea cliffs and cool mountain streams. 
The trail follows the coast and is the original path used by Hawaiians who lived in Kalalau Valley and other valleys along the Na Pali. The Kalalau Trail provides the only land access to the Na Pali Coast on Kauai.  The Kalalau Trail starts on Kee Beach.
4) Mahaulepu Coastal Trail
You can find this trail on the southern coast of Kauai in Poipu. Starting at Shipwreck Beach, directly in front of the Grand Hyatt Hotel, you will hike the undeveloped coastline for about two miles until you arrive at Mahaulepu Beach. Along the way, sand-dune cliffs, Kiawe trees, limestone formations and rocky inlets fill your view and if you're lucky you might see a sea turtle or endangered monk seal as this beach is a haven for aquatic life. This hike is fairly easy but can be strenuous as there is a lot of sand walking.
Kauai Swimming Hikes: Tips
As with any hike you go on in Hawaii, put safety first. Sure, you're there for the experience, photos and seriously gorgeous views. However, it's best to keep to the marked trails, wear comfortable shoes, bring snacks and water and always have a healthy respect for your surroundings. These places are beautiful--make sure you leave them that way!