Begin your exploring at Wailua Falls. Then, trek to the famous Fern Grotto on the Wailua River. Up next, there are numerous historical spots to visit, including a sugar plantation, harbor, and museum.
The island of Kauai is the pinnacle of natural beauty, featuring a vast array of lustrous landscapes and popular attractions. Each Kauai trip hosts heavenly visions of shimmering sunsets, sheer cliffs, and reflection pools. In comparison, every Kauai tour is an exotic escape loaded with tropical forests, coastal wonders, and beaches lined with fragrant palm trees.
Follow along as we highlight unusual things to do in Kauai, starting with the splendid, unique town of Lihue Kauai.
About Lihue Hawaii
Lihue Hawaii, on the southeastern corner of Kauai, is an old sugar mill town situated between the magnificent Kalapaki Beach and the soaring mountains of Waimea Canyon. It is the second largest town on the island of Kauai, and with the main Lihue Airport, it's the most traveled city.
Lihue tourism is rising due to the dramatic Na Pali coast and all the popular activities like surfing, snorkeling, and whale watching. At the same time, downtown Lihue's Rice Street hosts block parties with live music and local vendors laden with unique arts, crafts, and jewelry.
Want to know which Lihue HI places are the best to explore? This otherworldly paradise has vibrant energy with lavish outdoor playgrounds laden with esteemed hiking trails. In addition, the lush Kalepa Mountain Forest Reserve is the ideal locale if you're seeking an Eco Adventure Helicopter Tour.
Lihue is home to numerous historical spots and nature reserves, like the Ahukini Recreation Pier State Park, which is directly east of Hanamaulu Bay. And, no matter if you're a divemaster or snorkel guru, we have the best scuba tours on this side of the Pacific.
Discover more on our list detailing ten unique places to see in Lihue, Kauai. We have ten reasons you need to visit Kauai in your lifetime. Interestingly enough, Kauai best places to visit are found in Lihue!
Keep reading for intriguing Lihue Kauai things to do.
Lihue Kauai Things to Do
If you're searching for free things to do in Lihue, this grand isle borough is steeped in ancient culture and lore. We have an itinerary for you, and most of the activities won't cost a thing! Whether you're whale watching or mesmerized by the evening luau's fire knife dance.
We have the most superlative sights to see in Kauai!
Want to know which places are the best to explore? Discover more on our list detailing the top sights to see and the best things to do in Lihue Kauai.
Wailua Falls
This paramount attraction, known as the Kauai Twin Falls, is a double-tiered waterfall that cascades into two streams, dropping 85 feet below into a 30 feet deep gossamer pool. It's easily accessible if you drive Highway 583 to the south end of the Wailua River.
These dynamic waterfalls are easy to see from the roadside lookout if you just have time to drive by. But, according to ancient Polynesian history, the Hawaiian chiefs proved their mettle by diving over the Wailua Falls cliff!
For an in-depth day escapade, try the Kayak Adventures of Wailua River. It's five hours of kayaking and hiking through enchanting rainforests up to the dynamic falls.
Fun Fact: This stunning landscape was featured on the TV show Fantasy Island for its magical imagery and otherworldly essence.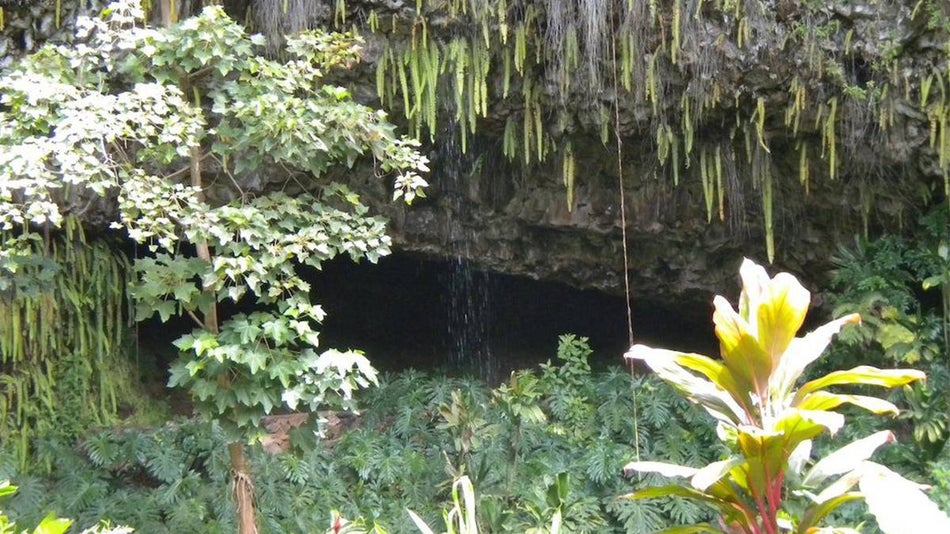 Fern Grotto
Another must-see attraction is the picturesque fern-fringed cave known as Fern-Grotto. This dewy, emerald, green grotto is a natural lava rock lush with hanging ferns and tropical foliage. Its pristine setting makes it one of Kauai's top natural attractions and one of the prominent places to see in Lihue. Take a leisurely ride of the Wailua River to access this gem.
Grove Farm Homestead Museum
One of the best things to do in Lihue is visit the Grove Farm Homestead. Built in 1864, this 80 acres plantation home of George N. Wilcox has been preserved as a depiction of life on a Lihue sugar plantation. The home opened as a living museum in 1978. Reservations are needed for this beautiful agricultural site.
You'll feel like a time traveler as you tour this historic place and learn about the Wilcox family and Kauai. The tour lasts for two hours.
In addition, another exciting way to see this island jungle is on a Kauai ATV. Roam the Garden Island playground through the Koloa Sugar Mill across verdant supernatural terrain.
Fun Fact: Did you know the blockbuster motion pictures Jurassic Park and Fast & Furious Present: Hobbs & Shaw picked the beautiful Kauai scenery for their films?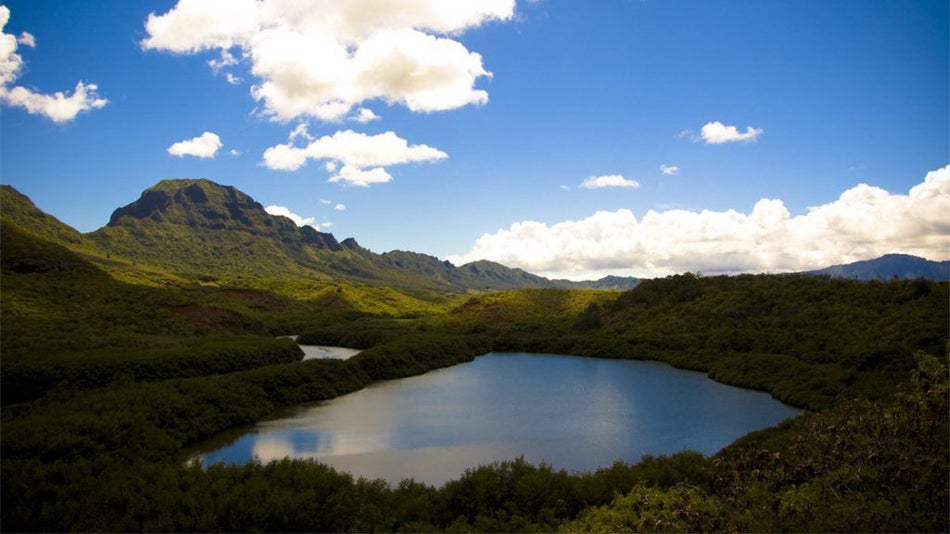 Menehune (Alekoko) Fishpond
Similarly, another of the many things to do in Lihue for free is to check out the Alekoko Fishpond. Built nearly 1,000 years ago, the Alekoko Menehune Fishpond, located just above the Nawiliwili Harbor, has been on the National Register of Historic Places since 1973.
It can be viewed from the Alekoko Scenic Overlook, half a mile up Hulemalu Road. Experts say the best time to visit the Overlook is near sunset when the sun melts in the gap between Haupu Ridge and Kipu Kai. Kayak Tours on the Huleia River offer an excellent way to explore the gorgeous mangroves.
Keep reading for the most marvelous things to do in Lihue, Hawaii.
Nawiliwili Harbor
The official harbor of Kauai since 1930, Nawiliwili Harbor, is a picturesque setting that ports many cruise ships. It is located at the mouth of the Hule'ia Stream, and the harbor got its name from the Wiliwili trees which once ruled the area. Also, the nearby Ninini Point Lighthouse offers splendid ocean vistas. Visitors can watch cruising ships or stroll along the sublime beach.
Kauai Museum
Please stop by this museum to see local artisans' work displaying their creations and discover local Hawaii Lihue culture and heritage. Located in a lava rock structure, it's easily one of the most unique places to see in Lihue, Kauai. Moreover, a stop at the Kauai Museum is a convenient way to learn more about Kauai and the charming town of Lihue.
Kilohana Plantation
Grab some Kona coffee and experience life on the islands in the 1930s on this restored plantation estate, where you'll uncover a 16,000-square-foot elusive mansion open for tours. The 35-acre estate now features tropical gardens and an old plantation village.
Visitors can ride the winding Kauai Plantation Railway through the working farms and orchards, partake in the various island activities, delight in local cuisine, and shop at unique boutiques.
Pro Tip: The prime time to visit Lihue is between April to June or September to November. The weather is ideal, and sometimes the off-season price is right for flights.
Kalapaki Beach
If you're searching for the island's crème de la crème Kauai Beach, look no further! This premier coast makes for a popular destination with first-rate activities like swimming, surfing, and paddle boarding. For more fascinating Lihue things to do, check out this destination's whale watching and sunset cruises.
Dip your toes in the pristine, white sand against an aqua-marine sea, then try shaved ice from the Kalapaki Beach hut. You can also savor the sun on a Kauai Sea Deluxe Snorkel Cruise. Enjoy stunning sea cliff vistas, waterfalls, and sea caves on a sensational Na Pali Cruise and snorkel with exotic sea turtles!
Koloa Rum Company
Yes, the coffee is fabulous, but did you know Kauai has breweries and distilleries to boot? The Koloa Rum Company Tasting Room features scheduled tastings of its award-winning rums every half hour. Made from true Hawaiian sugarcane, then distilled twice in a copper pot, this smooth spirit is the essence of Kauai! Make sure to bring a valid ID to participate in the tastings.
Luau Kalamaku
You can't visit the island paradise of Kauai without experiencing an authentic luau! The Luau Kalamaku offers an unparalleled interactive show with hula dancers, local crafts, and delicious local fare. On a true tropical plantation lined with mango trees, this immersive evening hosts a stunning performance with fire knife dancing, fire poi ball twirling, and live music.
Sip back a Mai Tai under a star-filled sky, as this will be the true highlight of your trip!
Bonus: The Smith Family Garden Luau is another special Lihue Kauai event. This island luau, located on a lush 30-acre botanical garden, has fabulous hula dancers, tropical drums, and a walking path through a bamboo forest.
Unique Places to Stay in Kauai
Whether you choose to stay in a Lihue condo, resort, or hotel, we have the best online rates guaranteed! Check out these outstanding options for Lihue, HI lodgings.
Best Things to Do in Lihue Kauai
We hope we convinced you to check out this spectacular diamond isle! This hidden treasure hamlet is a must-see on any Kauai itinerary. Simply cruising the gorgeous coast along the Kuhio Hwy Lihue is another fabulous day trip. Or a magical Whale Watching Cocktail Cruise drifting on a fabulous catamaran. With all the sensational sights to see in Kauai and the countless things to do in Lihue Kauai, you may never want to leave!
Most importantly, remember Tripster has you covered for discount tickets with easy booking. We provide instant confirmation and no hidden fees to make your vacation planning as dreamy as your destination!
Unusual Things to Do in Kauai—What Did We Miss?
We aim to cover the best things to do in Lihue and things to do in Lihue for free, but if we missed anything, please let us know!