Waimea Canyon, Kauai, is a glorious marvel to behold, with dramatic valleys, jagged cliffs, and surreal waterfalls. 
Follow along as we dive into the details of Kauai's natural wonder: Waimea Canyon!
Stretching over 10 miles long, one mile wide, and 3,600 feet deep, the Canyon area offers numerous lookouts, campsites, and trails—touting the beauty of this vast natural wonder. When you vacation in Kauai, visiting "The Little Grand Canyon Hawaii" is a must!
Waimea Kauai is a charming seaport town home to quaint boutiques, restaurants, and lodgings. The nearby Waimea Canyon State Park highlights the majestic Waimea Canyon gorge. In addition, the park offers many ways to get around by foot or car and features scenic drives, Waimea Canyon overlooks, and wildland picnic areas.
Ready to find out more about the Grand Canyon of the Pacific Kauai? We have info on where to go for the best views of the Canyon and pretty much all you need to know about hiking Waimea Canyon and discovering the essence of this rustic nirvana. Read on!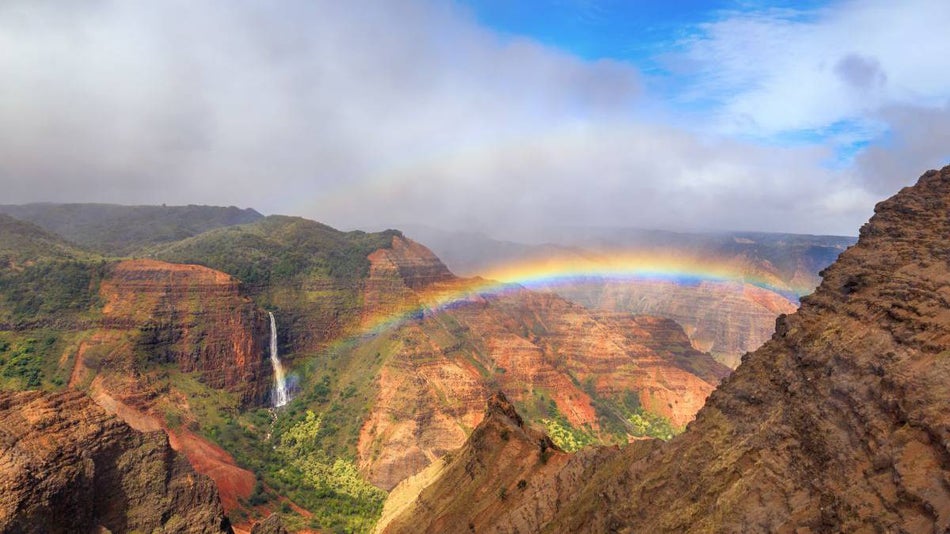 Scenic Drive Waimea Canyon
We have options if you're on a tight schedule and only have time to check out this massive esplanade from your car. The total distance round trip can be completed in less than an hour.
Keep scrolling for the best observatory points and directions around the Canyon of the Pacific.
Puu Hinahina Lookout
Firstly, you'll want to visit the peak for the best views. After visiting the summit of Waimea Canyon, visitors begin the descent. From here, you can witness striking landscapes all the way to the Pacific from atop the Canyon walls. The rolling hills of the Canyon are painted in brilliant scarlet, tan, and sea green hues as the Waimea River cuts deeper and wider into the canyon ravine.
Recommended scenic stops along the way include the Puu Hinahina Lookout; an easy .1-mile paved path between mile markers #13 and #14. Try to arrive as early as possible to miss the afternoon mist, and on a clear day, you can see privately owned Niihau Island seventeen miles away.
Waimea Canyon Lookout
Another good vantage point is the aptly named Waimea Canyon Lookout, located between mile markers #10 and #11. As the sun traipses across the sharp canyon ridges, the vivid shades reveal a stunning vista. The burnt cherry and crimson pastures really pop, which is why the Canyon's name, Waimea, means "reddish water" in Hawaiian. Take a moment to gaze at the marvel of Waimea from this picturesque place.
Fun Fact: The rich red dirt is used to make Red Dirt Shirts, dyed purely from the Canyon. They make great souvenirs for friends and loved ones!
There are a variety of other sights to see and scenic lookouts to visit along your drive. Make a note to fill up the tank with gas before heading out, as there are no service stations on the 40-mile round-trip drive along Waimea Canyon Road. Also, bring a light jacket as temperatures dip a good 15-20 degrees in the higher Waimea Canyon elevation.
What's more, after your day trip on the sprawling isle, you could splurge on a Kauai Sea Tour Na Pali Sunset Dinner Cruise to check out playful dolphins, humpback whales, and exotic sea life!
Waimea Canyon State Park
Of all the state parks across the pineapple islands, Waimea, Kauai might be the superlative recreational area with spectacular canyon hikes and arresting views. If you've been to the Grand Canyon, you'll know what to expect. For superior Waimea Canyon State Park photos, head to the Kalalau Lookout first. Located near the end of the road at mile marker #18, this overlook offers astonishing views of the Na Pali Coast. The emerald green sea cliffs against the cerulean sea create staggering contrast.
If you are wondering how to get to Waimea Canyon State Park, it's pretty easy to find. Two main highways take you directly into the park and then merge together. From Waimea, on Kauai's southwest shore, turn onto Waimea Canyon Drive (Route 550) or from Kōkeʻe Road (Highway 552), which departs from Kekaha a few miles west. The Waimea Canyon Road is the more scenic of the two and takes you right to the lookout between mile markers 10 and 11. Driving along this rim road, you'll see several lookouts and scenic stops up to the top of the Canyon and then on your way back down.
Pro Tip: Sometimes, the skies become clouded as early as 10:00 a.m. in the Grand Canyon Hawaii. You most definitely don't want those cloud banks to dampen your views of Waimea Canyon. For the best sightseeing, ensure you reach the Canyon during the early morning hours when it's less crowded and cloudy!
Best Hiking Trails in Waimea Canyon
If you're fated to vacation in Kauai, chances are you're going for the extravagant rainforests, unsurpassed waterfalls, and epic outdoor recreation. What's more, Waimea in Kauai, or more notably, the Grand Canyon of Kauai, has enough nature overlooks and splendid vistas to make the journey worthwhile.
Strap on your favorite climbing boots! We have the best Waimea Canyon hikes right here.
Waimea Canyon Lookout Trail
This lovely loop trail is open year-round and is considered one of the best trails in the park. The .1-mile-long hike takes about two minutes to complete, making it perfect for families. In addition, this beautiful, paved climb ends at Waimea Falls! Enjoy a packed lunch as you gaze at the heavenly falls in all their glory. Dogs are welcome on this one, but they must be on a leash.
Photo Alert: Make sure your phone is charged! You don't want to miss Napali Coast pictures or Waimea Canyon photos. The majestic scenery of this Grand Canyon of the Pacific will take your breath away.
Kalalau Trail
If you want to get even closer to the gorgeous Na Pali Coast, tackle this 11-mile beast of a trail. Be warned. This is a strenuous trek for more advanced hikers. It's the only land access to this part of the rugged coast and will take most of the day to complete. The trail traverses five valleys before ending at the mystical Kalalau Beach.
Waimea Canyon Trail
This 12.9 out-and-back trail is considered challenging by most. The steep trek descends into the Canyon through clear terrain and dense woods crossing several rivers. Also, the Waimea Canyon Trail has the highest elevation gain at 3,838 feet, the sharpest in the park. It takes over seven hours to complete and is more popular among serious backpackers and campers. Dogs are welcome but must be on a leash.
This hike has a $5 entry fee for adults and children. Also, children under three are free, as well as Hawaiian residents with proof of address.
Waipo'o Falls
The Waipo o Falls trail is a moderately challenging three-mile out-and-back hike near Kekana, Kauai. Follow Highway 550 northward into Koke'e State Park, then turn right onto Halemanu Drive. Various overlooks along the way offer visions of the breathtaking 800-foot cascading waterfall.
Bring your bathing suits and goggles! Even though visitors can't swim at the waterfall's base, you can dip in one of the two smaller waterfalls further upstream.
Pro Tip: Please note this trail may be difficult during muddy conditions. Additionally, a four-wheel drive vehicle is necessary when raining.
Kukui Trail
Similarly, the Kukui Trail is one of the best hikes in Waimea Canyon. And by the same token, it's another challenging route, usually taking an average of three to four hours to complete. It's a five-mile out-and-back trail near the town of Wainiha. This trailhead is accessible from the Iliau Nature Loop, about nine miles up Highway 500.
Pihea Trail
This out and back 2.3 miles trek is moderately challenging for visitors. It's a forest reserve trail, and guests can access it from the Koke'e State Park. One of the Pihea Trail's special features is bird watching. This fascinating trail plunges into the Kalalau Valley, where you can spot Kauai's native birds.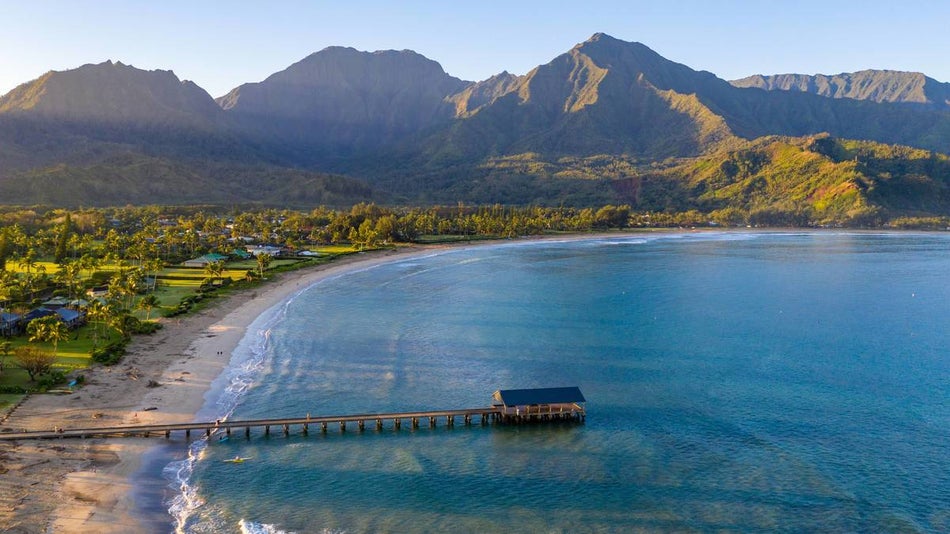 Visit Waimea Canyon
This bucket list item really is an absolute dynamic destination. Whether you drive to the summit or pull off in a parking lot, there are countless fascinating landscapes to ponder.
Moreover, the celebrated red dirt trails of Kauai Waimea Canyon might possibly be one of the most extraordinary spots on earth. Whether you drive through it or partake in one of the top Waimea Canyon hikes listed above, prepare for an unforgettable experience.
In addition to its outstanding beauty, the island of Kauai or Garden Isle hosts a mecca of excellent activities, from snorkeling with sea turtles to island luaus, surfing, and catamaran cruises—and Tripster has discount tickets for every occasion.
Don't delay! Create lasting family memories in one of the most picturesque canyons in America.
Waimea Canyon Hiking—Did We Miss Anything?
We'd love to hear about Waimea Canyon hikes you've taken!