Once a New York roadside burger stand, Shake Shack, is now known worldwide for its scrumptious burgers, chicken, hot dogs, frozen custard, beer, and shakes, of course!
The famous Shack began as a Manhattan hot dog cart in Madison Square Park, near the Park's Conservancy. The goal was to support the arts and provide patrons with appetizing lunch and dinner options. It was such a booming success that fans lined up daily, and the Shake Shack was born.
From handspun malts to their famous Black Truffle Burger, the restaurant touts fresh, simple, high-quality food at a great price in a lively setting. Offering all-natural ingredients with no artificial flavors, their mission is to Stand For Something Good®.
Shake Shack has become one of the fastest-growing franchises, now owning and operating over 250 locations globally. The company has 16 restaurants in China and 12 locations in Japan.
About Shake Shack
It all started with art! In 2001, the city hosted an art show called "I love Taxi" in Madison Square Park. In addition to the taxi-themed art displays, a certain hot dog stand took off with notoriously long lines for its Chicago-style dogs. What began as a roadside hot dog stand grew into a gourmet fast-food establishment. The idea of simply delicious roadside food stands inspired New York restauranteur Danny Meyer, who founded the eatery with his Union Square Hospitality Group. At the time, Meyer headed up the Madison Square Park Conservancy.
Fun Fact: Meyer told Fortune magazine he came up with the name from the 1978 movie Grease. In the movie's final scene, Danny and Sandy dance on an amusement park ride while singing "You're the One That I Want."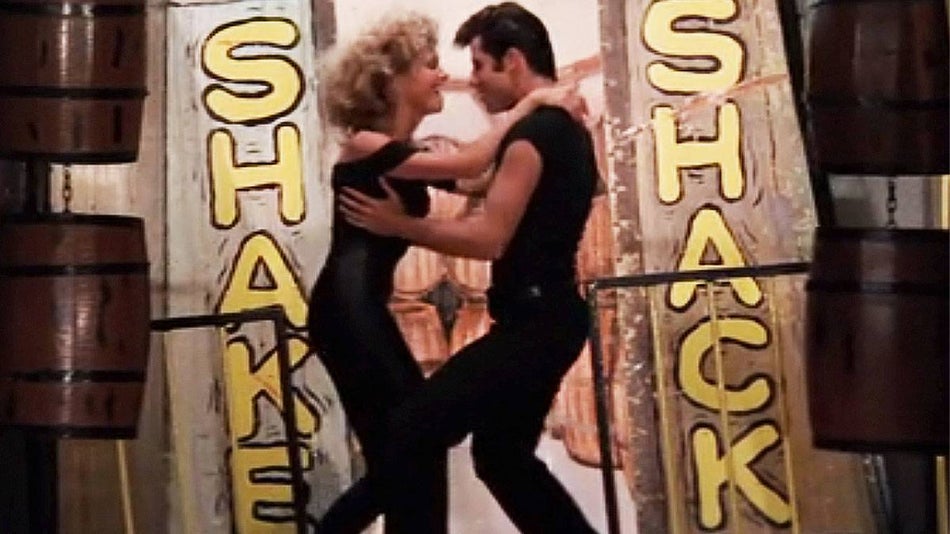 He turned simple mainstays like burgers, hot dogs and shakes into tasty selections with an added gourmet twist. It's all in the branding, and no one knows this better than Meyer, who hoped to create a dining experience and expound it into a restaurant. The company is now worth a staggering $1.6 billion with a chains from Chicago to Dubai. What's more, the franchise has plans to expand to another 400 locations in the next decade.
New York Shake Shacks
It's kind of a New York thing. If you're craving a little Shake Shack in the Big Apple, there are several locations to choose from, over 229, in fact! However, if you're in Time Square and need a quick, delicious bite before your show – stop by 691 8th Avenue for a fast option with amazing service. The Theater District Shake Shack made its debut in 2010 on Manhattan's Midtown West Side. With floor-to-ceiling windows, tourists can take in the neon city and all its non-stop action. Guests can drop in for lunch, dinner or a late-night burger fix.
Other popular Manhattan locations include East 23rd and Madison Avenue, 1333 Broadway, 600 3rd Avenue, and 154 East 86th Street. Beyond dining in the restaurant, you can also call to pick up your order or have it delivered.
Pro Tip: If you're avid fans like we are, get the Shack App on your phone for easy pre-ordering and updates.
Shake Shack Menu
Everyone knows when you're dining out, dessert is just as important as the meal. No one executes it quite as well as the Shack. When a place is known for the best burgers globally, the next course has to be just as good. Naturally, the Chocolate Churro + OREO Funnel Cake Shake tastes like sweet, whipped heaven, but the Shark Attack chocolate custard and the Key Lime Pie, oh My are delicious too. There's even something called the Purple Cow, a grape juice, milk and ice cream float that some say is beyond fabulous.
It's all about the sauce. The famous Buffalo Chicken sandwich satisfies the hungriest of hordes, while the crispy, crinkle-cut Buffalo Spiced Cheese Fries and cheese sauce are crowd-pleasers too. The secret, flavorful Shack sauce with a twist on the classic Buffalo sauce has vinegary notes and a touch of garlic. The ranch is not your typical garden variety but a rich, creamy blend of buttermilk and its custom spice.
The Shack's chicken is natural, juicy, white-meat breast, fresh, never frozen, and with no hormones or antibiotics. It's slow-cooked sous vide (a refined dining technique that prevents overcooking) in a rich, buttermilk marinade, then crisp fried every single time.
Shake Shack Merch
The Shake Shake Shop offers gear sold in each Shack and limited edition items. Swag includes t-shirts, tank tops, baseball hats, and totes. The gift area has souvenirs for everyone— adults, kids, and even your toddler. Some stores even have doggie gifts!
In line with the company's Stand for Something Good® theme, all of the Shake clothing is made to reduce its carbon footprint. The company makes all items from organic cotton and post-consumer recycled polyester.
Gift Cards
Who doesn't love burgers and shakes? Searching for that perfect gift, and don't know what to get? The Shack offers both physical and e-gift cards.
The restaurant delivers physical gift cards right to your recipient's door. The cards are redeemable on in-Shack register orders only and are not redeemable on the Shack App, online, order kiosk, or any delivery partners. E-gift cards go straight to your recipient's email inbox and are redeemable with in-Shack register orders only.
Restaurant Hours
Most of the eatery's locations are open from 10:30 a.m. to 11:00 p.m. but check before you go, so your trip won't be wasted as hours may vary.
Fun Fact: The restaurant serves breakfast at only a few locations! Bacon options are offered at New York's JFK Airport (terminal 4), inside New York's Grand Central Terminal, Washington D.C.'s Union Station and the original Madison Square Park location.