May 5, 2023 @ 12:00 am

-

11:30 pm

PDT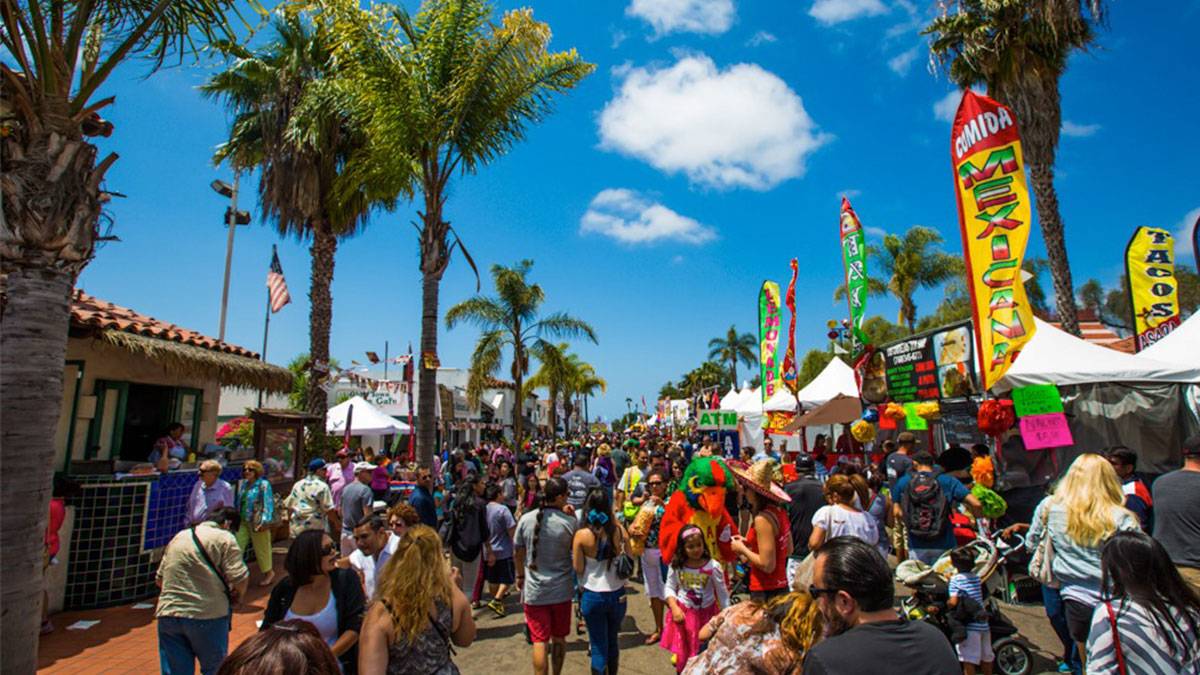 Hola amigos and amigas! It's time to gather your beloved familia, as San Diego is throwing the biggest fiesta ever. The ultimate Old Town Cinco de Mayo San Diego celebration is guaranteed to spice up your weekend!
A festival overflowing with live entertainment, music, traditional dance numbers, local food options, festive drink specials, and more awaits you at Cinco de Mayo San Diego 2023.
Catch over a dozen Latin bands, wander through the Lowrider Lane to be blown away by unique car designs, or be wowed by traditional dance performances.
All these activities will surely leave you hungry and thirsty, but don't worry, as Mexican food and Baja-inspired drinks abound. Stop by the food booths that offer a wide selection of burritos, tacos, ice-cold cerveza, margaritas, and traditional bites and spirits!
Related Post: 12 Best Tide Pools in San Diego
Follow along to find out about all the best activities Cinco de Mayo San Diego 2023 has to offer.
Old Town San Diego Cinco de Mayo Tickets
The Old Town Cinco de Mayo event is free and open to the public.
Other Attractions in San Diego
Be greeted by an ocean of entertainment when in San Diego. With 70 miles of perfect coastline and an imaginative culinary scene, America's Finest City is dream-worthy for every traveler.
Book these vacation packages with Tripster for the best SoCal experiences:
Old Town Cinco de Mayo 2023 Highlights
Artisan Mercado
As you walk through the event's grounds, you will see colorful lanes of mini tiendas (mini stores) offering artsy trinkets, creative crafts, and yummy delicacies.
The Sunny Cinco Fine area is converted into a bustling Mercado (market) brimming with flavors and energy, transporting you to the busy streets of Mexico.
Children's Area
Exciting activities and games for kiddos? Check and check. Bring your little ones to the Old Town Cinco de Mayo for them to experience fun craft projects and family friendly events, including Buffalo Chip Throw, Hoop and Stick, Rope Ring Toss, and Folk Dancing.
Plus, they can learn about the city's historical sites and history by listening to the stories involving the early residents of San Diego.
Live Shows and Events
This celebration can't be complete without thrilling entertainment. Just like last year, we can expect the Café Coyote Stage to impress us with its lineup of local bands and mariachis to flamenco and ballet folk lorico.
Of course, there will be live music, traditional dance performances, and more. We're hoping to see the return of crowd-favorite Luca Libre Wrestling at the San Diego Cinco de Mayo 2023 as well.
Cinco de Mayo Festival Date and Details
Unfortunately, the official schedule for this year's celebration has not been released. The event may fall from Saturday, April 30th to Sunday, May 1st like the previous year. Or, it may take place on the date of the actual holiday: May 5th.
Check back later for more updates about this weekend-long party.
Experience Fiesta Old Town Cinco de Mayo San Diego
Grab your sombreros and maracas, as it's time to party at Fiesta Old Town Cinco de Mayo in San Diego! With the fair's energetic crowd, selection of food vendors, endless entertainment, and lively spirit, you'll feel like you're celebrating in the heart of Mexico City.
Related Post: Insider's Guide to SeaWorld San Diego
Dance to the beat of Mexican music, eat all the cuisines you can, and sip special drinks and libations. Undoubtedly, this Cinco de Mayo celebration is hard to beat.
Joining the San Diego Cinco de Mayo 2023 also means helping others, as the proceeds of the fair will benefit the Historic Old Town Community Foundation.
After the Cinco de Mayo events San Diego, deep dive into San Diego's rich history and discover its many treasures with a vacation package.
Related Events