March 10, 2023 @ 8:00 am

-

May 21, 2023 @ 5:00 pm

EST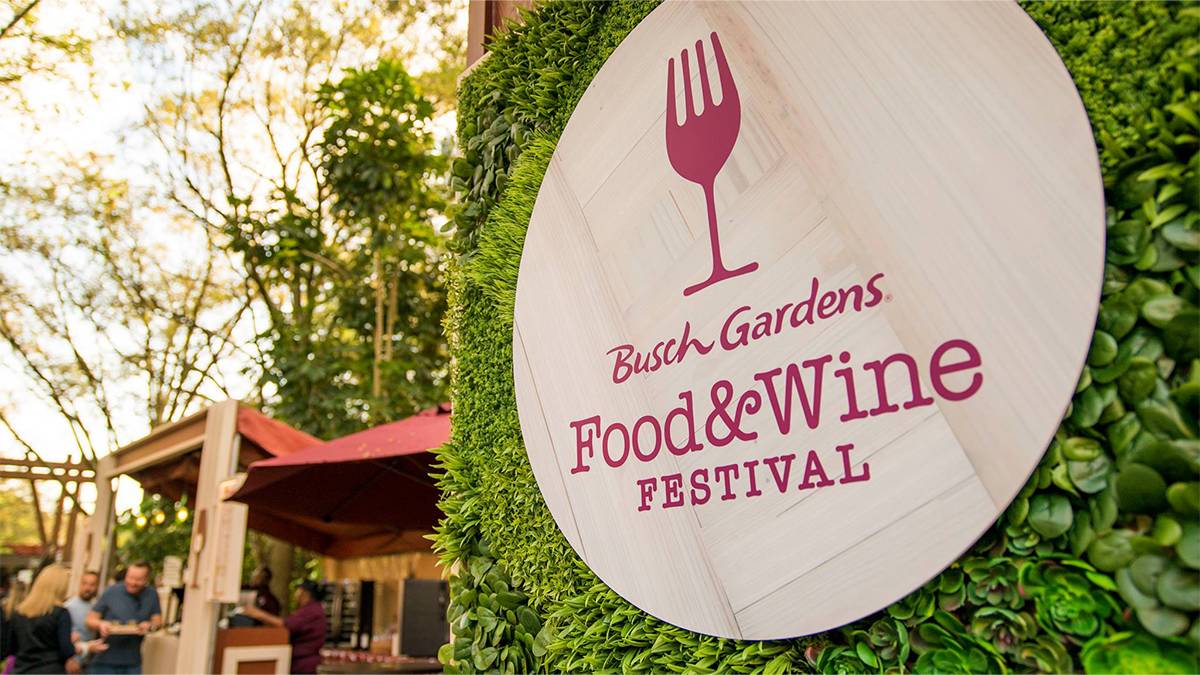 Multiple cuisine offerings, exotic wine, and toe-tapping tunes. Foodies of all tastes will be in culinary heaven when they make a trip to the Busch Gardens Food and Wine Festival!
Whether you want to stuff your face full of Mexican delicacies or try new Asian flavors, an exciting experience awaits at your favorite theme park. Busch Gardens Food Wine Festival will feature an array of bites and sips from across the globe to spoil every food lover's palate.
To add to the fun, there will be live concerts featuring the biggest musicians and rising artists.
Ready to discover the world through food? Follow along to discover all the excitement that's on the menu at the Busch Gardens Food and Wine Festival.
Related Post: Insider's Guide to Busch Gardens® Tampa
Busch Gardens Food and Wine Festival Tickets
The Busch Gardens Food and Wine Festival is included with general admission. Food, non-alcoholic, and alcoholic beverages are sold separately.
Busch Gardens Tampa Discount Tickets
After the park's most delicious festival, begin your safari-themed adventure with these Busch Gardens Tampa Bay discount tickets from Tripster:
Busch Gardens Food and Wine Festival Date and Location
The event runs every Friday, Saturday, and Sunday from March 10, 2023, to May 21, 2023.
Nearby Hotels & Lodging
After the Busch Gardens Food and Wine events Tampa, you might want to spend a few days in the city to discover its hidden gems.
Book any of these hotels from Tripster for a luxurious stay that doesn't break your budget:
Busch Gardens Tampa Food and Wine Details
Unfortunately, details like the full menu and tasting locations have not been announced. Check back soon for more updates.
Busch Gardens Tampa Vacation Package
Tampa Bay is simply overflowing with premier attractions.
Take in the awesomeness of the city while saving your hard-earned dollars by booking any of these vacation packages with Tripster:
Busch Gardens Food and Wine Festival Concert Lineup
March 11, 2023: Kansas
Rock out with KANSAS, the iconic classic rock band that sold more than 30 million albums worldwide. Get ready to belt out KANSAS classics, including 'Dust in the Wind,' 'Fight Fire with Fire,' 'Point of Know Return, 'Carry On Wayward Son,' and many more.
Head to the Festival Field for this event.
March 12, 2023:  Maddie & Tae
Maddie & Tae are ready to party and impress the crowd with their bro-country hits, including "Girl In A Country Song" and "Die From A Broken Heart". Watch the beloved duo and be enthralled with their wonderful vocal pairings and style. The concert is located on the Festival Field.
March 19, 2023: Dustin Lynch
Dustin Lynch's "Cowboys and Angels" was released in 2012, but it's still stuck in our heads today. Sing along to his other smash hits at the Tampa Wine Fest.
Related Post: Top Attractions in Tampa, Florida
March 26, 2023: Flo Rida
Who can resist dancing to "Low" by Flo Rida? Get your coolest moves ready and join the R&B singer and rapper as he takes the stage with his charisma and dance-floor banger songs.
May 7, 2023: El Gran Combo
We can't think of any Puerto Rican salsa ensemble we'd rather have perform at the festival than El Gran Combo. Expect the award-winning group to play hits from their albums such as "En Cuarentena" and "De Trulla Con El Combo".
Note: All concerts are included with general admission and annual pass.
Other Attractions in Busch Gardens Tampa
Want to work up that appetite before tasting all the noms? Busch Gardens Tampa screams attraction and activities that will do just that.
Rides and Roller Coasters
Try the city's fan-favorite thrill rides while in Tampa Bay. Feel that breathtaking rush while on a triple-launch coaster, get drenched in awesomeness aboard a family-friendly water ride, and enjoy the park's panoramic views.
Live Shows and Entertainment
World-class productions and shows probably aren't the first thing you think of when you hear Busch Gardens, but this amusement park offers the best live performances to amaze all ages.
Animal Experiences
You can't leave North America's largest zoo without visiting and connecting with the park's animal residents! Over 200 species thrive at this amusing park, so come early to visit all the habitats.
Kid-Friendly Attractions
Play with Elmo and Big Bird, catch a heartwarming show, and experience an up-close encounter with animals. Busch Gardens is made for kids of all ages.
Experience the Busch Gardens Food and Wine Festival
From Asia to Europe, the Busch Gardens Food and Wine Festival will take your tastebuds on a flavorful gastronomic excursion around the globe.
Sample traditional dishes from Korea, try new Hawaiian food, and sip bubbly, wine, or beer from America and beyond. Do all these while jamming out to the biggest bands, including Flo Rida and Kansas.
Related Post: Ultimate Guide to Busch Gardens® Tampa: Coupons, Discounts, and Deals
This long-awaited event doesn't disappoint when it comes to tasty offerings, so gather the entire crew and make your way through the park. The event will also widen your knowledge of different cultures and let you connect with people who have both similar and different tastes than you.
Get your tickets now and embark on a delicious foodie adventure! While you're at it, get to know the rest of the city with a Tampa Bay vacation package.
Related Events