Is LA calling your name? It's time to answer the call and let the City of Angels sprinkle a little bit of its magic dust on you! Our fun-packed guide will show you the city's must-see sights and must-do tours!
Whether you're an art enthusiast, beach lover, history buff, or foodie, there's something for you in LA. Fortunately, there are dozens of top budget-friendly Los Angeles tours that can take you to the best places in the City of Angeles, depending on your interests and how you want to explore, from relaxing walks with an expert guide to thrilling bike rides and tours in four wheels.
So, buckle up, get ready for a rollercoaster ride of discovery, and prepare to fall head over heels for Los Angeles with our in-depth guide to can't-miss stops and tours!
Los Angeles Neighborhood Tours
Visit Venice Beach Neighborhood: Private 2-hour Walking Tour
When your travel plans lead you to the City of Angels on a warm sunny day, you simply can't miss the opportunity to visit one of its vibrant beachside neighborhoods. As you may have seen from Instagram photos and blogs about LA's must-visit locations, Venice Beach is a visual treat with its lively street performers, artistic murals, and sun-soaked promenades.
With a private 2-hour walking tour of Venice Beach, you will visit the iconic Muscle Beach, a training ground for bodybuilders and fitness enthusiasts, and also a backdrop for countless films like "The Hustler of Muscle Beach" and the more recent comedy film "Sandy Wexler."
Along with an expert guide who will take you to the best places around town, you will also be taken to the Venice Skate Park, a spectacle in its own right with skilled skaters taking gravity-defying leaps.
But of course, discovering the history of this place is as fascinating as the people-watching. As you navigate the neighborhood, you'll learn about LA's gentrification process and the revival of Venice Beach, a testament to the area's enduring appeal.
Private Walking Tour of Beverly Hills 90210
With its memorable postcode, plush hotels, and world-famous high-end shopping, Beverly Hills is a byword for extravagant decadence. And what better way to immerse yourself in opulence than with a Private Walking Tour of Beverly Hills 90210?
Set off on foot at a casual strolling pace, guided by a knowledgeable local who will unlock the secrets of this enchanting neighborhood. Stop over at Beverly Wilshire, one of the most extravagant hotels in the area that epitomizes luxury in every detail.
You will visit more famous spots in LA within the charming neighborhood of Beverly Hills, including Rode Drive where you can your take time to peruse the glamorous storefronts and immerse yourself in the world of high-end fashion.
Downtown LA's History & Architecture: Private Walking Tour
Often referred to as the city's beating heart, downtown Los Angeles presents a spectacular fusion of the city's past and its bold future. It is a place where iconic history meets cutting-edge architecture, and cultural diversity is showcased in its most vibrant form.
Make the most out of your Downtown Los Angeles sightseeing itinerary with Downtown LA's History & Architecture: Private Walking Tour. Some of the best sights in LA are located downtown and are included in this exciting walking tour like the majestic U.S. Bank Tower, California's tallest building. Meanwhile, history buffs will enjoy learning about the area's storied past by seeing and hearing little-known trivia from a local guide.
LA's Art Deco & Beaux Art Architecture: Private Walking Tour
Art enthusiasts, shutterbugs, and aspiring creators of iconic architecture will love touring these spots in Los Angeles. With LA's Art Deco & Beaux Art Architecture: Private Walking Tour, you will lose yourself in the allure of Art Deco and Beaux Art, and find inspiration in geometric patterns, brilliant colors, and luxurious materials that once ruled the city's aesthetic.
This city sightseeing Los Angeles adventure will take you to Pershing Square, where your tour guide will offer insight into the roots of Art Deco and Beaux Art. The square itself houses a stunning Beaux-Arts architectural piece, the 1925 Biltmore Hotel.
Among equally inspiring stops, you will also stop by the splendid Eastern Columbia Building. Its iconic clock tower and stunning greenish terra cotta design will have you reaching out for your handy sketchpad. So if you decide to take this tour, we recommend you bring your sketchbook, camera, or architectural blueprint, and let LA's architectural wonders fuel your next creation.
LA's Fashion & Flower District: Private Half-Day Walking Tour
Did you know that the largest flower market in the US is in Los Angeles? The Original LA Flower Market, a 55,000-square-foot warehouse brimming with the smell and colors of fresh blossoms, is a must-visit destination for those looking to learn about the intricacies of the floral industry.
By joining LA's Fashion & Flower District: Private Half-Day Walking Tour, you will embark on a flower-laden journey and marvel at the vast assortment of fresh blooms purchased wholesale daily by professionals from a variety of fields - film, commercial, leisure, and wedding planning.
During this half-day tour, you will also journey through the fashion world by stopping by the Cooper Design Space, among other gems little-known by visitors. There, you will find a treasure trove of unique, limited-edition fashion items that you can take home for keeps or as a gift for someone back home.
Hollywood Celebrity Homes Tour from Los Angeles
When you ask, "What is Los Angeles famous for?" there's no shortage of answers. However, some visitors travel to the City of Angels to get a sneak peek of the neighborhoods that are home to celebrities. If this is part of your itinerary, you will enjoy the Hollywood Celebrity Homes Tour from Los Angeles curated by Starline Sightseeing Los Angeles.
Dedicate two hours of your time in Los Angeles for visits to neighborhoods the palatial homes and grand mansions of today's A-list celebrities. Your charismatic guide will effortlessly weave you through the mosaic of LA's most exclusive areas, including stopovers at a number of familiar film and TV locations.
And of course, the tour will not be complete without a stopover at the Sunset Strip, the birthplace of the LA music scene. As you cruise down this iconic road, keep your eyes peeled for historical venues like Whiskey A-Go-Go and The Roxy. In two hours, you will have seen everything from historical landmarks to celebrity hotspots, and with really good photos from these locations as your very own keepsake.
Must-Visit Los Angeles Attractions
Warner Bros. Studio Tour Hollywood
If you think that a tour of the Warner Bros Studio is about strolling around and checking out the sets, you'll be surprised at the fun and thrill of experiencing so much more when you get there. This is the chance to check out the real deal, where the magic happens. You get to see how it all comes together, from making a broomstick fly to having a superhero zip through the air!
Aside from being given the chance to explore the authentic sets where some of the greatest moments in film history were made, this is also a portal where the boundaries between reality and fiction blur, where you'll find yourself amazed by the talent and creativity of everyone working tirelessly behind the curtain.
Whether you're a film fanatic, a TV-series junkie, or just curious, the Warner Bros. Studio Tour Hollywood is one of the best sightseeing LA adventures you can add to your itinerary.

The Richard Nixon Library & Museum
There are dozens of tours that show you the glitz and glam of Hollywood. But for history buffs, it's also important to stop over at the Richard Nixon Library & Museum, a portal where you can glimpse into the intriguing life and career of the 37th President of the United States, Richard Nixon.
Your sight seeing in LA will consist of stepping into the shoes of a U.S. president for a day. As you walk into a replica of the White House's Oval Office, feel the weight and wonder of what it's like to be at the helm of one of the world's most powerful nations. You can also explore the presidential helicopter, a genuine artifact from the Nixon era. Yes, the very helicopter Nixon waved from during his last goodbye to the White House.
Outside, take some time to wander around the beautifully manicured gardens, enjoy a quiet moment by the reflecting pool, and soak in the tranquility that balances out the weight of the history within the walls of this extraordinary pitstop.
Universal Studios Hollywood
Visitors who want to stay for a day in Los Angeles choose to spend a day at Universal Studios Hollywood out of hundreds of nearby tourist attractions.
This colossal playground for kids and kids-at-heart is the perfect size to enjoy without feeling sad that you're only staying for a day. If you're a Potterhead, you will enjoy chilling out at the Wizarding World of Harry Potter, sipping on a frothy Butterbeer, or even trying out your wand skills.
There's also a buzzing hive of restaurants where you can enjoy a gourmet meal, so you never have to feel like you want to go out to satiate a craving.
Medieval Torture Museum and Ghost Hunting Experience
If you're looking for a chilling stop that is completely different from the lights of Hollywood, you might be interested in booking the Medieval Torture Museum and Ghost Hunting Experience.
On this heart-stopping LA adventure, you will dive deep into the darkest corners of history at the largest interactive Medieval Torture Museum in the country. As soon as you step through the doors, you will be transported back hundreds of years, smack-dab in the middle of the Middle Ages. It's a gritty, raw, and shockingly real look at a time when the line between right and wrong was blurred and fear was the order of the day.
With a knowledgeable guide, you will gain a deeper understanding of a dark chapter of human history, when suffering was often inflicted in the name of justice. It's not for the faint-hearted but if you're brave enough to face the fear, it's an LA experience like no other.
Aquarium of the Pacific
Swap your land legs for some fins and dive into a world of marine marvels! If you stop over at the Aquarium of the Pacific, you grab the opportunity to meet over 12,000 ocean animals without even getting your feet wet.
The aquarium is divided into three major galleries, each representing a different region of the Pacific. Get a load of seahorses, vibrant tropical fish, playful sea otters, and even majestic sharks.
And if you're game to take your experience to a whole new level, feel free to get your hands wet at the touch tanks, feeling the slick skin of a stingray or the hard shell of a sea urchin. You can also explore the open-air Shark Lagoon and come face-to-face with some of the ocean's most feared predators.
Guinness World Records Museum - Hollywood
The Guinness World Records Museum - Hollywood isn't your typical stopover museum, so scrap any thoughts of quiet hallways and "do not touch" signs. This is where the extraordinary becomes the norm, where the impossible turns possible, and where you get to be a part of legendary achievers.
Dive into a universe of amazing feats, bizarre talents, and incredible accomplishments. Take some time to explore the one-of-a-kind exhibits that celebrate the extraordinary, from the world's tallest man to the most tattooed person.
If you're game to set your own record, can test your skills at the Attempt Arena. You never know if you have what it takes to become a Guinness World Record holder until you try!
And the cherry on top? The museum is smack-dab in the middle of Hollywood Boulevard. So, once you're done exploring the world of records, you can step outside and take a stroll down the legendary Walk of Fame, or maybe even catch a glimpse of a celebrity or two.
Tours and Experiences for Foodies
Marina del Rey Dinner Cruise by Hornblower
Are you a foodie and an ocean lover? Are you always looking for the perfect blend of culinary delights and breathtaking scenery? If your answer is yes to both questions, set your sights on the Marina del Rey Dinner Cruise by Hornblower.
Step aboard one of the largest dining yachts in Marina del Rey Harbor, where you'll instantly be immersed in the opulence of a spacious and modern luxury yacht. Prepare for a dinner service like no other as you're whisked away on a journey that promises to tantalize your senses.
The cruise caters to every palate, with vegetarian meals available and all dishes crafted with the freshest ingredients. And as you smoothly sail around the bustling harbor, you'll witness Southern California's gorgeous coastline like never before.
Views from the yacht include pristine sandy beaches, glimmering waters under the night sky, and grand residences of the rich and famous. Remember to pack a light jacket for when you step onto the outdoor deck post-dinner, where the soothing sound of sea lions and the gentle sea breeze will serenade you.
Nothing beats sightseeing in Los Angeles with a dining experience that takes to the seas!
Little Tokyo & the Art District: Private LA Food Tour
Foodies will want to stop by Little Tokyo and the Art District for a culinary adventure. Fortunately, Little Tokyo & the Art District Private LA Food Tour is one of the best Los Angeles sightseeing tours that can take you to both neighborhoods.
Your first stop is at Little Tokyo. Prepare your taste buds to indulge in an array of scrumptious offerings from traditional sushi, piping hot ramen, udon noodles, to more modern fusion fares. And don't forget to leave room for a sweet finish – traditional Japanese sweets like mochi and matcha-flavored treats are a must-try!
Up next on your LA la sight seeing adventure is the nearby Art District. Round off your Los Angeles sightseeing tour with a visit to a bustling art gallery for a look at the local art scene, and then treat yourself to a unique bite from a crowd-favorite food truck.
Secret Food Tours Los Angeles
Shake up your sight seeing LA adventure by joining a gastronomic journey with Secret Food Tours Los Angeles. A tour designed to introduce you to the real LA - an aromatic, flavorful spectacle, served up by locals who know the city like the back of their hand.
Los Angeles' gastronomic scene tells a compelling narrative of the city. Ranging from the lively fusion of flavors on the Venice Beach boardwalk to the dynamic, cultural mosaic of Downtown Los Angeles. With a local guide (who is a foodie like you!), embark on a three-hour journey that is not merely a feast for the taste buds but a celebration of LA's rich history and culture served up in the most flavorful way possible.
There's no better way to savor Los Angeles!
Los Angeles Full-Day and Half-Day Highlights Tours
VIP Los Angeles Tour
VIP Los Angeles Tour is your ticket to sightseeing in Los Angeles by car. With this VIP tour, you can access exclusive areas where larger tour buses simply can't fit. This means you'll weave through opulent neighborhoods, gazing at celebrity homes that only a lucky few get to see. One such stop is the famous Greystone Mansion, which has starred in X-Men, Spiderman, and other blockbusters.
Adding a dash of poignancy to your journey is a visit to the mansion where Michael Jackson spent his last days. Discover the story behind this melancholic landmark before cruising along the Billionaires' Row and taking a sneak peek at the Playboy Mansion.
Of course, you'll also be stopping by the iconic Hollywood Sign. But you won't be catching a glimpse of this emblematic landmark from Griffith Observatory or Mulholland Drive. Instead, you'll get up close and personal from Lake Hollywood Park, the best vantage point in town for that Instagram-worthy Hollywood Sign snapshot.
The Best of Los Angeles: Private Full-Day Highlights Driving Tour
Reserve a day to see the best of Los Angeles with LA sightseeing full-day highlights driving tour!
Kickstart your morning with a majestic view over the Santa Monica Mountains and the sprawling cityscape from the panoramic vista of Griffith Park, home to one of LA's greatest treasures, the Griffith Observatory.
Before lunch, be whisked away to LA must-visit stops like Hollywood Boulevard and the legendary Sunset Strip. Afterward, pay a visit to the bustling La Brea Farmers Market and fuel up on a Californian superfood salad or a juicy gourmet burger.
Revitalized and ready for more, spend the rest of your day exploring Beverly Hills and the Santa Monica Pier. Arrive just in time for sunset at Venice Beach, where you can watch the sun dip below the horizon at Muscle Beach.
If you're looking for a tour that takes you to the most beautiful and iconic stops of Los Angeles, this is it!
Los Angeles Iconic Highlights: Private Half-Day Driving Tour
If a full-day tour of the City of Angels does not fit your itinerary, the half-day private tour is shorter but is just as sweet.
Your first stop is Hollywood Boulevard, an iconic street where you'll walk among the stars - quite literally - as you tread the Hollywood Walk of Fame. KPop fans will also be happy to know that a stopover here is also a chance to witness the newest constellation on this stellar walkway, the BTS walk of fame. The Hollywood walk of fame BTS is a true highlight for fans and is likewise an endearing symbol of their colossal impact on global pop culture.
The best thing about this half-day private tour is being able to request the places you really want to see more of, whether it's Venice Beach or the Sunset Strip. Make the most out of your half-day private driving tour by exploring a selected few choices on your must-see neighborhoods.
LA in a Day Bike Adventure
If sightseeing in LA on two wheels is more your thing, we recommend booking LA in a Day Bike Adventure.
Cycle into the heart of Beverly Hills and journey through the scenic corridors of Westwood and Brentwood, opening onto the coastal gem of Santa Monica. The welcoming charm of this seaside haven is beautifully accentuated from the saddle of your bike, with the Santa Monica Pier offering unparalleled opportunities for sightseeing in LA.
This 32-mile journey, interspersed with a blend of iconic neighborhoods and tranquil bike paths, is an adventure that anyone comfortable on a bike can undertake. For those seeking an easier ride, electric bike upgrades are available.
Money-Saving Los Angeles Passes
Go Los Angeles All-Inclusive Pass
Visit more attractions and stopovers in Los Angeles while saving on travel with a Go Los Angeles All-Inclusive Pass. This sightseeing pass Los Angeles travel saver offers access to more than 30 top attractions, museums, and tours at a single, budget-friendly price.
For instance, Le Brea Tar Pits, an authentic gem in the heart of Los Angeles, is where the city's prehistoric era is exquisitely preserved in asphalt and displayed through captivating exhibits and is one of the must-stop visits with your all-inclusive pass.
Sightseeing los angeles becomes a breeze with this pass, and the best part is you get to save on travel expenses while checking more from your bucket list!
Go Los Angeles Explorer Pass
Planning your sightseeing in Los Angeles can be overwhelming with the multitude of attractions the city offers, so choosing the right Los Angeles sightseeing pass will help you cover the places you really want to see while staying on a budget.
While the Go Los Angeles Explorer Pass and the Go Los Angeles All-Inclusive Pass are two excellent options for sight seeing in Los Angeles, Explorer Pass is tailor-made for travelers who prefer to curate their sightseeing experience.
This pass allows you to choose a select number of attractions (from 2 to 7), from a list of over 30, which you can explore at your leisure within a 60-day period. If you're someone who values flexibility and a slower pace to fully immerse in each attraction, the Explorer Pass is an ideal choice.
Hop-On Hop-Off Los Angeles Bus Tour
Doing a sightseeing bus Los Angeles adventure is another way to explore the city while staying on budget. With a Los Angeles sightseeing hop on hop off bus ticket, you can traverse the vibrant city at your own pace from sun up to sundown.
During the day, see top LA attractions like the Getty Center and iconic Ferris wheel in Santa Monica. If you have more energy to explore 'til the evening, fill your night sightseeing Los Angeles adventure with Instagram-worthy photos by visiting the iconic LA lamps at the Los Angeles County Museum of Art (LACMA).
Whether you're a first-time visitor or a seasoned local, the Hop-On Hop-Off Los Angeles Bus Tour offers a unique way to experience the city's splendor, vibrancy, and charm. Plus, the onboard audio guide not only enhances your sightseeing experience but also enriches your knowledge of LA's history.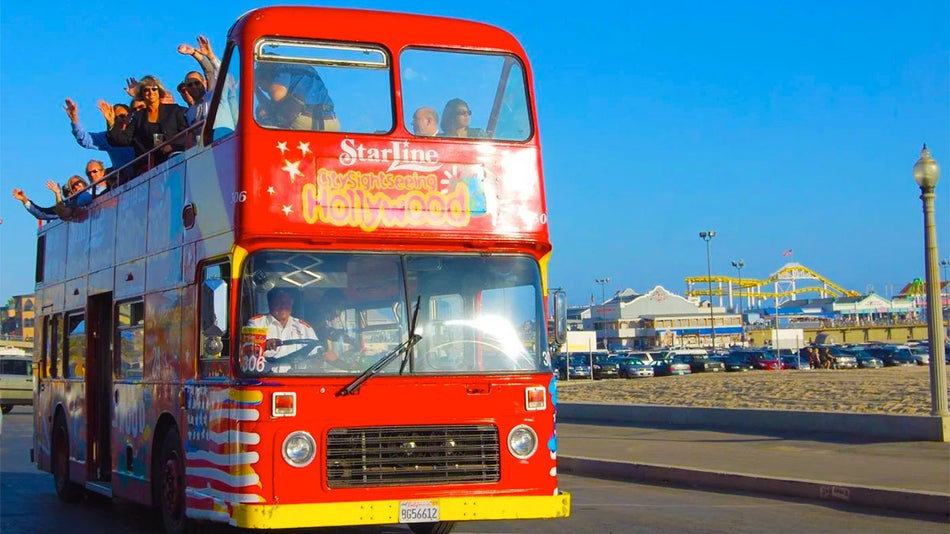 Now that you're well-versed in LA's diverse neighborhoods and the myriad tours that await you, you're perfectly poised to tailor your unforgettable City of Angels experience.
Every niche of Los Angeles brims with narratives of glamour, culture, history, and gourmet extravaganzas. All ripe for exploration and appreciation. And with the well-curated sightseeing options from Tripster's vacation packages, you can make the most out of every moment in the City of Angels.
Unleash your spirit of adventure, and use our in-depth guide to make memorable, budget-friendly experiences in this city of dreams!
What Did We Miss?
Have anything to add to our guide? Leave us a comment below!