Sparkling Pacific Ocean beaches studded with surfers, tons of Hollywood glamour, and a smattering of theme park amusements make SoCal a lauded destination for families of all shapes and sizes.
More than just buzzing nightclubs and red carpet premieres. From Santa Monica to Beverly Hills you'll find an overflow of things to do in Los Angeles with kids. Follow along to discover the top 19 fun things to do in Los Angeles with kids.
Meet up with Mickey and get your fill of old-school Disney nostalgia with a Jungle Cruise and an 'It's a Small World' sing-along. Or entertain the whole family when you peek at preserved animal bones at the La Brea Tar Pits.
Stop googling 'top 10 things to do in Los Angeles for families' or 'family activities in Los Angeles.' Our experts have done the due diligence to bring you everything from things to do in LA with a toddler to the most unique kids activities Los Angeles.
Cuddle up with adorable farm animals or create brick-inspired creations at LEGOLAND. However you visit Los Angeles with kids, you are guaranteed a good time!
What to Do in Los Angeles with Kids
Still, wondering what to do in Los Angeles with your little Rat Pack? No matter if you are traveling with teens or toddlers, there are tons of things for kids in LA. Dive into hours of wizarding world fun at Universal Studios or catch a charming puppet show with your toddler.
Ready to uncover the best of LA with kids? Read on…
Things to Do with Kids in Los Angeles
Theme Park Fun
No trip to La La Land is complete without at least one theme park visit.
Whether your kids are tall enough to take on the thrills of Jurassic World or would rather hang out in Mickey's Toontown, there's an ideal amusement park for every family:
Disneyland

- Guardians of the Galaxy, Goofy's House, and the Haunted Mansion oh my! Kids and adults alike will fall head over heels for the eternal enchantment of a Disneyland visit. From Sleeping Beauty's Castle to classic rides such as Pirates of the Caribbean. You could easily spend your entire LA adventure enjoying Star Wars: Galaxy's Edge or snapping selfies with Belle.

LEGOLAND

- Flying hot dogs and rainbow-filled Disco Drops come together in perfect harmony at LEGOLAND. Unleash your inner brick-building spirit as you craft the speediest LEGO car. Or hang out with Emmet at his super suite.

Universal Studios Hollywood

- Go beyond the silver screen when you become part of the cinematic world at Universal Studios. Escape to the Forbidden Forest with Harry Potter. Or see how blockbusters are made on the world-famous Studio Tour. Grab a giant donut in Springfield, or spot some furry friends with the Secret Life of Pets.
Aquarium of the Pacific
Splish Splash! Journey under the sea for hours of educational entertainment with your kiddies when you pay a visit to the Aquarium of the Pacific. Located in Long Beach, CA, this establishment is stuffed to the gills with more than 12,000 ocean animals and 500 species.
Learn all about Southern California's diverse marine ecosystem. Or take a detour to the Shark Lagoon to see Zebra and Gray Reef sharks. Soak in the undeniable cuteness of twenty waddling Magellanic Penguins, or stroke a jellyfish in the touch lab.
Psst..looking to tick off every last LA with kids activity on your bucket list? Spring for a handy Go Los Angeles Explorer Pass and sneak in whale watching, visits to the Natural History Museum, and even a Celebrity Bike Tour!
Santa Monica Pier
Crashing waves, a cool ocean breeze, and loads of boardwalk fun make the Santa Monica Pier a true SoCal classic. Stick your feet in the sand, hop on the historic merry-go-round, or soak in the sights from the Pacific Park's Ferris Wheel.
Try your hand at skeeball in the arcade. Or load up on ice cream, churros, and hot dogs from one of the pier's many food vendors.
Marine Mammal Care Center
Hightail it to San Pedro and feel your heart melt as you and your kiddies make friends with the flippered residents of the Marine Mammal Care Center. An ideal activity for any animal enthusiast, the Care Center is a fully functioning nonprofit hospital for marine mammals that become stranded on the 70+ miles of terrain stretching from Malibu to Seal Beach.
The hospital provides life-saving care for these creatures with the eventual goal of rehabilitating and releasing them back to their ocean home. Spend an afternoon here and peek at their variety of seal and sea lion patients as you tour the various exhibits.
Participate in art activities or watch in awe as a charming Harbor Seal practices their hunting skills. The hospital is free to visit. Although a $5 donation per person is appreciated, and reservations must be made online in advance.
California Science Center
Ignite their love of learning early when you stimulate tiny minds to embrace discovery at the California Science Center. This world-class educational resource and family destination is open to the public seven days a week and features free general admission to its four major exhibit areas.
Munchkins from all over can experience hands-on exhibits that tackle everything from fire safety to space missions. See a real space suit, glimpse the Apollo Command Module, or meet a 50-foot human body simulator named Tess!
World of Illusions
Kooky, eye-popping, and gravity-defying immersions are what's in store for visitors to the World of Illusions. Charge that phone and camera, as you'll be going snap happy documenting your own African Safari or attempting to cook breakfast in an upside-down kitchen!
Let Lady Liberty refresh your palate with some Coca-Cola or strike poses next to a donut the size of a Monster Truck wheel. For an unbeatable adrenaline rush, you can even participate in SMASH IT! Where you can release your tension by breaking any number of objects.
Things to Do in LA with Toddlers
Kidspace Children's Museum
Watch your tot shriek with joy as they explore 3.5 acres of wonder at the Kidspace Children's Museum. Designed to ignite happiness through curiosity and kindness, pint-sized visitors can embrace kinetic activity outdoors when they scramble through streams or tackle the Trike Tracks.
Witness colors and patterns run wild at Los Trompos, where they can twirl and whirl in shapes inspired by the traditional style of Mexican artisans. Or, make new animal mates in the gushing waters and mountain habitat of Arroyo Pequeño.
Underwood Family Farms
Land of the Silver Screen might not seem like an obvious choice for a country escape, but your mini-me will adore the rustic charm of a real farm visit. Swing by Underwood Family Farms for up-close interactions with fuzzy ducklings, spotted pigs, Boer goats, and more.
In addition to an 'aw-worthy' stop at their Animal Center, families can pack their own picnic as they soak in the picturesque scenery of citrus trees and rolling hills. Toddlers can play around in the sandbox and have fun with a wooden fire truck, while mom and dad can stock up on farm fresh produce.
Bob Baker Marionette Theater
Stop endlessly scrolling for 'Los Angeles with toddler' activities. Make your tot's dreams come true when you surprise them with hours of puppetry and play at the Bob Baker Marionette Theater. The oldest children's theater in Los Angeles, for over 50 years the theater has dazzled and delighted wee ones with its interactive performances in the round.
Children can watch these colorful handmade marionettes perform on all sides of the stage. Lucky ones might even be blessed by a personal puppet interaction or a nip on the elbow!
Skirball Cultural Center
A dynamic center of Jewish heritage and tradition, the Skirball Center serves as a beacon of discovery and human connection. Built on the mission to create a more just society, the Skirball Center also happens to be one of the most educational things to do in LA with toddlers in mind.
Children three and under will flock to their famous Noah's Ark, which features rafters full of whimsical animals. Measuring 8,000 square feet, this wooden ark lets munchkins play, climb, and build. In addition, check out their interactive archeology dig and uncover ancient artifacts in the sand pit.
Fun Family Things to Do in Los Angeles*
Griffith Observatory
Starry night skies, moon phases, and eclipses are just a few of the space-themed phenomena that families will encounter at the world-famous Griffith Observatory. Known as one of the premier public observatories in the world.
Families can dive into the depths of the cosmos through live planetarium shows or a walk through a timeline illustrating the construction of the universe from the Big Bang through today.
Grand Central Market
Round up the whole family for a day of epic eats at Grand Central Market. Fuel up pre or post-Griffith Park hike as you munch away on burgers, fresh pasta, fried chicken, ice cream, and more.
Kick off your day with a hearty breakfast sandwich stuffed full of fluffy scrambled eggs, bacon, and cheese from Eggslut. Next sample dozens of classic American candies and chile-dusted Mexican gummies at La Huerta. Wind down your culinary journey with a sweet double scoop or sundae from McConnel's Fine Ice Cream.
Hollywood Sign
An infamous symbol of Los Angeles, visitors of all ages make the pilgrimage to Griffith Park to set their sights on the towering Hollywood Sign. Originally erected in 1923, these instantly recognizable letters can be seen from the Griffith Observatory and from the corner of Hollywood Boulevard and Highland Avenue in Hollywood.
Traveling with an older posse? If your brood is up for some physical activity, you can take in the sign via any number of trails, which include the Mt Hollywood Trail, the Brush Canyon Trail, and the Cahuenga Peak Trail.
After you capture the glamor of these giant letters, be sure to stop by the L.A. Zoo for some quality time with more than 270 different species.
La Brea Tar Pits
Trying to answer the age-old question of what to do with family in Los Angeles? Entertain everyone from your pre-teen to your cranky old grandpa, when you make a date with the La Brea Tar Pits. A fascinating plot of land located in the very heart of LA, where over 100 excavations have been made.
Serving as a gateway to the Ice Age, intrepid explorers can watch excavators carve fossils out of the asphalt. Or see these discoveries prepared in the Fossil Lab. Check out extraordinary saber-toothed cats, mammoths, dire wolves, mastodons, and more. For a full-on immersive multimedia experience sneak in a live Ice Age Encounter stage show.
Hop-On Hop-Off Los Angeles Bus Tour
Looking to paint La La Land red? Take the guesswork out of your sightseeing when you book an exclusive Hop-On Hop-Off Los Angeles Bus Tour. Choose from one-day, two-day, or three-day passes and cover over 40 classic LA sights, from neighborhoods ranging from Venice Beach to Beverly Hills.
Spend as much time as you like at each destination and when you're done, simply hop back on to continue your journey. Whip out that camera to capture panoramic views, as you tour hot spots such as Rodeo Drive, Los Angeles County Museum of Art, (LACMA), the Hollywood Walk of Fame, and the Sunset Strip.
Madame Tussauds Hollywood Wax Museum
Los Angeles may very well be the land of celebrities. Unfortunately, we can't guarantee you'll cross paths with someone famous. Enjoy the next best thing when you receive some VIP-worthy treatment at Madame Tussauds Hollywood Wax Museum. Conveniently located next to the renowned TCL Chinese Theatre, Madame Tussauds lets you get chummy with your favorite actors, musicians, and athletes.
Pay your respects to the Queen of Wakanda, strike a high note with Beyonce, or make your own movie magic when you capture a selfie with E.T. in your bike basket. Take in three floors of attraction as you pal around with everyone from J.LO to Bruce Lee.
Los Angeles Hotels
Before you get started on all of the amazing things to do as a family in Los Angeles. It's time to lock down those lodgings. Los Angeles things to do with kids require loads of energy. So it's imperative to pick out the perfect suite or hotel room.
Discover family-friendly accommodations in Los Angeles County complete with waterslides and whirlpools, or stay just moments from downtown LA. Whether you are on the hunt for Disney-adjacent rooms or just want to relax poolside, we offer Los Angeles Hotels for every budget and style.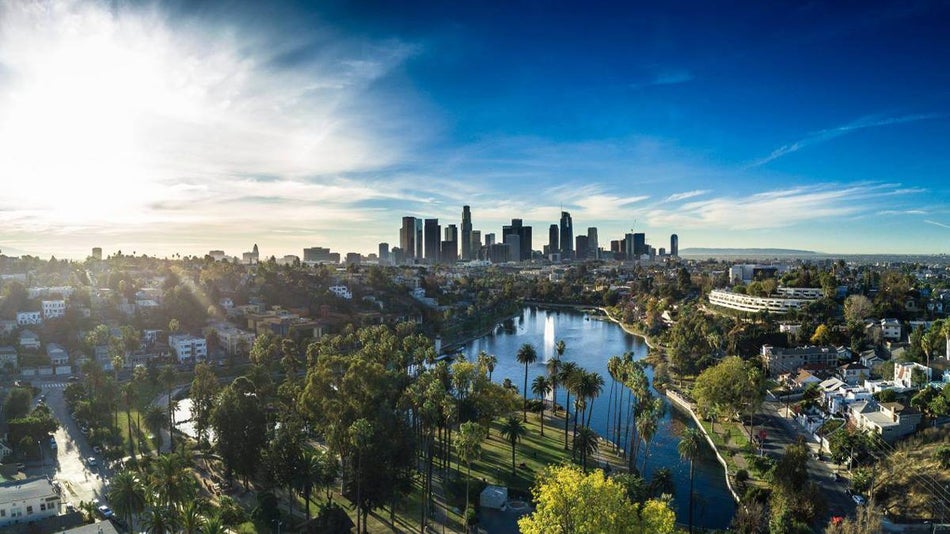 A sprawling West Coast metropolis, Los Angeles has always enticed creative visionaries and outdoor enthusiasts.
In addition, thanks to a surplus of kid-friendly attractions, museums, and activities the City of Angels is pure heaven for families.
Head to Universal Studios to sample Butterbeer and scream as you take on the twists and turns of the Flight of the Hippogriff roller coaster.
Brace yourself for loads of slippery H20-based excitement when you pet the residents of the Shark Touch Pool. Or sponsor an adorable stranded sea lion in San Pedro.
Watch enchanted stories of fairy tales and seasonal cheer come to life through the talented team at the Bob Baker Marionette Theater. Or stuff yourself silly, full of wood-fired pizza and fresh strawberry donuts at the Grand Central Market.
Can't wait to tour Los Angeles with kids? Don't wait; get started on all of the best things to do with kids Los Angeles today!
Tell us, Did We Miss Any of Your Favorite Things to Do in LA With Family?
Leave a comment below!
*Please note that this is not an exhaustive list of Los Angeles things to do with family, family activities Los Angeles, or things to do in LA with toddler but rather a round-up of our favorite family-friendly things to do in Los Angeles.