If you're looking for things to do in Hollywood at night, you're in luck. This town is entertaining 24/7! To capitalize on your time in Hollywood, take advantage of these 8 activities and places to see in the evening.
If you're looking for things to do in Hollywood at night, you're in luck. This town sparkles 24/7! The dazzling City of Angels is brimming with endless entertainment and activities just waiting for you to hop on board. To capitalize on your time in the Big Orange, take advantage of these eight things to do in Hollywood.
Follow along as we point out the highlights of this luminous metropolitan that never sleeps.
The Hollywood revelry doesn't stop once the sun goes down. Instead, the bright neon lights shine brighter—after all, that's when the fun really begins.
Take a Stroll Down Hollywood Blvd. at Night
First things first. Naturally, you'll want to hit the most famous boulevard in all the land. Hollywood Boulevard is a Los Angeles cultural icon rich in the city's film and entertainment heritage. You'll find museums, restaurants, landmarks, and trendy bars lining the street. With so many things to do on Hollywood Boulevard at night, it might take all night to see it all!
It's the number one Hollywood attraction, so take note as we shine a spotlight on some spectacular sights. Get your camera ready as you wander the Hollywood Walk of Fame at night. This vibrant street is the beating pulse of Los Angeles.
Notice the celebrity stars along the Walk of Fame begin to glow. Although it's a busy section of Hollywood, try to find a moment to take it all in. It's a lot to see, but an unforgettable experience.
Moreover, the Hollywood Walk of Fame at night has excellent restaurants and clubs that stay open late. From Madame Tussauds Wax Museum to the Guinness World Records Museum to street performers, there is much to see and do in Hollywood by night. If you play your cards right, you might spot celebrities in line to see a film or watch stars added to the Hollywood Walk of Fame night time.
Pro Tip: Though entertaining, Hollywood Boulevard is a crowded mix of all walks of life. Visitors should be wary of pickpockets and walk in pairs. Hollywood nighttime is fun to people-watch, too; just stay vigilant!
Hollywood Boulevard at night can be an entertaining adventure for sure, but we have more ways for you insomniacs to pull an all-nighter!
See a Movie at the TCL Chinese Theatre
Next hit the TCL Chinese Theatre, a mainstay movie palace home to countless film premieres. The movie house opened as Grauman's Chinese Theatre in May of 1927 with the opening of Cecil B. DeMille's The King of Kings.
Today the Chinese Theatre has the biggest IMAX auditorium in the world. The iconic cinema is the backbone of Hollywood Blvd and one of the pillars of the movie industry. Watch a movie premiere or take a tour—whatever you do, don't miss the TCL.
Psst. You're in Hollywood, remember? You really should visit all of the legendary theatres. These theatres show classic films that transformed Hollywood and Los Angeles into the movie capital of the world. Check the showtimes and get your tickets for a film at any of these timeless Hollywood theaters:
• Egyptian Theatre
• ArcLight Cinerama Dome
• Vista Theatre
• El Capitan
If you're visiting Hollywood with the little ones, they'll love going to El Capitan Theatre and watching a Walt Disney movie on the big screen. From The Lion King to princesses, this theater is dedicated to showing Disney films.
Another quintessential thing to do in Hollywood at night is watch a movie at the Hollywood Forever Cemetery. This celebrity cemetery becomes alive when the sun goes down throughout summer with projected films. Bring a snack or blanket, and watch a movie under the stars with the spirits of celebrities past.
Grab an energy drink and keep scrolling for other top things to do on Hollywood Blvd at night!
Be Part of a Live Studio Audience
Although tapings of late-night shows such as Jimmy Kimmel Live begin in the late afternoon, they certainly run into the evening. With so many laughs, stunts, and celebrity hosts, there's never a dull moment when you're part of a live studio audience.
To ensure you make it into a live taping, request your tickets in advance for the date you'd like to visit. Once you've secured your tickets, show up early and get in line. This guarantees you'll make it into the studio!
Pro Tip: These tapings are often overbooked, so getting in line as early as possible is your best bet.
After the show, you'll find the night is still young! In other words, we have more things to do at night in Hollywood!
You can always grab a site map and take a Hollywood Stars Tour or go on a Celebrity Homes Tour to see the stars' abodes. Or take a drive through the Hollywood Hills, then cruise down Sunset Boulevard all the way to Santa Monica.
If you're still wondering what to do in Hollywood at night and want to go beyond Hollywood Blvd, check out these exciting attractions to build great memories.
Watch a Performance at the Hollywood Bowl
There's no bowling alley here, though we're sure you can find one on the Hollywood Strip. For tourists and celebrities alike, catching a performance at the Hollywood Bowl is among the most fun things to do in Hollywood at night. As the largest outdoor amphitheater in the country, the Hollywood Bowl is voted the top outdoor concert venue year after year.
From Broadway performances to rock concerts, the Hollywood Bowl concert lineup has it all. Best of all, you can bring your own food and beverages for a nighttime picnic among the stars—in the sky and on the stage! Check to see if the venue is hosting a performance or concert you'd want to see during your trip.
As you can imagine, tickets for shows sell fast! To guarantee your seats, purchase as far in advance as possible. Whatever you do-don't croon 'Say Goodbye to Hollywood' just yet…we still have things to do in Hollywood tonight!
See Broadway in Hollywood
You don't have to be on the East Coast to see a Broadway show! Touring companies of top Broadway productions, including Hamilton, School of Rock, and Phantom of the Opera, set up shop at the Pantages Theatre for weeks at a time.
So, if you've wanted to see that top Broadway show but haven't been able to make it out to New York City, now you can. These touring companies bring high-quality production, talent, and musical numbers to Hollywood each year. As you might have guessed, tickets for these productions sell quickly.
Pro Tip: You can sign up and consent to receive newsletters and email notifications when leading Broadway hits are coming to LA.
Check Out an LA Comedy or Nightclub
Did you know that two of the oldest comedy clubs are located in Hollywood? The Comedy Store and Laugh Factory draw in top-rated comedians for hilarious stand-up acts. We promise the stand-up acts are so funny that you'll find yourself cry-laughing before the night's end. If you're searching for hysterical Hollywood things to do at night, get your tickets for a show at these famous comedy clubs.
For those seeking a star-crossed adrenaline rush and wondering what to do in Hollywood at night, you can always head to an LA nightclub. The Chateau Marmont's Bar Marmont, Drai's, Avalon Hollywood, Boulevard3 and Voyeur in West Hollywood are the top five celeb-hot spots. And, you guessed it, they're all in Hollywood! It's one of the hippest things to do in Hollywood at night.
If you are lucky enough to be one of a pair, we have 25 Unforgettable Romantic Things to Do in Los Angeles for Couples.
Witness the World's Greatest Magic
As a Hollywood tourist, you've probably heard of the Magic Castle. Being accepted into an exclusive society of magicians is considered the ultimate honor for illusionists worldwide. As such, seeing a show at the Magic Castle is also considered an honor.
But there's a catch—you must be either a member of the society or invited by a member. Not just anyone can attend a show! So, if you have the great fortune of being invited to this elite show, grab the opportunity! Also, know that the society has strict etiquette and dress code guidelines you must follow. Pack your fancy clothes!
By the same token, if you haven't been invited, there's one more way you can attempt to get inside for a show of grand proportions. Guests of the Magic Castle Hotel or Hollywood Hills Hotel receive admission to this private magic club. So if you're a magic-fanatic, reserve your stay at these Hollywood hotels!
See the Stars at Griffith Observatory
To see the Los Angeles skyline, the lights of Hollywood Boulevard, and our universe, head to Griffith Observatory at night. The observatory offers free public telescopes until 9:45 PM from Wednesdays to Sundays each week.
The best places to see the Hollywood Sign are Griffith Observatory and Hollywood & Highland. However, you might ask, "Is the Hollywood Sign lit at night?" The short answer is no; the Hollywood Sign at night is NOT illuminated.
Consequently, you can hike toward the Sign along trails in Griffith Park, but you can't get too close. You can also take a Private Hike to the Hollywood Sign via Three Peaks.
Remember, when searching for things to do in Hollywood at night, all you have to do is look to the stars.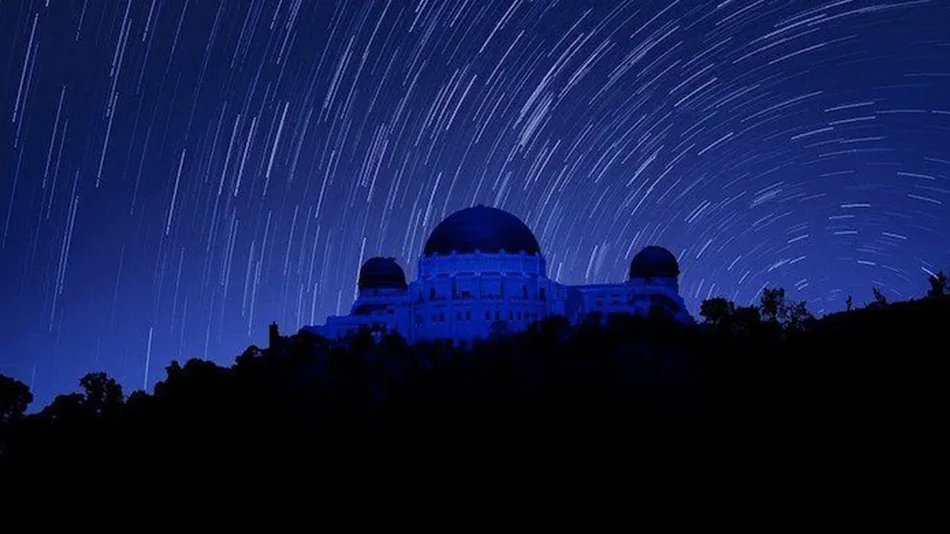 You Don't Want to Pass Up these 8 Things to do in Hollywood at Night
Calling all night owls! We dare you to add these outstanding activities, attractions, and sights to your "must-see" list for an unforgettable vacation. Of course, there are plenty of fabulous dining opportunities, like the Hard Rock Café located in Hollywood, that you really shouldn't miss. And remember, Tripster has discounted tickets to most events and attractions like the Hollywood Wax Museum and iFly Hollywood.
However, if you're planning to avoid total sleep deprivation, you can always head to Disneyland in Anaheim or Universal Studios Hollywood in the daylight hours for some heart-pounding thrill rides. Whether you visit the Hollywood Walk of Fame at night or stare at the starry skies through a telescope at Griffith's Observatory, an epic adventure awaits you!
What is There to Do in Hollywood Tonight?
Have you been to Hollywood lately? Let us know the best attractions and reasons to hit Hollywood at night!