From the sparkling shores of Santa Monica bathed in glorious sunshine and thrilling opportunities to spot Hollywood's biggest stars, to days spent basking in movie magic at Los Angeles' world-class theme parks. The City of Angels is an irresistible destination for any intrepid traveler.
However, no visit to Tinseltown would be complete without catching sight of the world-famous Hollywood sign. This iconic symbol has captivated visitors from all corners of the globe, beckoning them to witness its grandeur firsthand.
Interested in Hollywood Sign history? Did you know that it was first erected on Mount Lee more than a century ago? The Hollywood Sign 1920 was transformed with new letters, a stronger frame, and fresh paint after a major refurbishment project in late 2012. Not only does it represent the allure and glamour of Hollywood, but this legendary landmark also offers panoramic, good views of the city.
Ready to head for the Hollywood Hills and discover where the best place to take pictures of Hollywood sign is? Read on to learn not only "Where is the Hollywood Sign in California?" but how and where to snap 'gram-worthy shots.
Griffith Observatory
Situated on the southern slope of Mount Hollywood, Griffith Observatory is a must-see destination for anyone traveling to L.A. From this prime location, you'll be treated to unobstructed and absolutely breathtaking views thanks to its best Hollywood sign viewpoint. It's the perfect place to snap some envy-inducing photos of the Hollywood sign!
The observatory itself houses fascinating exhibits on astronomy and space exploration. Planning to see the Hollywood sign at night? After you're done capturing a jaw-dropping nightmode photo, head to the outdoor theater where you can use telescopes for stargazing. Best of all, admission is free, so you can explore all the observatory has to offer without breaking the bank.

You'll find the Hollywood sign Griffith Observatory at 2800 E Observatory Rd, Los Angeles, CA 90027. While parking is free, it's important to note that space is limited, so make sure to plan ahead and arrive early to snag a spot!
Looking for a challenge? Be sure to add the Griffith Observatory hike to Hollywood sign to your itinerary. Get your cardio in as you climb 2.5 miles up the Mt. Hollywood Trail along a narrow dirt path. Find yourself surrounded by desert flora and fauna and treated to serene secret observation points like The Tiffany & Co foundation lookout and Dante's Point.
Once you reach the top, your sweat equity will pay off. Searing views of downtown LA, the Griffith Observatory, and even the Pacific Ocean can be seen from this vantage point.
Griffith Park
Do you want to see the Hollywood sign up close? Who doesn't? Then set your sights on Griffith Park. It's the best place to take Hollywood sign picture if you're looking to avoid crowds! Sitting at the intersection of Los Feliz Boulevard and Zoo Drive, this park with Hollywood sign view has a variety of trails to choose from, ranging from an easy Hollywood sign walk to more strenuous, adventure-filled hikes.
Lace-up those hiking shoes and bring plenty of water as you depart on your unforgettable hike to Hollywood sign. You have three popular Hollywood sign trail to choose from at Griffith Park: Brush Canyon Trail, Hollyridge Trail, and Wonder View Trail — all of which offer excellent views of the sign. Among these, Hollyridge Trail is the best hike to see Hollywood sign for beginners since it is less steep and shorter than the other two.
Aside from offering a spectacular view of Hollywood sign, Griffith Park has a plethora of options to continue your adventure, from a leisurely round of golf or a scenic horseback ride to a relaxing picnic amidst the tranquil natural surroundings.
Hollywood and Highland Center
The Hollywood and Highland Center, popular for its stunning architecture and hosting the annual Academy Awards ceremony, also offers some of the best view Hollywood sign.
Once you've parked your car in their parking lot, it's just a quick stroll to the shopping and dining area where you can marvel at the best Hollywood Sign view. In addition to a fantastic Hollywood sign viewpoint, there's also a huge center court with an impressive fountain, making it a great spot to take pictures.
Up from its observation deck, you'll be treated not only to an unobstructed view of the cityscape, but also a chance to sip on handcrafted cocktails, indulge in delicious bites, and witness a breathtaking Hollywood sign sunset over the LA skyline.
Not interested in hitting LA's many trails? This is one of the most convenient and best place to see Hollywood sign without hiking and without breaking a sweat.
Hollywood Boulevard
Lights, camera, action! Be prepared to be star-struck as you make your way down the famous Hollywood Boulevard. This iconic one-mile stretch of Hollywood street is brimming with popular tourist spots like the TCL Chinese Theatre and the Hollywood Walk of Fame.
Navigate to the intersection of Hollywood Boulevard and Highland Avenue to catch a breathtaking view of Hollywood sign. It's aptly touted as the best place to take picture of Hollywood sign due to the glamour of Hollywood Boulevard surrounding you in the foreground with the magnificent mountains standing in the background.
As the birthplace of the American film industry and home to some of the most iconic movie theaters in the world, Hollywood Boulevard offers a rich history and cinematic legacy that make a trip to it one of the best way to see Hollywood sign.
Hollywood Reservoir
Take 5 from the hustle and bustle of the city when you find yourself surrounded by serene Hollywood hills at the Hollywood Reservoir. One of the quieter best places to see Hollywood sign, this man-made reservoir has become a popular destination for locals and tourists alike.
The surrounding hills offer beautiful views of the Hollywood sign, and the reservoir itself provides plenty of opportunities for outdoor activities. Pack a picnic or enjoy miles of hiking trails.
Photo Alert: The best place to take picture of Hollywood sign at the Hollywood Reservoir is from the bridge along the flat 3.5 mile lake loop.
We must share that the area can get crowded during peak times, so plan accordingly for a more serene experience. Peak season is during the summer months from June to August. If you're looking for a peaceful and quiet view of the Hollywood sign, it's best to visit the reservoir during the weekdays or early mornings.
Mulholland Highway
Walking trails not your thing? We get it! After pounding the pavement at Universal Studios or Disneyland, you may want to capture shots of this Instagram-worthy site while cruising along in air-conditioned style. The best way to see Hollywood sign by car is the Mulholland Highway! This iconic road is the perfect spot for a scenic drive where you'll be able to take in striking views of Griffith Park and the Hollywood Hills.
Enjoy a leisurely drive while taking in the sights of the city's most beautiful neighborhoods, famous landmarks like the Hollywood Bowl and the Getty Center, as well as marvelous natural scenery.
Psssst… why settle for just seeing the Hollywood sign when you can experience all of Los Angeles's hidden gems with our VIP Los Angeles Tour? Enjoy a guided tour of the city and capture stunning photos of its iconic landmarks, giving you bragging rights for a lifetime.
Sunset Ranch Hollywood
Giddy up, cowboy! Chomping at the bit to discover how to see the Hollywood Sign from the back of a horse? Sunset Ranch Hollywood Hills is the perfect destination for an immersive and up-close experience with the Hollywood Sign.
Resting in the picturesque Hollywood Hills, this area offers some of the best Hollywood sign views from its stables. Saddle up for a scenic trail ride that takes you directly to the Hollywood sign. Or, inject some adrenaline into your Southern California sojourn with a thrilling ATV or Jeep tour. All while soaking in incredible views.
Don't miss this exhilarating opportunity to combine adventure, natural beauty, and the iconic Hollywood Sign all in one unforgettable ride.
Barnsdall Art Park
Last but not least on this list of the best spots to see Hollywood sign is Barnsdall Art Park. Located at the crest of Olive Hill, this park provides stunning views of downtown Los Angeles. As well as the surrounding San Gabriel mountains.
You won't run out of things to do at this picturesque park as it's home to attractions such as:
Gallery,
Outdoor theater
Crafts center
Amphitheater
And the best part? These activities won't cost you a penny! Plus, you'll find it near some other area attractions like the Hollyhock House, the Hollywood Bowl, and the Hollywood Museum.
Fun fact: During Friday evenings in the summer, the park offers wine tastings, adding to its laid-back atmosphere. With the Hollywood Sign in the distance, enjoy sipping some exquisite wine after a busy day exploring Los Angeles.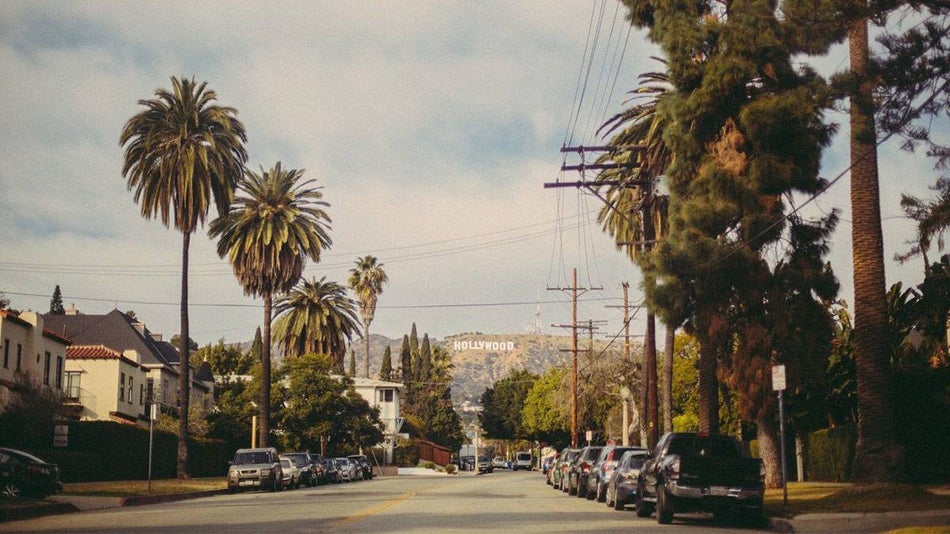 Rugged hikes, serene reservoirs tucked into the hills, and palm tree-lined highways await in the City of Angels. From sneaking sunset Hollywood sign shots at Mulholland Dam to heart-pounding Mt. Hollywood vista views, we have covered every last option for a great Hollywood sign photo.
No matter which of these spots you choose as the best place to see Hollywood sign, one thing is certain: visiting this legendary landmark will be an experience like no other!
What are you waiting for? Grab your camera, put on your walking shoes, and get ready for your Hollywood Sign tour!
Looking for more experiences while in Tinsel Town? Check out our ultimate Los Angeles Travel Guide for an in-depth look at the top attractions and things to do in Los Angeles!
Where Will You Go to Grab a Photo for the Gram?
Leave us a comment below!