The iconic Los Angeles Hollywood sign is a signature of the LA landscape. Large block letters, gleaming white against a shrub-dotted landscape, the sign is basic in design but has become a global symbol for Los Angeles.
It's a must-see while you're on vacation in this star-studded town. You can view it up close and far away, and thanks to a refurbishment in late 2012, it looks great from any perspective.
Griffith Park Hiking Trails
To get as close to the Los Angeles Hollywood sign as possible, you'll need to lace up your shoes and go for a hike. There are three main hiking trails on Mt. Hollywood at Griffith Park.
I recommend the Hollyridge trail as it's not as steep as the Wonder View trail, or as lengthy as the Brush Canyon Trail, but provides the same exceptional experience.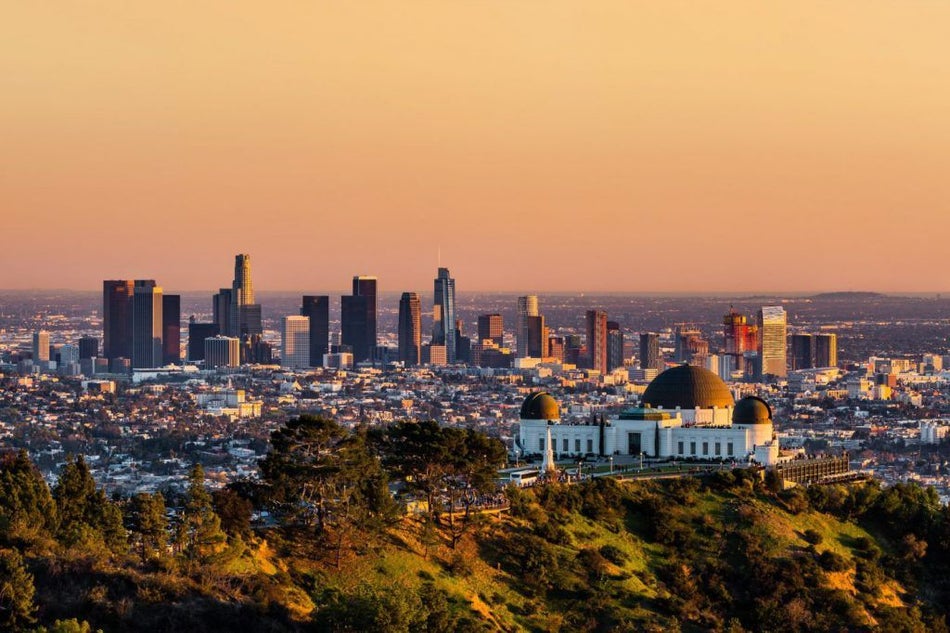 Griffith Park Observatory
For unobstructed views of the famed Hollywood sign, drive the short distance to Griffith Park Observatory. You can view the sign a short distance from the parking lot. Head to the right, walk along the railing and take in the share-worthy sight. Make the most of your visit by taking advantage of the free admission to Griffith Observatory while you're there.

Hollywood & Highland Center
For the best photo opportunities, head to the Hollywood & Highland Center. There are numerous areas throughout the structure dedicated to viewing the Hollywood Sign. Plus, the complex houses Dolby Theater and the TCL Chinese Theatre, so you can see the Hollywood Walk of Fame during your visit.
Sunset Ranch Hollywood
One of the more unique ways to view the Hollywood Sign is by horseback riding at the Sunset Ranch. Guided trail rides take you through the Hollywood Hills, with the signature sign looming above. A trip to Sunset Ranch is a nod to the western heyday of Hollywood and is the only horse ranch in central Los Angeles.
Helicopter Tours
Take your sightseeing to an entirely new level with a helicopter tour of the Hollywood sign. Two trusted companies operating tours include Group 3 Aviation and Star Helicopters.  With a variety of tours offered, you can easily see the iconic Hollywood sign, the beach, and greater Los Angeles. It's by the most stylish way to see the sights.
Los Angeles Hollywood Sign: The Best Views
These are the best ways to view the Los Angeles Hollywood Sign. Take to the trail or opt for an aerial adventure—the choice is yours. Whatever you do, don't forget your camera!