Why not make life easy and add a City Sightseeing Hop On Hop Off Tour Los Angeles bus to your trip? Let their sightseeing experts do the work, so you can sit back, relax and soak up the sights.
So, you're heading to Hollywood! Ah, the City of Angels, Home of the Stars, and Movie Capital of America. There's no better time like the present and no better way to see all of Tinseltown's razzle and dazzle than on a Hop On Hop Off Los Angeles Bus Tour.
Let's face it: If you want to see all Los Angeles offers, you will need to drive around. However, driving, renting a car, and dealing with traffic can be a headache, which is why you should throw caution to the wind and book your whirlwind Hop On Hop Off Bus Tour Los Angeles adventure!
Starline Tours offers the highly rated Hop On Hop Off Bus Los Angeles Tour, a fully narrated, open-air double-decker bus ride showcasing the best of LA. Guests travel around Hollywood and Beverly Hills to Downtown Los Angeles and the Santa Monica Pier. You can board the buses near Madame Tussauds™ Wax Museum and the TCL Chinese Theatre along the Hollywood Walk of Fame. Furthermore, get your cameras ready as star sightings abound on the Hollywood Celebrity Homes Tour and Rodeo Drive, baby!
Hop On Hop Off Los Angeles Discount Tickets
Starline offers three Hop-On Hop-Off bus pass options, including a one-day, two-day, and three-day pass. With four interconnection tour routes and two connector routes, guests can choose their desired path and take a full loop. The most sensible plan is to select your options and buy your Hop On Hop Off Los Angeles Discount Tickets through Tripster!
Sit back and enjoy the legendary views from up high! The pre-recorded tour guide narration has nine languages to choose from English, Spanish, Portuguese, Chinese, Japanese, Korean, German, French, and Italian.
How to Use Your Los Angeles Hop On Hop Off Pass
The best way to put the city sightseeing Hop On Hop Off Tours to use is with the 48-hr pass. With this ticket type, you can easily hop from Downtown LA to Santa Monica and spend the afternoon at the famous 3rd Street Promenade. Then, you'll still have plenty of time to hop over to posh Beverly Hills before venturing to the Hollywood sign, Venice Beach, and the Hollywood Walk of Fame.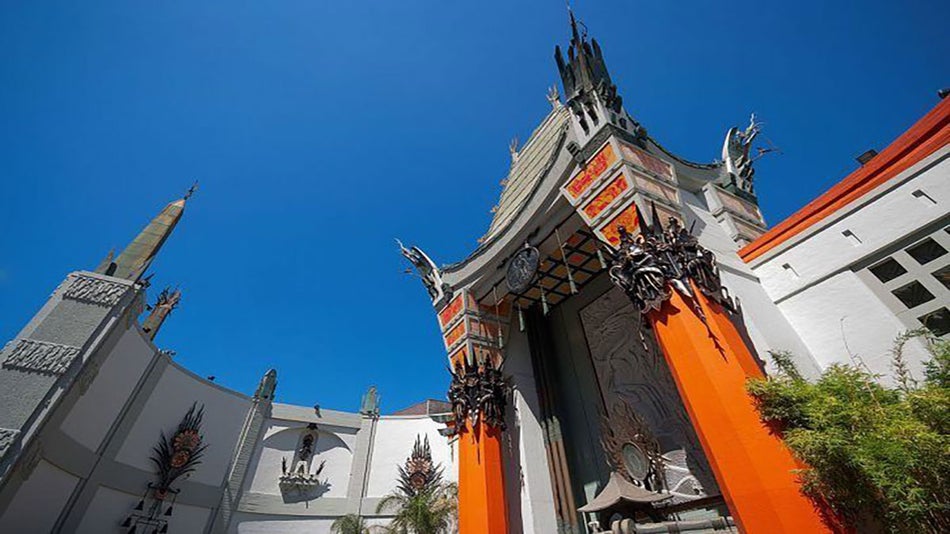 An excellent example of the pass? Hop On Hop Off Los Angeles Hollywood Sign, hop on, hop off downtown Los Angeles, then jump off in Beverly Hills to shop, get the picture? Next, head the Santa Monica route to walk the pier and beaches. Afterward, hop back on to experience Hollywood and Downtown LA.
There are some fabulous places to stop to eat along the way too. Pink's Hot Dogs, Carney's Restaurant, and Canter's Deli, the choices are endless, and they are all delicious!
The tour duration is two hours if you choose not to hop off at any stops. You can hop on and hop off the bus at any of the 70 stops and hop back on when you're ready to head to your next destination. There are a total of six routes:
Hop On Hop Off Tour Los Angeles Routes
Hop On Hop Off Red Route serves Hollywood and Beverly Hills with stops at TCL Chinese Theatre, the Farmers Market/Grove, Hollywood Walk of Fame, Rodeo Drive, Sunset Strip, Dolby Theater, and much more!
The Yellow Route connects Beverly Hills with Santa Monica, with stops that include Rodeo Drive,  3rd Street Promenade, Fox Studios, and Santa Monica Pier, with its amusement park, arcade, carousel, and fantastic restaurants and bars. This tour also highlights the world-famous Venice Beach Boardwalk and a long list of other fascinating hot spots.
The Purple Route: This Los Angeles city tour includes downtown attractions like the Staples Center, Union Station, Olvera Street, Chinatown, and Grand Central Market.
The Blue Connector tours LA with a 1-hour route bridging Universal Studios and Hollywood.
The Orange Connector transports guests from LAX-area hotels to Marina Del Rey.
Follow the route right for your day. Refer to your brochure's timetable section for the next scheduled bus. If it sounds complicated, it's really not. Grab a handy dandy Hop On Hop Off Los Angeles map, and you're on your way!
Pro Tip: Buses generally run every 15-20 minutes, but LA traffic does play a part in this. Therefore, it's best to be flexible with your plans.

Hop On Hop Off Los Angeles Coupons and Discounts
Savvy shoppers might search for a Hop On Hop Off Los Angeles coupon or promo code to save cash. However, Tripster has tried and true deals-no coupons needed! So if you're looking for the best deals on Los Angeles shows and attractions, you've come to the right place. We also have Hop On Hop Off discounts, reviews, and Insider Tips!
Photo Alert: Have your camera ready at all times! There are so many sights to see, and sometimes they can go by pretty fast!
Hop On Hop Off Los Angeles Military Discount
Starline Tours does not offer military discounts at this time. But keep checking places. For instance, most hotels seem to offer an active military discount.
Hop On Hop Off Los Angeles AAA Discount
AAA members can get a special discount offered by Starline Tours. So, if you are a qualified AAA member, make sure to ask!
Hop On Hop Off Los Angeles Senior Discount
Starline Tours doesn't have a senior citizen discount, but they offer tickets at a lesser cost for children aged 3-11.
Hop On Hop Off Los Angeles Group Discount
Hop On Hop Off specializes in private guided tours, school groups, church trips, sporting events, and corporate travel. Check with Starline when booking your group trip!
Hotels Near LA Hop On Hop Off
If you're searching for an area hotel close to the action, don't miss our 11 Best Family Hotels Near Universal Studios Hollywood.
Whether you want to stay in Hollywood, Beverly Hills, or by the beach, look at these fantastic lodgings near the LA Hop On Hop Off pick-up site.
Los Angeles Attractions
 Universal Studios Hollywood™
Get ready for an action-packed day of exciting rides and behind-the-scene tours at this real-life working Hollywood studio. Guests explore authentic film sets where Hollywood magic happens.
Then move on to some thrilling, heart-pounding rides, shows, and movie-based attractions. Buy your Universal Studios tickets through Tripster for great savings!
World of Illusions Los Angeles
If you're searching for fun things to do off the beaten path, LA's premier illusion institution is worth a gander! What's more Tripster offers World of Illusion tickets at a discounted price!
Madame Tussauds™
Get up close to some A-list celeb royalty at Madame Tussauds Hollywood. Alongside JLo, Ariana Grande, and the Rock, you can get some fab photos for your Insta-story that will have tongues a waggin!
The Hollywood location also has the Jimmy Kimmel Live Experience and the Marvel Universe 4D Movie!
Insider Hop On Hop Off Los Angeles Tips
What Can I Bring?
Since no one really knows what the Southern California weather might be, you could pack a baseball cap, sunglasses, and light jacket in case of rain. Also don't forget to bring a camera, water bottle, and sunscreen.
Trained service animals are welcome on the Starline Tours Hop On Hop Off buses. Service animals are defined as dogs that are individually trained to do work or perform tasks for people with disabilities.
Strollers are welcome, as long as they are collapsible.
Wheelchairs and ECVs are allowed as well. Starline Tour buses are designed to accommodate guests with disabilities or specific impairments so they may participate in the enjoyment of our tours. Guests must confirm their reservation at least 24 hours in advance to guarantee a seat. The lift has a minimum design load of 600 pounds.
Note: Many rental scooters exceed the lift minimum requirements.
Hop On Hop Off Los Angeles Parking and Address
Hollywood Tours begin from the main departure point outside the world-famous Dolby Theatre, 6801 Hollywood Blvd., Los Angeles, CA 90028.
The Hollywood & Highland Center, a designated pick-up site, has an underground parking structure with entrances at 1755 N. Highland Ave., Los Angeles, CA, and 1754 N. Orange Dr., Los Angeles, CA. There will be a sign that reads "5 Star Public Parking Hollywood & Highland."
All tours qualify for parking validation, so bring your stub for the attendant to scan. With validation, the first two hours are $3. After that, each additional 20 minutes is an extra $6 per hour and the maximum for the day is $20.
Hop On Hop Off Hours of Operation
The tours operate seven days a week from 10:30 a.m. to 7:30 p.m., depending on the season.
Are Hop On Hop Off Tours Child Friendly?
Children of all ages are welcome to enjoy the open-air double-decker tour bus fun!
What Happens if it Rains?
If there is a significant period of rain on your tour, customers may request one 24-hour extension for your unlimited ticket.
Hop On Hop Off Los Angeles Reviews
Want to find out what everyone else is saying about Hop On Hop Off Los Angeles Tours? Check out the most recent Hop On Hop Off Los Angeles reviews.
Get Your Hop On Hop Off Los Angeles Now!
With the Hop on Hop Off Los Angeles Tour, it's easy to see the best of Los Angeles. Sit back, relax, and let someone else do the driving. As a result, you can gawk at the sights as a true tourist should!
Explore this marvelous city at your own pace and see all the top Los Angeles attractions on one easy ride. You can always head back to your favorite hot spots and take your own night tour.
The iconic sightseeing bus Los Angeles tours have become a fixture around Hollywood for decades. Convenience is key, and this open-top joy ride is a must. Remember, the best Hop On Hop Off bus Los Angeles Tour savings are through Tripster. For your next Los Angeles holiday, don't delay. Buy your Hop On Hop Off Bus Los Angeles tickets today!
Which Stops Will You Hop Off?
Leave us a comment below!