A trip to Los Angeles is on everyone's bucket list. With the abundance of beaches, theme parks, outdoor excursions, and tourist attractions, Los Angeles has something for every type of traveler.
But before you can embark on your California adventure, you need to pack. And, packing is the worst, right? To alleviate this nuisance, it's in your best interest to create a Los Angeles packing list tailored to your trip. Follow along to discover what to wear in LA.
Already thinking about what to wear in LA? Now, the trick to devising the perfect packing list is to consider the following factors:
The Weather Forecast
Personal Travel Necessities
Your Travel Itinerary
Let's begin!
Packing for the Season and Forecast
While Los Angeles boasts a splendid average temperature of around 70℉, this isn't always the case. With this in mind, check the weather forecast before you begin packing. You never know if your trip will line up with a random LA rainstorm.
Even if you're visiting during the summer or this April, it's still important to find out about the weather in Los Angeles in April 2023.
Related Post: Best Time to Visit LA - In-Depth Seasonal Guide
A quick research about the Los Angeles Weather in April 2023 will do a lot.
Think about what to wear in Los Angeles when it rains. To combat sudden changes in weather, you should always include a jacket in your Los Angeles packing list. Better safe than sorry, right?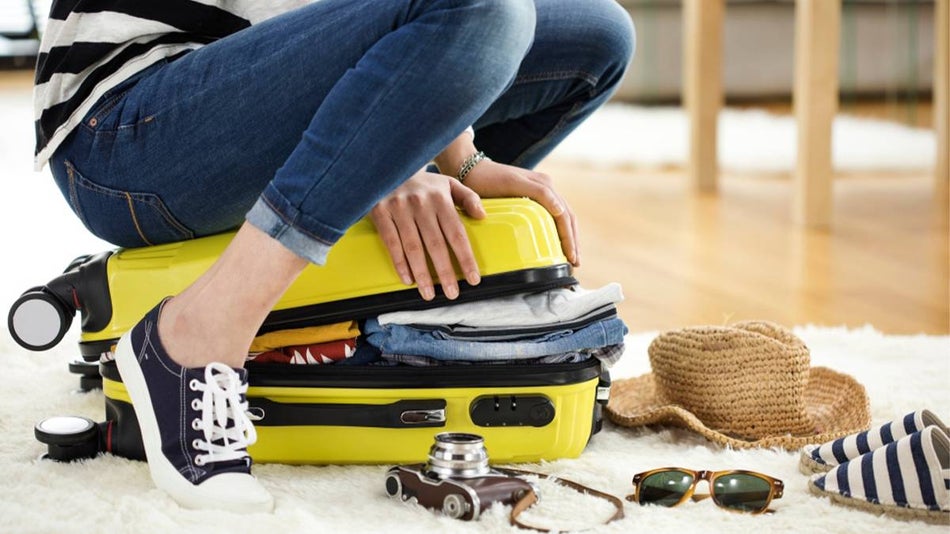 Personal Travel Necessities
Of course, there are things we must bring on every type of trip, no matter the destination! After you've looked up the weather forecast for your Los Angeles vacation, figure out your outfits and what to wear in LA and start by packing the following:
Clothes
Undergarments
Pants
Shorts
Shirts
Tank Tops
Sundress
Pajamas
Sweatshirt
Crossbody bag
Flip Flops or Sandals
Socks
Sneakers/Comfortable Walking Shoes
Leather jacket
Hiking Shoes
High Heels
Swimsuit
Rain Jacket
Hat
Toiletries
Toothbrush and Toothpaste
Eyewear Necessities
Deodorant
Shampoo
Hair Conditioner
Face Wash
Soap
Razors
Shaving Cream
Tweezers
Q-Tips
Makeup
Hairbrush/Comb
Hairdryer
Hair Products
Personal Medicines
Lip Balm
Moisturizer
Miscellaneous Travel Items
Camera
Camera Batteries and/or Charger
Cell Phone Charger
Laptop and Charger
Umbrella
Backpack
Ponchos
Large Ziploc Bags
Hand Sanitizer
Pens
Book/Magazines
Neck Pillow
Printed Hotel Reservations
Printed Theme Park and Attraction e-Tickets
Travel Itinerary and Map
Beach Towel
Use the suggestions above as a starting point for your perfect Los Angeles packing list. Feel free to add or remove items as you see fit. After all, it is your vacation!
Again, always consider the weather. Say that you've researched the weather in Los Angeles in March and found that it will be rainy, you can now include essentials that will help you cope with the temperature.
Consider Your Itinerary
What do you have planned for your Los Angeles vacation? The activities you have on your travel itinerary will dictate what you need to bring on your vacation and what to wear to LA.
Typically, visitors want to experience any or all of the following activities:
Make your selection from the list above and start building your ideal Los Angeles packing list.
It may also be helpful to ask yourself, "What do people wear in California?" This may give you an idea about your packing list.
Los Angeles Theme Parks
Although Orlando is the theme park capital of the world, Los Angeles is a close contender. Universal Studios Hollywood, Knott's Berry Farm, and LEGOLAND California are all located in the greater Los Angeles area and draw millions of visitors each year.
So, gather the entire family and experience all the thrilling rides and attractions. To ensure that you have everything you need for a perfect day at the parks, consider adding these items to your Los Angeles packing list:
Printed Theme Park Tickets or Mobile Tickets
Cash/Credit Card
Drivers License/ID
Refillable Water Bottle
Camera
Extra Camera Battery
Sunglasses
Cell Phone
External Charger/Battery or Charging Cable
Poncho
Band-Aids
Sunscreen
Lip Balm
Hand Sanitizer
Wet Wipes
Swimsuit and Towel (If going to a waterpark)
Extra shorts, skirt, or t-shirt (for waterpark activities)
Keep in mind each theme park has its own set of restrictions on items entering the park. While outside food and beverages may be allowed in one park, they may be prohibited in another.
Don't forget to double-check the rules beforehand to know what to pack for the Los Angeles trip!

Los Angeles Shows
Visiting Los Angeles? You can't go to the "City of Stars" and not see a show! From the iconic theaters in Hollywood to concerts and touring Broadway productions, there is an abundance of shows in Los Angeles.
When creating your ultimate Los Angeles packing list, make sure these belongings are on it if seeing a show is on your itinerary:
Appropriate Attire
Comfortable Shoes
Purse, Wallet, or Day Bag
Printed Show Tickets
Light Jacket or Sweater
Cell Phone and Charger
Valid ID/Driver's License
Light Jacket
Extra Cash

Tours and Attractions in Los Angeles
If this is your first trip to the City of Los Angeles, spend some time checking out notorious tourist spots such as the Hollywood Walk of Fame and Griffith Observatory. You can prevent an extra cost and maximize your time by reserving your spot on one of the many tours in Los Angeles, too.
For a comfortable day as a tourist in Los Angeles, bring along the following items:
Backpack
Comfortable Walking Shoes
Weather Appropriate Attire
Long sleeve and windbreaker
Light Jacket or Sweater
Cell Phone and Charger
Valid ID/Driver's License
Extra Cash
Refillable Water Bottle
Printed Tour Reservations
If you're hitting tourist places in April, the weather in Los Angeles in April is a huge factor that you should consider when building your list.
Beach Trip
From enjoying the salty wind blowing in your face or sunbathing, hitting Los Angeles for a beach adventure is always a good idea.
The city's beaches are dotted with tidepools, sea caves, and endless beach-combing treats. Before catching some waves and soaking up the sunshine, pack accordingly first. Think about all your planned activities. If you're dining on the beach, bring that maxi dress or linen shirt and chinos. Bring an extra pair of shorts or swimsuits if you're up for water activities.
Outdoor Adventures
Whether you choose to hike to the Hollywood Sign, you're bound to find an epic outdoor adventure in Los Angeles. However, before you go, you're going to need to add these things to your Los Angeles packing list:
Appropriate Attire for the Activity
Sneakers
Hiking Shoes
Light Jacket
Swimsuit and Towel
Sunscreen
Hat
Sunglasses
Sunscreen
Refillable water bottle
Bring an extra pair of sneakers if you know you're passing on a muddy trail. If you have reservations for a specific outdoor excursion such as horseback riding, be sure to double check what the tour company recommends you bring.
In addition, they may also tell you not to bring certain items such as personal belongings or large bags. Also, don't forget to bring extra cash when embarking on Southern California adventures for shopping expenses. Some tours have hidden costs and additional fees, so better be prepared.
What's on Your Perfect Los Angeles Packing List?
A trip to Los Angeles can be perfect with the right packing list. And while we can give you recommendations for the best packing list, you still need to know your personal travel needs.
So what do you plan to put on your Los Angeles packing list? Or, what do you can you not travel to Los Angeles without? Join the conversation by adding your thoughts in the comments!
What Did We Miss?
Do you have anything to add to our what to wear in LA guide?