Let's face it: A Hawaii vacation can be expensive. Flights, hotels, and activities can add up quickly.
However, don't fret! There's also plenty of free things to do in Hawaii. Discover all of the free (or super affordable) activities available on the Big Island, Kauai, Maui, and Oahu below.
Big Island
Akaka Falls State Park
If you're in the Hilo area, you can conveniently access Akaka Falls State Park as it's just a short 13 miles away. Located along the Hamakua Coast, you can view two spectacular waterfalls on one short hike. An easy-to-hike paved footpath loops through a lush rainforest, leading you to the 100-foot Kahuna Falls and then the 442-feet Akaka Falls. There is a small fee of $1 for walk-ins and $5 for cars.
2) Kalapana Lava Viewing Area
The Big Island is famous for its active volcano. If you want to see molten lava, the Kalapana Lava Viewing Area offers an excellent vantage point. Best of all, you can witness the hot lave gushing into the ocean, one of the must-see sights for any vacationer on the Big Island. Conditions change daily, so be sure to call the viewing hotline (808-961-8093) for up-to-date conditions during your trip.
3) Lava Tree State Park
It's a fairly safe bet you've never seen a lava tree before. Don't miss your chance to do so while on the Big Island. As one of the most unique free things to do in Hawaii, the Lava Tree State Park, located off Pahoa-Pohoiki Road (less than three miles southeast of Pahoa), is a forest of lave trees to behold. What exactly are lava trees? Formed by a lava flow that swept through the area, the trees that are left are coated in thick lava. It's a unique sight to behold.
4) Mokupapapa Discovery Center
Dive into discovery at the Mokupapapa Discovery Center, which offers free admission Tuesday through Saturday. The center highlights the diverse marine life of Papahanaumokuakea Marine Nation Monument, a pristine ocean environment that is a UNESCO World Heritage site. The best part of the center is the 2,500-gallon saltwater aquarium.
5) Mauna Kea
Rise to an elevation of 9,000 feet at Mauna Kea, the Big Island's dormant volcano. This amazing vantage point is ideal for watching the sunrise or star gazing, both of which are absolutely free. At the Visitor Information Station, you can learn about the famous astronomical observatories. Plus, once evening begins volunteers bring out telescopes. 6) Puukohola National Historic Site
One of the most interesting free things to do in Hawaii for history buffs is up next. Experience Hawaii history first-hand at Puukohola. Hawaii's largest heiau (temple) is located here and was built under the direction of King Kamehameha I. The founding of the Hawaiian Kingdom can be directly linked to this site, making it a true Kohala coast history lesson.
7) Panaewa Rainforest Zoo & Gardens
Bring your family to explore this 12-acre rainforest zoo free of charge. Located just south of Hilo, lush botanical gardens with over 100 varieties of flora and fauna, a petting zoo and a White Bengal Tiger are available to enjoy at Panaewa Rainforest Zoo.
8) Wailuku River State Park
Another of the top-rated free things to do in Hawaii is visiting Wailuku River State Park. Why so? Well, it's home to the cascading waterfall known as Rainbow Falls. This natural sight is easy to see, as there's no hiking involved, making it a favorite of many. In addition, the 80-foot falls is famous for its misty rainbows. Be sure to visit in the mornings for the best chance of catching a rainbow at the falls!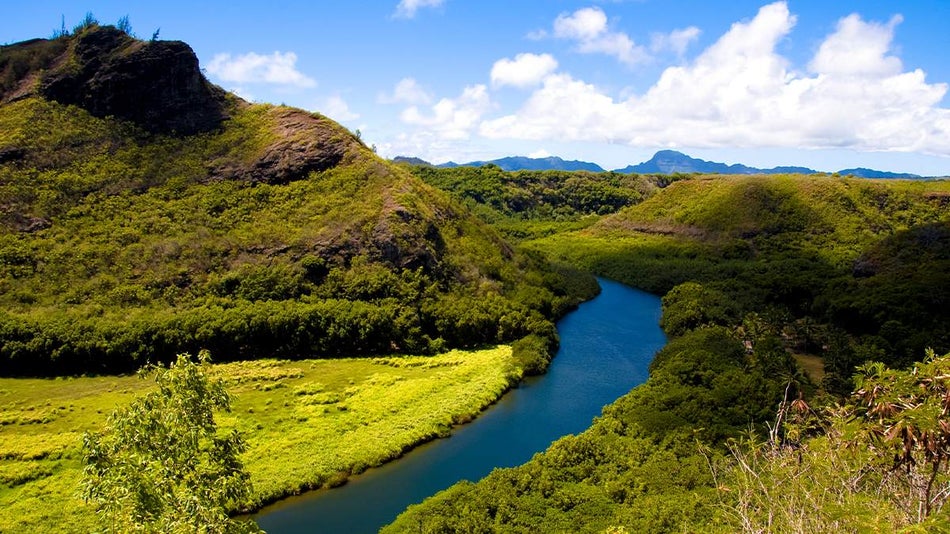 Kauai
9) Wailua River State Park
Wailua River State Park is home to Fern Grotto, a fern-covered cave set in a tropical garden, Opaeka's Falls and Wailua Falls.  The state park also features the Wailua Complex of Heiau, a national historic landmark.
10) Waimea Canyon
Known as the "Grand Canyon of the Pacific," the park offers stunning views at several lookout points, picnic areas and a variety of hiking trails to waterfalls and other scenic locales. Entrance into the Waimea Canyon State Park is free.
11) Koke'e State Park
Koke'e State Park, home to hiking trails, the Koke'e Natural History Museum, the Koke'e Lighthouse, as well as interpretive programs and exhibits. There are beautiful lookouts to take advantage of and scenic waterfalls to see at this state park. Entrance to the park is free.
12) Spouting Horn
A popular photography spot, Spouting Horn is easily accessed on the Poipu Coastline. A natural lava tube flooded by the surf creates frequent 50-foot spouts. A legend is built around the sound the Spouting Horn makes, hissing and roaring as the waves come in and out.
13) Kauai Coffee Company
Tour the Kauai Coffee Company on the south side of Kauai. It's the United States' largest coffee farm, offering a free self-guided walking tour of the farm and free coffee tasting.
14) Beaches
Tunnels Beach. Hanalei Bay. Poipu Beach. Waimea Bay. These are just a few of the sun-soaked beaches Kauai is known for. These free natural attractions offer endless days of pleasure and are some of the best free things to do in Hawaii.
15) Hiking
There are endless epic hiking trails in Kauai. All of them are free to access, too, so you can spend a day under the island sun exploring some of the best attractions the island has to offer at no charge. The Kalalau Trail is one of the best with views of the Na Pali Coast. Canyon Trail at Koke'e State Park has panoramic views of Waimea Canyon, making it an amazing free thing to do too.
16) Koloa Heritage Trail
A self-guided 10-mile trail, the Koloa Heritage Trail has a series of 14 monuments educating visitors of the history, culture, and heritage of this site. Highlights include Prince Kuhio's birthplace, Poipu Beach Park, Pu'uwanawana Volcanic Cone, among others.
17) Kilauea Lighthouse
Pristinely white against a deep blue ocean, the Kilauea Lighthouse draws visitors for its postcard-perfect views. After snapping about 100 photos (seriously, it's so pretty!), take the guided tour of the lighthouse to gain insight into this historical landmark.
Maui
18) Keanae Arboretum
Over six acres are at your disposal at the Keanae Arboretum, flowering over with 150 varieties of tropical plants, trees, and flowers. Admission is free.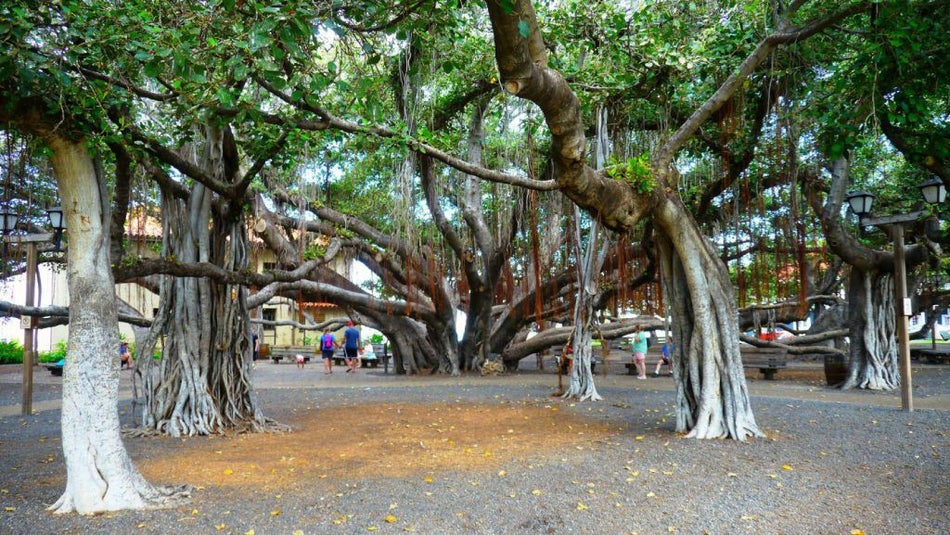 19) The Banyan Tree
This ancient, sprawling tree takes up an entire block in Lahaina. It's an absolute must-see and is a perfect spot for family photos. Plus, there's no charge to visit this natural wonder.
20) Lahaina Historical Trail
Another Lahaina must is the self-guided free Lahaina Historical Trail. See sights related to the Maui whaling industry of the 1800s and 64 historical landmarks in Maui's history.
21) Dragon's Teeth
See this unique sight at Makalua-Puna Point in Kapalua on the northwest shore of Maui. Formed by lava that hardened, you'll see a shape resembling what can only be viewed as Dragon's Teeth – hence the name.
22) Ali'i Kula Lavender Museum
One of the most unique cheap things to do in Maui is visiting this lavender farm, located on the slopes of Haleakala, to see up-close 45 varieties of lavender. Open daily from 9am to 4pm, admission is free although a walking tour is available for a small fee. Try a lavender scone or lavender tea on your visit.
23) Bailey House Museum
The heritage of 19th century Hawaii is celebrated here. Located in Wailuku, it is home to paintings, artifacts and cultural history. Admission is $7 for adults and children 7-12 are $2. Children 6 and under are free.
24) Surfing Goat Dairy
The name itself is intriguing, right? Come out to this goat dairy to hand milk goats as well as feed them. Learn how goat cheese is made and even purchase some for later. Tours are offered Monday through Friday, from 9am to 3pm or 4pm. The tour costs $15 for adults, $12 for children.
25) Kulu Botanical Garden
View waterfalls, rock formations, an aviary, koi pond and stunning vistas of the west Maui Maintains at the Kulu Botanical Garden. Located in the town of Kulu, admission is $10 for adults and $3 for children 6-12. Children 5 and under are free.
Oahu
26) The Beach
Aside from purchasing reef-safe sunscreen and any food or beverages you may bring along, trips to any of Oahu's gorgeous beaches are completely free!
Although your first thought might be to sprawl out on the long-stretched Waikiki Beach, I recommend finding a more secluded beach with better views. There's no need to go to Oahu's most packed beach when there are tons to choose from. Consider spending the day at one of these stunning beaches on Oahu instead:
After all, you can't go to Oahu and NOT go to the beach.
27) USS Arizona Memorial and Pearl Harbor
Did you know you can tour the USS Arizona Memorial and Pearl Harbor for free? Considering this memorial and landmark is one of the top free things to do in Oahu, it is in your best interest to plan ahead for this excursion.
While you can pay a fee to secure tickets ahead of time, only 1,300 complimentary tickets are distributed at Pearl Harbor daily. The memorial begins giving out the free tickets right at 7:00 am. Be sure to get in line as early as possible. These free tickets are gone within minutes! During our honeymoon, my husband and I got in line right at 7:00 am and while we were fortunate enough to receive free admission for a designated tour time, this was a huge rookie mistake. Get in line as early as possible.
To stay within your vacation budget, take the bus to Pearl Harbor. Taxis and Uber/Lyft, while convenient, will be an expensive ride to Pearl Harbor.
28) Hiking
The hiking trails in Oahu are unparalleled. This is why it shouldn't be a shocker that hiking is among the most popular free things to do in Hawaii.
While some trails such as Diamond Head have small entrance fees, others are free for you to explore. My personal favorite trail is the Aihualama Trail connecting to the Pauoa Flats Trail, which can be accessed from the Manoa Falls Trail. While not extraordinarily long, the elevation gain is what gets you—but the views are worth it!
If you choose to hike Diamond Head, do not drive. Instead, walk-in for a lower entrance rate. You can either take the bus or an Uber and walk-in or park your car at the nearby community college and walk to the trail as well.
29) Friday Night Fireworks at Waikiki Beach
For free entertainment, grab a seat at Waikiki Beach on Friday nights. Each Friday, the resort hosts a massive fireworks show at 7:45 pm from September through May and 8:00 pm from June to August.
Grab a towel, a few drinks, and get ready for an epic start to your weekend on Oahu. Try to get there a half hour early to secure prime seating for the show!
30) Free Hula Show at Kuhio Beach Park
If you're not interested in paying for tickets to a luau, check out the free torch lighting ceremony and hula show performed at Kuhio Beach Park. Located over by the Duke Kahanamoku statue, this performance occurs each Tuesday, Thursday, and Saturday night at either 6:00 pm or 6:30 pm depending on the season.
The show is approximately an hour long and features local performers, musicians, and dancers. Be sure to bring your own beach chair or towel as only lawn seating is offered.
31) Farmer's Markets
Oahu is home to a ton of different farmers' markets. You can pick up everything from inexpensive authentic gifts to some of the best food you've ever tasted here.
As one of the tastiest free things to do in Oahu, the farmers' markets do not require an entrance fee. However, it's up to you if you want to spend money or not. Even just browsing the assortment of vendors is fun!
32) Events or Festivals
Oahu hosts thousands of festivals and events each year. Many of the events are totally free as well! From hula festivals to cultural holidays, there's always something happening on the island.
Do your research and see what free events, festivals, parades, or other entertainment might be happening during your Oahu vacation.
33) Snorkeling
Snorkeling is a must when visiting any Hawaiian island. Depending on your itinerary and packing list, snorkeling can even be among the free things to do in Oahu. If you own a mask, snorkel, and fins, be sure to bring them and stop by any of Oahu's beaches for an underwater adventure.
Even if you don't have your own snorkeling gear, you can rent it for cheap. The North Shore has several surf shops offering inexpensive rentals by the hour.
Fun & Free Things to Do in Hawaii
As you can see, the free things to do in Hawaii are never-ending. From museums to beaches to festivals and much, much more, there's always something to do!