While Oahu is booming with tours, attractions, outdoor adventures, and activities, many of them are located right in the greater Waikiki area of Honolulu. Your Hawaii vacation isn't complete until you've experienced one or more of these Waikiki activities!
Mighty Banyan trees, an abundance of friendly marine life, and Polynesian-inspired hula shows. The Hawaiian islands are overflowing with Aloha-inspired attractions and activities. Make the most of your tropical getaway when you discover every last thing to do in Waikiki Hawaii.
Follow along to become an expert on the 19 best things to do in Waikiki Hawaii!
From sun-kissed surfing lessons to historic Pearl Harbor tours, there are untold things to do in Hawaii Waikiki.
Enjoy dazzling nightly fireworks, authentic luau cuisine, or snorkel under the sea with turtles. Whether you are yearning for the perfect night on the town or need to while away a rainy day, our guide of things to do in Waikiki Honolulu has got you covered!
Best Things to do in Waikiki Hawaii 
Turquoise waters, tons of fun in the sun, and thriving surf culture make Waikiki a must-stop on any Hawaiian vacation. Once known as a retreat for Hawaiian royalty, today, visitors from all over congregate here to relish beautiful beaches, outdoor activities, and world-class attractions. Read on to learn all about the top things to do in Waikiki, HI:
Things to do in Waikiki Beach
Surfing, swimming, and snorkeling. Blessed with some of the most beautiful beaches in Hawaii, it's no surprise that all of the top things to do on Waikiki Beach involve the ocean.
Grab some goggles and some water-resistant sunscreen, and prepare to spot vibrant parrot, yellow tang, and angelfish as you explore Waikiki's reefs and waters:
Turtle Snorkel Sail with Lunch
Pull on those flippers and masks because it's time to journey under the sea! Observe Hawaii's hanu (green sea turtles) as you swim, sail, and snorkel through the pristine waters of Turtle Canyon. Your 2.5-hour Turtle Snorkel Sail with Lunch delivers dazzling Diamond Head and Honolulu Coastline views.
This eco-conscious cruise is ideal for witnessing Hawaii's marvelous marine life and soaking in the stunning Waikiki coast. Work up an appetite splashing and swimming, then refuel with a tasty all-you-can-eat picnic lunch and two complimentary alcoholic beverages.* Don't fret about bringing your gear, as sanitized snorkel sets will be available on board. 
*Offered to guests 21 years and older. 
From the sea to the sky, cover even more of Waikiki's awesome attractions when you book an Oahu Island Tour. 
Adventure Sail Waikiki
Anchors away! Schedule some high seas adventure when you reserve your spot on Adventure Sail Waikiki. Feel the wind in your hair as you speed away from the Oahu coast and city scenery and make your way towards Waikiki's iconic Diamond Head.
This one-hour sailing tour serves up sublime views and cityscapes. Keep your eyes on the ocean, as you'll have a top vantage point of swimming sea life and the lush rainforests that pepper the coast. Munch away on savory appetizers, like freshly roasted nuts and Chex Mix, as you imbibe cheer with one of two included adult beverages.
Sit back, relax, and hydrate knowing you are allowed unlimited nonalcoholic beverages and bar snacks.
Jet Ski Oahu - H2O Watersports
Ready to feel that ocean breeze? Dial up the H2O power when you ride those waves on a state-of-the-art Yamaha jet ski. Jet Ski Oahu - H2O Watersports provides an exhilarating experience for all ages of water lovers. Ride either solo or tandem as you speed around Maunalua Bay and soak in the staggering landscape.
Captain your craft worry-free, knowing that the US Coast Guard Captains are nearby. Your PWC will be a Yamaha VX110 Personal Watercraft, one of the best jet skis on the market. Be sure to pack your waterproof camera as you'll want to document every moment of this thrilling tour. 
Dolphin kisses, fire dancing, and searing Oahu sunsets. Make the most of your Waikiki budget when you bundle your favorite activities and accommodations with one of our stellar Hawaii Vacation Packages.
Things to do in Waikiki: Free
Toes in the sand, pick up games of beach volleyball, and local tropical shops. Getting to Hawaii may cost a pretty penny, but once you roll into Waikiki, who says you have to break the bank? Keep your spending under control when you utilize our handy guide to the best free things to do in Waikiki:
Go to the Beach
There's a reason Waikiki has earned a worldwide reputation as a picture-perfect sandy oasis. Pack up that SPF and umbrella because Waikiki Beach actually encompasses 2 miles of individual beaches, each with unique offerings and scenery. Hightail it to Kahanamoku or Duke Beach for tranquil waters and a family-friendly lagoon.
Or, scope out the Royal Hawaiian beach for plenty of people watching, surf lessons, or refreshments from Duke's Restaurant. Queen's beach provides lively musical entertainment, volleyball matches, and a fun pier for little ones. 
Visit Pearl Harbor
Need a break from sand in your bum? Pay a visit to Pearl Harbor, and appreciate the significance of this National Historic Landmark. Pearl Harbor represents the United States' entry into WWII. Today, visitors can visit all four historic Pearl Harbor sites for free or nominal processing costs.
Please be aware that advanced reservations are required. For a complete experience, including expertly guided tours, visits to the USS Arizona, Honolulu Harbor, and more, book a Pearl Harbor Memorial Tour. 
Want even more Pearl Harbor tips and tricks? Refresh your Pearl Harbor knowledge and glean the best discounts and deals with our Ultimate Guide to Pearl Harbor Tour. 
Window Shop at Kalakaua Avenue
Equally arresting by evening as she is by night, Kalakaua Avenue is the ideal place to witness some local fun and flavor. Known as the happening hot spot of Honolulu, Kalakaua Avenue is buzzing with tropically dressed tourists, tasty restaurants, and flashy malls.
Stop for a selfie by the 9 ft bronze statue of Duke Kahanamoku, aka the father of modern surfing. Other notable statues of interest include the imposing memorial of King Kalakaua, the avenue's namesake. Next, admire the pink prowess of the sprawling Royal Hawaiian Hotel before pursuing the luxurious wares at the DFS Galleria.
For more low-key island souvenirs, check out the open-air Waikiki Beach Walk. 
Sunset Picnic or watch fireworks at Hilton Hawaii 
Spoil your special someone with a little low-key romance with a budget-friendly sunset picnic on Waikiki's dreamy shore. Then, for an extra special injection of amor, make a date to take in the free firework show by the Hilton Hawaiian Village. This beloved tradition began in 1988 after the hotel unveiled its dazzling new renovations.
Put on hold due to the pandemic, this explosion of vibrant pyrotechnics is back and begins at 8 p.m. each Friday evening. 
Still confused about what things to do in Waikiki on a budget? Take a gander at our guide to Free Things To Do in Oahu!
Things to do in Waikiki at Night
The Aloha spirit doesn't just extend to the daytime. Thanks to an abundance of amazing eateries, bars, and Polynesian theater, Waikiki truly comes alive after sundown. Wondering what fun things there are to do in Waikiki after dark? From mouthwatering meals at the Moana Surfrider to traditional luau shows, there are countless options when it comes to things to do at night in Waikiki:
Grab Dinner At the Moana Surfrider
Calling all gourmands! Dine like the beachy gods and goddesses you are when you secure a reservation at the Beachhouse at the Moana. Oceanfront dining at its finest, let your tastebuds delight over fresh Oahu ingredients, succulent seafood, and tender cuts of steak.
A modern interpretation of traditional Hawaiian cuisine, guests can indulge in Kalbi braised short rib and big island kampachi while taking in unencumbered views of Waikiki beach. Opt for a three or four-course tasting menu, and save some room for their heavenly molten chocolate cake. 
See a Luau at Royal Hawaiian Theater
Don't pass up a chance to rock that hula and get lei-d when you take in a riveting luau show at the Royal Hawaiian Theater. Get groovy with the King and Rocketman with Rock-A-Hula, or opt for a more traditional luau experience with Waikiki Luau.
Revel in state-of-the-art sound, lighting, costumes, and more as you chow down on luscious Hulihuli Chicken and beef tenderloin. Practice your Hawaiian chants, swing those hips, and raise a toast with your welcome Mai Tai.
Got Luas on your mind? See our full range of authentic Waikiki Luau shows. 
Honolulu City Lights and Dinner Tour
Sparkling city lights, fine dining, and decadent desserts, oh my! Immerse yourself in the ultimate Waikiki welcome when you feast at the famous Roy's restaurant. Take the guesswork out of where to have dinner when you sign up for a Honolulu City Lights and Dinner Tour.
Leave the evening to the experts as you savor a three-course meal of Roy's famous short ribs and molten lava chocolate dessert. After your supper at one of Waikiki's best restaurants, cozy up under the stars at Tantalus Lookout. 
Cut a Rug in Waikiki
Got an excess of island energy? Stay out past your bedtime when you get down at Hawaii's premier live music venue. The Blue Note Hawaii is located inside the Outrigger Waikiki Beach Resort and showcases a year-round lineup of live musical entertainment and comedy.
Grab your dance partner, and get down to reggae, pop, and jazz musical stylings in an intimate setting. Dine on-site, or just sample an intriguing specialty cocktail such as the Bad Voodoo Daddy, made with Bombay Sapphire Gin, Lillet Blanc, Dry Curacao, Lemon Juice, and Pernod.
Craving a more classic Hawaiian libation? For a fruity refresher, you must try the award-winning Mai Tai served at the Royal Hawaiian Hotel's Mai Tai Bar. 
Listen up, party people! For the best nightlife recommendations, take a look at The Hottest Things to Do in Waikiki at Night.
Things to do in Waikiki with Kids
Little minnows and sharks of all ages will be drawn to the numerous adventures that abound in Oahu. Keep your Waikiki family vacation on track when you schedule in a healthy serving of kid-friendly attractions and activities:
Honolulu Zoo
Cuddly, cute, and scaly critters of all shapes and sizes unite at the Honolulu Zoo. This award-winning conservation establishment is the only zoo in the United States that originated in a King's grant of royal lands to the people.
Conveniently located between the slopes of Diamond Head and Waikiki, animal lovers of all ages will be struck with awe as they admire Asian elephants, cheetahs, giraffes, and more. For a special infusion of wildlife, why not opt to tour the facilities after dark with an intriguing Twilight Tour? 
Foster Botanical Garden
Inhale that fresh floral scented open air as you and your budding brood explore over 13 acres of the public botanical garden. The Foster Botanical Garden is one of five public gardens in Oahu and delivers a lush array of tropical plants, trees, and flowers.
Take part in a self-guided tour and stroll through the Conservatory, the Outdoor Butterfly Garden, Palm Garden, and the Prehistoric Glen Cycad Collection. Keep your eyes peeled for egrets, finches, and spotted doves, and be sure to stop by the gift shop for a sweet souvenir. Best of all? Kids under five can enter the garden for free. 
More kid-friendly Honolulu suggestions? Yes, please! Make your mini me smile all day with Our Parent's Guide to Things to Do in Honolulu with Kids. 
Banana Boat Ride - H2O Watersports
What's more fun than getting soaking wet while on board a giant yellow fruit? Prepare to go simply bananas in Waikiki with H2O water sports.
A Banana Boat Ride is a sublimely silly way to get wild in the waters of Oahu. Hold tight, as this bumpy ride will end in a super-soaked splash. Laugh, bounce, and swim the day way as you and your tykes enjoy the floating activity island. 
Coral Crater Adventure Park
Take to the treetops of stunning Kapolei, Hawaii, for an unforgettable outdoor escape. Coral Crater Adventure Park contains soaring zip lines, obstacles, off-roading adventures, and a towering climbing wall.
Tackle six ziplines, take a one-hour rappelling course, or test out your driving skills with an ATV.
Try a terrifying free fall from the Adventure Wall, or stay put after dark for a cozy campfire and s'more snack. 
Things to do in Waikiki When it Rains
If only a quick prayer to the weather gods was enough to ensure blue skies. Unfortunately, we can't guarantee your Waikiki trip will be blessed with perfect weather. However, even if you are met with a sprinkling of rain or thunderstorms, it's no reason to fret. Take a gander at our list of Waikiki rainy day activities and prepare to wait out those rainclouds:
Museums make great rainy day excursions, so post Islamic art be sure to check out the famous Bishop Museum to brush up on Hawaiian history and culture.
Shangri La Museum of Islamic Art, Culture & Design
Stunning grounds, vibrant murals, and international artists in residence. The Shangri La Museum of Islamic Art, Culture & Design is an homage to the Islamic world's beauty, culture, and artistic expression. Housed in the former home of famed philanthropist Doris Duke, the Shangri La is the only museum in the United States exclusively dedicated to Islamic Art.
This public museum was inspired by Duke's extensive travel throughout North Africa and Western, Central, South, and Southeast Asia. The museum can only be accessed from the Honolulu Museum of Art and contains numerous stunning murals, antique artifacts, ceramics, jewelry, and more.
Honolulu Museum of Art
Islamic textiles, Japanese wood blocking, and the evolving cityscape of Honolulu. Dive into this modern museum's multi-faceted world of Honolulu art, history, and culture. The Honolulu Museum of Art features numerous galleries, the Doris Duke Theater, and an onsite cafe and coffee bar. Caffeinate with a signature Homa blend before spending hours absorbing the intricacies of Japanese design history or the spiritual resonance of flowers in art. 
Waikiki Aquarium
Ocean enthusiasts unite! Take advantage of an overcast day and spend an afternoon getting up close to all things flippered and finned. The Waikiki Aquarium is overflowing with aquaculture, living reef exhibits, and marine mammals. Gaze in awe at vivid schools of tropical fish, or watch iridescent jellyfish float through inky dark waters.
Learn all about how species use diversity and adaptations to survive their unique watery environments. Or, scope out Giant Clams, endemic Hawaiian Monk Seals, and Zebra Sharks.
Celebrating a special engagement or anniversary in the Aloha state? Take a peek at our Hawaii couple's guide for tons of romantic things to do in Waikiki. 
Hawaii Hotels and Resorts
Sunbathing, surfing on the North Shore, or hiking rugged volcanoes on the Big Island? No matter if you are yearning to be in the middle of the Oahu action or are seeking a more serene Waikiki reprieve, we offer a wide variety of Hawaii Hotels and Resorts.
Entertain kiddies with the Hilton Hawaiian Village's Camp Penguin and nightly fireworks, or treat yourself to luxurious linens and marble bathrooms at the Modern Honolulu. Secure your Waikiki lodgings stress-free, knowing you are always guaranteed our lowest rates online. 
Psst… looking for even more things to do in Honolulu Waikiki? Check out our 10 Top Things to do in Honolulu, Hawaii.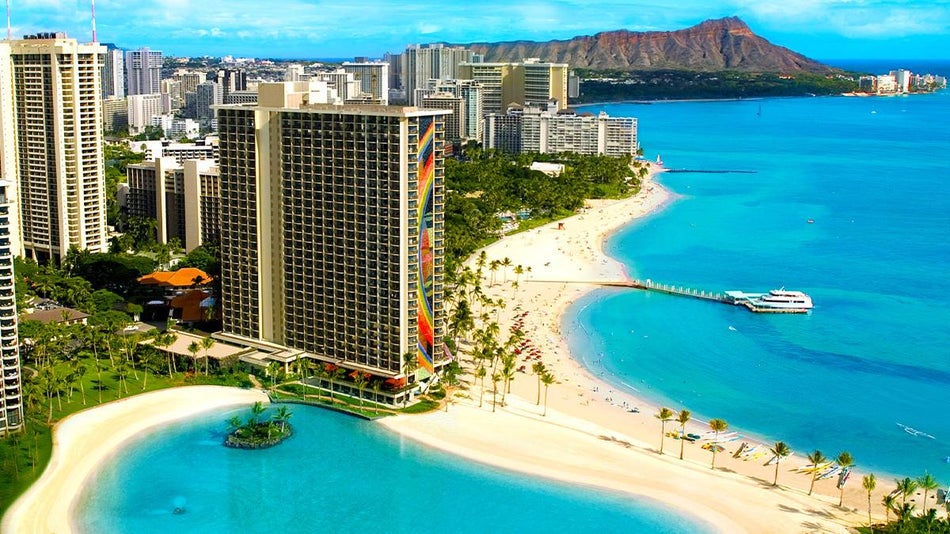 Sweeping Diamond Head views, saltwater kissed days of surf, and mounds of spam musubi snacks. A Waikiki getaway holds timeless allure.
However, those intrepid visitors looking to bust out of their beach comfort zone will be pleased to find endless options regarding Waikiki activities and attractions.
Savor stunning oceanfront views and romantic ambiance while dining at the Moana Surfrider, or get soaking wet on a rough and ready Banana Boat ride.
Educate yourself on the stunning cultural impact of Islamic art, or undergo the thrill of a lifetime when you reach speeds of up to 30 mph on an Oahu zipline.
From balmy nights accented by tropical beats and ice-cold pina Coladas to 'aw' inducing visits to the local zoo, there's never enough time to take on all there is to do in Waikiki.
So, what are you waiting for? Reserve your dreamy Waikiki vacation today.
Tell us, What Are Your Top Things to Do in Waikiki?
Did we miss any of the unique things to do in Waikiki?
Leave us a comment below!