For a life-changing Hawaiian vacation, experience these Kona activities. No matter which activity you choose to explore, you're guaranteed to have a memorable time.
For an epic Hawaiian holiday, slip on your lei of orchids and imagine exploring the heartbeat of Hawaii's Big Island. Kona—a nexus of striking beauty and tranquility.
Every year millions flock to the Kohala Coast for Kona activities like snorkeling and taking in the exotic landscapes, historical sites, and mystical Hawaiian culture. Not to mention the pristine white sand beaches of Kona, Hawaii, are a surfer's dream.
So, you've picked the most enchanting island to spend your dream vacation, but with so many options and only a few days to explore—where do you begin? Frankly, the Kona, Hawaii activities can seem overwhelming. This is why we've created the perfect itinerary to guide you in the right direction!
We have the superlative breakdown of fun things to do in Kailua Kona. We also have supreme savings on attractions like luaus, helicopter rides, snorkeling tours, and hotels.
So, sit back, grab your Kona coffee, pop a chocolate-covered macadamia nut, and read on!
Top Ten Things to Do in Kona Hawaii
If you're searching for some out-and-out wild Kona fun beyond the state parks and national historical sites, we have some unique hidden gems. Whether you journey down the Kohala coast on an Aloha Catamaran Snorkel Sail or feel a manta ray on the Sunset Cruise and Night Manta Swim, you're in for a spectacular venue.
Here are our can't-miss Kona things to do!
Snorkeling at Kealakekua Bay
Known for having the best snorkeling and diving opportunities on the Big Island and Hawaii, swimming around Kealakekua Bay is life-changing. Home to sea turtles, vibrant coral reefs, and schools upon schools of colorful tropical fish, Kua Bay is an underwater paradise.
Hop aboard the Kealakekua Bay Snorkel & Coastal Adventure, operated by Kona Ocean Experience, for an afternoon of snorkeling and sightseeing. The 2.5-hour boat tour combines coastal sites with snorkeling for an unbelievable experience. Be on the lookout for marine life from above and below the water, including manta rays, turtles, dolphins, and whales.
Stargaze from Mauna Kea
There's nothing quite as mesmerizing and simultaneously mind-blowing as watching the sunrise from the top of a volcano. Let's raise the bar a little.
There's nothing quite as mind-blowing as viewing a sea of night stars from atop the world's tallest volcano!
Just north of Kona, Mauna Kea, one of the Big Island's five volcanoes, is a dormant volcano standing over 33,000 ft tall. Naturally, this volcano has a stellar sunrise view each morning, but the 9,000-foot summit also provides a natural observatory with staggering clarity.
As such, one of the top Kona activities to do is embark on a Mauna Kea Summit & Stars Adventure. Operated by Hawaii Forest & Trail, this thrilling quest includes a private picnic-style dinner at Humuula two hours before sunset, then a 45-minute drive to the summit with stunning vistas and an interpretive guide to Hawaii's dynamic geological history.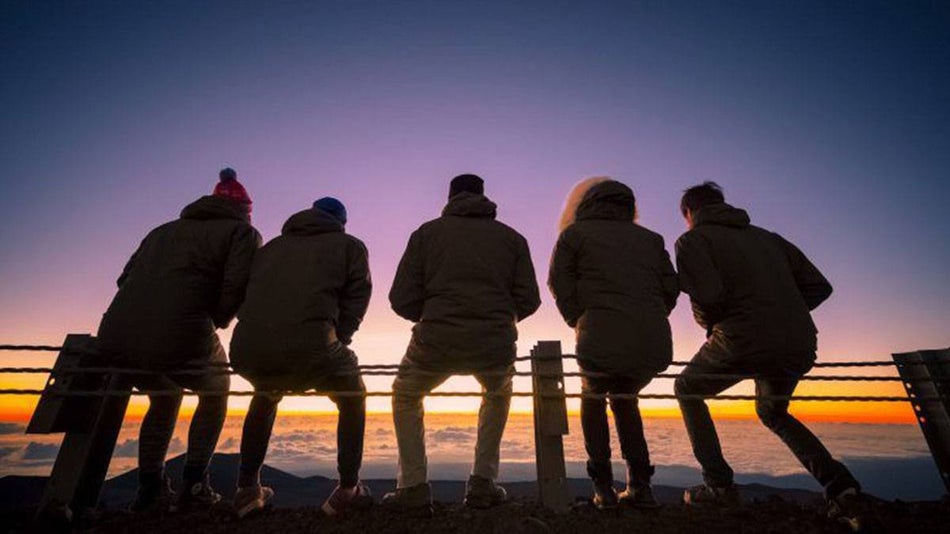 Dress warmly, grab a cup of joe, and bring a camera to capture the awe-inspiring sunrise. Trust us; it's jaw-dropping.
The Mauna Kea Stellar Explorer Tour from Hilo also features nighttime astronomical observing and a safe daytime solar view from the Mauna Kea Visitor's Center. All ages are welcome!
Sway Your Hips at a Pacific Luau
Of course, what would a list of Kona activities be without a luau? Voyagers of the Pacific Luau is a breathtaking show with fire dancing, an Imu presentation, a lei greeting, and more. Presented at the Royal Kona Resort, this luau also features an oceanfront landscape for an extraordinary experience.
In addition to a mouthwatering, all-you-can-eat Hawaiian buffet, the luau demonstrates traditions and dances from the South Pacific Islands of Hawaii, Tahiti, Rarotonga, New Zealand, and Samoa. This cultural performance will leave you awe-struck, especially after you witness the Samoan "fire knife" dance!
Tour a Coffee Farm
If you've ever gawked at the price of Kona coffee, touring a Kona coffee farm will change your mind forever. On top of being super caffeinated for the rest of your Hawaii vacation, Kona coffee farm tours educate visitors about the industry, history, culture, and processes that go into creating your favorite cup of Java.
Once your eyes open to all that goes into growing, roasting, and brewing coffee, you'll never look at your morning cup the same way again. This newfound appreciation, along with several bags of Kona coffee beans, is the greatest perk and best breakfast in Kona!
And, if exploring an exotic cloud forest and discovering Kona's tastier beer sounds enticing, we have just the tour for you! Coffee, Cloud Forest & Brewery Experience in Kailua-Kona is the perfect respite to regroup, rejuvenate and reinvigorate your taste buds. This tour travails on a Kona Cloud Forest Walk past ancient fishponds of the Kaloko-Honokohau National Park, then visit the Mountain Thunder Coffee Plantation and onto the Ola Brew Co. to sip a cold pint at the end of the day.
Still looking for fabulous things to do on Kona Island? Then, keep scrolling for a deeper dive into this pleasure cosmos of R&R.
Spot Humpback Whales on a Whale Watching Cruise
Each year between December and April, something astonishing happens in Hawaii. More than 8,000 humpback whales swim 3,500+ miles to the oceans of Hawaii. Here, they congregate to breed, calf, and nurse their newborns. It's one of the most perfect things to do in Kona, Hawaii in December when the tourist influx is low.
Visitors can safely behold this natural phenomenon on a Whale Watching Cruise. These exclusive voyages bring guests into the open waters, where you'll spot one or more humpback whales out in the wild. Bring a camera and binoculars, as whales typically don't get too close to the boats. Most ships also offer hydrophones which allow passengers to listen to male humpback whales calls their mates.
Remember, these cruises are seasonal, so plan your trip accordingly if this is one of the Kona activities you'd like to experience.
Big Island Helicopter Tour Spectacle
For a once in a lifetime tour-de-force, you and your loved ones must experience this breathtaking, exhilarating ride high above the clouds. On the Big Island Spectacular Tour, you'll discover Madame Pele's volcanic badlands, lush rainforests, and cascading waterfalls of the Kohala Mountains.
In comparison, the Big Island's Circle of Fire Helicopter Tour soars high above Hawaii's active volcanoes, with stunning views of sea cliffs, ancient Hawaiian settlements, and the Hawaii Volcanoes National Park. As the tour embarks over the famous Mauna Loa volcanoes, your pilot narrates about this geologically active region.
Your journey isn't complete without an aerial jaunt on the Big Island's Kohala Coast Adventure Helicopter Tour through meandering valleys and untamed regions. A state of Hawaii certified tour guide pilot provides a live narrative of unparalleled viewpoints.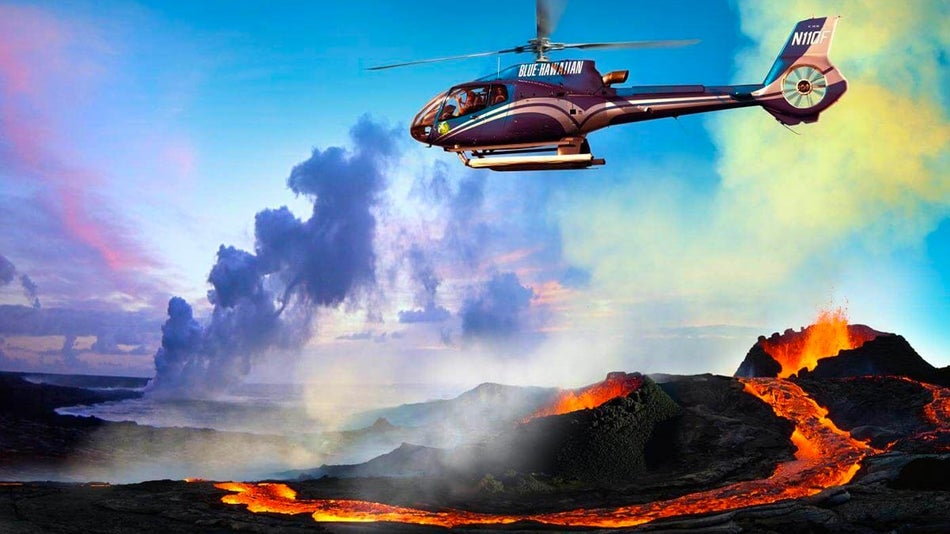 Browse the Kona Farmers Market
Filled with arts, crafts, and locally grown produce, the Kona Marketplace is a fantastic place to visit. If you're looking to purchase authentic Hawaiian gifts, you'll find dozens of unique takeaways for yourself and your loved ones.
Enjoy a Kona breakfast from one of the 40 vendors, then sift through booths filled with a gorgeous array of island flowers, handicrafts, and island specialties like Kona coffee.
Just south of Kona-Kailua in the heart of Kailua Bay, the Kona Farmers Market is open for strolling Wednesday through Saturday from 7:00 am to 4:00 pm. In sum, hit the market, try some local fruit, and marvel at the grass skirts, sunhats, leis, and jewelry. You can find more information on the unofficial Kailua Village Kona farmer website.
Pro Tip: If you're trying to save and have a refrigerator in your condo, the market might be an excellent place to stock fresh, contemporary fare for a light lunch.
Sunset Dinner Cruise to Kealakekua Bay
For a romantic ocean cruise with sweeping scenery, the Sunset Dinner Cruise to Kealakekua Bay is worth splurging on. Complete with a local historian tour guide, guests experience more than 50 points of interest and historical sites between the Kona Coast and Captain Cook's Monument.
On the three-hour cruise, guests enjoy a delicious Hawaiian-style buffet dinner, specialty cocktails, live entertainment, and magnificent sunsets. Children aged five and under are free.

Visit a State Park
For a less expensive outing but one no less brilliant, visitors should check out the various Big Island State Parks. The Kekaha Kai State Park hosts Mahaiʻula Beach, Makalawena Beach, and Kua Bay Beach, which offers a surfer's paradise. In addition, Mahaiʻula Beach is the perfect destination for hanging out and relaxing oceanside. Lastly, Makalawena Beach is great for those ready to hoof it up a strenuous one-mile hike beyond Mahai'ula Beach Park. This is the only way to reach the beach!
By the same token, a Big Island Circle Tour is a great way to explore the state's most striking geological, biological and cultural landscapes through various microclimates in one day! Here you'll visit the majestic Rainbow Fall and the Hawaiian Volcanoes National Park.
Found right outside of Kona, the Puakō Petroglyph and Waikoloa Petroglyph Fields are home to ancient petroglyphs. When visiting both fields, you'll notice the petroglyphs scattered around, similar to graffiti. The abundance of these legendary historic rock carvings will leave you speechless.
Photo Alert: Pictures of the ancient artwork here are especially rare and Instagram-worthy!
Lounge at the Beach
Spending a day at the beach is one of the most incredible things to do in Kona, let alone any place in Hawaii! Grab your swimsuit, beach towel, and sunscreen, and head to one of Kona's fabulous beaches:
Kika'ua Point Beach
Snorkeling is not permitted here, but it is a beautiful beach for families with small children.
Kuki'o Beach
If you want to spot a sea turtle, here's where to go! However, swimming is impossible at this beach with the abundance of lava rocks.
Kamakahonu (King Kam) Beach
Nicknamed after the King Kamehameha hotel, it resides in front of King Kam, a tiny beach with calm waters and exceptional snorkeling conditions. Families prefer this beach for the tranquil waters and oceanfront activities.
Makalawena Beach
Similarly, visitors can trek along ancient lava rocks and tranquil waters at this remote cove with two lava pools. It's also near some of the best restaurants in Kona!
It's no secret that the beaches of Kailua-Kona are astonishing hotbeds of blustery beauty. With swaying palm trees, white-hot sand, and endless tide pools, Kona's beaches are a celebrated paradise.
Whether you want to kick back and relax while the kids splash around or catch a wave on your surfboard, there's a beach for you in Kona. And for the adventurer souls looking for more than just sticking their toes in the sand, you can always try the Historic Hilo Bay Waterfalls Kayak Tour.
This guided kayak paddle board adventure explores the incredible Moku Ola history and the changing dynamic landscape. Guests mosey up tranquil rivers to uncover hidden waterfalls. The tour provides water and a light snack for guests.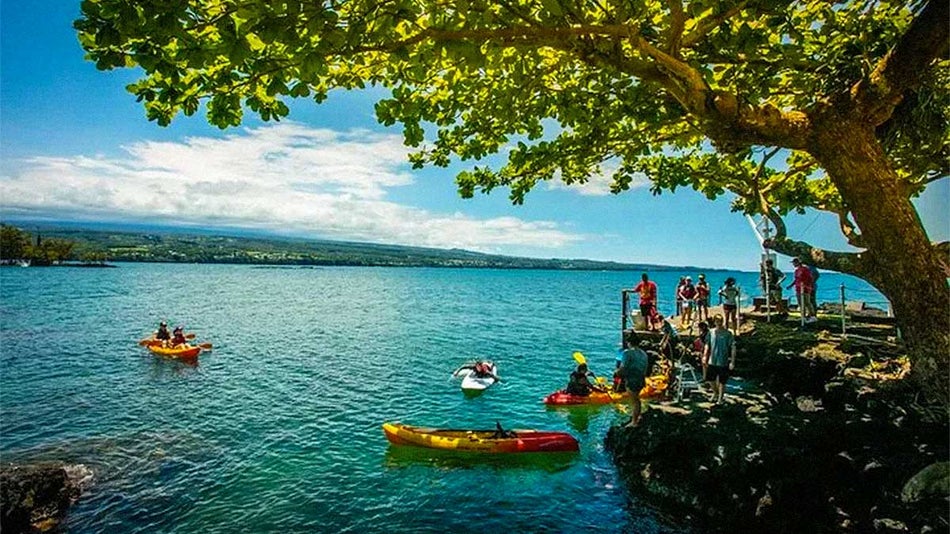 About Kona Coast
The Kona District covers two-thirds of the west side of the big island of Hawaii. The big Kahuna of Hawaii islands. Situated on the west coast, Kona is the lively focal point of the Big Island of Hawaii. Boasting a countryside perfect for growing coffee, crystalline beaches for scuba diving, and endless outdoor escapades, the sheer number of Kona activities on the island is mind-boggling.
10 Kona Activities You Have to Try
Add any of these mind-blowing Kona activities to your plans for a Hawaiian vacation you will remember for a lifetime. After all, you can't tour a coffee farm, see a humpback whale, or snorkel with a sea turtle in your own backyard! No matter which activity you choose to discover, you're guaranteed to have a memorable time.
Tripster has money-saving vacation packages where you can bundle top products like Voyagers of the Pacific and Big Island's Kohala Coast Adventure Helicopter Tours with your choice of lodging for one low price. Create your own attraction packages for your ideal Hawaiian vacation! Most importantly, get a head start on your Big Island vacation by booking your Kona activities and tours today.
What Did We Miss? 
What would you add to our list of Kona activities?
Leave us a comment below!