February 5, 2022

-

April 24, 2022

$49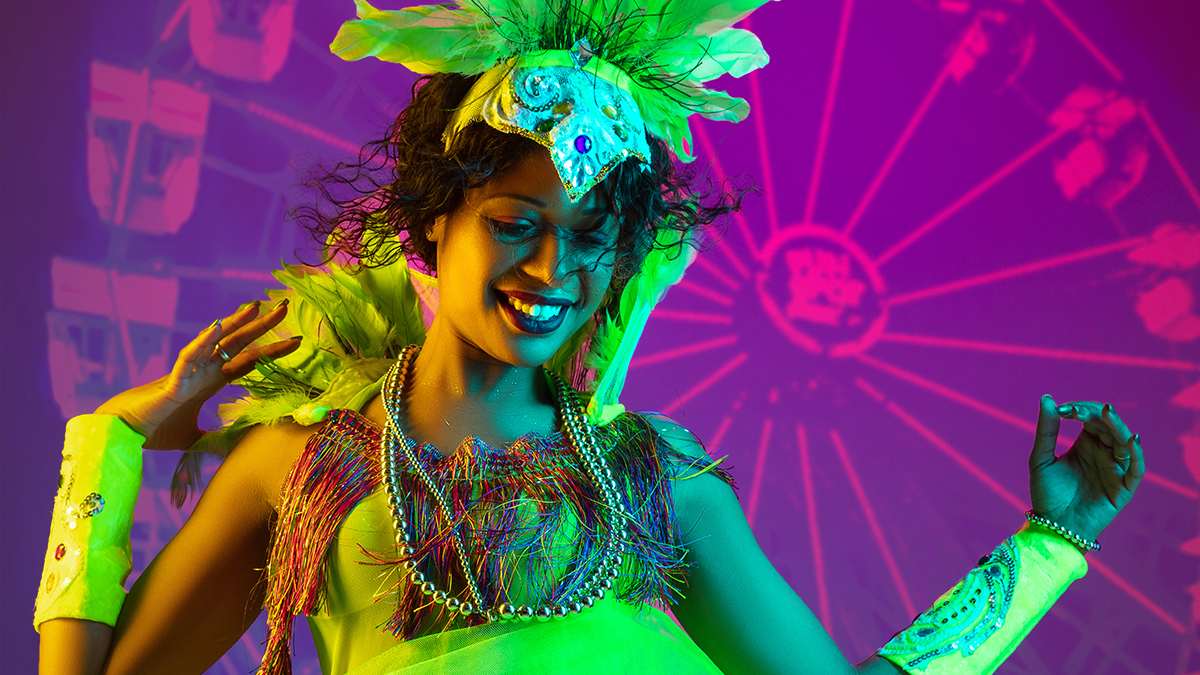 Ready to let the good times roll? Fun Spot is excited to bring you our biggest and best Mardi Gras celebration yet!
We're transforming our parks into a French Quarter paradise, complete with live jazz music, delicious Cajun food, and a family-friendly parade packed with beads and Foto Spots. So put on your dancing shoes and get ready for some serious fun!
Dates
Fun Spot's HUGE Mardi Gras begins on Saturday, February 5, 2022 and lasts through Sunday, April 24, 2022.
Tickets to HUGE Mardi Gras at Fun Spot Orlando
All HUGE Mardi Gras events are included with your Fun Spot Orlando tickets.
Package Your Fun Spot Orlando Tickets
Want to save even more money? Then bundle your Fun Spot Orlando tickets with other Orlando area fun:
Festive Decor
Come to Fun Spot Orlando for HUGE Mardi Gras fun! We've decked out the park in festive purple, green and gold decorations, and we're playing music from the Big Easy to get you into the spirit.
There's plenty of excitement for the whole family, with rides like our new coaster, Goliath II, and games like Hurricane Bay Bowling. So put on your Mardi Gras best and join us for a party you won't forget!
Bayou Bites
Looking to spice up your taste buds? Then head on over to Fun Spot Orlando for our HUGE Mardi Gras celebration!
With tons of authentic New Orleans flavors, you'll feel like you're actually in the French Quarter! So come on down and enjoy some Fat Tuesday Funnel Cake, Voodoo Chicken, Cajun Fries and more – your taste buds will thank you!
Foto Spots for You & Your "Krewe"
Capture your festive day at Fun Spot's HUGE Mardi Gras celebration with one of our FREE photo opportunities! Our fun and colorful backdrops will help you capture the spirit of Mardi Gras in style.
So bring your friends and family, put on your best mask and beads, and let us help you capture the memories of a great day out!
HUGE Mardi Gras Parade
Get your groove on every Saturday at our Mardi Gras Parade! This family-friendly event is sure to delight both kids and grown-ups with its festive singing, dancing, and bead catching.
Liberty Swing
The newest and tallest ride at our Orlando park is the Liberty Swing! Fly 90 feet high for a bird's-eye view of the park.
With two ways to fly - traditional ride seating or horizontal (prone) seating - there's something for everyone on this swing ride.
Is HUGE Mardi Gras at Fun Spot Orlando Kid-Friendly?
Absolutely! This festive event offers safe, clean fun the whole family can enjoy together, including our in-park parade.
Is this Event Free?
Much of it, yes! Guests can come and enjoy themed photo spots, colorful decor, and jazz music at no extra cost. The Bayou Bites menu items are an additional charge.
Experience Fun Spot Orlando
To enjoy all of the HUGE Mardi Gras activities be sure to get your Fun Spot Orlando tickets today. Also, save the most money with a Fun Spot Orlando combo package.
Related Events