March 19, 2023 @ 8:00 am

-

August 5, 2023 @ 5:00 pm

PDT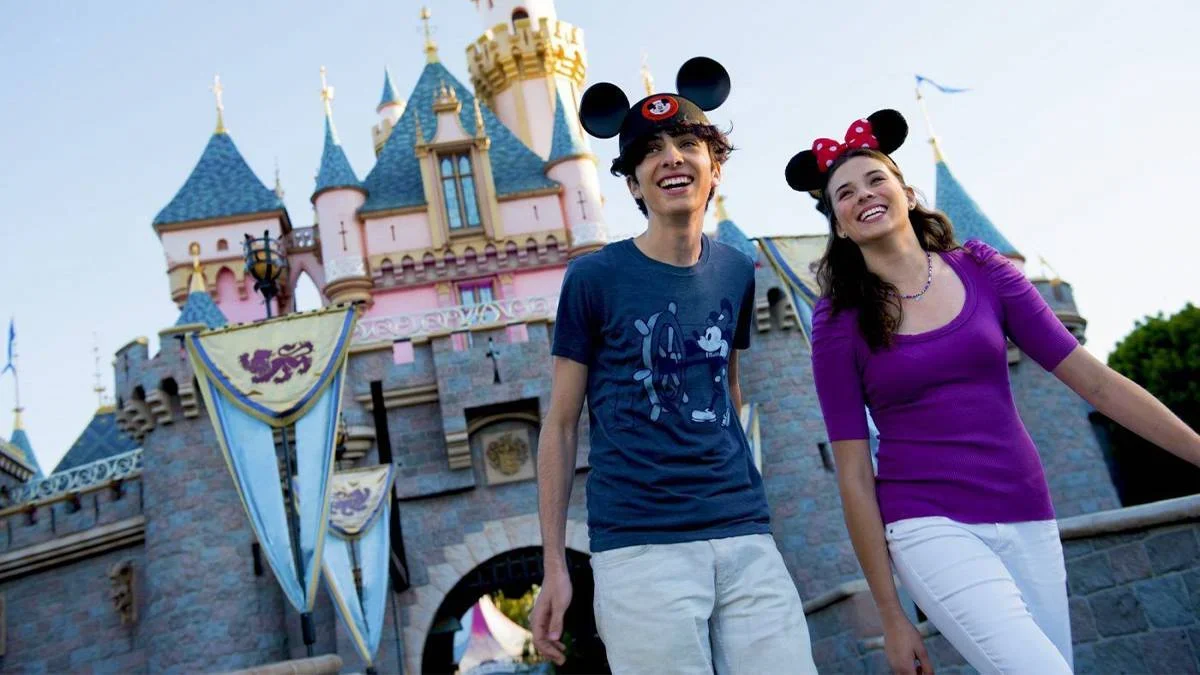 It may be Mickey and Minnie's birthday, but they're the ones giving us a gift – the reopening of the new and improved Mickey's Toontown! Add this to your list of Disneyland new rides to try.
Get ready to be enthralled all over again by the magic of this freshly reimagined area, where you'll experience improved attractions, including CenTOONIAL Park, Goofy's How-to-Play Yard, Donald's Duck Pond, and more.
The greener and more spacious place will have you and your kiddos giggling, splashing, and playing all day long. So, hit the park and feel the enchantment of Mickey's Toontown.
Related Post: Disneyland Tips and Tricks 2023 - An Insider's Guide
Follow along as we take you through everything you need to know about Disneyland new rides: Mickeys Toontown Disneyland.
Mickey's Toontown Tickets
Mickey's Toontown is included with your Disneyland Park admission.
Nearby Hotels and Lodging
With so many Disneyland new rides and activities to check out, it only makes sense to stay nearby to make the most of your precious time.
Luckily, you can easily book any of these luxurious hotels and step away from the land of magic and childhood fun when you need a break:
Disneyland Discount Tickets
Already fretting about your travel budget? Save your worries, as these discount tickets will spare you some serious change.
Book with Tripster and enjoy our best deals:
Disneyland Resort Vacation Packages
From well-known theme parks and nice weather to iconic beaches and glamorous nightlife, there's a reason millions of people flock to Los Angeles.
Embrace Disney magic alongside LA charm with these vacation packages:
Mickey's Disneyland Toontown Attractions
Mickey Minnie s Runaway Railway
All aboard! Hold on tight as your once-relaxing train ride unexpectedly turns into a frenzy and rolls through an unpredictable animated world. However, don't lose your cool! Mickey Mouse and Minnie Mouse will help you to get back on track.
Then, find yourself swooning over Mickey and Minnie's newest cartoon short, "Perfect Picnic" at the El CapiTOON Theater. As you wander through the lobby, you'll be impressed with "Mickey Through the Ears," a discovery of movie props and memorabilia.
Then, learn a thing or town about Walt Disney Animation Studios or Walt Disney World here.
CenTOONial Park
Enjoy interactive play experiences, admire a sensory-friendly fountain, and let your kids crawl and explore a sculpted root of a magical tree. CenTOONial Park definitely has it all!
This space is the first area you'll see when you go through the magical land, so keep your camera ready.
Chip 'N' Dale's GADGETcoaster
Gadget Hackwrench, Toontown's beloved tinkerer, has invented a family-friendly coaster that gives a "nutty" thrill. Hop aboard and feel the rush of this ride. The attraction is designed for adults and little kids.
Roger Rabbit s Car Toon Spin
It's time for a nice spin through the back alleys of Toontown as you join the journeys of Roger Rabbit.
Mickey's House and Meet Mickey
Can't picture Mickey and Minnie Mouse's abode? There's no need to imagine, as you can easily visit them and walk around their house on this self-guided tour. Of course, you'll get to meet and chat with the town's most famous residents afterward.
Minnie's House
The cutest home in Toontown is ready to accept visitors. Join this walk-through tour and take the chance to see Minnie's kitchen, living room, and more. Snooping around Minnie's bathroom and drawers is highly recommended!
Donald's Duck Pond
Gather your flock as Donald's Duck Pond is now open and returning with a gallon of splashing fun. Feel as if you're in Splash Mountain or Magic Kingdom as you enjoy Toontown's newly installed water features.
Bring your swimwear and get ready to get wet with the family at the newly revamped aquatic play area.
Goofy's How-To-Play Yard
As soon as you step inside Goofy's How-To-Play Yard, you'll find a quirky sound garden and elevated clubhouse filled with playing and giggling kids. The best sight and sound ever!
Mickey's Toontown Disneyland Opening Date
Mickey Toontown opens on March 19, 2023.
Other Disneyland Attractions
Disneyland is a gift that keeps on giving. In celebration of Disney's 100th anniversary, Disneyland Toon Town returns, not only with a new fun ride, but also with a sensory-friendly fountain, a magical tree with sculpted roots, a whimsical sound garden, and interactive water areas.
And that's not all! More attractions will be making their comeback, including Magic Happens Parade. Looking for nighttime spectaculars? There's World of Colors for you, too!
Experience Disneyland New Rides: Mickey's Toontown at Walt Disneyland Park
It's time to grab your mouse ears, as Mickey's Toontown is finally reopening! The expanded area will come back with new Disneyland Rides, including Mickey & Minnie's Runaway Railway.
Of course, you'll get to enjoy its classic amusements again, too, including Mickey's House, Minnie's House, and Roger Rabbit's Car Toon Spin.
Related Post: Disney100: Complete Celebration Guide
So, save the opening date as early as now! Meanwhile, you can extend your adventures and embrace classic Disney magic. Check out new rides at Disneyland and visit its other attractions from Princess and the Frog to Big Hero 6 with a vacation package.
Related Events