March 28, 2023 @ 8:00 am

-

June 26, 2023 @ 5:00 pm

PDT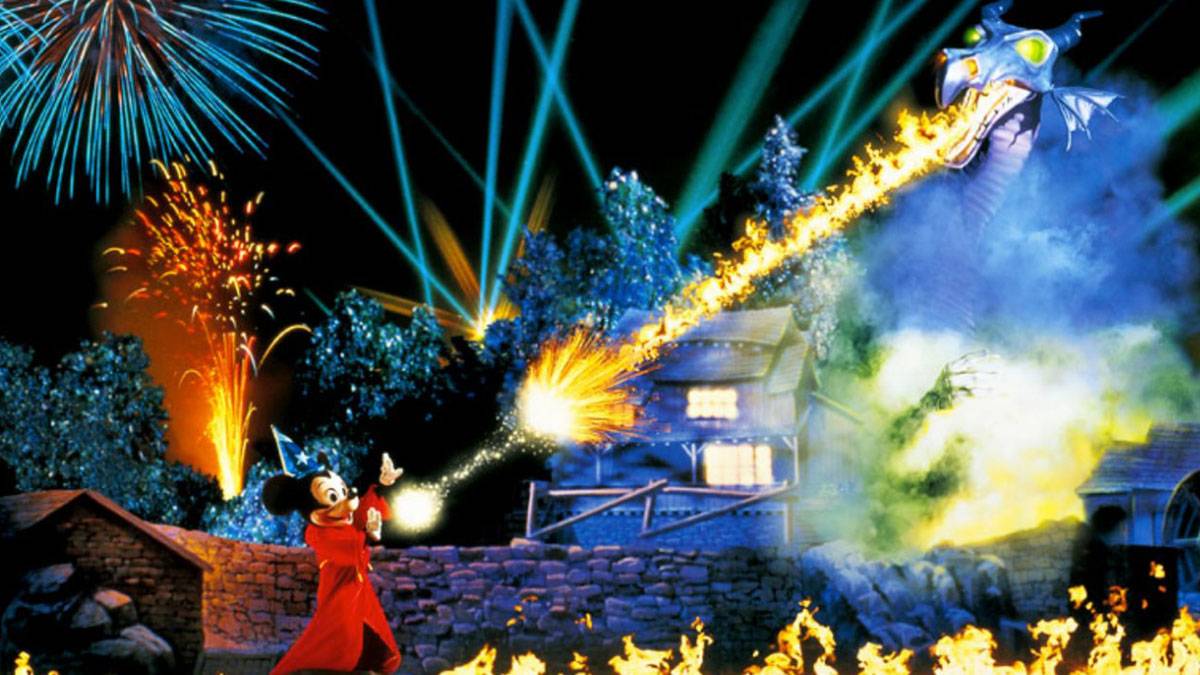 Get lost in stunning colors, lights, and attractions as darkness falls at Fantasmic Disneyland! Bring the entire gang for a nighttime show like no other at the Happiest Place on Earth.
From cool projections to superb pyrotechnics, there's a solid selection of impressive special effects to be experienced at Fantasmic. Join Mickey Mouse and your other favorite Disney friends as they battle it out and win against epic villains.
Take the chance to meet and greet other characters like Anna, Elsa, Nemo, and more, too! 
Related Post: Ultimate Guide to Disneyland: Coupons, Discounts, and Deals
This event will be full of surprises for all ages, from a fantastic lineup of live performances to incredible laser lights and perfectly timed fountains. 
Follow along to uncover all the magical moments at Fantasmic Disneyland!
Disneyland Fantasmic! Tickets
Fantasmic! is included with your Disneyland ticket. Theme park parking and reservation are required.
Nearby Hotels and Lodging
There's no greater feeling than returning to a relaxing room after a long day of standing and walking at Disneyland. The good thing is, there are nearby hotels to rest your tired bones.
Book the best accommodations with Tripster:
Disneyland Discount Tickets
If you want to experience the pleasure of Disneyland without spending up your travel budget, you're in luck. These discount tickets from Tripster can make that possible:
Disneyland Vacation Packages
Delve into the culture and sights of California by bundling your Disneyland tickets with these other fun area attractions:
Disneyland Fantasmic! Event Highlights
Disneyland Fantasmic Dining Package
Savor a superb three-course meal at River Belle Terrace or Blue Bayou while seated on an outdoor patio or indoor space, then have the best time at Fantasmic! from your reserved viewing area.
The Fantasmic! dining package is the most comfortable way to experience the magical, pyrotechnic splendor of the show.
Blue Bayou Restaurant Menu
Choose from an array of delicious offerings, including the following:
Hearts of Palm Escabèche
Roasted Mushroom Ragu Pasta
Monte Cristo Sandwich & Seasonal Salad
Prime Rib
Specialty non-alcoholic drink
Fantasmic! specialty dessert.
To see seating areas or to book this package, you can check out the Check Availability feature.
Package Pricing
Lunch: $89 (Guest ages 10+)
$35 (Guest ages 3 through 9)
Dinner: $89 (Guest ages 10+)
$35 (Guest ages 3 through 9)
Time
Lunch starts at 11:00 AM and dinner starts a 4:00 PM.
River Belle Terrace Menu
Choose from the regular menu or special items. Munch on plenty of treats, such as the following:
Loaded potato bites
Petite New York steak and scallops
Pan-roasted shrimp
White chocolate raspberry trifle or chocolate rocky road cake
Reserve this dining package a month ahead.
Package Pricing
Lunch: $50 per adult
Dinner: $75 per adult; $45 per child (ages 3 to 9); $30 per child ages 3 to 9
Tax and gratuity are not included.
Time: Lunch starts at 11:00 AM and 4:00 PM for dinner.
Fantasmic! On-the-Go Package at Hungry Bear Restaurant
Fill your stomach with Southern favorites when you dine at Hungry Bear restaurant.
Don't miss this down-home menu served just for this show:
Barbecued pork ribs
Grilled salmon salad or a half-chicken barbecued with seasonal vegetables, bacon potato salad, dessert, and a beverage
Plant-based sloppy joe sandwich with fresh fruit, dessert, and beverage.
Kids' Meal
Barbecued ribs
Mac and cheese
Plant-based sloppy joe slider
About Disneyland Fantasmic!
When the sun goes down, stunning projections and colorful lights transform the Rivers of America into a perfect venue for Fantasmic!
Catch Sorcerer Mickey Mouse in this incredible live show where he will conduct movie clips from Fantasia on gigantic screens of water. Elegant princesses, swashbuckling pirates, pink elephants, and others - plus iconic scenes from Disney favorites, including The Lion King, Aladdin, Tangled and more - will play on the Rivers of America.
Related Post: Insider's Guide to Disneyland
While Fantasmic Mickey Mouse is abruptly absorbed into the Magic Mirror, his lovely dream turns into a frightening one. The Evil Queen from Snow White summons up many of Disney's meanest villains, such as Maleficent and a 45-foot Fantasmic dragon. Mickey must do all he can to beat the foes!
Showing extremely talented live performers, favorite Disney characters, advanced projections, and breathtaking pyrotechnics, this attraction is sure to impress. If you're wondering, "How long is Fantasmic Disneyland?", it lasts about 15 minutes.
Note: Due to some scary parts of the show, children under 14 years old must be accompanied by a guest 18 years old or older.
Best Viewing Locations
The Fantasmic! show is located along the Rivers of America and New Orleans Square. The viewing location won't have proper seating for the show.
The best place to watch Fantasmic Disneyland 2023 is right in front of the stage along the Rivers of America, so come early to save a place. The designated standby viewing is first come first served, which is why we recommend arriving hours before the actual showing of Fantasmic.
Related Post: Los Angeles on a Budget: How to Save BIG With a Go City Pass
Some of the best places to stake out include the following:
Walkways along Rivers of America
Around New Orleans
The bridge over Pirates of the Caribbean
Sections of the Walkway near River Belle Terrace
Nearby Haunted Mansion or Tom Sawyer's Island
Other Attractions and Events in Disneyland
Mickey's Mix Magic
Sing your lungs out at Mickey's Mix Magic, a spectacle filled with classic song tracks, colorful projections, and stirring laser lights. On selected nights, marvelous fireworks will make the occasion more magical.
Get ready to be fascinated by the astonishing displays of sights and sounds that are sure to excite!
DJ Mickey plays a variety of remixed Disney songs, including the following:
It's a Good Time
I Wanna Be Like You
Ev'rybody Wants To Be A Cat
Friend Like Me
Grim Grinning Ghosts
Un Poco Loco
Let It Go
It's a Good Time (Finale)
Wondrous Journeys
Bask in awe as Sleeping Beauty Castle turns into an enchanting setting for the awaited Wondrous Journeys. World-class artists and Disney characters will wow the audience with their live performances featuring incredible music, stunning technology, and sensational fireworks displays on select nights!
World of Color
Gaze in astonishment as jets of colored water shoot into the air and timed fireworks burst in a blaze of shining colors. The magic of light, fire, and water plus music come together to honor storytelling.
Take a trip down memory lane as clips and soundtracks from beloved Disney and Pixar films are shown on a grand fountain. The show also features special lasers. So, you're in for a treat.
Two restaurants offer dining packages for this event. Both cost the same and have the same options for great views. The viewing areas are well-centered, but people in the front row will have a better view than others. So, save a spot in the front if you want to take in all the sights.
Fireworks at Disneyland Park
Thousands of people have gathered around to watch the incredible display of color and light at this fireworks attraction. Behold spectacular views, iconic music, and even character appearances at this awaited event.
Plus, take the chance to watch fireworks with your favorite characters, like Mickey Mouse Fantasmic version and his gang.
Disneyland After Dark: Throwback Nite
Travel back in time to the '60s and see how Disneyland Park operates with Disneyland After Dark: Throwback Nite! Make sure to swing by in your most sophisticated attire to immerse yourself in the experience.
Between live music and shows joined by Disney cast members, there will be specialty photo sessions to capture the event. Of course, you'll have to snap a selfie with some of the classic Disney Characters.
Related Post: The Ultimate Guide to LA Theme Parks
This is a separately ticketed event with limited availability, so book your tickets as early as now. It will be held on April 18, 2023, and April 20, 2023.
Disney Junior Dance Party!
Shake your body to live music during the event. Alongside dancing with your pals, you'll get to party with your beloved Disney Junior show characters, plus Mickey and Minnie Mouse. The entertainment lasts about 15 minutes and happens on March 28, 2023. It can be experienced at Walt Disney World.
Know Before You Go Disneyland Fantasmic!
"What time is Fantasmic at Disneyland?" you may wonder. It may not happen daily and show times are subject to change. Always check Disneyland's entertainment schedule or the Disneyland app for any updates.
When it comes to the Fantasmic Dining Package Disneyland, reservations are highly recommended. Use the Disneyland app to book the package 60 days before the event. Always check your reservation schedule and arrive 30 minutes before your visit.
Fantasmic Disneyland Venue
The show is located at 1313 S. Harbor Blvd. Anaheim, CA 92803.
Fantasmic! Date and Time
"What time is the Fantasmic show at Disneyland?" Fantasmic! happens on March 28, 2023, at 9:30 PM and 10:30 PM.
Experience Fantasmic Disneyland! 
Hang out with your favorite characters and witness enthralling laser lights and jets shooting into the air at Fantasmic Disneyland 2023. Plus, re-live the scenes and music from your beloved Pixar and Disney films as they soar to life onto a grand fountain. Finally, watch the fireworks as they brighten the sky with the whole family.
Feel the magic and dazzle your senses with the outdoor nighttime spectacular performances and attractions. Your little ones will surely enjoy joining Mickey and his friends for a mystical after-hours affair.
Related Post: Disneyland on a Budget: The Step-by-Step Planning Guide
Don't forget to take pictures as a souvenir of this special day! There are never-ending ways to enjoy the most-awaited Fantasmic at Disneyland Celebration. 
What are you waiting for? Celebrate the magic and grab your Disneyland tickets today!
Related Events