February 18, 2023

-

February 24, 2023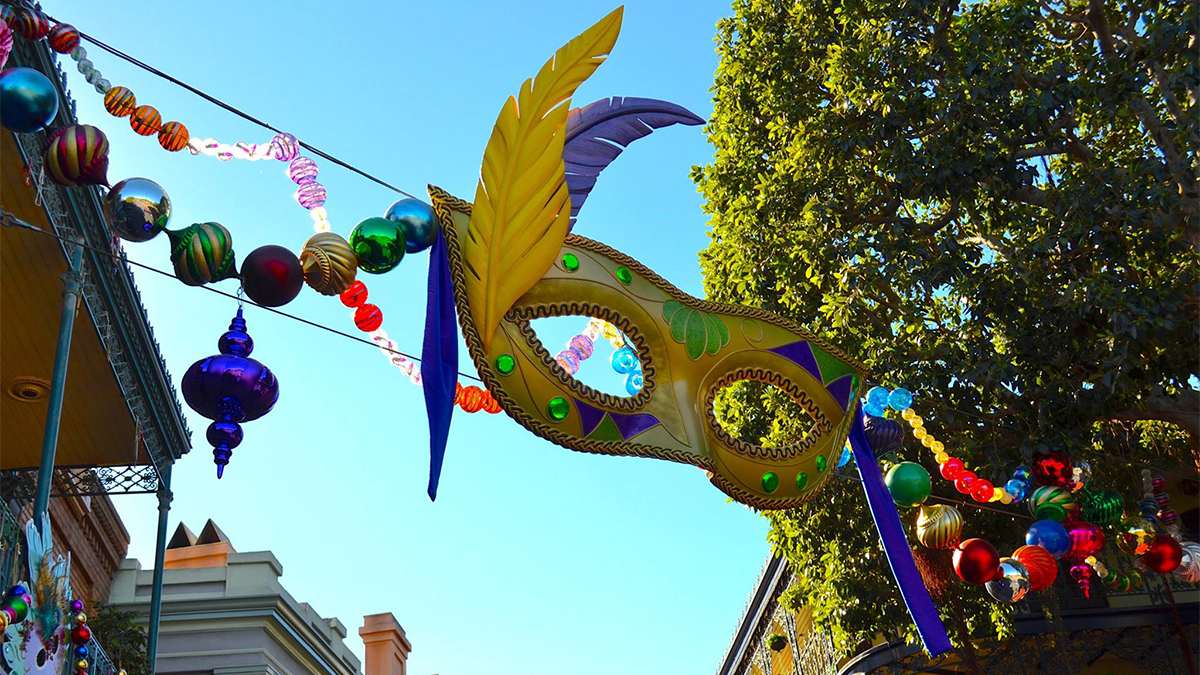 With brass band revelry, Louisiana delicacies, and glittering beads, Mardi Gras Disneyland is ground zero for all things magical and carnival!
Can't make it to New Orleans this year? No worries, as you can still experience the boisterous fun and energy of Fat Tuesday at Mardi Gras Disneyland.
Dig into Cajun cuisines, witness the larger-than-life parade, collect tons of colorful beads, and dance to the sounds of trombones. Let the good times roll!
Related Post: Ultimate Guide to Disneyland: Coupons, Discounts, and Deals
Follow along as we share more about the extravaganza at Mardi Gras Disneyland.
Mardi Gras Tickets
All Mardi Gras 2023 events are included with your Disneyland tickets.
Nearby Hotels and Lodging
Save time and resources by booking a hotel that's steps away from Disneyland during your visit. Tripster offers options that will help you stretch that budget:
Disneyland Resort Discount Tickets
With no shortage of entertainment and family fun, Disneyland is the best place to create lasting memories. Revel in the enchantment and score these discount tickets with Tripster:
Disneyland Vacation Packages
Embrace everything SoCal has to offer without breaking the bank.
Snag these vacation packages from Tripster:
Mardi Gras Event Highlights
Mardi Gras Decorations
The theme park comes to life with shining and vibrant decorations, including gold, purple, and green balloons and necklaces. Every corner of New Orleans Square is picture-perfect, so make sure to bring your camera with you.
Disney Character Sightings
The annual Mardi Gras celebration normally includes meet-and-greet opportunities with Princess Tiana, Mickey Mouse, Minnie Mouse, and Louis and Naveen. Take the chance to see and bond with your favorite Disney characters, all in their Mardi Gras best.
Live Shows
Delight in live performances that are sure to keep your toes tapping and hands clapping. Try to catch beads thrown by the bands!
Related Post: Disneyland Tips and Tricks 2023 - An Insider's Guide
Check back later for more information about the concert series and its full lineup.
Seasonal Food
Sink your teeth into Cajun favorites, including Jambalaya, shrimp and grits, pecan pie, and more. You can enjoy indoor and outdoor dining experiences from the participating restaurants around the park.
All these authentic and New Orleans-inspired food and beverages truly hit the spot, so save that appetite.
Disneyland Mardi Gras Parade
When it comes to Mardi Gras celebrations, Disneyland really goes all the way. We're still waiting for more details about this year's parade, but we're already expecting massive floats, loads of beads, and colorful performers.
Other Disneyland Events
Disney California Adventure Food Wine Festival
Where are the foodies? Embark on a gastronomic adventure on which you can savor exquisite bites and sip libations.
Throughout the event, there will be a smorgasbord of delectable delicacies prepared by local chefs. Plus, there will be a celebrity and Disney food demos and seminars!
Other highlights include the following:
Festival Marketplaces
Family Programming
Culinary Demonstrations
Live Music
Soarin' Over California
Cocktails @ Sonoma Terrace
Disneyland After Dark: Princess Nite
Revel in the stories of Disney princesses while in your finest tiaras and tutus. There will be themed décor, entertainment, and more heartwarming and empowering activities. A separate admission ticket is required to join the celebration.
Disneyland's Birthday
Remember Disneyland's 20th anniversary surprise celebration parade? Expect that grandness and more at Disneyland's Birthday.
The Happiest Place on Earth will be celebrating its 68th anniversary, so join the long-awaited occasion with your fellow Disney lovers!
Curious about how Disneyland has transformed over the years? Watch Disneyland's 35th Anniversary Celebration to see the new and the old.
Then, honor Disney characters, including the most famous mouse -- Mickey Mouse -- that was born on November 18, 1990.
Disneyland Mardi Gras Date
The official event dates have not yet been released. Please check back later for more updates.
Experience Mardi Gras Disneyland
Part magical, part carnival, Fat Tuesday at Disneyland returns to the Happiest Place on Earth with all the debauchery and festivities! Get your beads and masks ready to celebrate Mardi Gras the Disneyland way.
Related Post: 13 Best Places to Stay at Disneyland
The annual Mardi Gras celebration typically includes spectacular floats, colorful décor, world-class performers, helpful cast members, and authentic Louisiana-inspired delicacies.
Everything you enjoy about the Mardi Gras in New Orleans party is here! Get your tickets now.
Related Events