An institution of childhood imagination, joy, and magic, it is no wonder that Disneyland® has reigned supreme as the 'happiest place on earth for over sixty years.
This paradise of nostalgia, fantasy, and fun is the perfect place to entertain children (or adults) of all ages. With a little bit of pre-planning and a whole lot of savings, our Ultimate Guide to Disneyland coupon, discount, and deal to be had guarantees you'll get the exclusive lowdown.
Visitors will be transported to a kingdom of enchantment where dreams really do come true.  As they witness the thrill of entering the Star Wars Universe, or the familiar charm of strolling down Main St. U.S.A.
Before you put on your Mickey's ears or don your favorite Disney princess costume, it's time to hit the books! 
Guide to Disneyland Discounted Tickets
Buying Disneyland tickets doesn't need to be complicated! You can pre-purchase your discount Disneyland® tickets with confidence by booking with us. 
Related Post: Insider's Guide to Disneyland®
We provide various ticket options to fit any travel itinerary or budget, ranging from 2 Day - One Park Per Day tickets to 5 Day Park Hopper tickets. 
Like with many theme parks, multi-day tickets provide the most bang for your buck. For example:
Pro Tip: If your Disneyland visit is going to be a family affair, be sure to utilize their children's prices & promotions:
Children ages 3-9 years old are eligible for child tickets which are cheaper than adults

Children under two years old enter for free!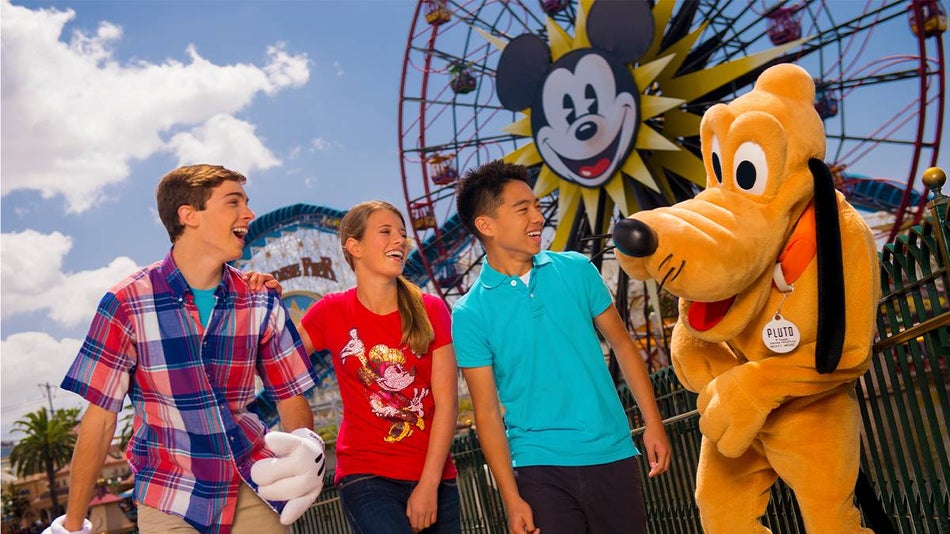 Guide to Disneyland Ticket Packages & Bundles
We can't say definitively whether the west coast truly is the 'best' coast, but we do know that you can save some serious coin by bundling your Disneyland tickets into a Disneyland Vacation Package.
Sunbathing, celebrity spotting, and screaming with amusement turn your Disneyland trip into a true Californian vacation!
Related Post: The Ultimate Guide to LA Theme Parks
By reserving one of our many hotels by Disneyland, you can whittle down driving time and make space for fantastic vacation memories.
Keep the entertainment (and savings) coming by bundling your Disneyland tickets with nearby attractions of interest like:
**travelers have saved up to this and more depending upon their travel dates.
Specials & Promos
Are you mystified about where to find the best Disneyland promos and specials? Not anymore! We've waived our magic sorcerer's wand and unearthed the best deals for you:
Military
There is no greater honor than serving our country, and Disneyland wishes to pay forward the courage and bravery of these strong men and women with generous discounts for the U.S. Military personnel.
California Residents
Do you call the Golden state home? With the incredible discounts afforded to California residents, there is simply no reason not to make Disneyland part of your routine. 
App
Time is money, and there is no better way to optimize your time at Disneyland than with the official Disneyland Mobile App. 
This genius application is as handy as a genie in a bottle and allows you complete control over your park plans.
Related Post: 3 Days in Los Angeles: How to Make the Most of 72 Hours
Magically enchanting features of the app include:
The ability to check ride wait times

View Disney PhotoPass Photos

Locate your favorite Disney characters within the park

Navigate seamlessly with a GPS enabled map

Make contactless ticket purchases

Mobile ordering for food & beverages

Access to the Virtual Queue

Preview menus and check dining availability
Free Things to Do
Unbeknownst to many non-Disneyphiles, there are many free things to do or items to collect in Disneyland Park and Disney California Adventure Park. 
Related Post: Current Festivals and Events at Disneyland Resort
In between your day of thrills and dance-offs with your favorite Avengers character, make sure to:
Collect your free celebration button 

Answer some survey questions in exchange for free stickers

Sample the free sourdough bread at The Boudin Factory tour

Take a free art lesson at the Animation Academy

Get a free driver's license after putting your pedal to the metal at Autopia 
Parking
Dreaming of a car-free Disney day? 
Lighten up your transportation budget. Meanwhile, save yourself the stress and anxiety of navigating a packed parking lot by ditching your car. Ultimately, we have found it more cost-effective to utilize free hotel shuttles or employ a ride-sharing app like Uber.
Bring Your Own
Goofy and the gang all know - there's no such thing as being too prepared for Disneyland! 
Related Post: Top Attractions in Los Angeles
By exercising a little forethought and planning, you can remove the need for extraneous purchases or rental fees on the day of your visit. 
We advise bringing the following items:
Stroller - forgo the rental fee and bring your own from home

Poncho/Raincoat - an unexpected rainstorm can end up costing you a pretty penny

Small Backpack/Storage device - skip out on locker rentals

Portable charger - the Disney app is a mighty battery drain 
Souvenirs
What's a day at Disneyland without a sweet memento to remember it by? 
Have your little princes and princesses have been begging for Disney souvenirs for months? If so, here is a fantastic hack to fulfill their craving for Disney toys and apparel without breaking the bank:
Buy all of your Disney souvenirs (t-shirts, costumes, Mickey ears, etc.) ahead of time. Then, surprise the tots with their lavish haul once you arrive in your hotel room. 
In addition, thanks to Disney licensing rights, you can find Disney memorabilia everywhere. Be sure to check Target, Walmart, and Amazon for gear at a fraction of the price. 
Little ones will love being able to wear their new gear into the park. Meanwhile, mom and dad can enjoy their vacation time sans a gift shop meltdown.
Pro Tip: Looking to get Donald Duck or Minnie's John Handcock? Save your hard-earned dollars by bringing your own autograph book and pen from home.
Photos at Disneyland 
While there is no denying the allure of being the star of your own professional photo session at Disneyland, if you are trying to stay in the green, we suggest forgoing photo packages and acting as your paparazzi.
Pro Tip: Dying for the classic post-roller coaster ride shot? Unlike many other theme parks, Disneyland is A-OK with you snapping a picture of the image on the screen with your own device.
Guide to Food & Drink at Disneyland
It must be Murphy's (or Disney's) law that the second you enter the park, your kiddo is uttering those two infamous words, "I'm hungry."
A full day of feeding a family at Disneyland can add up quickly. 
Thankfully, there are several ways in which to enjoy delicious eats while not spending a small fortune:
Eat a large breakfast at your hotel pre-park entry

Bring your own snacks and water into the park

Split meals - most portions at Disney eateries are more than generous and can easily feed two

Do your research - quick-service restaurants will usually be the lowest cost option

Prioritize your favorites - if you simply must have that Mickey beignet or the famous Disney Dole Whip, build it into your food budget!
The sweet smell of churros fills the air as you sing along to the uplifting melody of 'it's a small world' and contemplate testing your mettle at the mighty Space Mountain.
Whether it's your first or fortieth time at Disneyland, a day here is never ordinary. Every moment is filled with magic as you experience heart-pumping rides, enthralling live shows, and your beloved Disney characters coming to life.
You are truly never too old or too young to explore the fantasy of Disneyland. So stop waiting and start planning your own ultimate Disneyland Dream Vacation today.
Have any Tips for Snagging the Best Disneyland Deals? 
Let us know in the comments below!