Learn the the top ways for Dads to navigate Disney World with little ones.
Going into my Disney World vacation I was highly skeptically. For starters, I was taking my 2-year-old daughter (spoiler alert: she's impatient, but what 2-year-old isn't), my wife, and my parents. Then, mix in the Florida summer heat and the fact that we were driving there from Missouri. All in all, it seemed like a recipe for disaster. Trying to coordinate everything and please everyone was going to be daunting. And, I'll admit it: I wasn't sure I could pull it off. Much to my surprise, however, this vacation ended up being one of the best vacations I've ever had. Find out why with this Dad's guide to WDW.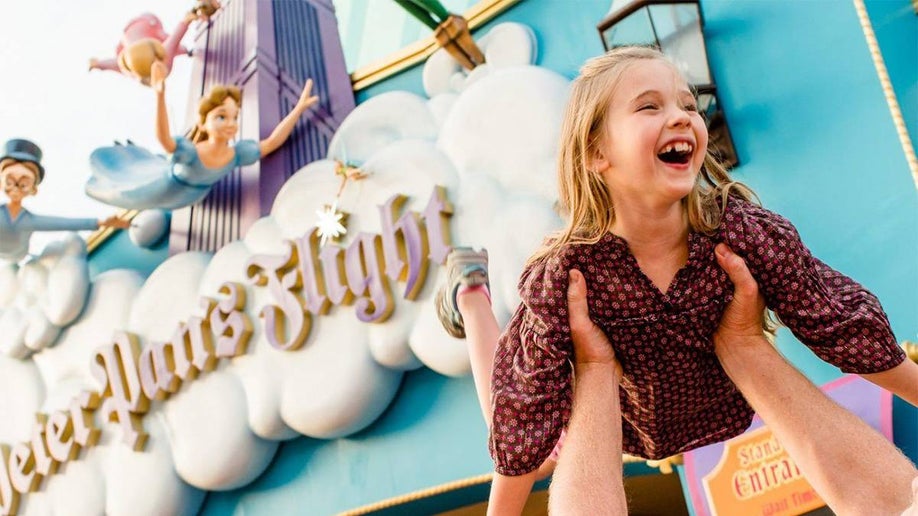 Essentially, it comes down to one thing: planning ahead. Be sure to use all the tools available to you. Starting off, I used Reserve Orlando because of their awesome ticket prices. We received some additional days free (we ended up staying 5 but had 6-day tickets for the cost of 4 days). I had multiple questions before and after buying the tickets. However, I got answers pretty much instantly using the chat on their website.
My Disney Experience & MagicBands
After I purchased the tickets I received an email from Reserve Orlando. It contained my Disney ticket codes, which allowed me to setup a My Disney Experience account and connect my tickets. In addition, I purchased a MagicBand for every member of my group and connected it to the Disney account. This was awesome for multiple reasons:
First, you can use the MagicBands for entry into all of the Disney Theme Parks for which you have paid entry. To use, simply tap your band against a Mickey Mouse podium at the gates. The podium will light up green and into the park you go.
Next, there are Disney photographers around all the parks, at character greetings, etc., that you can get your picture taken by. Once the picture is taken, they will scan your band. Then, the photo is added to your account. This is true for anyone in your travel party; if they take a photo and scan their band, it will appear in your My Disney Experience account (Note: be sure they are connected to your group via your Disney account). The really cool part? If you have the My Disney Experience phone app you will see your photos magically appear within 20 minutes. Sometimes, it was almost instantaneous. It was fun to be able to look through your photos during the rare times that you were standing in line.
Another useful part of the bands is that it is used with Genie+ reservations and dining reservations. Moreover, some rides, like It's a Small World, will acknowledge you are there by name using the band. Other rides, like Buzz Lightyear's Space Ranger Spin, take an in-ride photo of you that can be scanned to the MagicBand at the end of the ride.
For our Disney vacation, we chose to stay at Disney's Yacht Club Resort. I highly recommend staying here due to its seriously phenomenal pool known as Storm Along Bay. It is shared with Disney's Beach Club Resort and is the BEST Disney World Resort pool. Of course, there are many more benefits to staying at Disney World Resort Hotel. For instance, you can connect your MagicBand to a payment method in your Disney account. As a result, anyone in your family with your unique PIN code can purchase food, drinks, gifts, etc., with their MagicBand. When you checkout you will receive a listing showing who charged what to the account so that you can settle up later. Keep in mind, though, the full amount is auto-charged to your payment method. So, be sure your account can cover all of the charges until you settle up.
Disney's Memory Maker Service
Another fastastic service Disney offers is Memory Maker. This is a great purchase to add to your Disney vacation as it lets you download all the photos taken of you around the park for one price. (These include ride photos and photos taken by Disney photographers.) If you order this in advance from your My Disney Experience account, it is cheaper than paying for it after your vacation. However,  be sure to buy it at least four days in advance before you go.
There is a three-day (from the time you purchase) freeze on the feature. As a result, you will have to wait three days from the time you purchase it to get all your photos for one package price. Otherwise, you will pay approximately$15/photo. The Memory Maker option was worth it to my family. It allowed us to relax and enjoy the vacation knowing we were going to get some really great photos of the whole family. This is in contrast to those photos we all have where there is always one family member missing (person taking photo.. usually Dad) or constantly interrupting someone else's vacation asking them to take your photo.
My Disney Experience App
The last major tool any Dad's guide to WDW should include is the My Disney Experience app. I've mentioned it previously, but it's worth detailing as it is AWESOME. I really would not want to do Disney World without it. It's that impressive. From the app, you can pretty much do everything from anywhere. It shows a constantly updated itinerary of each day you have planned at Disney World.
Using the app, I found it incredibly useful that I could:
Make dining reservations
Check current line times
Create Genie+ reservation changes on the fly (Tip: if the ride you are going to has little to no line, use the app to cancel your Genie+ Pass. Then, you can schedule another Genie+ Pass at a different time without wasting one on a no-pass needed line)
Check park hours
See which parks have Extra Magic Hours (Tip: this is another perk for staying on-site at a Disney resort as Extra Magic Hours allow you to be in the park an extra two hours early or late on designated days/parks)
View maps of attractions and restrooms in a park
Discover location of character meet and greets
View dining options and menus
Review shows and events schedule
Discover location of Disney photographers
One of the best changes to the app that I noticed was that they recently added in GPS-like directions that show you how to get from point A
to point B. It also estimates the distance from your location via different methods (walk, bus, boat, monorail).
Disney Character Dining
Now, on to more of the magical moments we had at Disney World! We did two character meals, both of which this Dad's guide to WDW highly recommends. The first was in Epcot's Norway lunch at Akershus Royal Banquet Hall. This was perfect for my daughter because it is a princess lunch featuring the likes of Snow White, Belle, Ariel, and Cinderella. Beyond the excitement for my daughter, the food was really good. You get a buffet style first course followed by an entree and a dessert to share. The other character meal we did was held at the Beach Club Resort's Cape May Cafe. Upon arrival, we were greeted with beach themed Goofy, Donald, and Minnie Mouse. It was fun meeting the characters. Plus, the breakfast was huge and had anything you could desire for breakfast.
A Dad's guide to WDW wouldn't be complete without mentioning Disney Springs. Even though Disney World parks have some wonderful shops, it's definitely worth a visit. It is home to World of Disney (the largest Disney store in the world) and The LEGO store, as well as The Art of Disney which sells unique artwork and prints.
Dad's Guide to WDW: Kid Tested, Parent Approved
Needless to say, the vacation was amazing and we'll definitely be back.
One last Dad tip: Drink plenty of water. Get comfy shoes and break them in before you go. Also, build in time to your plans for naps for both kids and adults. You will need them.