An excursion on a catamaran boat is the ultimate way to experience the watery wonder of Hawaii. Take a refreshing dip in the ocean or enjoy the sunset from the deck! 
Hawaiian vacation days are often spent lazing by the beach. But, if you're tired of staying on the shore, why not get out on the water? Whether you embark on a snorkel sail or sunset cruise, a Big Island catamaran adventure is a vacation essential! 
Sailing, snorkeling, and swimming along the Kailua Kona coastline are surefire ways to have a great time on the Big Island. Immerse yourself in the ocean blue or gaze in awe at the magnificent sunset glow as the sky ignites with color each evening. A catamaran is your transportation of choice when it comes to traveling across the waves of Hawaii!
Ready to set off on your own dreamy Hawaiian small group catamaran trip? Keep reading to find out everything you need to know about a Big Island catamaran snorkel sail or sunset cruise!
About Big Island Catamaran Sails
There are two ways to experience a catamaran sail on the Big Island. The snorkel sail option allows you to jump in, while the sunset sail option is an opportunity to sit back and relax! 
Fun Fact: Kealakekua Bay, located on the Kona coast, is where the first westerner stepped foot in Hawaii: Captain James Cook. If you visit the bay, keep an eye out for the Captain Cook monument.
Relax in the shaded open-air cabin while the captain and crew do the work! The private charters are decked out with all of the amenities you could ever dream of. A freshwater shower, restrooms, shade, and plenty of seating mean you'll be sailing Hawaii in luxury on either tour. 
If you opt for the snorkel sail, you'll get to enter a lively underwater landscape that is practically a marine sanctuary. Exotic fish will be passing by on all sides. So, wave hello beneath the waves! Keep an eye out for turtles, pod of dolphins, and manta rays. You won't have to spend hours searching for the best snorkel spots when you go on this snorkeling tour!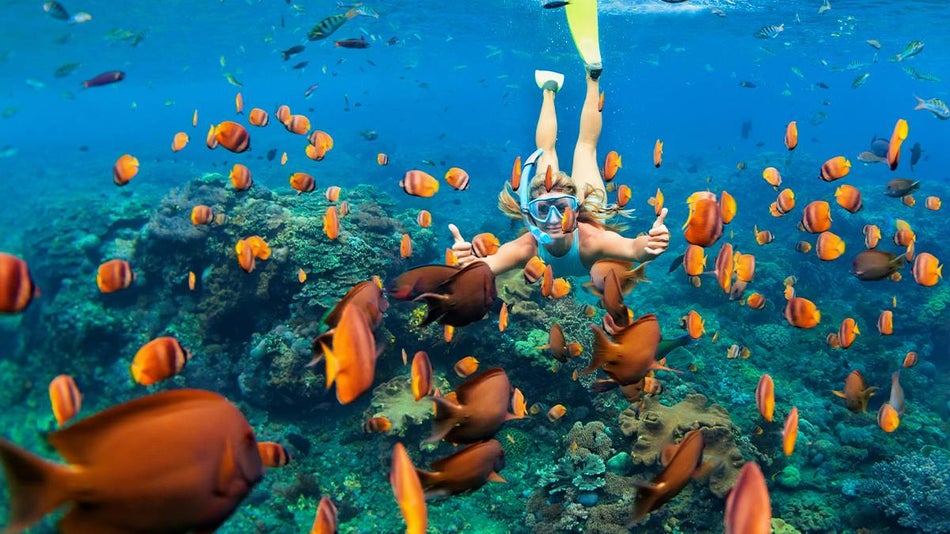 Fun Fact: Both catamaran sails are operated by Hawaii Nautical. The tour company enforces guidelines to keep marine life safe! The company is part of the Coral Reef Alliance and Hawaii's first Dolphin Smart-recognized operator. 
If you prefer to stay dry, the sunset cocktail cruise is your best bet. Enjoy sweeping sunset views and potential entertainment in the form of wildlife encounters! Sip on drinks and munch on snacks throughout the sail. 
Photo Alert: Can it get more picturesque than a boat charters in the middle of the ocean in Hawaii at sunset? Don't forget to make use of this stunning backdrop. New profile photo? Check!
Big Island Catamaran Discount Tickets
Before you venture on your private catamaran Big Island Hawaii tour, snag discount tickets! Booking online ahead of time is the way to go. Spending extra time planning upfront saves lots of time and stress once your vacation begins! Not to mention, it'll save you some dough.
Big Island Catamaran Coupons and Discounts
Catamaran sailing Big Island Hawaii sounds like a potentially pricey activity. If you're looking for some additional deals, look no further! We've rounded them up for you here.
Catamaran Big Island Hawaii Military Discount
Members of the military are eligible for a 10% discount! Ask Hawaii Nautical about this discount today.
Big Island Catamaran AAA Discount
There is no AAA discount for the catamaran tours at this time.
Catamaran Big Island Senior Discount
Unfortunately, no senior discount is currently available for Big Island catamaran tours.
Catamaran Sailing Big Island Hawaii Local Discount
Locals have many reasons to be proud of their residence. One of the perks? They can get a 10 percent discount on a catamaran tour! Contact Hawaii Nautical for more information.
Catamaran Tours Big Island Hawaii Group Travel Deals
There are no Big Island catamaran tour group discounts available at the moment. 
Hotels Near Big Island Catamaran 
There's nothing better than drifting off to sleep in the comfort of a luxurious hotel room after spending a day adrift at sea. Reminisce about your sailing adventure as you rest in a pile of cool, crisp sheets.
Dreams are even sweeter when you know you got a great deal on your hotel or resort! Check out these offerings from Tripster to snag a discount:
Big Island Hawaii Attractions
Since you've already made the trek to Hawaii to go on your sail, why not fill your itinerary with even more things to do? This is how to make the most of your money while on the Big Island!
Looking for a day-by-day guide? Check out our 5-day Big Island Itinerary!
Big Island Stargazing
Don't just end the day at sunset. Instead, make the journey up towering Mauna Kea to get as close as you can to galaxies, nebulas, and other night sky beauties on a stargazing tour! The stardusted skies over Hawaii are a sight to behold. 
Hilo Waterfalls Kayak Tour
If you're a true waterbug, you might not be able to get as close to the water as you'd like aboard a catamaran! If so, make a splash on a kayak tour.
Weave in and out of classic Hawaiian sights, such as waterfalls, rivers, and beaches.
Whale Watch Cruise
Finally, if wildlife is your thing, a whale-watching cruise is just for you! Knowledgeable marine life naturalists serve as your guides on this excursion. Ooh and ah, at these majestic creatures of the sea!
Insider Big Island Catamaran Tips
If you've never boarded a catamaran before, no worries! We're here to fill you in with everything you need to know before your snorkel or sunset sail.
What to Bring
For starters, we highly recommend packing some sunscreen to ward off those scorching rays. Moreover, a bag with a change of clothes might be a good idea if you're going on the snorkel sail. Of course, you can't forget a swimsuit!
Regarding snorkeling gear, you won't need to bring snorkel fins or a vest. However, don't forget to pack your snorkel and mask!
Besides a camera, you won't need much for the sunset snail! Prepare for a relaxing evening over drinks.
Pro Tip: Plan to arrive early! We recommend showing up 30-45 minutes before your sail takes off. Don't get left at the shore!
Can I Bring Food onto Big Island Catamaran Tours? 
You can leave the snacks behind when packing for your sails! On the snorkel sail, lunch and drinks are provided to satisfy those midday cravings. 
On the sunset sail, enjoy snacks alongside unlimited water, juice, and soda. Additionally, each adult receives two free bar drink tickets.
Private Catamaran Big Island Hawaii
Parking
The tour company does not provide parking, so plan to pay for meter parking. Contact Hawaii Nautical beforehand for more information.
Big Island Catamaran Reviews
Want to find out what other readers think of the catamaran snorkel sail or sunset sail? Check out the most recent reviews for the private boat and tours scoop! Simply click on your sail of choice and scroll down. 
Grab tickets to board a Big Island catamaran today! You can't miss this quintessential Hawaiian vacation experience.
The perfect trip to Hawaii isn't complete without some time out on the ocean. Picture the cool seaspray on your skin as you sail into a vast expanse of gleaming ocean water! Mix and mingle with colorful tropical fish or revel in the balmy air beneath a fiery sunset.
It's time to start planning your own dream Hawaiian vacation! First, get tickets for one of the catamaran tours Big Island Hawaii. Then, explore the myriad of other ways to spend your time on the Big Island! 
Have You Been on a Big Island Catamaran Tour?
Which did you take? What would you tell others about your experience?
Share with us below!