Marigold sunsets, pearl sandy beaches, and stunning coastal landmarks make Waikiki the prime Gathering Place of all the Hawaiian Islands. At night, Waikiki's rugged beauty and breathtaking views shimmer at dusk. When the sun dips over the horizon, the town's vivid culture and energy truly come to life.
Follow along as we hit the prime things to do in Waikiki at night you won't want to miss.
Daytime might sizzle in Oahu, but when the sun goes down, Waikiki gets even hotter. The nightlife scene in Oahu is centric to its appeal as Waikiki is the island's main party district. Trendy lounges, restaurants and bars line the blocks of Kalakaua Avenue.
Conversely, there are more relaxing things to do in Waikiki at night that highlight the island's natural allure.
About Waikiki
Honolulu's legendary 1.5 square mile neighborhood on the south shore of Oahu is an international hot spot with the most sought-after resorts in all of Hawaii. Oahu is famously called the Gathering Place because of Waikiki. Just a 20-minute drive from the Honolulu International Airport, the area is a world-class tourist destination with the most famous beach in Hawaii.
The acclaimed Waikiki district was once a playground for Hawaiian royalty. Today with its jewel-lit sky and magnificent beaches, the luminous getaway offers phenomenal surfing, snorkeling, and endless hiking trails around Diamond Head. However, the number of activities to see and do at night might surprise you!
Nighttime Waikiki is when the magic happens! The Waikiki nightclubs burst with exciting venues, as luaus and bonfires line the beaches. Put on your night vision glasses because we have a Waikiki itinerary that will bedazzle your senses!
Waikiki's Kalakaua Avenue
Just off the Waikiki Beach, Kalakaua Avenue is the Las Vegas Strip of Honolulu. We're talking pulsing nightlife here, just without the gambling. The Waikiki attractions are countless, not to mention the world-class tap rooms, dining, and entertainment!
There's something brewing in Waikiki every night of the week, from hole-in-the-wall bars to over-the-top clubs.
RumFire
Popular with locals and visitors alike, RumFire is a swanky beachside lounge and one of the foremost things to do at night in Waikiki. With fantastic specialty cocktails and delicious comfort food, it's the perfect end to your first beach day.
Grab a seat by the fire pit to enjoy some island music and a beautiful night under the stars.
Duke's Waikiki
Set in the half-moon bay of Waikiki, with Diamond Head in the shadowy distance, Duke's Waikiki is a lively place to eat, dance, and revel in the aloha spirit of Hawaii. Waikiki beach activities include island revelry with an old-school tiki-bar atmosphere. When the sun sets, the live music and events pay homage perfectly to its namesake—surfing legend Duke Kahanamoku.
Fun Fact: Check out the legendary surfer statue on Waikiki Beach. The father of modern surfing was a five-time Olympic medalist. During his lifetime, he was also a Hollywood actor and the Sherriff of Honolulu.
Blue Note Hawaii
Another sublime Waikiki activity is to drift away on a breezy island of tunes and jazz riffs at Blue Note Hawaii. This iconic lounge offers engaging music and a dynamic dance floor seven nights a week. From local talent to international sensations, this Honolulu at-night venue features outstanding jazz musicians.
It's the perfect thing to do in Waikiki when the sun melts into the deep sea.
Fun Fact: Elvis Presley filmed three movies on Oahu, including his most famous Blue Hawaii on Waikiki Beach.
In vibe with Elvis, experiencing the Rock-a-Hulu show at the Royal Hawaiian Theatre in Waikiki is a marvelous way to spend your evening. It's a Legends in Concert one-of-a-kind tribute show with artists like Presley, Madonna, Lady Gaga, Elton John and Michael Jackson.
Wang Chung Karaoke Bar
Karaoke is a universal language and one of the supremely fun Waikiki activities for adults. We're sure kids would like it too, but since it's a tavern, they're not invited. This karaoke dive bar features lively singing and spicy cocktails like the jalapeno-infused tequila. The welcoming ambiance and cozy Asian interior are so catching you might want to come back for an encore!
If you're serious about hitting all of the Waikiki hot watering holes, you might prefer the Aloha Pub Crawl. Say cheers to the island's history while visiting the best local bars in town.
After Dark Events
If the Kalakaua bar scene isn't for you, don't worry. Our Hawaii Waikiki activities at night don't end there.
Honolulu Zoo
Going to the zoo at night might sound strange, but in Honolulu, it's one of the top Waikiki things to do. Take a twilight tour or enjoy one of the many stargazing events at the Honolulu Zoo. Check out the nocturnal creatures that call this zoo home, as well as the sparkling night sky from an island perspective.
Kaka Ako
Kaka Ako is a vibrant Waikiki neighborhood known for its sophisticated Waikiki shopping and sumptuous Hawaiian food scene. The Eat the Street block party features local bands and casual eateries serving craft beers, local coffee and succulent coconuts!
What's more, the Honolulu Night Market offers over 60 local food and retail vendors alongside DJs, musicians, and artists. Similarly, the Kaka Ako Waterfront Park hosts Hawaiian beach activities and a grassy nook for picnics, sightseeing, and walks along the famous Ala Moana Hotel.
Diamond Head
If you think touring Diamond Head is strictly for daytime, think again! The Diamond Head Segway Tour and the Magic Isle Beach Segway Tour offer sunset tours of this natural attraction, the most recognized landmark in Hawaii.
Other Waikiki events include cruising along Diamond Head Road to Diamond Head Lighthouse for epic views of the sun sinking into crystalline turquoise waters.If you're not game to ride a Segway, you can still plan to hike Diamond Head at the end of the day for a personal look at some unforgettable panoramic landscapes. However, be aware Diamond Head Park closes at 6 pm.
Cocktail Cruises
If you're still wondering what to do in Waikiki in the evening, this activity is the perfect way to inject nightlife into your veins without overdosing on the scene. Try the Star of Honolulu Sunset Dinner Cruise or the part cruise-part fireworks show on the Pink Sails Waikiki Friday Night Fireworks Cruise for a relaxing, memorable evening that explodes in color.
With an Oahu cocktail cruise, you get a mix of captivating melodies while swilling Mai Tai's and sailing around the gorgeous Waikiki shores. In addition, the island vibe is made even better by the swoon-worthy twilight.
Nighttime Family Entertainment
All parents traveling with their kids to Oahu are probably searching for activities Waikiki Beach. Luckily, our things to do Waikiki at night list extends to families!
ARTafterDARK
If you only have one day in Waikiki, this is the place! The Honolulu Museum of Art is a fascinating hub of exciting exhibits, intriguing displays, and a collection of over 50,000 works spanning 5,000 years. The ARTafterDARK tour is a unique experience to explore this celebrated museum.
What's more, on the last Friday night of the month, the institute showcases a themed art soiree with apéritifs, live entertainment, and delicious island cuisine!
Friday Night Fireworks by Hilton Hawaiian Village
If you're looking for Friday nights activities Waikiki— you shouldn't miss the Hilton Hawaiian Village fireworks show. Every week the sky illuminates with neon-colored beams. Most importantly, this epic fireworks display over Honolulu's premier beaches is free! It's a definite showstopper, so make sure to plan accordingly. It just might be the highlight of your trip! Also, if you haven't decided where to stay—check out the Hilton Garden Inn Waikiki Beach reviews.
Tripster has other prime Oahu hotels and resorts with breathtaking beachfront views. Whether you're looking for comfortable lodging or a luxurious spa, we can help you find the perfect accommodations. Explore the options below:
Waikiki Resort Hotel – Honolulu, HI
Waikiki Beach Marriott Resort & Spa - Honolulu, HI
Hyatt Regency Waikiki Beach Resort & Spa - Honolulu, HI
The Modern Honolulu- Honolulu, HI
DoubleTree by Hilton Alana Waikiki Beach - Honolulu, HI
Waikiki Luaus
We've left the best for last. Of course, the number one nighttime Hawaiian activity is the eye-popping Hawaiian luau experience. This epic evening event presents the vibrant Polynesian culture through fire dancing, cuisine and celebratory demonstrations. The luau's searing beach backdrop and breathtaking mountain vistas inspire an unforgettable addition to your vacation.
Tripster has fabulous discounted luau's for you to peruse. On the Winward side of Oahu, the Ka Moana Luau takes you on an extraordinary venture through Polynesian history. While the Waikiki Luau is a culinary celebration of island tradition with mesmerizing hula dancers.
In addition to attractions and lodgings, Tripster has heart-pounding show tickets for your entire family to enjoy.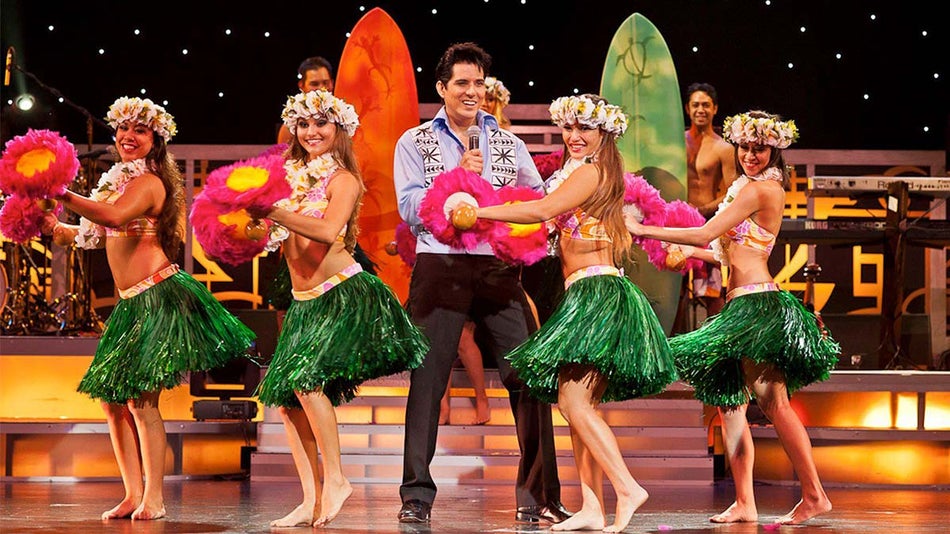 photo credit: Rock-A-Hula Hawaii via Facebook
Book Your Waikiki Vacation Today!
We've just skimmed the surface of night activities! Whether exploring the island's superb nightlife, the culinary scene or beach spectacles, Waikiki's extraordinary beauty is hard to beat.
Remember, Tripster offers money-saving vacation packages, show and attraction tickets, plus tons of great Oahu lodging options. Don't let the sun set on your island vacation without spending a night out in Waikiki. It's a heavenly setting ripe with action, flair, and aloha spirit.
Do You Know Where to Go in Waikiki at Night?
Please share your activities in Waikiki today!