January 12, 2023 @ 8:00 am

-

February 4, 2023 @ 5:00 pm

PST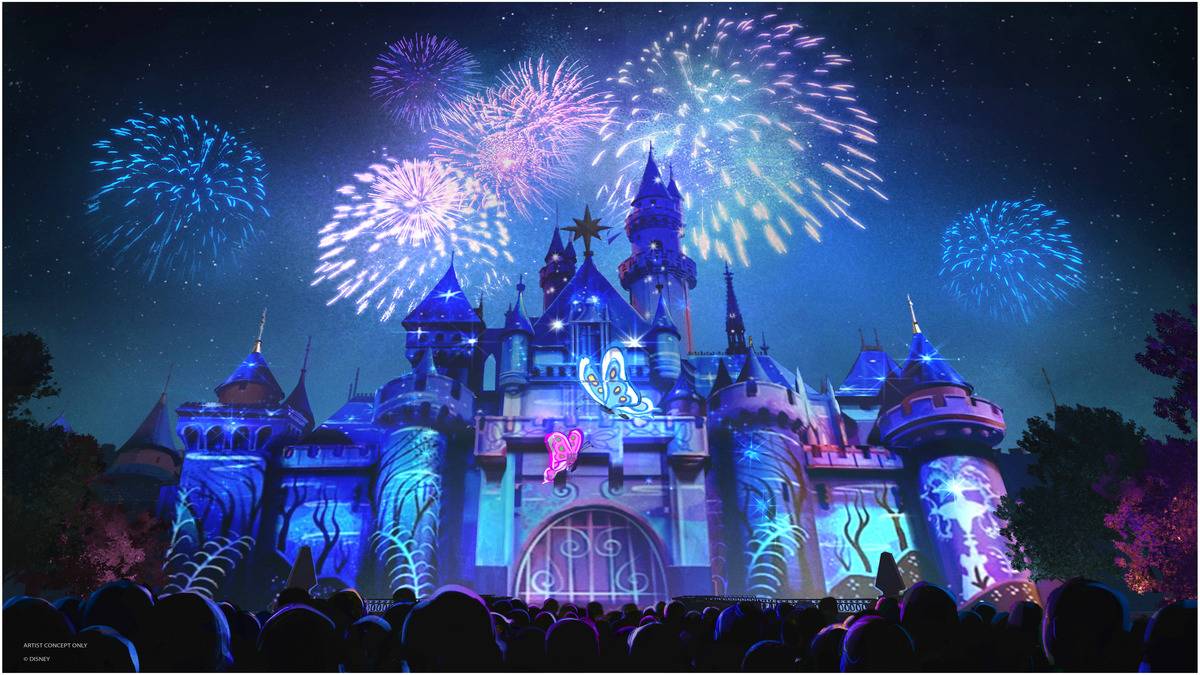 Ring in a new year of fortune and prosperity while being entranced by the magic of fun festivities at Disneyland Lunar New Year!
Traditionally celebrated in Asia, Lunar New Year recognizes the cosmic quest of the sun and the moon as they enter into another year. To welcome the Year of the Rabbit, gear up for a fantastic Disneyland Lunar New Year 2023 bash with Mickey Mouse and pals. This colorful and multicultural celebration is open to all kids and kids at heart!
Follow along to learn everything about this magical experience.
Disneyland New Year 2023 Tickets
Lunar New Year requires a valid ticket and park reservation for the same park.
Disneyland Resort Discount Tickets
People who shy away from Disneyland Disney World Resort because of their budget probably haven't booked tickets from Tripster. Soak in all the magic and nostalgic fun of your chosen park without spending all your moolah with these discount tickets:
Keep the giggles and excitement, as well as the savings coming with these multi-day tickets:
With so much entertainment and attractions to cover, you don't want to waste your precious time waiting in line. Grab these tickets to skip long lines and serious dollars:
Disneyland Resort Nearby Hotels and Lodging
One of the best things about Disneyland is it's within walking distance of great hotels and resorts. This means you can quickly get your well-deserved rest after a day of thrill and activities.
Whether you want to relax and settle in an elegant hotel room for a cozy evening or rest early to get that much-needed energy for tomorrow's adventures at Disneyland Lunar New Year, you'll get the best deal when you book at any of these hotels from Tripster:  
Disneyland Lunar New Year Celebration Attractions
Mulan's Lunar New Year Procession
Be enchanted by this lively musical parade at the Disneyland Lunar New Year extravaganza! Celebrate friendship and family and wish everyone a successful 2023.
Mulan's Lunar New Year Procession captivates guests with its superb costumes, electrifying tunes, and ancient dances played by Asian performing ensembles. In addition, thereulous Chinese dragon will travel along the parade route as umbrella and fan artists execute their elegant dances.
Delight and take in the ancient artistry of this colorful procession, indulging spectators of all ages in remarkable sights and sounds that honor Asian cultures and traditions. The parade goes from Pixar Pier Gate to Paradise Gardens Obelisk and back, similar to the Lunar New Year 2022 Disneyland route.
Character Meet and Greet
It doesn't matter how old you are; meeting your favorite Disney characters can make your day much better. This Lunar New Year, take the opportunity to meet, hug, or take selfies with the famous mouse and his friends. Mickey Mouse, Minnie Mouse, and Tigger will be there to celebrate the new year in their festive attire.
Be on the lookout for Mulan, Raya, and others dressed in their own Lunar New Year clothing. Once you've spotted them, gather your loved ones and take postcard-worthy photos. The stunning pavilion adorned with golden flowers, bamboo, and colorful banners is the perfect backdrop.
Traditional Asian Cuisine
In between the activities, take a break with the family to savor Disneyland Lunar New Year food and set menus made especially for this celebration. Eat your way through the new year with spicy three-cup chicken, glazed crispy pork belly, shrimp fried rice with garlic bacon edamame, and more. The savory dishes are inspired by Korean, Chinese, and Vietnamese cultures and are available in the park's dining locations.
Make sure to save some room for sweet rice balls, tiger milk tea, Hong Kong-style milk tea, tea black tea sweetened or condensed milk served tea.
With an abundance of traditional food, Disneyland's version can be similar to the Asian Lunar New Year celebrations.
Live Holiday Entertainment
Watch magical stories come to life through Disneyland's live holiday shows. Be captivated by the production, decorations, and talented actors throughout the performances. 
Related Post: Insider's Guide to Disneyland®
Kid-friendly Crafts and Activities
It's time to unleash your imagination. Gather your little ones and take part in kid-friendly crafts and creative workshops. Create your own lanterns, design red envelopes, or draw cute rabbits, the animal of 2023. On top of bonding with your kids and reducing their screen time, these craft activities help your kiddos channel their creativity and show their artsy side. No worries, as there's a simple and fun project for every child here.
Festive Décor
Festive displays and installations, often in red and gold, surround you as you step inside the Happiest Place on Earth. Marvel at enormous Chinese lanterns, gaze up at the sparkling lights and indulge in exquisite garland. It's a jaw-dropping sight for all ages.
Some of the decorations are available at the Lunar New Year merchandise store.
Lucky Wishes Wall
Take the lessons of 2022 and move on to a new year with high hopes and faith. This is your chance to start clean and be excited about new beginnings. Wish for luck, health, and fortune throughout 2023 at the Lucky Wishes Wall. Thousands of guests visit this returning attraction. To participate, all you need to do is write your wish or special message on tags, tie it to the designated walls, and hope for all of them to come true.
Disneyland Resort Vacation Packages
While in SoCal, make the most of the almost-perfect weather and relaxing charm of California by bundling your Disneyland tickets with these other area attractions:
Disneyland Lunar New Year Must-Visit Attractions
Nothing compares to the wholesome family fun Disneyland can give. So whether you're in Disneyland Park or Disney California Adventure Park, take time to enjoy the attractions and cherish every moment with your loved ones.
Both parks serve up thrill and entertainment, after all. Here are must-visit attractions and rides:
Disneyland Park
It's a Small World
Journey around the world and hop aboard a magical boat. Pass through the Seven Seaways canal, where 300 audio-animatronic dolls representing kids from all over the world sing the classic song in their own language.
Haunted Mansion
Want to inject some spooks into your enchanting vacation? Head to Haunted Mansion and feel the chills while facing unearthly experiences…if you dare. Then, embark on a creepy adventure into a mansion filled with ghostly residents waiting for your arrival.  
Space Mountain
Brave the infinite darkness to dominate Space Mountain with your fellow cadets on this electrifying roller-coaster ride. This high-flying exploration is complete with immersive sound effects and themed music.
Disneyland Railroad
Hop inside a steam-powered train and embark on an 18-minute scenic journey all around Disneyland Park. Wander along the rocky landscapes that embody the country's magnificent rivers: the Missouri, the Columbia, the Mississippi, and the Rio Grand. Keep your eyes open for rock formations, waterfalls, and more.
Wait for the train at any of these stations:
Main Street, USA

Mickey's Toon Town

Tomorrowland

New Orleans Square
Fantasy Faire
Feel like you've been transported into a faraway land where Disney Princesses live happily ever after. Meet the world's beloved characters in Royal Hall.
Minnie's House
Curious about Minnie Mouse's house? It's your chance to get inside her mansion. Browse over framed family photos, peek inside her pantry, or even see Minnie's email! Don't forget to visit her bedroom and kitchen.
Related Post: Ultimate Guide to Disneyland®: Coupons, Discounts, and Deals
Storytelling at Royal Theater
Get inside this medieval-style tent and experience your favorite Disney fairytales live on stage with a twist. Laugh and clap for the funny version of classic scenes from Tangled or Mulan. Make sure to come early to get some front-view seats.
Disney California Adventure Park
Soarin' Around the World
Hang tight and get ready to touch the sky! This attraction lets you fly and take a trip around the world, finding yourself drawn to every country's natural wonders and hidden treasures. Feel the air and thrill the moment you sit in the 180-foot IMAX dome.
Jessie's Critter Carousel
Yee-haw! Join Jessie in her wild adventures while riding a gigantic toy carousel. Don't forget to bring your Cowgirl hat.
Meet Disney Pals on Buena Vista Street
Want to meet the stars? Flock to Buena Vista Street to catch all the glitz and rub shoulders with celebrities, including Mickey and Minnie Mouse. The best part? They're dressed in their 1930s outfit.
Ancient Sanctum
Brave enough to solve the secrets of a strange Ancient Sanctum? Then, take on a quest to find clues and be enlightened about its dark story. Make sure to seek guidance from Doctor Strange.
Mater's Junkyard Jamboree
Mater's junkyard will be the location of an epic dance party. The invite is open, so come and show your epic moves.
Jumpin' Jellyfish
Fly into the sky aboard a colorful jellyfish ride. This parachute-style attraction lets you marvel at the captivating view of Paradise Bay in the most compelling way.    
Meet Pixar Pals at Pixar Pier
A fan of Pixar movies from The Incredibles to Toy Story? This meet-and-greet should be on the top of your Disneyland vacation list!
Silly Symphony Swings
Strap in and get ready to be twisted and turned while in your swings.
Redwood Creek Challenge Trail
Embrace your wild side and test your limits while playing "forest" range activities.
Disneyland Lunar New Year 2023 Dates and Time
"When does the Lunar New Year end at Disneyland?" you might ask. Unfortunately, as of now, the park has not released the official dates. However, we will update this page with more information.
Experience Disneyland New Year 2023
From energetic traditional Chinese dances that ward off evil bad spirits to Asian cuisines symbolizing prosperity and luck, Lunar New Year Disneyland is a celebration of culture and tradition. Join this meaningful celebration and say goodbye to the Year of the Tiger to welcome the new year ahead with festive activities.
Feast authentic Disneyland Lunar New Year 2023 food at Lucky 8 lantern and wash the flavors with style milk tea black, shop charms and souvenirs at the Lunar New Year Marketplace, or witness the ancient artistry in Mulan's parade. Then, be entranced by the colorful decorations and costumes throughout the Lunar New Year Disneyland 2023.
So, come and celebrate new beginnings, honor family, and wish for a prosperous new year ahead of us at the Happiest Place on Earth.
While at it, extend your visit and hop over to Disneyland for a magical getaway with a Disneyland Vacation package.
Related Events